Make this delicious pumpkin cotton cheesecake for your Friendsgiving
There's a lot to be enjoyed during Thanksgiving dinner and appetizers are a great way to fire up the food-filled festivities with some small seasonal bites.
Easy Thanksgiving appetizer recipes
"Good Morning America" enlisted the expertise of food creator and recipe developer Kayla Howey of The Original Dish to share some popular appetizers that are sure to be a hit at any holiday celebration this season.
Even Martina McBride is planning to serve some small bites with her Thanksgiving dinner, including some whipped goat cheese with bacon and dates, much like the recipe from Howey below.
Caramelized Brussels Sprout Toast with Burrata & Bacon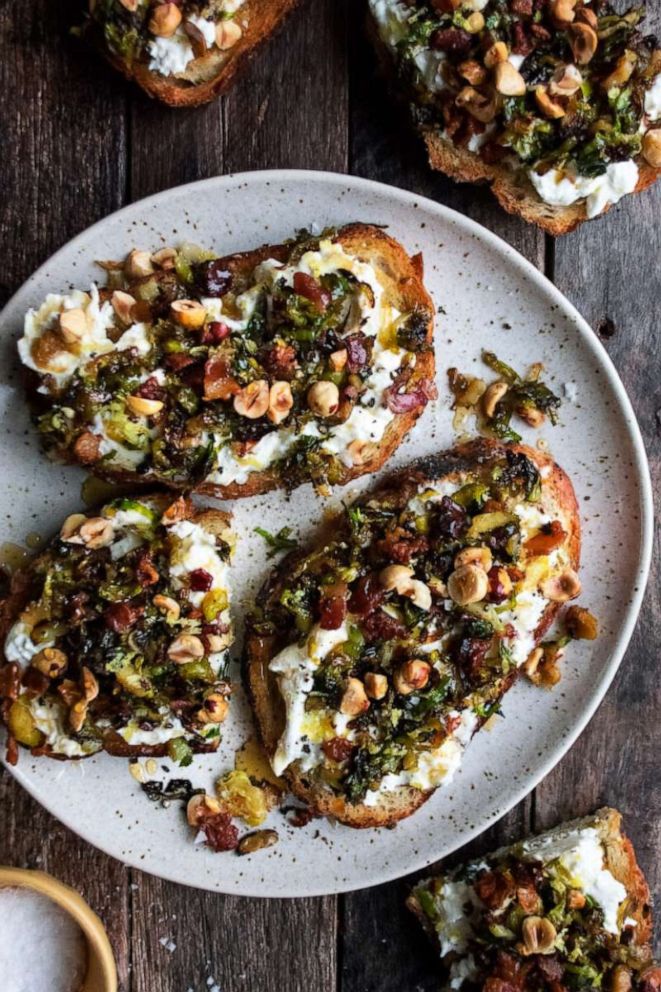 Serves:12 appetizer portions; 6 larger portions
Ingredients
1/2 cup raw hazelnuts
6 ounces raw bacon, diced
1 tablespoon olive oil
1 pound brussels sprouts (roots trimmed, halved, and thinly sliced)
Kosher salt
Freshly cracked black pepper
1/4 cup honey, plus more to drizzle
1 tablespoon lemon juice
1 teaspoon lemon zest
6 large slices crusty bread, about 1/2-inch each
2 balls burrata cheese
Flaky sea salt (optional)
Directions
Preheat the oven to 400 degrees. Spread the hazelnuts out onto a sheet pan. Roast for 8-10 minutes, or until golden. Let cool just slightly. Use a kitchen towel to rub off the loose skins. Roughly chop the hazelnuts and set aside.
Add the diced bacon to a large skillet over medium-low heat. Spread out into an even layer. Render the bacon until crisp. Use a slotted spoon to transfer the crisp bacon to a plate lined with paper towels.
Raise the heat under the skillet to medium-high. Add the olive oil to the bacon fat, along with the brussels sprouts. Stir well and then spread the brussels into an even layer. Let cook until browned and crisp on one side before stirring again. Continue to cook for another couple of minutes until the brussels are tender and fully caramelized. Season well with salt and pepper to taste. Stir in the honey, lemon juice, lemon zest, and bacon. Let cook for another minute or so.
Meanwhile, place the bread onto a sheet pan and drizzle both sides with olive oil. Toast in the oven for about 12 minutes until golden. Tear the burrata into pieces and distribute onto the bread, "spreading" it out so that it covers most of each slice of bread. Season the cheese with a pinch of salt.
Mound the brussels sprout mixture onto each slice of toast. Sprinkle the hazelnuts over top. Drizzle each slice with more honey. Season with the flaky sea salt (if desired) and more freshly cracked black pepper. Cut each slice of toast in half to serve.
Apple Butter and Melted Brie Tart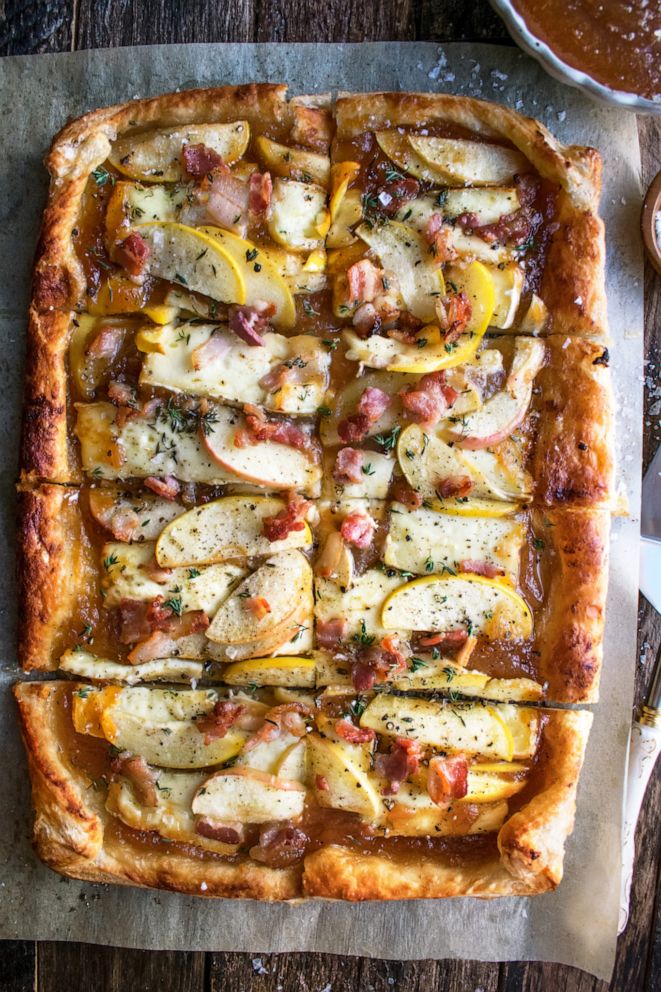 "A Thanksgiving appetizer that's as impressive as it is simple to make: apple butter and melted brie tart," Howey wrote. "You can use your favorite store-bought apple butter or if you've got the time, make my homemade (and extremely delicious) recipe. It's slathered over puff pastry and then topped with slices of brie, fresh apple, bacon and thyme. The tart gets baked until golden, cut into pieces, and served!"
Serves: 8-12
Ingredients
1 14-ounce sheet puff pastry, thawed
1 cup apple butter (store-bought or homemade recipe here)
1/2 pound wedge of brie, halved crosswise and sliced 1/4 inch
1 large apple, cored and thinly sliced
Olive oil
Kosher salt
Freshly cracked black pepper
4 ounces bacon, diced
1 teaspoon fresh thyme
1 egg yolk
1 tablespoon milk
Flaky sea salt
Directions
Preheat the oven to 425 degrees. Line a half sheet pan with parchment paper. Unfold the puff pastry into a rectangle. Spread the apple butter evenly onto the dough, leaving a 1" border.
Arrange the brie and apples over the apple butter. Drizzle with olive oil and season with salt and black pepper. Top with the bacon and fresh thyme.
Fold the edges of dough over the apples and pinch the corners together. Combine the egg yolk and milk in a small bowl. Brush this egg wash onto the border of the dough. Sprinkle the flaky sea salt onto the border.
Bake the tart for about 30 minutes, or until golden and cooked through. Let the tart sit for about 5 minutes to cool. Transfer it to a cutting board. Cut into 8 or 12 pieces and serve immediately.
Caramelized Butternut Squash Toast with Ricotta and Balsamic
Serves: 8-10 appetizer portions
Ingredients
4 tablespoons olive oil, plus more as needed
1 handful sage leaves
1 1/4 pound diced butternut squash, 1/4-inch cubes
1 1/2 cups (12 ounces) whole-milk ricotta cheese
1 tablespoon plus 1/4 cup maple syrup
Kosher salt
Freshly cracked black pepper
1 loaf italian bread, sliced 1/2"
1/4 cup balsamic vinegar
Flaky sea salt
Directions
Preheat the oven to 400 degrees. Heat a 12-inch cast iron skillet over medium heat. Add 3 tablespoons of the olive oil. Once hot, add the sage leaves. Fry in an even layer until crisp on both sides. Transfer the sage to a plate lined with a paper towel to drain.
Add the butternut squash to the skillet. Cook for about 12 minutes, stirring occasionally, until the squash is caramelized and tender.
Meanwhile, add the ricotta cheese, 1 tablespoon of maple syrup, and remaining 1 tablespoon of olive oil to a mixing bowl. Whisk to combine. Season with salt and freshly cracked black pepper to taste.
Place the slices of bread onto a sheet pan and drizzle with olive oil to coat both sides. Toast in the oven for about 8-10 minutes, or until golden and crisp. Cut each slice into half.
To the squash, add the balsamic vinegar and remaining ¼ cup of maple syrup. Bring to a simmer and cook for about 3 minutes on medium low until reduced. Season with salt to taste. Turn off the heat and let cool slightly.
To assemble, spread the whipped ricotta onto each piece of toast. Top with the butternut squash (along with any extra glaze), the fried sage, flaky sea salt, and more freshly cracked black pepper.
Whipped Goat Cheese with Bacon and Dates
Check out the drool-worthy video below and get her full recipe here for this bold and flavorful yet simple dip-style appetizer.
Recipes reprinted with permission courtesy of The Original Dish.
Candied Cocktail Nuts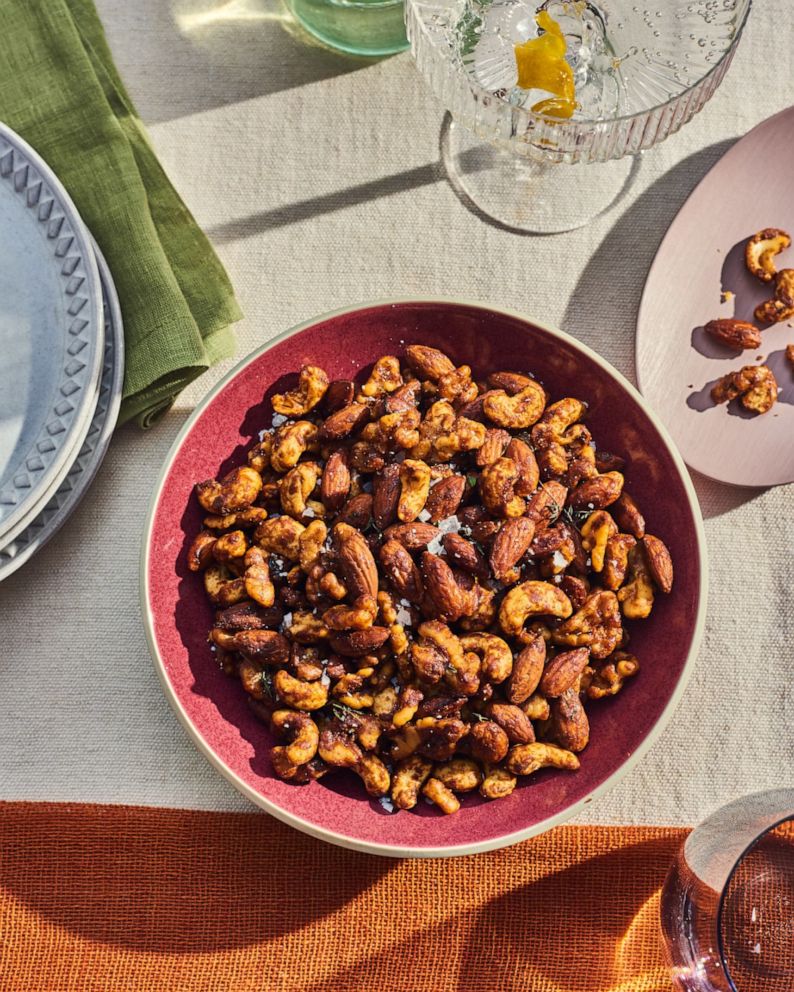 The Kitchn enlisted an array of chefs to host a pre-Thanksgiving Food Fest and shared a few additional recipes with "GMA."
Chef Dorie Greenspan created this sweet and savory mixture of maple syrup and red pepper candied cocktail nuts for a French-inspired menu and would be great during an appetizer hour at any upcoming soirée.
Serves: 4
Cook time: 18 minutes to 19 minutes
Show NutritionIngredients
8 ounces mixed untoasted nuts (1 1/2 to 2 cups), such as whole almonds, cashews, and walnuts
2 or 3 sprigs fresh thyme
1 tablespoon unsalted butter
1 tablespoon maple syrup
1 teaspoon packed light or dark brown sugar
1 teaspoon fleur de sel or flaky salt, or 1/2 teaspoon fine sea salt, plus more for sprinkling
3/4 teaspoon ground cinnamon
1/4 to 1/2 teaspoon piment d'Espelette or cayenne pepper
Directions
Arrange a rack in the middle of the oven and heat the oven to 350 degrees.
Line a rimmed baking sheet with parchment paper or a silicone baking mat. Add 8 ounces nuts and scatter 2 or 3 fresh thyme sprigs over the nuts. Roast for 5 minutes. Meanwhile, place 1 tablespoon unsalted butter, 1 tablespoon maple syrup, 1 teaspoon packed brown sugar, 1 teaspoon fleur de sel or flaky salt (or 1/2 teaspoon fine salt), 3/4 teaspoon ground cinnamon, and 1/4 to 1/2 teaspoon piment d'Espelette or cayenne pepper in a medium saucepan. Cook over medium heat, stirring, until the butter melts and the mixture is smooth. You won't have much liquid, but it will be all that you need.
Add the warm nuts and thyme to the saucepan and cook, stirring, until they are coated with the mix, 2 to 3 minutes. Return the nuts and thyme to the baking sheet and spread them out — they won't bake well if they're in clumps.
Bake for 5 minutes. Stir and turn the nuts and bake until fragrant and deepened in color, 4 to 5 minutes more. Place the baking sheet on a rack and discard the thyme. Sprinkle with more fleur de sel (or fine salt), and let the nuts cool completely (they will initially be sticky but crisp up).
Check out the final night of The Kitchn's Thanksgiving Food Fest with recipe developer and cookbook author Yasmin Fahr for more delicious turkey day recipes and tips.
An earlier version of this story was originally published Nov. 4, 2022.