Turkey Day comes down to a trifecta of three F's: food, family and friends.
And while all three are important, setting a menu of easy recipes should also add two more important F's -- flavorful and fun.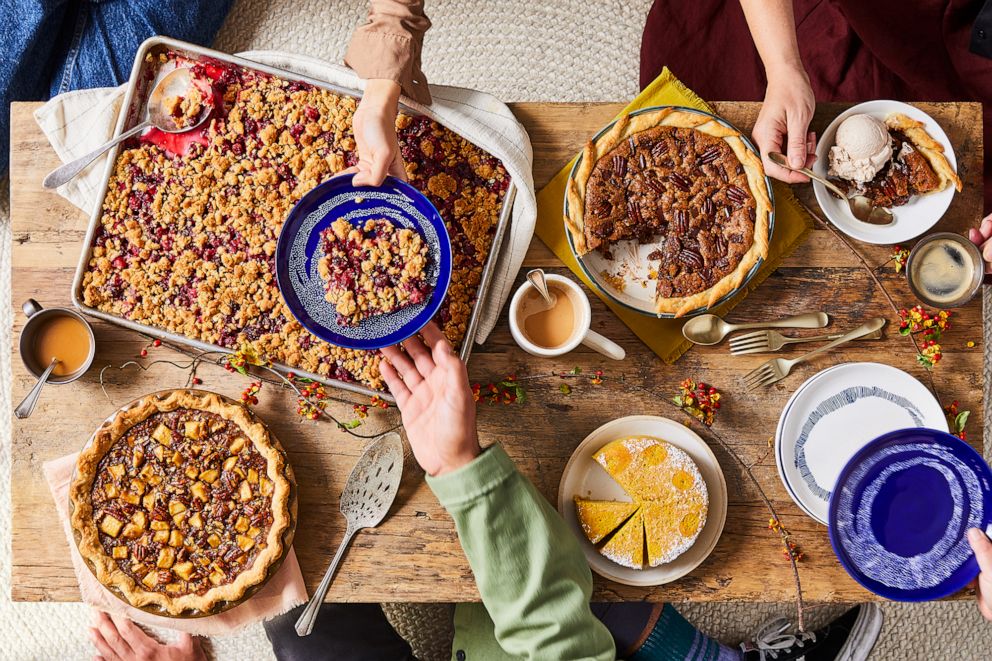 The editorial team of chefs and contributors at Food52 locked in an array of delicious dishes that accomplishes just that and shared their friendsgiving feast with "Good Morning America."
Check out a few of their top recipes for the food festivities below.
"I'm a firm believer that the most fun and memorable Thanksgivings are the ones that don't perfectly recreate tradition," founding editor at Food52 and cookbook author Kristen Miglore said. "Whether that's because you're tackling a new menu together with friends, like this one, or even because everything didn't go according to plan. I like to think of Thanksgiving as an adventure, instead of a test."
Resident Food52 editor Emma Laperruque echoed the same sentiment that when it comes to the food: "There is no wrong Thanksgiving menu."
"Whatever you're excited to make, or someone is excited to bring, is the right call," she said. "That's what I look for every year when I'm planning my Thanksgiving: a recipe that makes me want to sprint into my kitchen."
Lapperruque continued, "You can't make too few dishes for Thanksgiving, only too many. If the idea of getting everything done is causing stress, cut a dish or three. A curated menu is a confident menu. And don't hesitate to ask for help. Don't like making desserts? That's cool! Ask a relative to bring the pie. Or buy one from a local bakery."
Appetizers
Herby Shrimp Toasts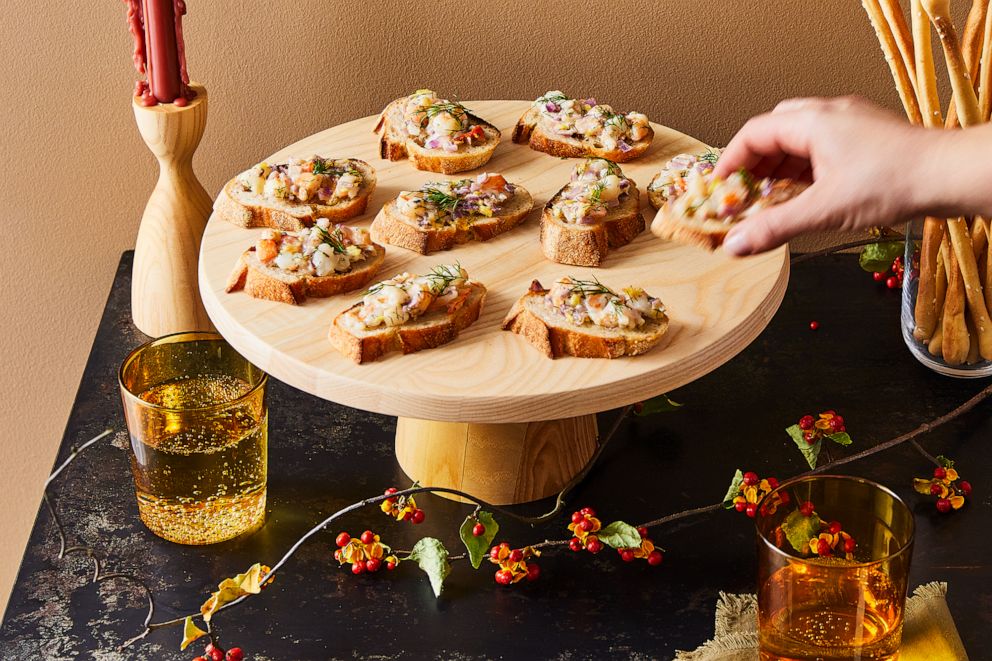 Chetna Makan said these simple cheesy, herby shrimp toasts are a favorite for all holiday celebrations this time of year. Plus, they can be prepped ahead of time and finished minutes before serving. Get the full recipe here.
Smoked Gouda Cheese Ball With Crispy Prosciutto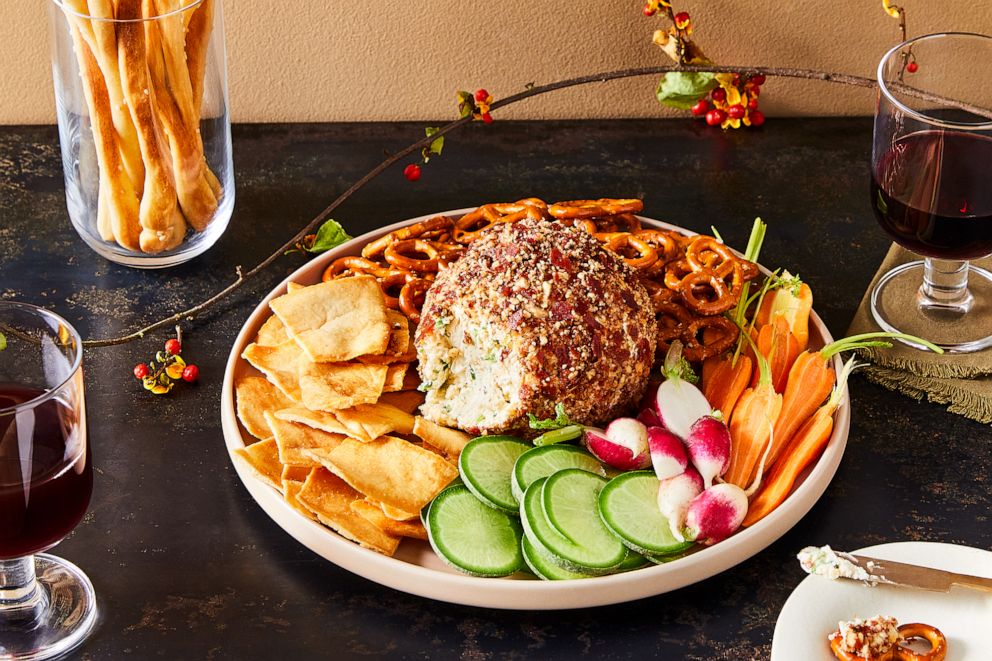 Ingredients
4 ounces smoked gouda, shredded (about 1¼ cups), plus more for garnish (optional)
1 (8-ounce) block cream cheese, at room temperature
2 tablespoons sour cream
3 scallions, chopped, divided
1/2 cup raw pecans
2 ounces prosciutto (3 to 4 slices)
1/2 teaspoon garlic powder
1/2 teaspoon onion powder
Freshly ground black pepper
Crackers, for serving
Directions
Heat the oven to 400 degrees. In a small bowl, stir the gouda, cream cheese, sour cream, 2 of the chopped scallions (about ¼ cup), the garlic powder and onion powder. Season with black pepper. Transfer to the refrigerator and chill for about 30 minutes, until cold.
Meanwhile, arrange the prosciutto slices on a foil-lined sheet pan and bake, turning once, for 12 to 15 minutes, until crispy. Let cool.
In a food processor or by hand, chop the pecans until finely chopped, then transfer to a shallow dish. Gently pulse the crispy prosciutto in a food processor (or chop or crunch up by hand) until finely chopped, but not dust. Add the prosciutto to the pecans and toss to combine.
Remove the cheese mixture from the refrigerator and mold into a ball shape with clean hands (use gloves if you'd like). Roll the cheese ball in the pecan mixture until coated.
Place on a serving dish and top with the remaining scallions and a pinch of shredded gouda, if using. Serve with the crackers.
Do Ahead: The cheese ball, without rolling or toppings, can be made 2 days ahead. Wrap in plastic and store in an airtight container in the refrigerator.
Side Dishes
Cornbread Stuffing, but Make It Taco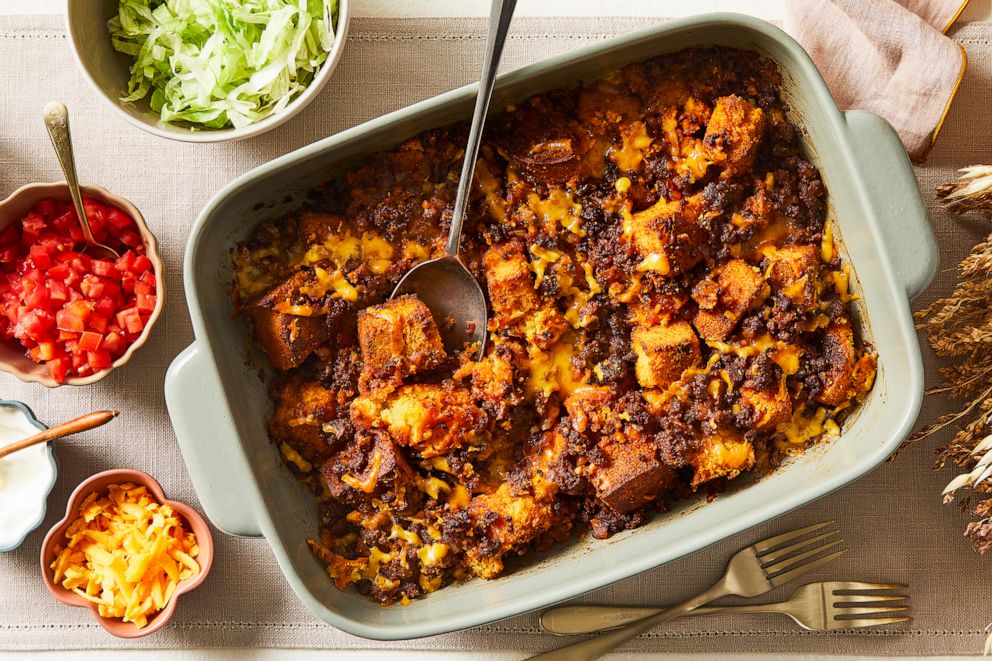 Sohla El-Waylly created this stuffing for all the Taco Bell lovers out there.
"Cornbread and ground turkey (or beef, pork, or even crumbled tofu) is showered in my patented Bell seasoning blend. The stuffing is baked until browned and served with all the fixins: sour cream, shredded lettuce, out-of-season diced tomatoes, and of course, cold shredded cheese. You can make a meal out of just this dish, or show it off at Thanksgiving," she wrote with the recipe.
Ingredients
2 teaspoons cumin seeds
2 teaspoons dried oregano
2 teaspoons smoked paprika
2 teaspoons Ancho chile powder (or another mild, smoky chile powder, such as chipotle)
2 pounds cornbread, cut into 1 to 1 ½-inch pieces (about 8 cups)
3 tablespoons neutral oil (such as sunflower or grapeseed), divided
1 1/2 teaspoons kosher salt, divided, plus more to taste
1 pound ground turkey, pork, or beef
3 to 4 cups chicken broth, divided
1 medium yellow onion, chopped
4 garlic cloves, chopped
3 tablespoons tomato paste
8 ounces (about 2 cups) coarsely grated cheddar cheese, divided
Diced tomato, to serve
Shredded iceberg lettuce, to serve
Sour cream, to serve
Directions
Heat oven to 325 degrees. In a small skillet over medium-high heat, toast the cumin and oregano until fragrant, about 1 minute. In a spice grinder, blitz the cumin and oregano until fine. In a small bowl, combine with the paprika and chile powder.
Spread the cornbread onto a sheet pan, drizzle with 1 tablespoon of oil, and toss to combine. Sprinkle with half of the spice blend, half teaspoon kosher salt, and toss to evenly coat. Taste and add more salt if needed.
Bake, tossing once midway through, until toasty and crisp, 35 to 45 minutes. Once the cornbread is out of the oven, increase oven temperature to 375 degrees.
Meanwhile, in a large skillet over medium-high heat, heat 1 tablespoon of oil until it shimmers. Add the ground turkey, breaking into crumbles with a potato masher or whisk. Season with the remaining 1 teaspoon of kosher salt and cook, stirring occasionally, until deeply browned, 8 to 10 minutes. Add ½ cup of chicken broth and use a wooden spoon to scrape up all the browned bits. Scrape the mixture and all the liquid into a large heatproof bowl and set aside.
Return the skillet to medium-high heat, add the remaining 1 tablespoon oil, and heat until it shimmers. Add onion, garlic, tomato paste, remaining spice mixture, and a big pinch of salt. Cook, stirring frequently, until the onion and garlic have wilted and the tomato paste looks darkened and sticks to the bottom of the skillet, about 5 minutes. Add half a cup of chicken broth and scrape the brown bits off the bottom of the pan. Simmer until reduced, thickened, and the fat starts to sizzle in the pan, about 5 minutes. Scrape this mixture into the bowl with the turkey.
Add the croutons to the bowl and mix well but gently to combine. Add enough broth to make the bread moist but not soggy (you may not need it all) and half of the cheddar cheese. Toss to combine, taste the mixture, and add more salt if needed. Transfer the mixture to a 3- to 4-quart casserole dish.
Bake until steamy and brown, 35 to 40 minutes.
Serve hot with diced tomato, shredded lettuce, sour cream, and the remaining shredded cheese alongside (like a taco bar!).
Spiced Sweet Potato Gnocchi With Sage & Hazelnuts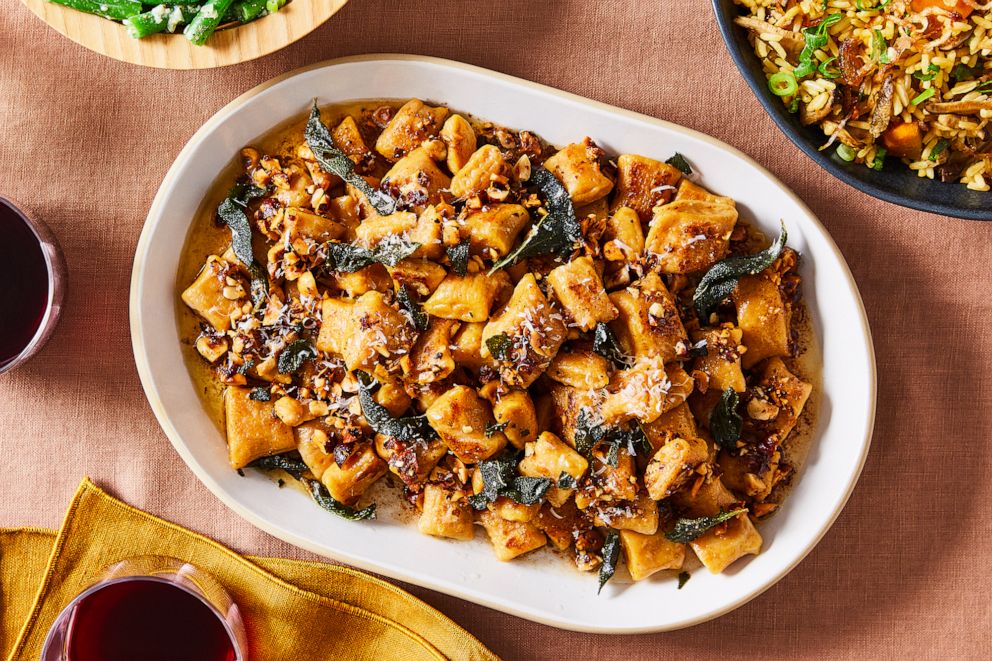 Sorry sweet potato casserole, you've been replaced with a sweet, seasonal pasta riff that's pillowy and perfect for a fun alternate side. Plus, if there are any vegetarians at the meal this could work as a hearty main dish option for any non-turkey eaters.
Meryl Feinstein, Food52's resident pasta maker, shared the full recipe here.
Grandma Potatoes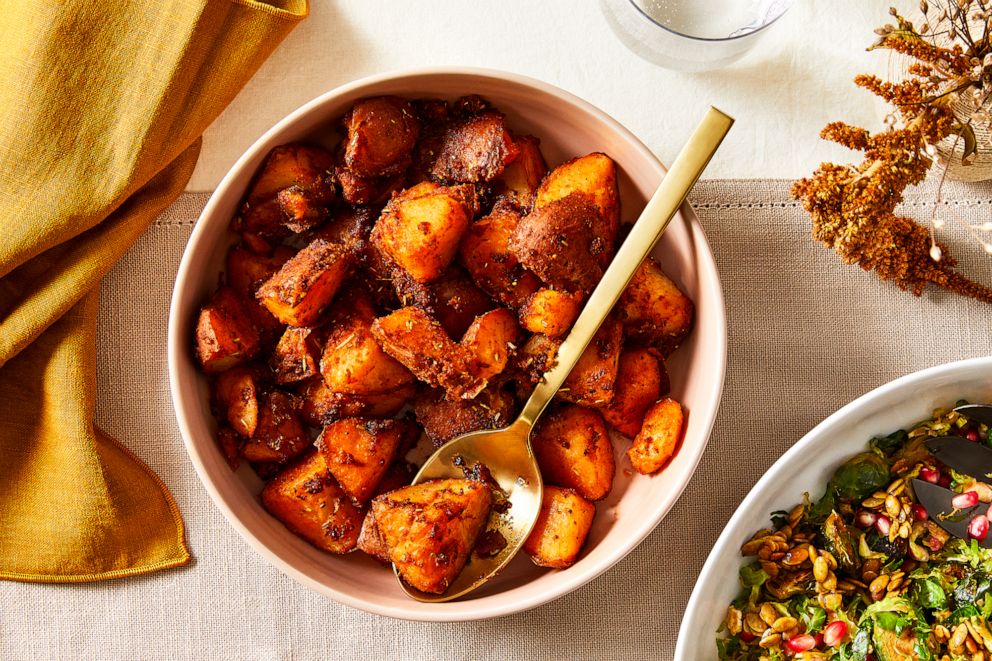 Laperruque shared her grandma Jolly's recipe that's been in her family for over 72 years.
"It is iconic: the side dish you fight about at Thanksgiving, and beg for every other holiday," she wrote. Check out the full recipe here for her grandma's "extra crispy, aggressively seasoned, and greasy in a good way."
Buttermilk Biscuits With Pumpkin Chile Butter
Melina Hammer created these Thanksgiving must-have flaky biscuits that bake in a cast-iron skillet for a crispy crust and soft, fluffy center and served with pumpkin compote butter.
"Not pumpkin butter as in pumpkin butter, but pumpkin purée mashed into soft butter," Hammer said. "Add your choice of chile paste, from funky gochujang to warming harissa, and you've got a compound butter you'll want to slather on everything."
Ingredients
For the Pumpkin Chile Butter:
1/2 cup (113 grams/1 stick) salted butter, at room temperature
1 tablespoon plus 1 teaspoon gochujang or harissa
3 tablespoons canned pumpkin
For the Buttermilk Biscuits:
3 cups (360 grams) all-purpose flour
1 tablespoon baking powder
1 teaspoon kosher salt
3/4 cup (170 grams/1½ sticks) salted butter, cubed and frozen, plus more for greasing and brushing
1 cup (227 grams) buttermilk
2 teaspoons honey
Directions
For the Pumpkin Chile Butter: In a medium bowl, stir the butter and gochujang or harissa until uniform. Add the pumpkin and incorporate fully. Taste and adjust the seasoning as needed. If you're using it that day, set it aside until you're ready to eat. If you're using it later (this can be made up to 2 weeks in advance), transfer it to an airtight container and refrigerate; just bring it to room temperature an hour before serving.
For the biscuits: In the bowl of a food processor, pulse the dry ingredients to combine. Add the frozen cubed butter and pulse in intervals until most of the pieces are pea-sized, with some smaller pieces here and there.
Empty the mixture into a large mixing bowl. Make a well in the center and pour in the buttermilk and honey. Using a fork or silicone spatula, gently stir the ingredients until the buttermilk is incorporated—a few dry spots of flour are okay at this stage, but you don't want to overwork the dough.
Tip the mixture onto a lightly floured surface. With your hands, knead until the dough mostly holds together with a few stray crumbs. Pat the dough into a 1-inch-thick square or rectangle, long side parallel with the edge of your workspace.
Use your hands or a bench scraper to fold the left third toward the center, then fold the right third on top of the left, as you would fold a letter. Turn the dough a quarter turn and then, using a pin, roll it out to 1 inch thick.
Repeat the above step two more times.
Use a sharp, floured knife to trim the edges (you can discard these or bake them up as a cook's treat): Cut in a single motion to ensure the dough doesn't compress. Cutting in the same, swift way, divide the dough into 9 equal rectangles. Freeze while you heat the oven to 425 degrees.
Lightly grease a cast-iron skillet large enough to accommodate the biscuits. Nestle the frozen biscuits close to each other, to help them climb as they rise during baking. Brush their tops with melted butter. (If you're baking the trimmed edges, brush butter onto those, too, and bake them separately.)
Bake the biscuits for 25 to 30 minutes, until golden and risen. (If you want to be an overachiever, you can turn the biscuits on their sides after the 20-minute mark to help them get extra-golden edges, rotating every few minutes.)
Transfer them to a serving basket and serve warm or at room temperature with the pumpkin chile butter. Store leftover butter in an airtight container in the fridge, and any remaining biscuits wrapped in foil at room temperature, for up to 3 days.
Kabocha Fried Rice
WoonHeng Chia's versatile pan-fired squash-filled rice is sure to get things dancing in the kitchen this Turkey Day. Get her recipe here.
Turkey and Sauces
Pavo al Pastor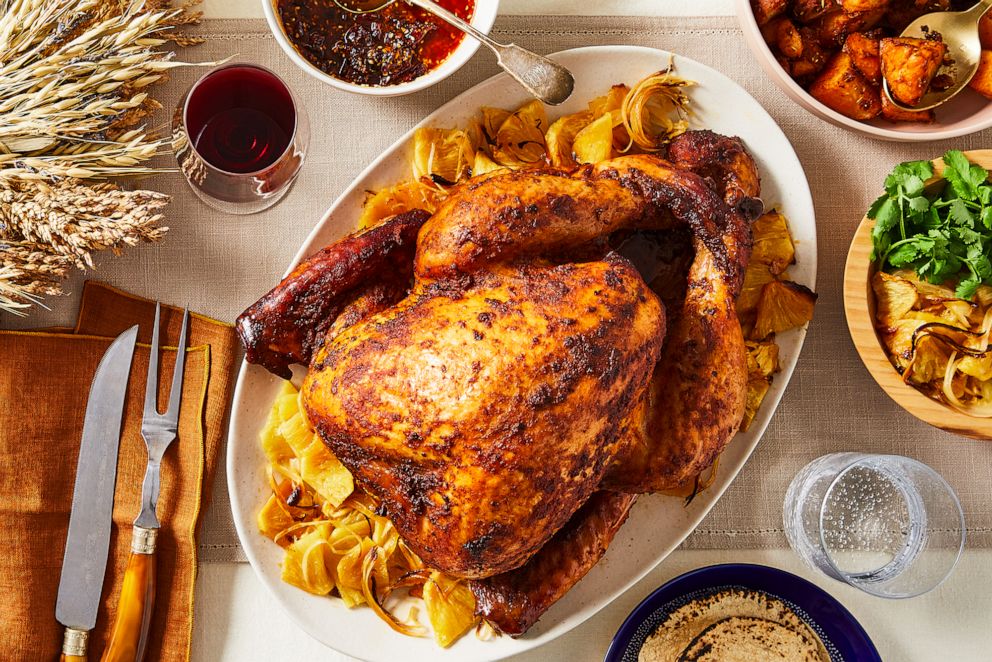 Al pastor, pork that's thinly sliced and stacked onto a vertical skewer, was the muse for Rick Martinez's turkey. Seasoned with achiote paste and garlic and roasted over pineapple and onion, this bird is happiest served with warm tortillas.
Get the full ingredients list and instructions here to cook this less traditional, but more flavorful bird.
Cranberry Salsa Macha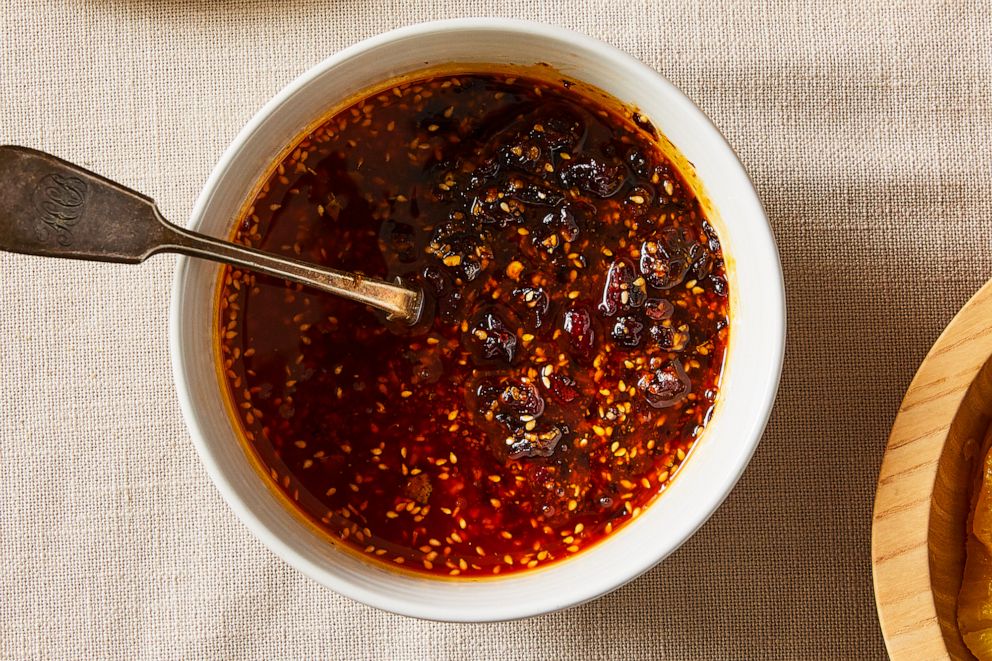 Martinez's accompanying salsa is a remix of a traditional cranberry sauce to better complement the flavorful Mexican-style turkey. Get his recipe here.
Caramelized Onion Gravy
Makes: 2 cupsCook time: 45 min
Ingredients
3 tablespoons extra-virgin olive oil
3 large yellow onions (about 1½ pounds), thinly sliced
1/2 teaspoon kosher salt, plus more to taste
2 1/2 cups hot vegetable, turkey, or chicken stock, plus more as needed
2 tablespoons all-purpose flour (or 1 tablespoon cornstarch)
Freshly ground black pepper, to taste
Directions
Heat the oil in a wide skillet over medium-high heat. Add the onions and salt and cook for about 20 minutes, stirring occasionally and lowering the heat as needed to prevent burning. After 20 minutes, the onions should be soft and translucent, with a light amber color. Increase the heat to medium, then gradually incorporate 1 cup of the stock: Add a splash to deglaze the pan, then cook down until the stock has mostly evaporated. Repeat this until you have incorporated the 1 cup of stock and the onions are soft and sort of mushy, with a dark amber color.
Using a fork, mix the flour or cornstarch with ¼ cup of hot water in a bowl. Using a fine-mesh sieve, strain the mixture over the onions to prevent any clumps in the sauce. Vigorously stir to incorporate and cook for about 1 minute to remove the raw flour/starch taste. While stirring, slowly add the remaining 1½ cups of stock to the onions. Bring the sauce to a simmer and cook until it's as thick as you like. (If the gravy becomes too thick, you can add more stock to loosen it up.)
Season with black pepper to taste and salt if needed. This gravy can be made ahead—simply store in an airtight container in the fridge and reheat in a pot right before serving.
Save Room for Something Sweet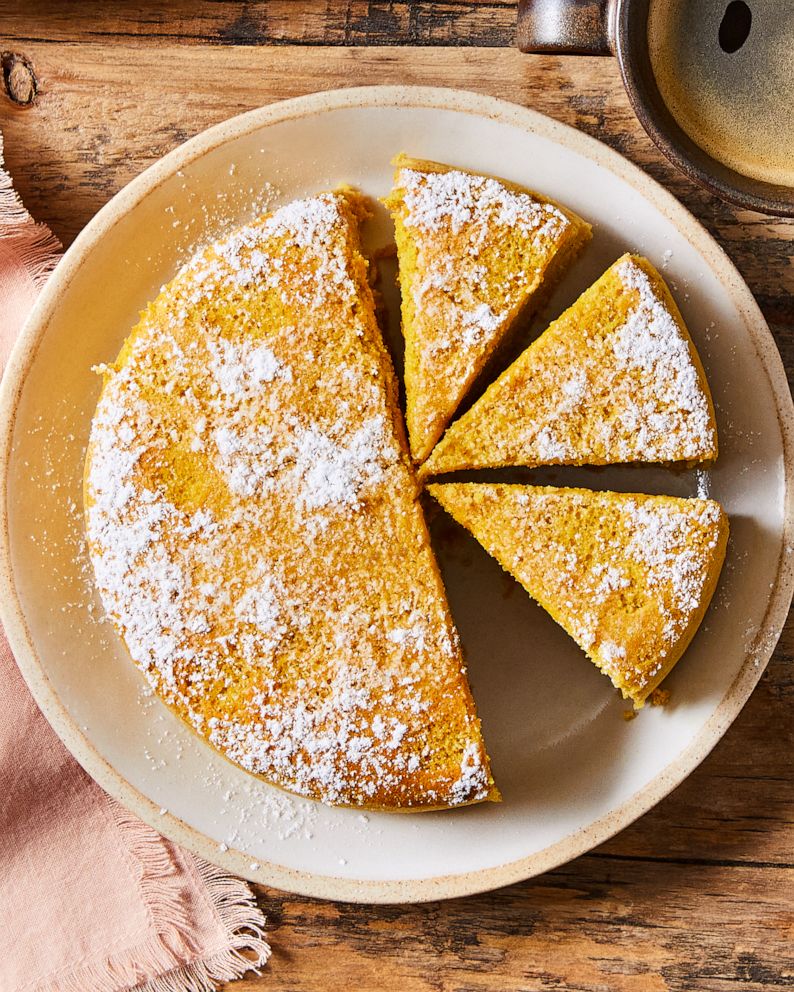 Pumpkin Cotton Cheesecake
"Japanese cheesecake, also known as Japanese cotton cheesecake or Japanese soufflé cheesecake, is an absolute delight," Hana Asbrink said in her recipe here. "If you can imagine the texture of a light-as-air chiffon or angel food cake with the creamy richness of a classic cheesecake, that about sums up what you can expect in terms of mouthfeel."
Sheet-Pan Cranberry Crisp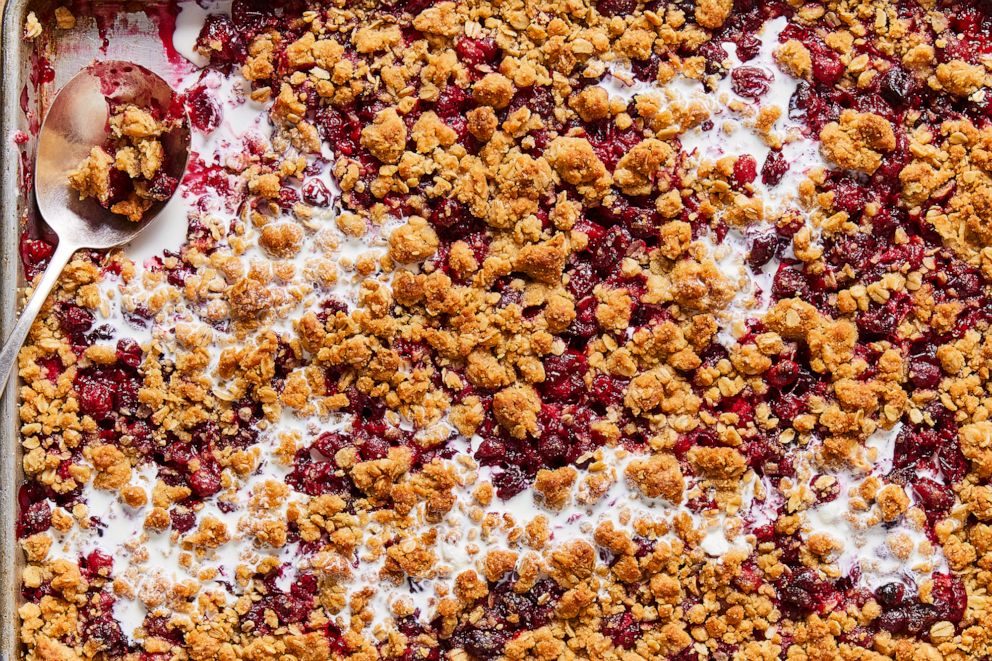 Laperruque's dessert balances sour cranberries with a dollop or scoop of something sweet and creamy. Click here for her full recipe.
Chocolate Chunk & Pecan Pie With No-Churn Bourbon Ice Cream
Samantha Seneviratne calls this pie recipe "dead simple."
"I make the pastry by hand. I make the filling by hand and in one bowl. I don't mess around with blind-baking the crust. And it's best warm, so you can assemble it and throw it in the oven when everyone is sitting down to dinner -- once the oven is empty," she wrote.
Check out the rest of the Food52 residents' Thanksgiving menu here.