Baking is on the rise in homes across America as people continue to stay home amid the novel coronavirus outbreak. One tasty treat is getting a bunch of attention -- banana bread!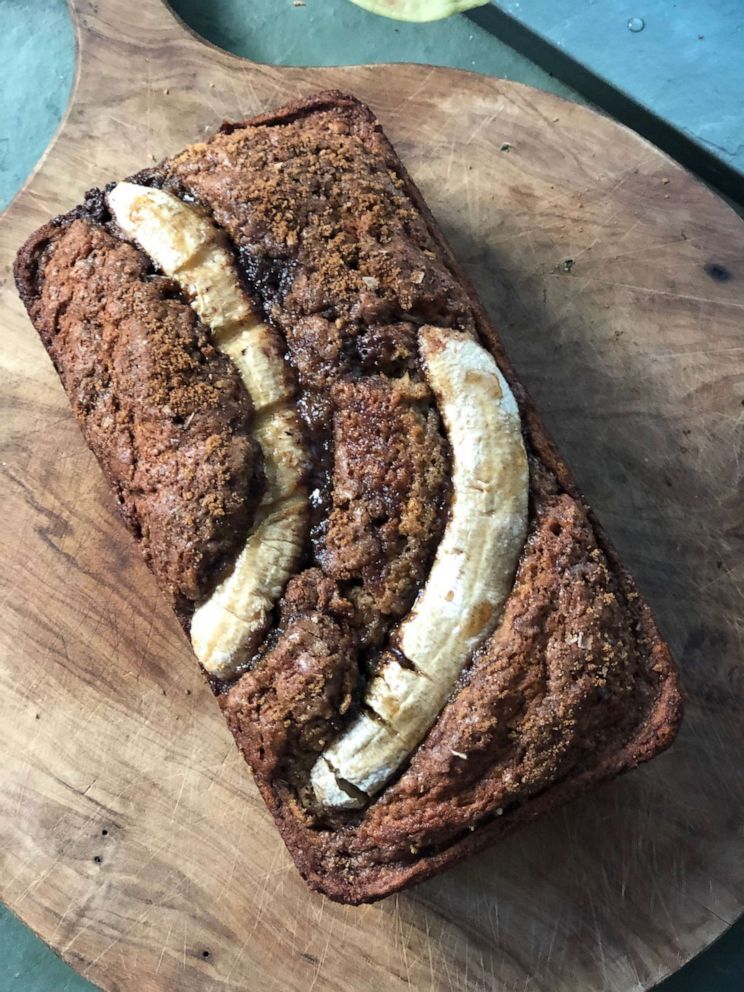 "Salt, Fat, Acid, Heat" cookbook author and chef Samin Nosrat joined "GMA" via Skype from her home in Oakland, California, to share a simple, delicious recipe with some pantry staples. She also offers a variety of swaps to use -- basically whatever people have on hand.
Nosrat said "the riper the better" when it comes to the best bananas for the recipe,
Check out the full recipe below for her flaky sea salt topped loaf that will be almost too pretty to eat.
Use-What-You-Got Banana Bread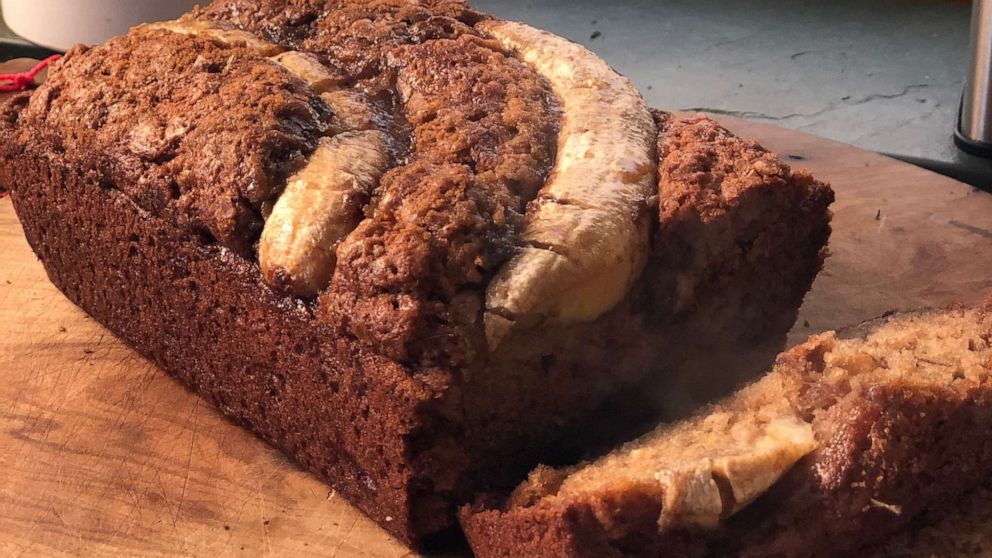 Time: 1 hour, 15 minutes (10 minutes active time)
Yield: 1 loaf
Ingredients
1 1/2 cups all-purpose flour
1 teaspoon baking soda
1 teaspoon baking powder
1 teaspoon fine salt
1 teaspoon cinnamon, plus 1/2 teaspoon for topping
1 1/3 cups mashed ripe bananas from about 3 large, 4 medium, or 5 small bananas), plus (optional) 1 whole ripe banana for topping the loaf
3/4 cup neutral oil, such as canola
Packed 1/2 cup dark brown sugar, plus 2 tablespoons for topping
1 1/2 teaspoons vanilla extract
2 large eggs at room temperature
1/3 cup (75 grams) buttermilk, at room temperature
1/2 teaspoon flaky sea salt for topping
Directions
Remove upper rack from oven and set remaining rack to center position. Preheat oven to 350 degrees.
Grease a 5-inch by 9-inch loaf pan and set aside.
In a large bowl, whisk together flour, baking soda, baking powder, salt, and 1 teaspoon cinnamon. Set aside.
In a medium bowl, whisk together mashed bananas, oil, ½ cup brown sugar, vanilla extract, eggs, and buttermilk to combine.
Gently fold the banana mixture into the dry mixture and stir until just combined and no dry flour is visible. Scrape into prepared loaf pan.
Slice remaining banana in half lengthwise and gently lay on top of the batter, cut-side down. In a small bowl, combine a half teaspoon cinnamon, 2 tablespoons brown sugar, and flaky salt, then sprinkle evenly over batter and banana.
Place pan on prepared rack toward rear of oven and bake for 30 minutes, then rotate pan 180 degrees. Continue baking for another 30 to 35 minutes, or until inserted skewer comes out clean and edges of the loaf pull away from the pan.
Notes and substitutions:
It is perfectly fine to use frozen bananas that have been defrosted—just make sure to use any liquid that the frozen bananas give off after defrosting. That's pure banana flavor!)
Replace up to 1 cup of the all-purpose flour with whole wheat pastry flour if you like—this is my preferred version.
Use light brown sugar if you don't have dark brown.
Use plain yogurt (Greek, low-fat or full-fat) if you don't have buttermilk.
If you don't have flaky sea salt, use a quarter teaspoon fine salt for the topping.
Use an 8-inch square baking pan if you don't have a loaf pan, but adjust baking time to 35 to 40 minutes.