From jarred goods and cans of stock to dried pasta, grains and other pantry staples, these recipes rely on ingredients that are most likely already in your kitchen.
Calling All Canned Goods
Grab your can opener and be prepared to transform these ingredients that can sometimes get forgotten on a back shelf.
Pantry Pasta With Anchovies, Olives and Capers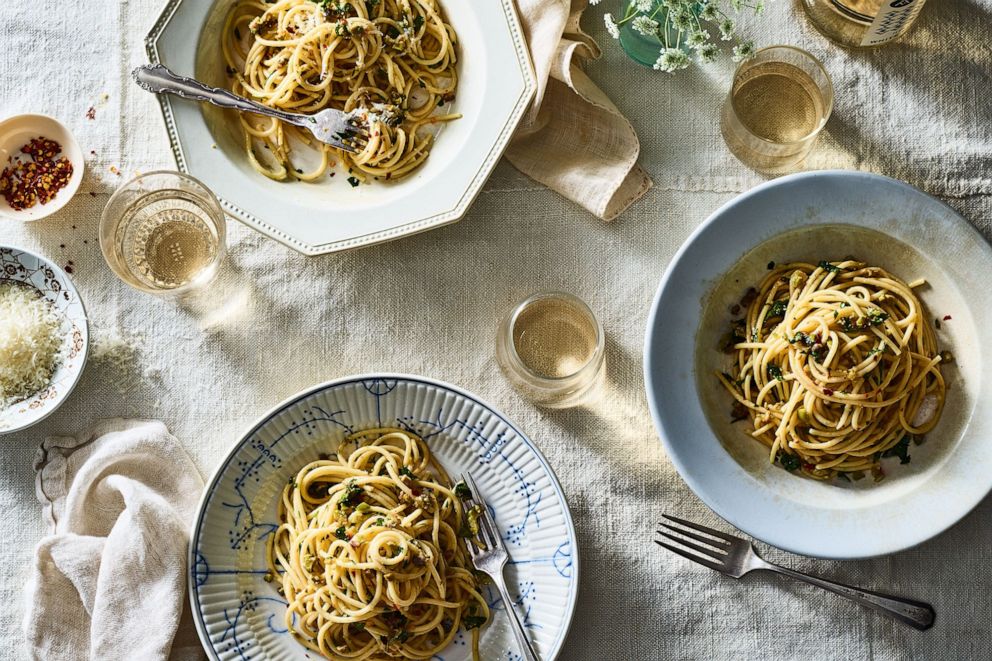 Ingredients
1 1/2 tablespoons kosher salt, plus more to taste
1 bunch parsley leaves, chopped (about 1 3/4 cups)
1/2 cup chopped oil-cured olives
6 tablespoons olive oil
1 (2-ounce) tin anchovies, drained of oil and minced into oblivion
3 tablespoons drained capers, roughly chopped
2 big garlic cloves (or 3 small), peeled and minced
1/2 teaspoon red pepper flakes
12 ounces spaghetti
2/3 cup grated parmesan (or pecorino)
Directions
Set a big pot of water on the stove over high heat to come to a boil. When it does, add the salt.
Meanwhile, make the sauce. Combine the parsley, olives, olive oil, anchovies, capers, garlic, and red pepper flakes in a big bowl.
When the water is boiling, add the pasta. Cook until al dente (I like to start tasting noodles after 8 minutes). Use tongs to transfer the pasta to the bowl with the sauce. Toss. Season with salt to taste (you probably won't need it, but always good to check).
Serve with the cheese alongside for everyone to sprinkle on top.
Recipe courtesy Emma Laperruque on Food52.
Back-Pocket Canned Salad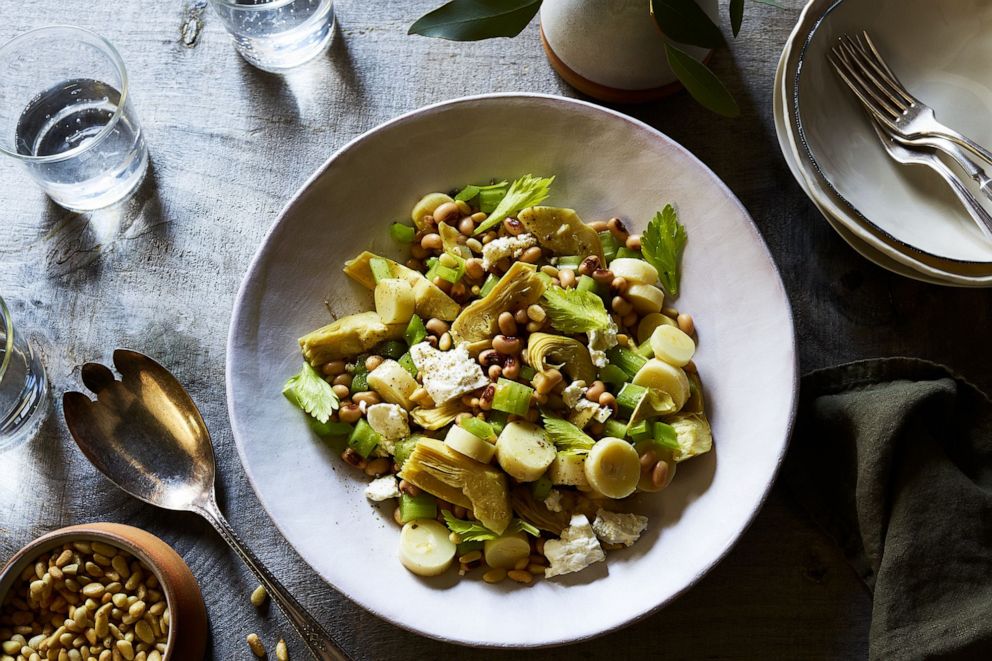 This dish requires zero time at the stove and revives preserved products to make a fresh vegetable dish with bright, acidity.
Ingredients
1 14- to 15-ounce can low-sodium white beans or black-eyed peas, rinsed and drained
1 14-ounce jar artichoke hearts, drained and quartered
1 14-ounce can hearts of palm, drained and cut into about ½-inch slices
4 ounces crumbled feta cheese
4 celery stalks, peeled and cut into about ½-inch pieces, plus some coarsely chopped celery leaves
3 tablespoons extra-virgin olive oil
1 tablespoon finely grated lemon zest
1 or 2 lemons, halved
1 pinch kosher salt
1/4 cup pine nuts, toasted
Directions
Combine the beans, artichoke hearts, hearts of palm, feta cheese, celery and leaves, oil, and lemon zest in a large serving bowl.
Squeeze on lots of lemon juice to make the salad taste really bright, then sprinkle on about half-teaspoon salt.
Toss really well and season with more salt to taste. Sprinkle on the pine nuts.
Recipe courtesy of Food52. Reprinted from "Eat a Little Better." ©2018 by Sam Kass. Photographs ©2017 by Aubrie Pick. Published by Clarkson Potter/Publishers, an imprint of Penguin Random House, LLC.
Pasta and Chickpea Soup with Miso and Chile Oil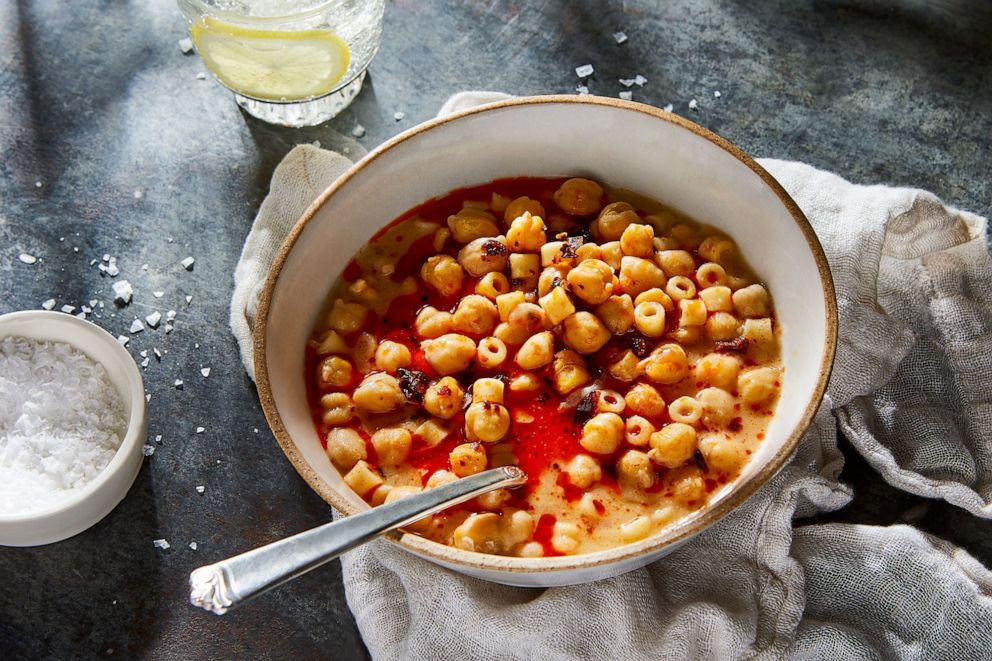 Ingredients
2 tablespoons canola oil
3 tablespoons white miso
2 1/2 cups just-boiled water
1 (15-ounce) can chickpeas, drained
1/2 cup ditalini
2 teaspoons chili crisp (such as Lao Gan Ma or Fly By Jing), with oil, adjusted to taste
Directions
Add the oil and miso to a large saucepan or small soup pot. Set on the stove over medium to medium-low heat and stir-fry for 4 to 5 minutes, lowering the heat if the miso is threatening to burn, until the miso is very fragrant and a toasty, chestnutty brown.
Carefully pour off the oil into a small heatproof bowl (you don't need to obsess over every last drop, just try to get most of it); discard this later on, whenever it's cool.
Set the pan back on the stove and add about half the water, stirring until the miso is incorporated and all the bits on the bottom are scraped up. Add the rest of the water, as well as the chickpeas and pasta. Bring to a simmer and cook for 5 to 6 minutes, until the pasta is super-duper al dente (remember, it will continue to cook as it hangs out in the hot soup).
Divide into two soup bowls and top with however much chili crisp you want.
Recipe courtesy Emma Laperruque on Food52.
Jean's Kimchi Fried Rice With Nori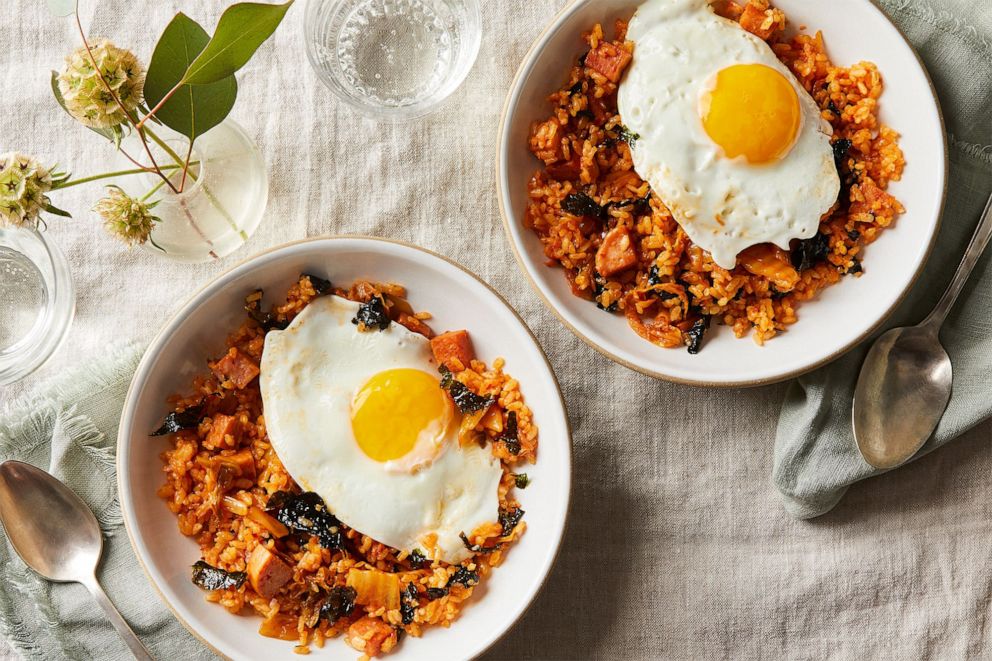 Ingredients
1 tablespoon sesame oil, plus more as needed
6 ounces Spam (about 1/2 can), finely diced
2 cups very ripe kimchi (like, the rankest, ripest you've got), chopped, plus as much of the juice as you can get
4 cups cooked, day-old white rice (especially short-grain)
2 teaspoons soy sauce
1 packet roasted seaweed snack, crushed
4 fried eggs, to serve with
Directions
First, heat the sesame oil in a very large, nonstick pan or wok. Crisp up the Spam, then add the kimchi (hold the juice for later) and sauté for a few minutes until fragrant and darker in color.
At this point you can mix in the rice, breaking it up with your fingers or with a wooden spoon. Add the kimchi juice, soy sauce, and more oil here if you need. Be diligent with that spoon, stirring constantly and scraping up any rice that sticks to the bottom (this is where one of those nonstick pans with that old-fashioned red dot in the middle comes in handy). Cook for 5 to 10 minutes until everything is well-combined and slightly toasted.
To finish, crush the roasted seaweed snack with your hands and mix into the rice. I find that this really rounds everything out and means you can skip extra seasoning. (The kimchi and Spam are salty enough, anyway; plus, this is what my mom does.)
It's traditional to top each serving with a fried egg—to be exact, a gooey, runny egg, barely set, coating the red rice with yolky gold.
Recipe courtesy Eric Kim on Food52.
Make Jarred Tomato Sauce the Star
"Bringing It Home" cookbook author and "Top Chef" co-host Gail Simmons teamed up with Rao's to create three simple dishes that are packed with ingredients most people have on hand in the pantry and fridge.
Vegetarian Spaghetti Pie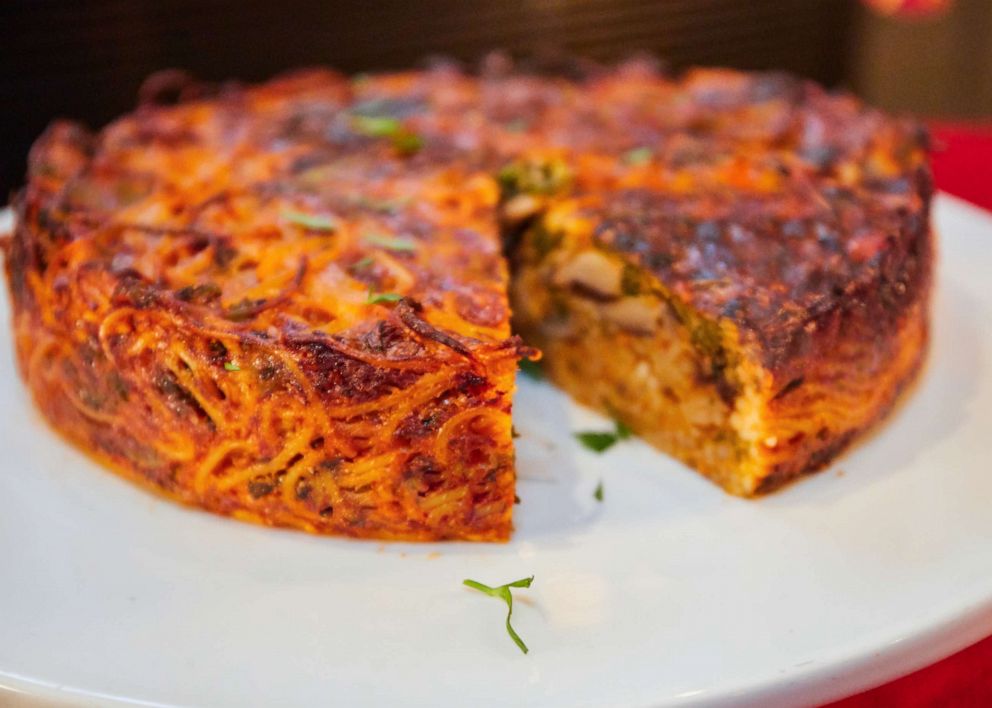 Dried pasta, tomato sauce and a mix of hearty veggies is all this dish needs to make pantry ingredients shine.
"Spaghetti pie is a big affair, impressive in both stature and ingredients, and meant to serve a hungry crowd," Simmons said. "If you don't have enough eaters to tackle it all at once, there's a bonus: Slices of the savory pie may make the best leftovers of all time."
This recipe uses long-lasting ingredients like mushrooms and kale, but can be adapted to include vegetables you have at home.
Serves 8 to 10
Ingredients
2 ounces dried porcini mushrooms (optional)
Unsalted butter for greasing the pan
2 tablespoons extra-virgin olive oil, divided
1 medium yellow onion, finely chopped
2 garlic cloves, finely chopped
10 ounces mixed mushrooms, such as cremini and portobello, cut into 1-inch pieces
Kosher salt
2 teaspoons freshly ground black pepper
1 bunch kale, ribs removed, leaves coarsely chopped
1 pound dried spaghetti
3/4 cup whole milk
3 large eggs
2 1/2 cups (8 ounces) grated sharp yellow cheddar cheese
2 1/2 cups (8 ounces) grated fontina cheese
1 1/2 cups (3 ounces) freshly grated Parmigiano-Reggiano cheese, divided
1 3/4 cups Rao's Homemade Tomato Basil sauce (or any preferred tomato sauce)1 tablespoon finely chopped fresh sage
Directions
Place dried mushrooms in a medium bowl, if using, and pour two cups of boiling water over them. Soak until softened, at least 20 minutes.
Meanwhile, bring a large pot of water to a boil. Heat the oven to 425 degrees. Butter a 9 1/2-inch spring- form pan. Tightly wrap the bottom of the pan with a large sheet of foil, crimping the foil against the outer edges to tightly seal.
In a large skillet, heat one tablespoon of oil over medium-high heat. Add the onion and garlic and cook for one minute. Add the mushrooms, season with salt and pepper and cook, stirring occasionally, until browned, 10 to 12 minutes. Scrape into a bowl. Drain the porcini mushrooms (discard liquid or save for another use). Coarsely chop reconstituted porcini and add them to the cooked mushroom mixture.
In the same skillet, heat the remaining one tablespoon of olive oil. Add the kale, season with salt and pepper and cook over moderate heat, stirring, until just wilted, about two minutes. Fold kale into mushroom mixture and set aside.
Add salt to the boiling water and cook the spaghetti just until very al dente, 7 to 8 minutes (look for a white spot in the center when you bite into a strand). Drain the pasta (do not rinse) and reserve the pot.
In the pasta pot, whisk together the milk, eggs, pepper, and 3⁄4 teaspoon salt. Stir in the cheddar, fontina, and one cup of the Parmesan. Add the Rao's Homemade Tomato Basil sauce, mushroom and kale mixture, and the spaghetti; stir until well combined.
Transfer the pasta mixture to the prepared pan. Using a spatula, smooth the top. Set the pan on a rimmed baking sheet and bake until the edges are golden and bubbling, about 35 minutes.
Remove the pan from the oven. Turn on the broiler. Sprinkle the pie with the sage and the remaining half-cup of Parmesan. Broil four to five inches from the heat until the cheese is golden, two to three minutes. Remove from the oven and run a knife around the inside of the pan. Let the pie rest about 10 minutes then release and remove the sides of the pan. Cut the pie into slices and serve warm.
Recipe adapted from "Bringing It Home: Favorite Recipes from a Life of Adventurous Eating" by Gail Simmons. Copyright © 2017 by GMS Media, Inc. Reprinted with permission from Grand Central Life & Style. All rights reserved.
Tomato Braised Chicken Thighs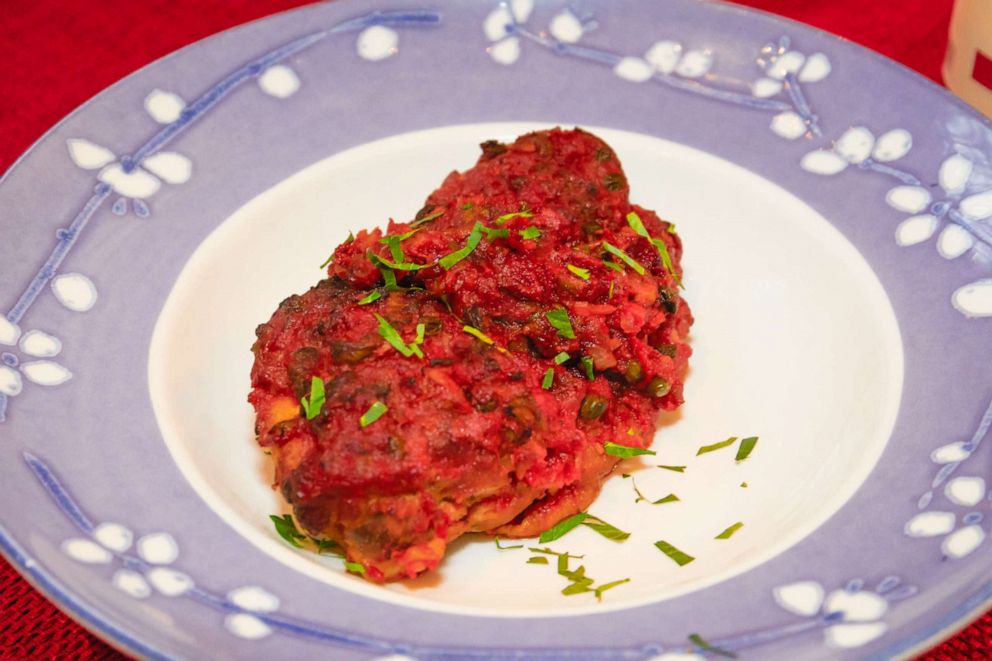 This easy recipe gets a kick from the Arrabbiata sauce and chili flakes and "tastes even better the next day when the flavors have had time to come together, so it's an ideal make-ahead meal," Simmons said.
Plus, you can use up some briny capers and olives sitting in the pantry that will add a nice bright note to the dish.
Serves 4
Ingredients
8 bone-in, skin-on chicken thighs
Kosher salt
Freshly ground black pepper
2 tablespoons extra-virgin olive oil
1 medium yellow onion, finely chopped
2 cloves garlic, finely chopped
1/3 cup dry white wine
1/4 cup chopped Sicilian green olives
3 tablespoons capers (preferably packed in salt), rinsed
1/2 teaspoon chili flakes (optional)
1 24-ounce jar Rao's Homemade Marinara sauce
1 cup chicken stock
1 tablespoons chopped oregano, plus more for garnish
2 tablespoons chopped parsley, for garnish
Directions
Rinse chicken thighs under cold running water and pat dry with paper towels. Season the thighs all over with salt and pepper. In a shallow, heavy-bottomed pan heat the oil on medium-high. Add the thighs, skin side down, and cook until golden brown, about 4 minutes per side. If you need more space, cook them in two batches. Remove to a plate and set aside. Drain off all but 1 tablespoon of oil.
Reduce the heat to medium and add the onion and garlic to the pan. Cook, stirring often, until soft and translucent, about 5 minutes. Pour in the white wine to deglaze the pan, scraping up any brown bits that may have accumulated on the bottom. Simmer to reduce the liquid until almost evaporated, about 4 minutes.
Add back the chicken thighs, nestling them together, then sprinkle in the olives, capers and chili flakes (if using). Pour in the Rao's Homemade Arrabbiata sauce, chicken stock and oregano. Gently stir to combine. Bring to a simmer and cook, partially covered, until the chicken is cooked through, 15 to 20 minutes.
Transfer the thighs to a large shallow bowl or rimmed platter, pour the sauce over top and sprinkle with parsley before serving.