Check out these chocolate-covered strawberry yogurt clusters
Greek yogurt is enjoying a cottage cheese-like spotlight on social media lately, and the latest trend transforms the creamy probiotic into a sweet, tangy, fruity, frozen treat.
The latest viral snack on TikTok takes just four ingredients and has amassed 167 million views on the video sharing platform, with hundreds of home cooks trying their hands at the easy recipe.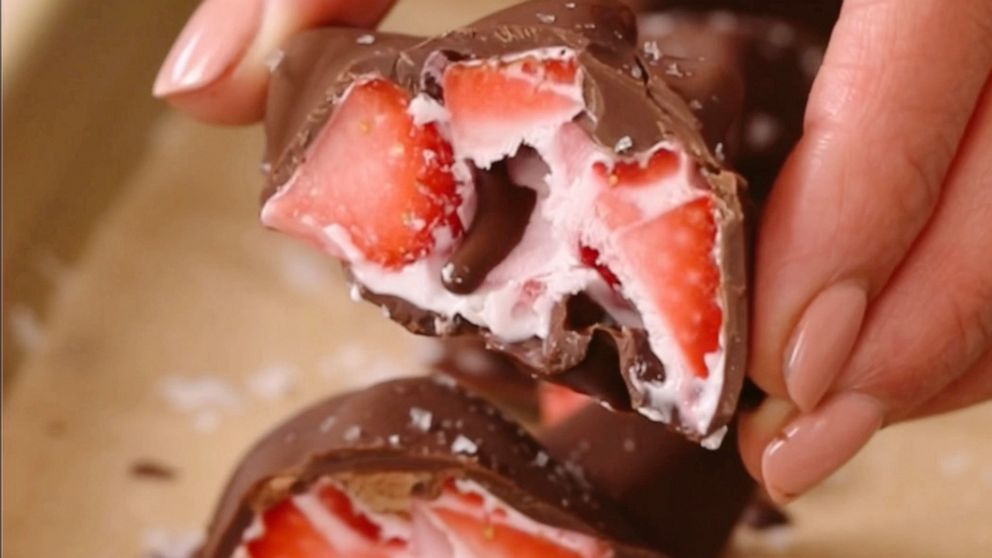 "This is the easiest and most delicious little snack," food creator Nicole Keshishian Modic told "Good Morning America" of the frozen fruit clusters.
She suggested a vegan alternative by simply swapping out Greek yogurt for a non-dairy version. "I recommend storing them in the freezer for an ice cream-ish vibe," she said. "They are so good!"
Chocolate-Covered Strawberry Yogurt Clusters
Modic, a cookbook author and founder of KaleJunkie who recently hit 1 million followers on Instagram, shared her full recipe for the trending snack with "GMA," below.
Ingredients
2 cups strawberries, cleaned and chopped
1 cup vanilla Greek yogurt (or plain)
1 cup chocolate chips
1 teaspoon coconut oil
Directions
Chop strawberries into a small dice.
Add chopped strawberries to a bowl, followed by the yogurt. Toss until the strawberries are fully coated in the yogurt. Scoop 2-3 tablespoons of the strawberry mixture into clusters and and place them onto a parchment paper lined baking sheet. Freeze for 20 minutes.
In a separate small bowl, add your chocolate chips and coconut oil and melt in two or three 30-second increments in the microwave until it's completely smooth. Be sure to mix the coconut oil and chocolate between increments, so it's combined.
Once the chocolate is melted, remove the tray from the freezer and dip each cluster into the chocolate. The chocolate will form a shell on top of each one! Add a sprinkle of sea salt if desired, then eat and enjoy!
Store any leftovers in the fridge for up to one week or in the freezer for up to one month!