How to make fluffy flourless pumpkin bars
Get ready for all things fall and fill your kitchen with the fresh aroma of pumpkin and baking spices.
Healthy recipe developer Megan Gilmore, aka Detoxinista, shared an easy homemade seasonal treat that's certified nutritionist consultant approved.
"These healthy pumpkin bars are surprisingly light and fluffy, without using any flour or refined sugar," Gilmore told "Good Morning America." "They are the perfect gluten-free fall dessert, with a dose of fiber and nutrients in each bite. All you need is a few simple ingredients to make them."
Check out the full recipe below.
Healthy Pumpkin Bars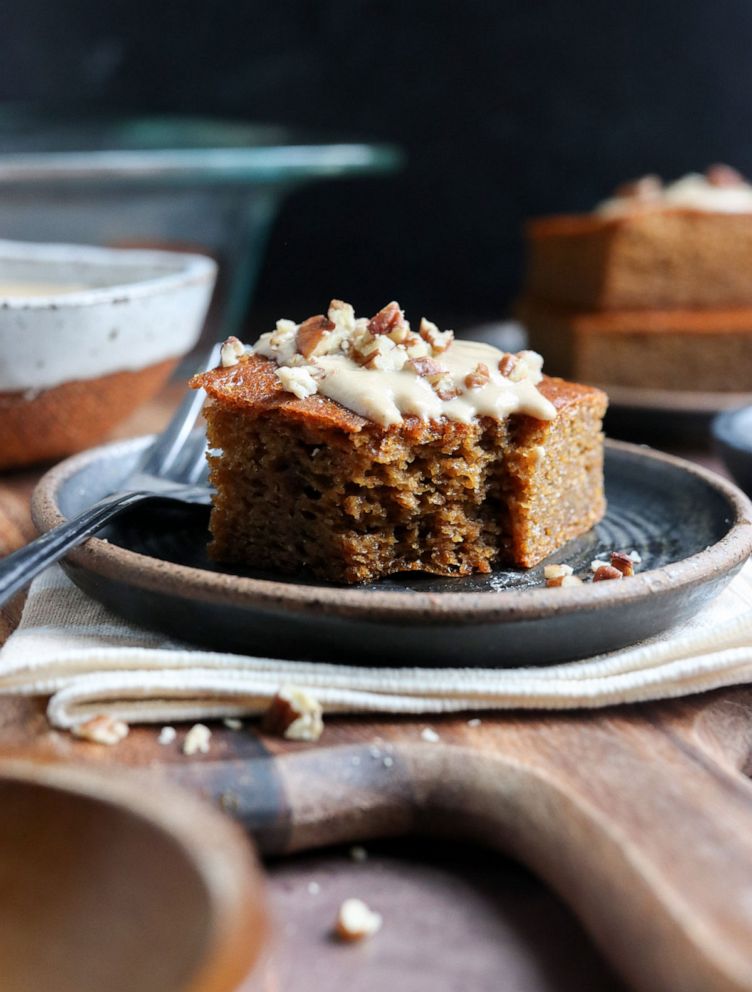 Prep time: 10 minutes
Cook time: 35 minutes
Total time: 45 minutes
Servings: 9
Ingredients
1/2 cup pumpkin puree
1/2 cup almond butter
1/3 cup honey
2 eggs
2 teaspoons pumpkin pie spice
1/4 teaspoon sea salt
1/2 teaspoon baking soda
1 teaspoon apple cider vinegar
Maple Pecan Glaze
3/4 cup pecans , plus extra chopped for serving1/4 cup maple syrup2 tablespoons melted coconut oil1/4 cup water (or coffee)1 teaspoon vanilla extractpinch of salt
Directions
Preheat oven to 350 degrees. In a large bowl, combine the pumpkin, almond butter, honey, eggs, pumpkin pie spice, salt, and baking soda, and stir until very smooth.
Add the vinegar into the batter, and stir again. The batter will have lighter swirls in it, from the baking soda reacting to the vinegar. This will help the bars rise and remove any baking soda flavor in the final bars, so keep stirring until the batter looks uniform. Pour into a greased 8-inch baking dish, lined with parchment paper for easy removal later.
Bake at 350 degrees for about 35 minutes, until the bars rise in the center and don't jiggle when you shake the pan. Cool completely, then slice and serve.
To make the optional Maple Pecan Glaze, combine the pecans, maple syrup, coconut oil, water, vanilla, and salt. Blend until very smooth, scraping down the blender as needed. You can add a tablespoon of water, as needed, to help it blend. Pour the glaze over the bars, and serve right away with chopped pecans on top.
This recipe was originally published on Oct. 15, 2021.