Food TikTok plays host to people like home cooks and food lovers to fishermen and farmers. If you've scrolled to find a steamy bowl of ramen or watch what someone eats in a week -- chances are you've already come across the delicious dishes created by Joanne Molinaro, aka The Korean Vegan.
Molinaro is much more than another plant-based food blogger turned cookbook author. She uses heartfelt personal stories with a sense of poetic prose around beautiful shots of food as it cooks. By the time her dish is prepared, the viewer walks away learning a little bit more about her life, heritage and cuisine.
After starting her blog in 2016, Molinaro has grown her following on TikTok and Instagram with over 3.5 million followers combined, where she "veganizes Korean food" and "Koreanizes everything else."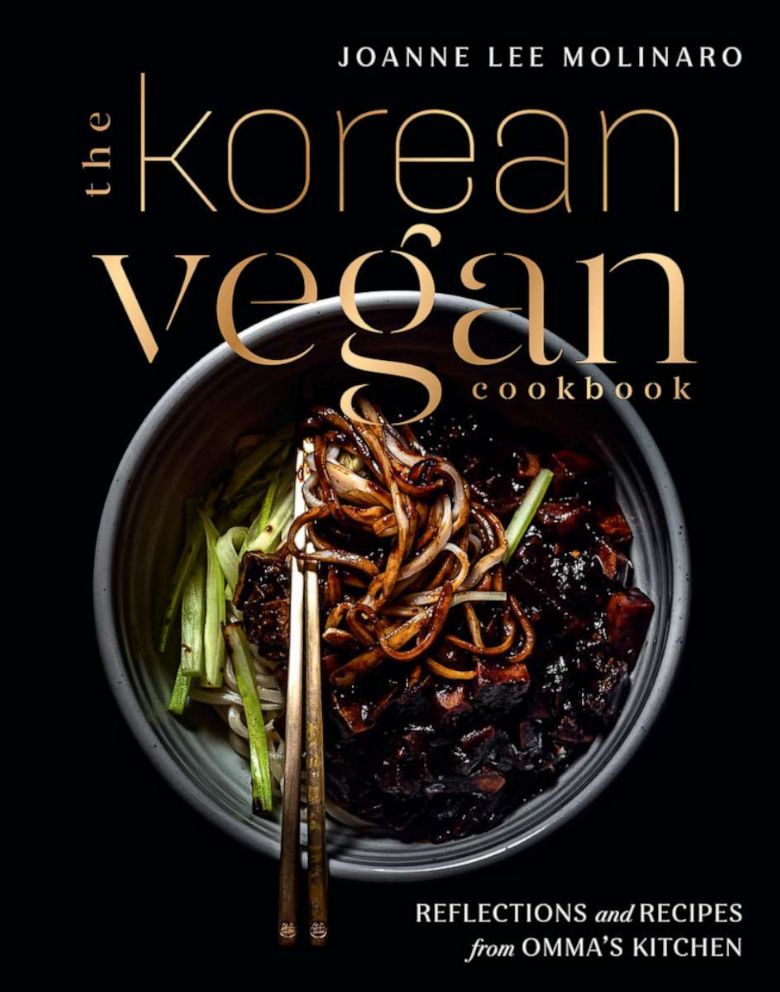 Although common Korean cooking is synonymous with fish sauce and barbecue, Molinaro incorporates ingredients that filled out the bapsangs of her childhood, like doenjang (fermented soybean paste), gochujang (chili sauce), dashima (seaweed), and more.
Check out two recipes Molinaro shared from "The Korean Vegan Cookbook: Reflections and Recipes from Omma's Kitchen" to try a taste of her food in your own home.
Jjajangmyun - Black Soybean Noodles
Molinaro said she grew up calling this dish "Korean spaghetti."
Serves 4
Ingredients
3 large or 4 medium dried shiitake mushrooms
3 tablespoons extra-virgin olive oil
1/2 soy fillet, cut into 1/2-inch cubes
2 to 3 cloves garlic, minced
1/2 cup chopped onion
1 Yukon Gold potato, diced
3/4 Korean squash or regular zucchini, diced
1/2 cup chopped cabbage
1/2 teaspoon salt
1/2 teaspoon cracked black pepper
1/4 cup jjajang
1 tablespoon soup (light) soy sauce
1/2 cup Mushroom Dashi
2 tablespoons brown rice syrup
2 tablespoons potato starch
4 servings cooked noodles
1 cup julienned cucumber
Directions
Soak the shiitake in cold water for 1 hour to reconstitute. Drain and thinly slice.
In a wok or very large pan, heat ½ tablespoon of the olive oil over medium-high heat. When the oil is hot, add the shiitakes and soy fillet and cook until the mushrooms are browned, about 5 minutes. Remove from the pan and set aside.
Add another ½ tablespoon of the olive oil to the wok or pan over medium-high heat. Add the garlic, onion, potato, and squash. Season with salt and pepper. Cook until the onions turn translucent, 2 to 3 minutes. Remove them from the pan and set them aside.
Add the remaining 2 tablespoons of oil to the center of the pan and heat over medium-high heat. Once it gets hot, add the jjajang directly to the oil. Using a wooden spoon, stir the paste into the oil constantly so that it doesn't burn, until it gets very shiny, 1 to 2 minutes.
Add the cooked mushrooms, soy fillet, and vegetables and coat them evenly with the fried black soybean paste.
Add the soy sauce to deglaze the pan. Add the dashi and brown rice syrup. Bring the sauce to a boil, then cover the pan and simmer until the potatoes are nearly cooked, about 5 minutes.
Add the potato starch to ¼ cup water (this is your slurry). Stir the slurry into the sauce and cook until the sauce is thick and shiny, an additional minute.
Serve with your favorite noodles and garnish each bowl with the julienned cucumber. Use any leftover sauce over a bowl of rice.
"This is the 'kid sister' or dongseng recipe to Kkanpoongi. It's what you put together when you're cooking for no one but yourself and you're similarly, 'I'm just hungry and don't care if it looks impressive' friend or spouse or kids," Molinaro wrote in the book. "This is also the perfect recipe for those of you who are new to tofu and worried it may live up to its reputation as being bland, mushy, and generally unpalatable. Not only is this recipe easy to make, it is uniformly praised by tofu veterans and noobs alike as being the exact opposite of bland and mushy."
Serves 4
Ingredients
1/2 cup potato starch
1 teaspoon salt
1 teaspoon fresh cracked black pepper
1 teaspoon onion powder
1 teaspoon garlic powder
1 (16-ounce) container extra firm tofu, pressed and sliced into bite-sized cubes
Vegetable oil, for frying
For the sauce
1/4 cup brown rice syrup
2 tablespoons water
1 1/2 tablespoons soy sauce
1 teaspoon rice vinegar
1 tablespoon potato starch
1 tablespoon gochugaru
1 teaspoon fresh cracked black pepper
1 tablespoon extra-virgin olive oil
1/2 cup diced red onion
7 cloves garlic, minced
1 carrot, finely diced
1 cup dried Szechuan red chilies
2 scallions, chopped
Directions
Mix together the potato starch, salt, black pepper, onion powder, and garlic powder. In a large bowl, combine the potato starch mixture with the tofu. Make sure that all the tofu is evenly coated.
Add enough vegetable oil to generously coat the surface of your largest nonstick skillet. When the oil begins to shimmer, add one layer of the coated tofu, making sure the pieces do not touch one another (they will stick). You may have to work in batches. Cook the tofu on one side until they brown, about 3 minutes. Carefully flip the tofu and cook until the bottoms brown, about 3 minutes. As each batch finishes, place the tofu on a wire rack to drain any excess oil. For extra crispiness, fry all the tofu a second time for about 30 seconds on each side.
Make the sauce: In a small bowl, stir together the brown rice syrup, water, soy sauce, vinegar, potato starch, gochugaru, and black pepper.
In a large wok or skillet, heat the olive oil over medium-high heat. When the oil is hot, add the red onion, garlic, carrot, and dried chilies. Sauté until the onion begins to soften, about 3 minutes. Add the soy sauce mixture to the sautéed vegetables and stir until the sauce begins to thicken, about 1 minute.
Remove from the heat, add the fried tofu to the sauce, and gently stir so each piece is coated with sauce. Garnish with the scallions. Do not continue to cook as the heat will cause the wings to get soggy.
Excerpted from Korean Vegan Copyright© 2021 by Joanne Lee Molinaro. Published by Avery, a imprint of Penguin Random House LLC. Reproduced by arrangement with the Publisher. All rights reserved.