Crazy burgers you'll have to eat to believe
Bamboo Grove Creative/Entertainment Properties Group, Inc.
Happy National Hamburger Day! If you're a self-proclaimed burger connoisseur, then feast your eyes on these five crazy burgers.
We've rounded up unique burgers from restaurants across the country, including everything from a PB&J burger to a bacon-jalapeno-mac-and-cheese burger. Cross one of these items off your culinary bucket list or challenge your friend to try one.
Public School's PB&J Burger
PB&J on a burger?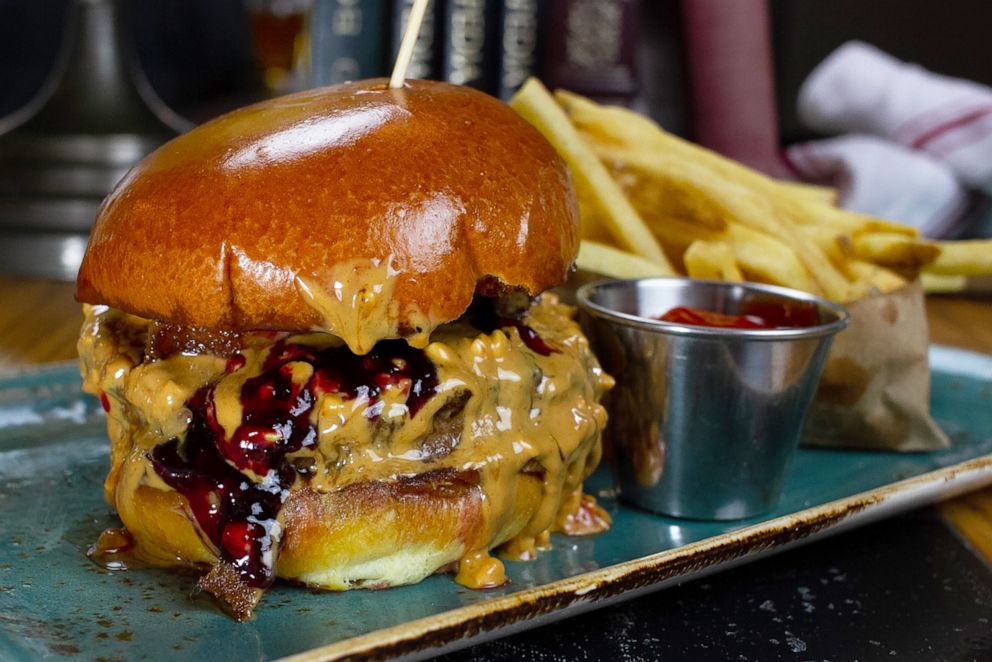 The PB&J burger from Public School 702 in Las Vegas comes stacked with crunchy peanut butter, blackberry habanero jam and bacon strips in a hamburger bun.
The Cheesy Todd
Cheese lovers will have to get their hands on this dish from Datz in Tampa, Florida.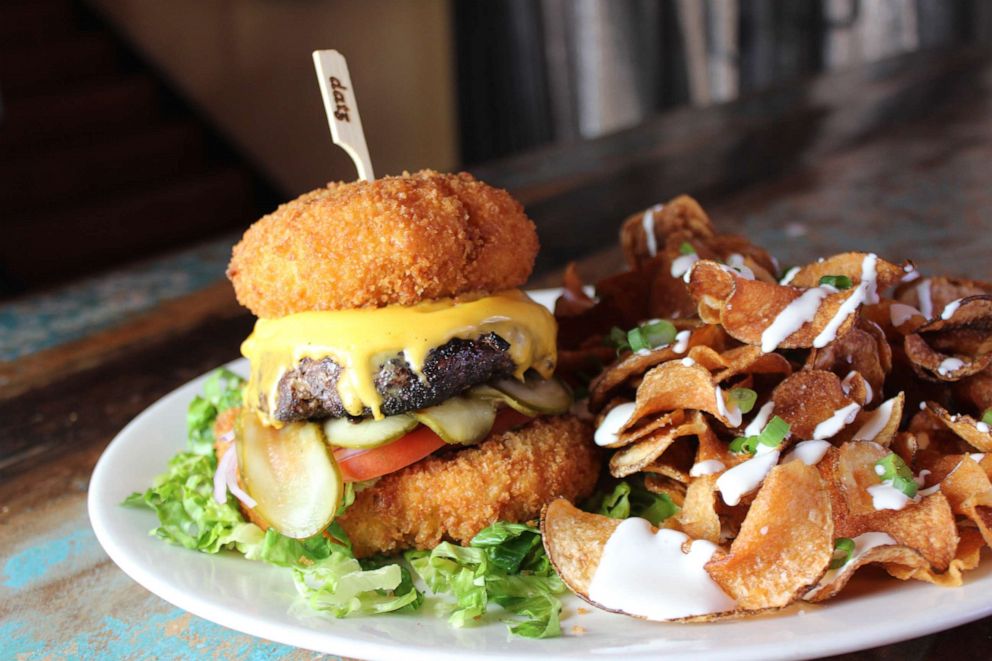 This patty features American cheese, lettuce, tomato, red onion and pickle. The best part is it's all served on bacon-jalapeno-mac-and-cheese buns.
The Double D
Burger with a side of breakfast?
Another unique dish that Datz is serving up is "The Double D." This burger features two beef patties, Swiss and American cheeses, lettuce, tomato and red onion on glazed doughnuts.
Challenge your friends to see how far they will take breakfast!
The Twenty Dollar Burger
One of the most popular items on the menu at PINSTACK, a Texas chain, is the Twenty Dollar Burger.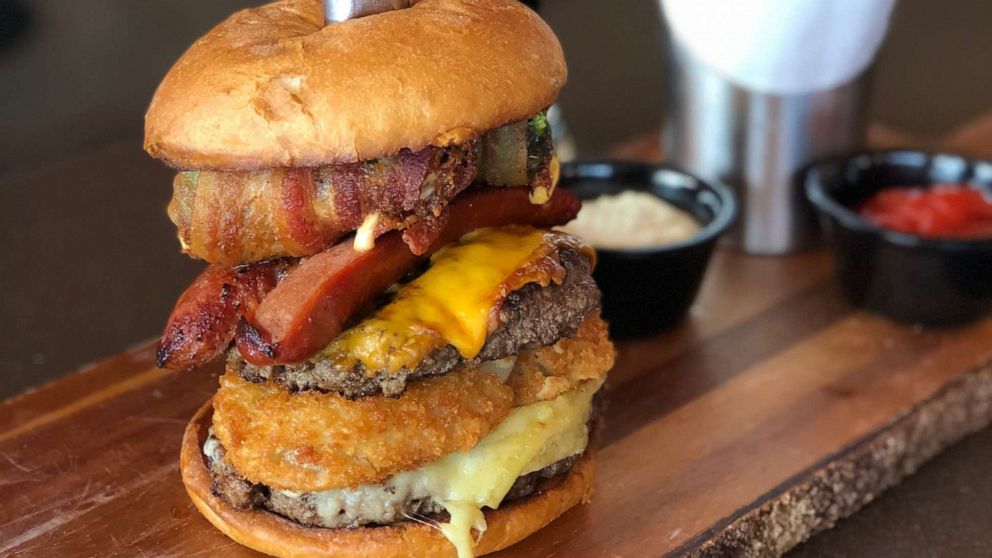 It comes with two half-pound Wagyu and premium beef patties, double cheese, a grilled sausage link, onion rings, bacon-wrapped jalapenos and black garlic aioli.
Thai Knee Dancer
At SkinnyFATS in Dallas, the "Thai Knee Dancer" burger is made with a grass-fed quarter-pound patty, pickled red onion, grilled pineapple and cabbage peanut slaw inside a whole wheat bun.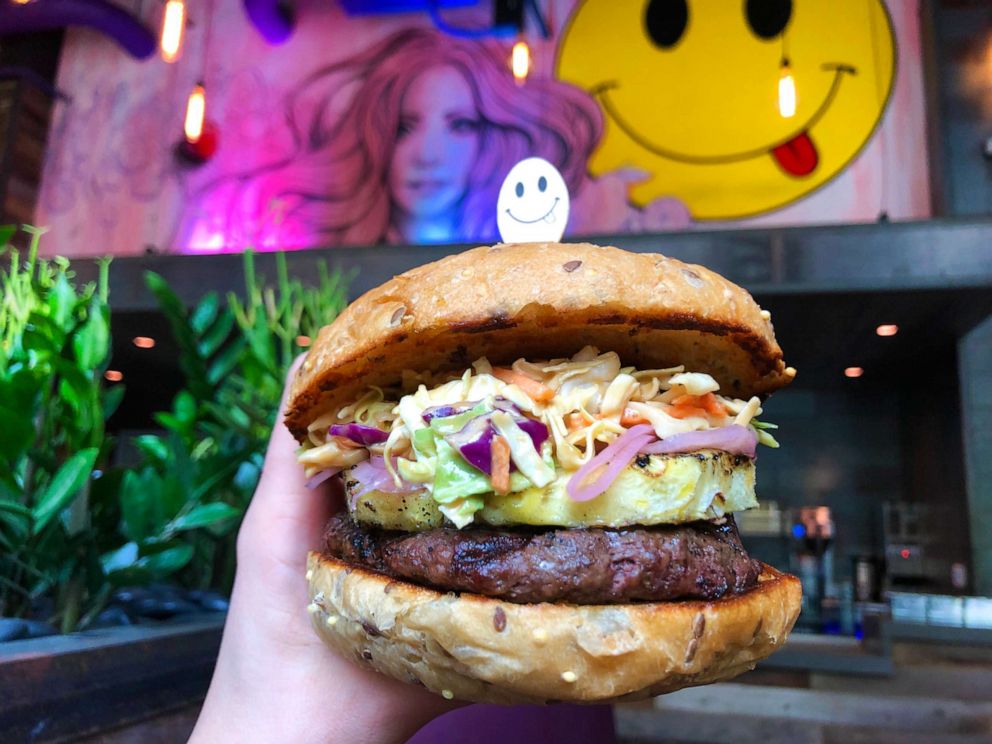 Tweet @GMA and tell us if you try one!