It's time to think about Christmas morning, and whether your home is calm or chaotic, breakfast that can be prepped ahead and feed a crowd is a gift everyone will appreciate.
"The holidays are such a busy time. Between buying presents, traveling, and entertaining, I want everything to be as stress-free and seamless as possible," Kale Junkie founder and food creator Nicole Modic told "Good Morning America." "While I can't help with your holiday shopping, I can help with your holiday cooking. This year, I created two absolutely incredible recipes that you can prepare in advance."
She added that to her, "there's nothing better than waking up on Christmas morning and all you need to do is pop" your dish in the oven to bake.
Real Deal Vegan Cinnamon Rolls Recipe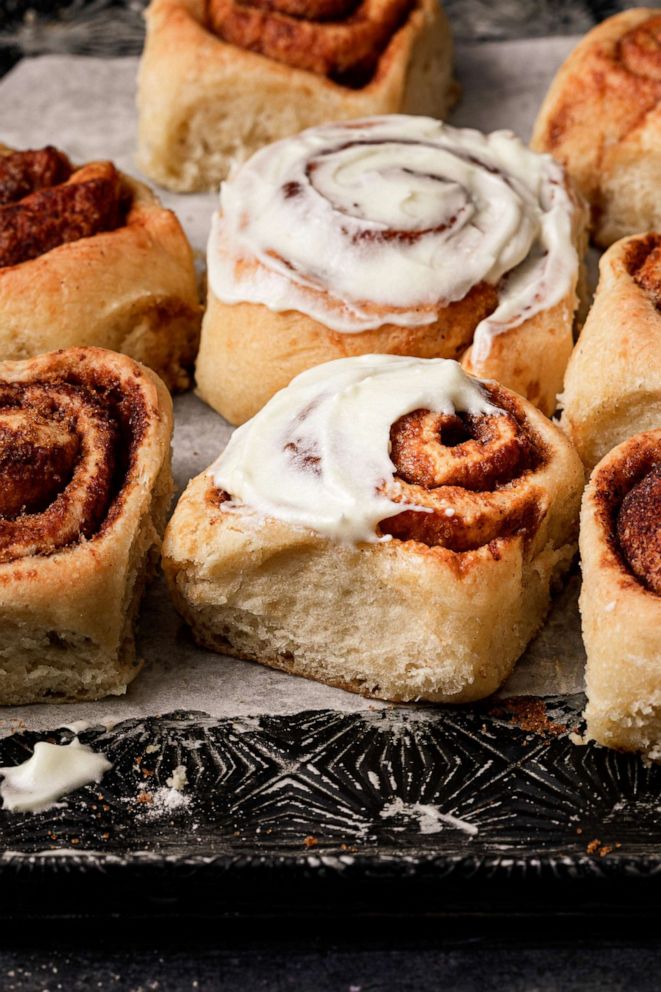 "I created the perfect, fluffy cinnamon rolls -- that also happen to be vegan -- and you can make them up to 24 hours in advance," Modic said of the perfect pastry that's easy to prepare and delivers the same great taste, texture and flavor.
Prep Time: 35 mins
Cook Time: 25 mins
Total Time: 1 hour
Ingredients
For the dough:
1 1/4 cups non-dairy milk
1 packet rapid-rise yeast -- this should be approximately 2 1/4 teaspoons (I use Fleischmann's brand)
3 tablespoons granulated sugar
1/4 cup + 1 tablespoon vegan butter, melted and cooled
1/2 teaspoon sea salt
3 1/4 cups bread flour
For the filling:
1/3 cup vegan butter, softened
1/2 cup brown sugar
1 tablespoon ground cinnamon
For the frosting:
4 ounces dairy-free cream cheese, softened
4 tablespoons vegan butter, softened
1 1/4 cups powdered sugar
1/2 teaspoon vanilla extract
Instructions
In a microwave-safe bowl, heat your non-dairy milk for about 25-30 seconds, until it is lukewarm, NOT hot. If it is hot, let the milk cool until it is just lukewarm. You can also opt to heat your milk on the stove, just pay close attention to the temperature. If it's any hotter than lukewarm, it will kill the yeast, which is definitely not wanted!
Next, add the warm milk to the bowl of a stand mixer, alongside the yeast and the sugar. Give them a good stir, and let them sit for about 10-12 minutes, until you start to see little bubbles appear in the surface.
Once you see the bubbles, add the melted butter and salt, followed by the bread flour, one cup at a time. Use the mixing attachment to incorporate the flour fully until a dough forms.
Once the dough begins pulling away from the edge of the bowl, remove the mixing attachment and use the hook attachment to knead the dough for about 4-5 minutes. The dough should be a big soft ball, but not sticky. If it is sticky, add another 1/4 cup flour until it softens up.
Next, take a medium-sized bowl and coat it well in a neutral oil (I use avocado oil). Transfer the ball of dough into the oil and cover it with a moistened towel or plastic wrap. Let it sit for one hour, until the dough rises and doubles in size.
Once the dough has risen, place it on a floured surface and roll it into one large rectangle, about 15×9 inches. Be gentle with the dough, so it doesn't break. Spread the softened butter on top of the dough, followed by the brown sugar and cinnamon.
Roll the dough tightly into a log, placing the seam side down, on your surface. Then, carefully slice the log into 9-10 pinwheels, about 1 1 1/2 inches in width. You can do this with a very sharp knife, but I recommend using floss!
Next, grease a 9×13 baking dish well, with your neutral oil.
Lay your pinwheels out on your baking dish, giving them room to spread out.
Then, cover them with a moistened towel again (or plastic wrap) for another 20 minutes, so that they rise again.
While you are waiting, preheat your oven to 350 degrees.
Once the oven has heated and the dough has risen, bake your cinnamon rolls for 20-25 minutes. Peek inside the oven around the 20 minute mark, and if they are getting too brown, just cover with foil for the last 5 minutes of baking.
While the cinnamon rolls are baking, prepare the frosting by simply using your stand mixer (or hand mixer) to beat together the cream cheese, softened vegan butter, powdered sugar and vanilla extract.
Once the cinnamon rolls come out of the oven, allow to cool fully and then frost them with your frosting
Crustless Winter Vegetable Quiche Recipe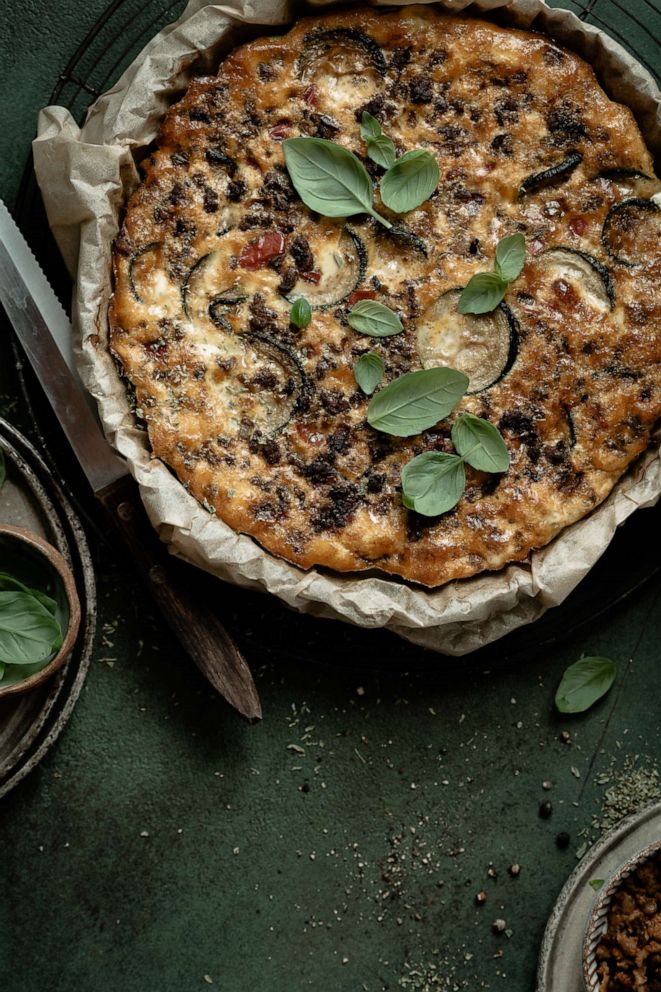 "If a savory breakfast is more your style, then you need to try my winter crustless quiche, which you can also prepare in advance," she shared. "All you need to do is chop your veggies and add them to a greased pie die, along with the whisked eggs. Then bake in the morning!"
Ingredients
1 large yellow onion, thinly sliced
1 red bell pepper, thinly sliced into strips
2 small zucchini, thinly sliced into small coins, approx. 5-6mm in diameter
1/2 pound Italian sausage, removed from casing
3 tablespoons olive oil
2 teaspoons oregano
1 teaspoon paprika
1/2 teaspoon ground black pepper
1 pinch salt
6 large eggs
1/3 cup non-dairy milk -- I use almond milk, but any non-dairy milk works here!
Instructions
Start by slicing up your onions, bell pepper and zucchini. Set aside.
Next, heat the olive oil in a large skillet on medium heat on the stove and sauté the onions for 5-6 minutes, or until they begin to soften and brown slightly.
Add the bell pepper, zucchini and Italian sausage to the pan, along with the oregano, paprika and black pepper. Continue to cook for another 5-7 minutes, until the sausage browns. I recommend using a wooden spoon to gently break apart the sausage.
While the veggies are cooking, preheat the oven to 350 degrees. Next, grease a quiche dish with olive oil. Transfer your cooked vegetable and sausage mixture into the greased dish.
Next, in a separate small bowl, whisk together the eggs and milk. Pour the egg mixture into the quiche dish.
Bake for 45-50 minutes, until the edges begin to brown. Once cooled, slice and enjoy!
Recipes reprinted courtesy of @kalejunkie. Check out even more on her TikTok for other easy recipes and tips.
Easy Christmas Sausage Strata Recipe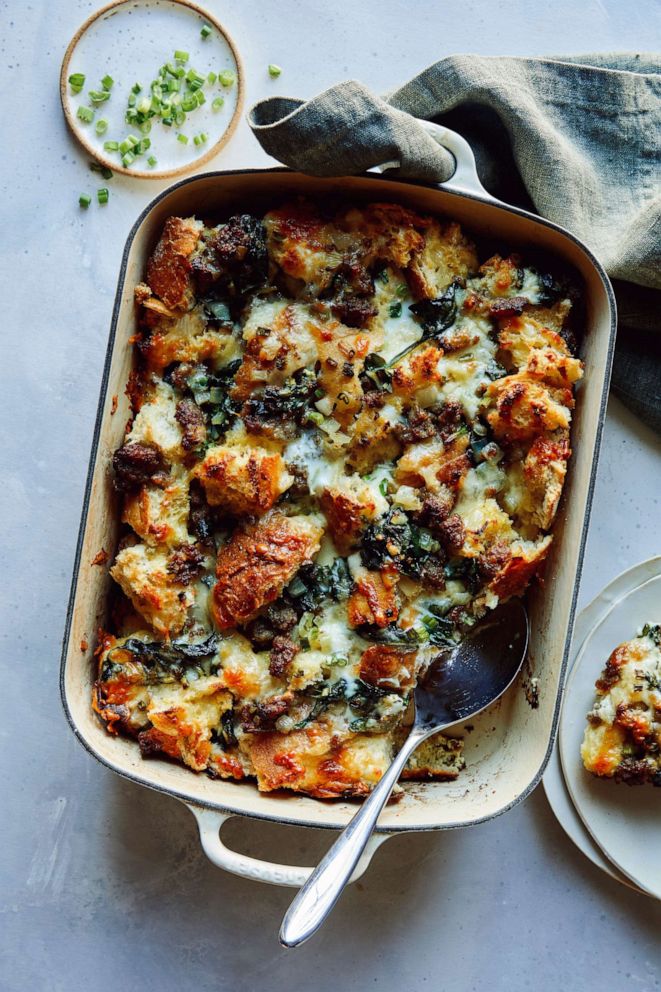 Another hearty and rich breakfast or brunch option that everyone will love is an easy egg dish that can be made the night before and is ready to wake and bake. Bonus: It will also use up any leftover bread in the house.
Teri and Jenny of Spoon Fork Bacon shared their full recipe with "GMA" below.
Serves: 10
Prep Time: 30 minutes
Cook Time: 50 minutes
Ingredients
4 tablespoons neutral oil, divided
16 ounces breakfast sausage
1/2 diced yellow onion
2 minced garlic cloves
4 ounces baby spinach
8 large eggs
1 1/2 cups heavy cream
4 tablespoons unsalted butter, softened and divided
22 ounces Italian loaf, torn into pieces
8 ounces shredded white cheddar cheese
2 sliced green onions, divided
salt and pepper to taste
Instructions
Place a large skillet over medium heat. Add oil and brown sausage, breaking it up as it cooks, about 3 to 4 minutes. Transfer sausage to bowl and set aside.
Add remaining oil to skillet and sauté onion and garlic for 2 to 3 minutes. Season with salt and pepper.
Add spinach and continue to sauté until spinach wilts, 2 minutes.
Pour onion mixture into bowl with sausage and set aside.
Grease 9"x13" baking dish with 2 tablespoons butter.
In a liquid measuring cup whisk together eggs and cream until completely combined. Generously season with salt and pepper.
Add half bread pieces into the bottom of the baking dish in an even layer. Top with half the sausage, spinach and onion mixture. Pour half the egg and cream mixture over strata and sprinkle with half shredded cheese.
Repeat previous step until everything has been used and baking dish is full. Top dish with half green onions.
Tightly cover strata with foil and refrigerate overnight (or at least one hour).
Preheat oven to 375 degrees Bake covered strata in oven for 30 minutes. Uncover and continue to bake for an additional 15 to 20 minutes or until the top has browned and slightly crisped at the edges and the center has just set.
Cool strata for 10 to 15 minutes, top with remaining green onion and serve.
An earlier version of this story was first published on Dec. 21, 2021.