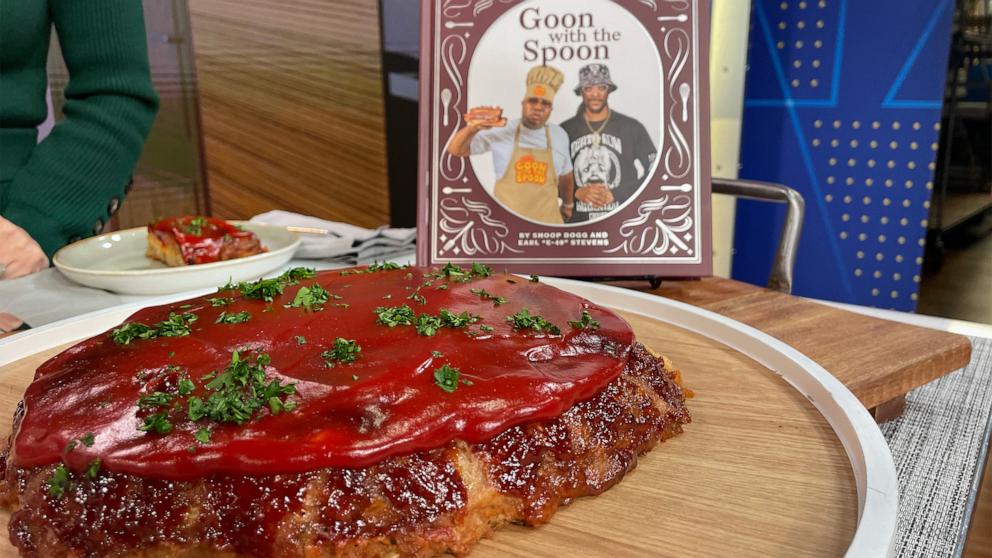 Rapper E-40 is a trailblazer who helped shape the landscape of West Coast rap for decades. Beyond music, he's expanded his empire into the culinary world with a food brand and now, a new cookbook, "Goon with the Spoon."
The hip-hop legend recently visited "GMA3" to whip up one of his favorite dishes.
Mozzarella-Stuffed Turkey Meatloaf with BBQ Sauce
Ingredients:
1 lb. ground turkey
1 lb. uncased turkey sausage
2 eggs, beaten
1/2 cup bread crumbs
1 medium white onion, chopped
1 red bell pepper, chopped
1 jalapeño, finely chopped
2 garlic cloves, minced
1 tsp. salt
1/2 tsp. cracked black pepper
2 cups shredded mozzarella
2 cups barbecue sauce, plus more for serving
Directions: Preheat the oven to 350 degrees. Line a rimmed baking sheet with aluminum foil.
In a large bowl, combine the ground turkey, turkey sausage, eggs, bread crumbs, onion, pepper, jalapeño, garlic salt, and pepper. Combine the mixture well with your hands. Divide the mixture in half.
Transfer one half of the mixture to the prepared baking sheet. Form into a 10-inch disc about 2 inches thick. Pile the shredded mozzarella on top of the disc, spreading it to the edges.
Form the remaining turkey into a ball and then flatten it into a disc. Place the disc on top of the mozzarella and pat it so it covers the bottom round of meat. Pour the barbecue sauce on top, spreading it to the edges and over the sides.
Bake for 1 to 1.5 hours, until cooked through or it measures 160 degrees F on a meat thermometer inserted at the thickest part of the loaf. Let cool for 10 minutes before slicing to serve, passing around additional sauce, if desired.