Atlanta-based blogger Sandra Chung who regularly shares lifestyle and party ideas offered up a sweet way to feel a part of the iconic action at Augusta National Golf Club for anyone who doesn't have a coveted ticket to the Masters Tournament.
"I was inspired by the ice cream sandwiches they sell at Augusta National. It's like peach cobbler a la mode on the go," she told "Good Morning America." "The cookie has the texture of a whoopie pie and stays somewhat soft, even after it's frozen."
Spectators at Augusta this week have tweeted photos of the menu, widely considered to be the best concession deals in golf, and mentioned that one of the hit treats was noticeably absent.
In 2020 when Augusta National went sans patrons and concessions due to the pandemic, the golf club partnered to release its Taste of the Masters collection, but the Georgia peach ice cream sandwich was the only menu item unavailable due to shipping constraints.
Chung shared her adapted recipe and how to recreate it at home below.
Georgia Peach Ice Cream Sandwich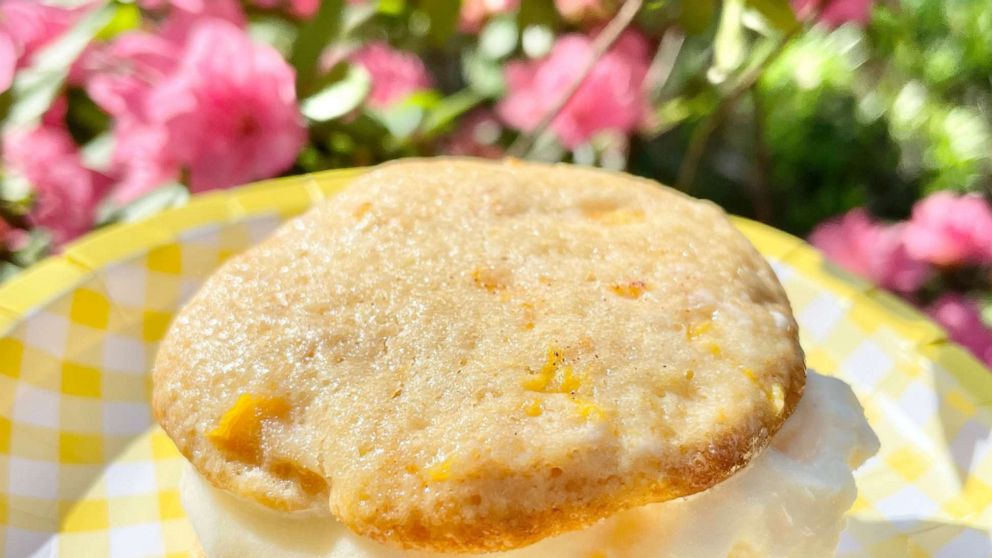 Ingredients
2 cups all-purpose flour
1/2 teaspoon baking soda
Pinch of salt
1/2 cup salted butter, softened
1/2 cup granulated sugar
1/2 cup packed light brown sugar
1 large egg, room temperature
2 teaspoons vanilla extract
2 cups of chopped frozen peaches (no need to thaw)
1/3 cup peach jam
Cinnamon sugar for sprinkling
Directions
Preheat oven to 375 degrees.
Put flour and baking soda in a ziplock bag and shake to combine.
Cream butter and sugars with an electric mixer until fluffy.
Add egg and vanilla extract to the butter and sugar mixture.
With the mixer on low, slowly add the flour mixture. Don't over mix.
Gently fold in peaches and jam.
Using a 1" cookie scoop, drop cookies onto a parchment lined baking sheet about 2" apart. Sprinkle with cinnamon sugar (if using). Keep remaining dough chilled in between batches if you can't fit them all on one tray.
Bake for 13-15 minutes. Pull the pan out of the oven and let cook a few minutes before transferring with a cooling rack.
Place a generous scoop of vanilla ice cream in between 2 cooled cookies (Blue Bell is my favorite!). You can serve right away or keep them in the freezer until you're ready.
Cook's note: Chung said her recipe was adapted from Bake or Break.