Explore our GMA Valentine's Day guide with DIY ideas, gift picks for your Valentine or Galentine, romantic dinner recipes and more.
If diamonds are a girl's best friend, chocolate and wine are a very close second and third.
Live your best life this Galentine's Day and consume all the wine and chocolate you want.
Since we're grown ups, we tapped wine expert Olivia Wallace Noren, the beverage director at YUGEN Chicago, to share the perfect chocolate and wine pairings.
Rule No. 1: Always have your wine as sweet as or sweeter than your dessert, she told "GMA."
Not a fan of sweet wines? No worries. Noren assures the wines recommended will be a balance of sweet, zippy and refreshing.
Here are nine chocolate and wine pairings from Noren sure to make your Galentine's celebration a success.
Milk chocolate + Late harvest Zweigelt
Hershey's kisses are the best kisses, are we right? If you're wanting to indulge in some class milk chocolate, late harvest Zewigelt is the wine for you. This wine, made from an unusual red grape, has traces of berry and chocolate notes. Because this wine is late harvested, the grape hangs on the vine longer and develops a naturally sweet taste. The natural sugars of the wine allow it to pair perfectly with your favorite milk chocolate treats.
Recommended by our expert: 2012 Kracher Zweigelt Beerenauslese, Burgenland, Austria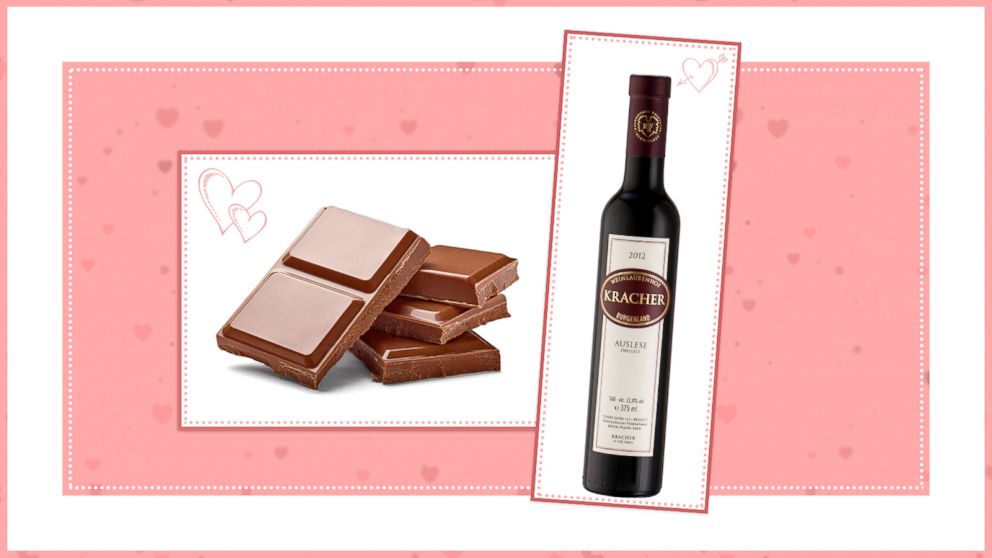 Chocolate covered strawberries + Sparkling sweet rose
Chocolate covered strawberries – our favorite fruit! If you're looking to make your chocolate treats fruity, you'll want to pair them with a slightly sweet sparkling rose. The slight sweetness of the wine is fruity but natural, which is clearly on trend with the fruit theme. The bubbles make for a great palette cleanser too, so you'll be able to indulge in one rich, chocolaty treat after another.
Recommend by our expert: NV Patrick Bottex Vin du Bugey-Credeon "La Cueille" Savoie, France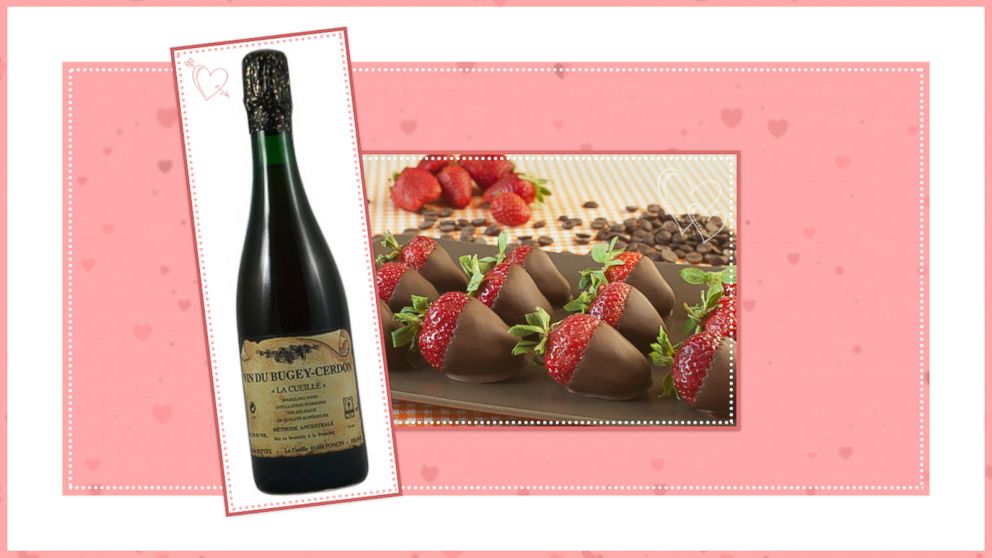 Salted caramel chocolate + Cream Sherry
Trust us, you won't be salty about this pairing. If you're craving chocolate with caramel and a little sea salt, get yourself some cream sherry. Cream sherry has a salty caramel note due to the proximity of the grapes to the ocean being sprayed with the salty sea air. This wine is richer than the average, and would complement a caramel delight or even a flan to perfection.
Recommended by our expert: El Maestro Sierra Cream Sherry, Jerez, Spain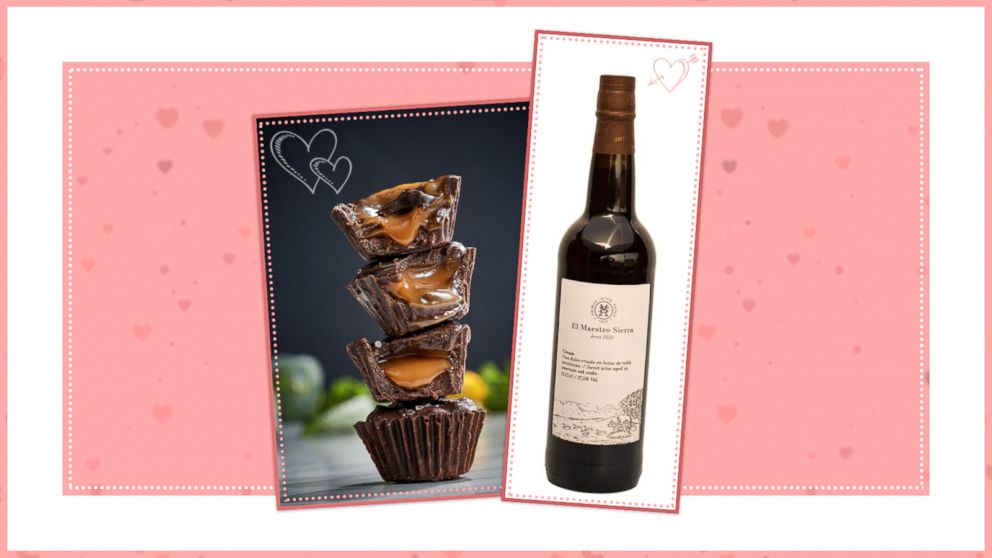 Chocolate hazelnut or peanut butter + Passito di Pantelleria
If you're (hazel)nuts about Nutella or really love Reese's, try pairing your favorites with a Passito di Pantelleria. These grapes, grown off the coast of Sicily, get a roasted aroma to them due to the hot weather. The sweetness of the grape along with the warm, rich and round flavor perfectly pairs with a hazelnut or savory peanut butter treat. This wine was also said to be the one that seduced Apollo in ancient Greek mythology, so cheers ladies!
Recommended by our expert: Donnafugata Ben Ryé Passito di Pantelleria, Italy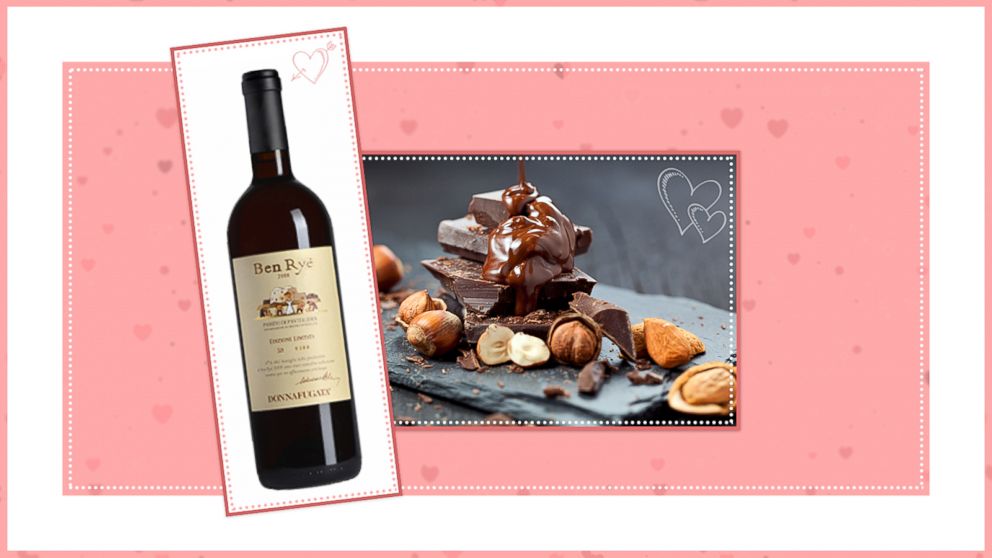 Ginger or spiced chocolate + Botrytized Gewürztraminer
Sugar? Check. Spice? Check. Everything nice? Duh. This pairing has it all. If you're looking for a little spice in your chocolate, botrytized Gewürztraminer wines are the perfect match. This wine has naturally distinct flavors like rose, ginger and exotic fruit that you won't get from other selections. This ginger flavor comes from a mold that grows on the grapes that creates tiny holes on their surface, allowing water to be sucked in and concentrate sugar. Apart from the taste, it's a fun option for something that will be completely different and stand out from any wine you've had before.
Recommended by our expert: Domaine ZInd-Humbrecht Vendages Tardive Gewürztraminer "Turckheim Herrenweg" Alsace, France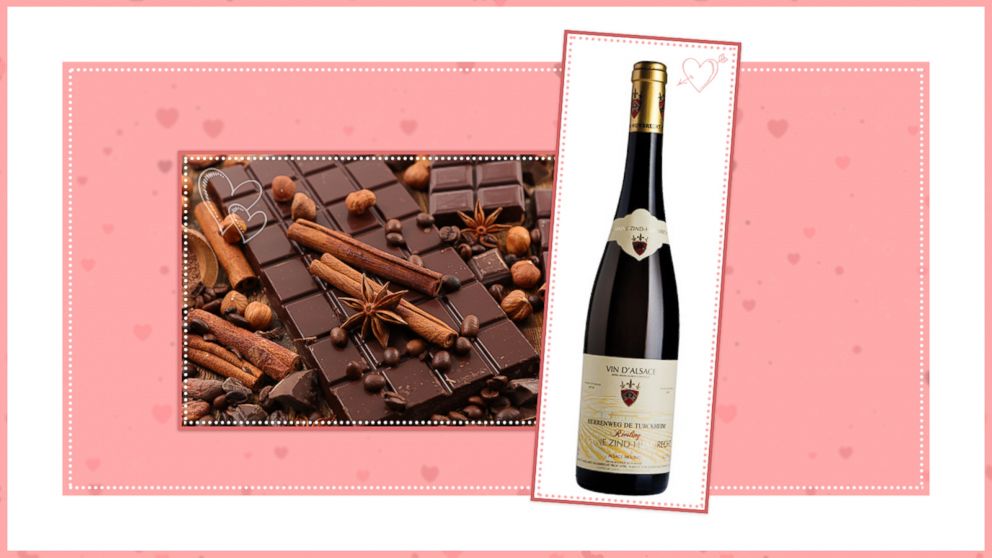 Semi-sweet/non-sweet chocolate + Dry but fruity red wine
If you're not super into sweets and like chocolates with mostly cocoa, this pairing will make you go loco. Try a dry red wine such as a Napa Valley Charbono. The wine has a nice fruitiness that will bring out the sweetness that the chocolate does have with a nice finish.
Recommended by our expert: Calder Wine Company Charbono, Napa Valley or any California Zinfandel from Caparone, Turley, Bedrock or Ridge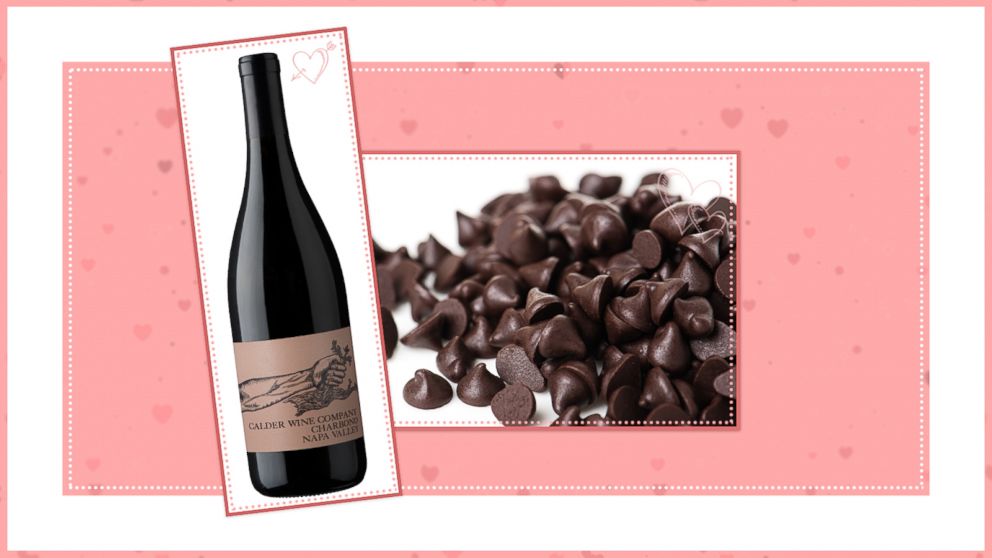 Chocolate with coconut + Sake
Break out your Almond Joys! If you're not a sweet wine fan but still want to get your chocolate on, coconut chocolate and sake could be your perfect match. The milky and dry consistency of the sake almost gives it a coconut milk flavor, but unfiltered with floating rice particles. The coconut flavor and consistency will help bring out the coconut flavor of the chocolate.
Recommended by our expert: Rihaku "Dreamy Clouds" Tokubetsu Junmai Nigori, Shimane Prefecture, Japan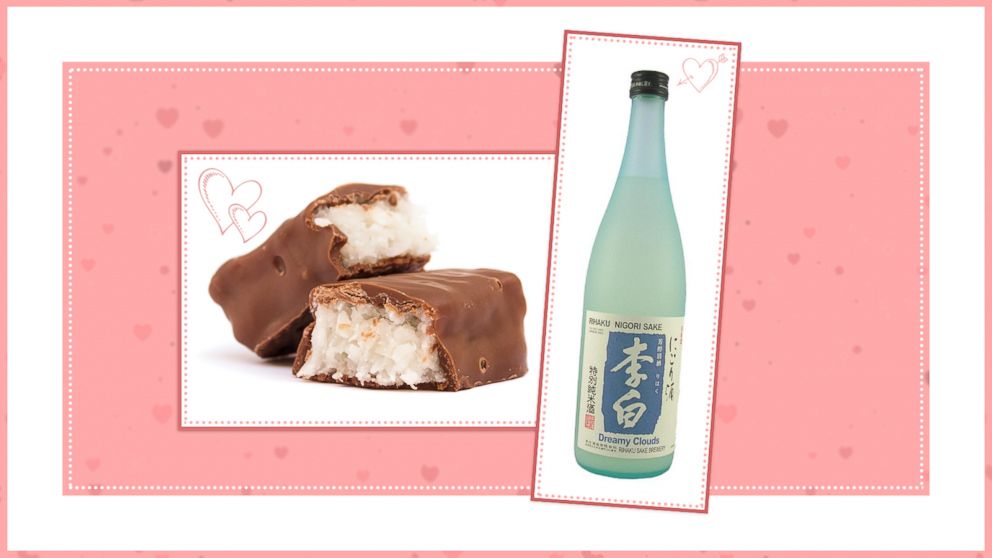 Truffles + Dessert wine
If you're looking to try some truffles this Valentine's Day make sure to pair them with a strong, thick style of dessert wine. The liquor-type consistency will pair perfectly with the texture of the chocolate. Try one with chocolate or cherry notes to get the perfect match.
Recommended by our expert: Viñedo de los Vientos "Alcyone" Atlantida, Uruguay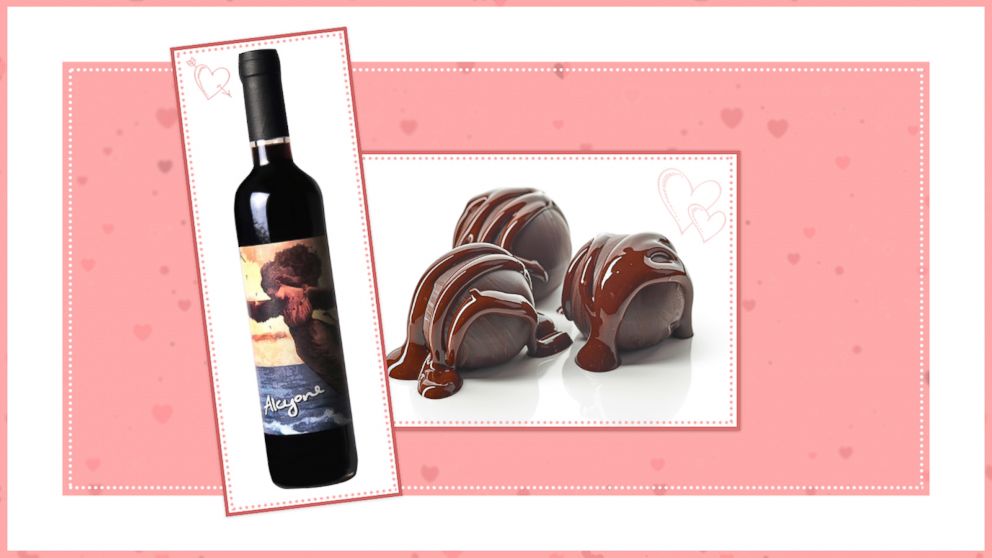 Sec champagne + Everything
If you're looking for one certain drink to pass out at a chocolate-themed party with all different types of treats, look no further than a Sec champagne. This champagne is high quality with just a little more sweetness to it than your average bubbly. This pairs amazingly with all chocolate, but because of the brioche croissant flavors from the aging on the leaves, it pairs best with chocolate pastries. Bon appetite!
Recommended by our expert: Taittinger "Nocturne" Champagne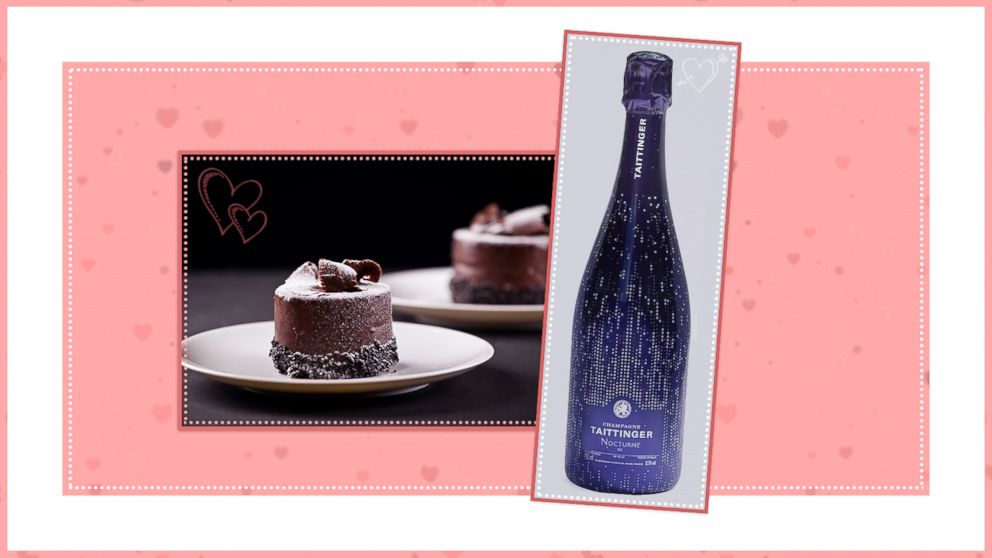 Cheers!
Editor's note: This was originally published on Feb. 12, 2019.