Electricity bills are a fact of life for many Americans, but with energy prices expected to rise in many parts of the country, you may be looking for a way to keep those costs in check.
The average American household spent $121 per month, or $1,452 per year, on energy bills in 2021, according to the Energy Information Administration.
While some projections expect rising energy rates this winter, as prices for fuels like natural gas increase, there are ways to offset those increases by making your home more energy efficient.
So what can you do? Here are three tips to help keep your bills down.
Tip #1: Schedule a home energy audit
One of the best ways to start figuring out how to save on your energy bills is to bring in an expert to check out your home.
Local utility companies, private firms, and even some government agencies offer this service, called an energy audit or energy assessment. In the audit, an expert will look for opportunities to reduce energy use in your home, ranging from replacing old lightbulbs with more efficient LED options, testing for air leaks in your doors and windows that allow heat to escape or cold air in, or recommending which appliances to replace with newer, more efficient alternatives.
In some cases, the energy auditor could install some of those swaps with no additional cost at the time of the audit.
The Department of Energy has information on how to find a certified energy assessment in your area, or you can check with your local utility company.
Tip #2: Reduce your energy use
Reducing your home's energy footprint may seem intimidating but there are simple steps that can help limit wasted energy in your home. The Environmental Protection Agency's Energy Star program says homeowners could save up to $400 a year by taking steps to be more energy efficient, although the amount will vary depending on the size and energy use of the home.
Many of the options involve taking steps to ensure your household isn't powering electronics when they aren't needed or allowing cold air to leak into the home, making it harder to keep it warm.
Installing a smart or programmable thermostat is one way to help save 10% on your energy bills by allowing you to automatically turn down the temperature at night or when no one is home, according to the Energy Department.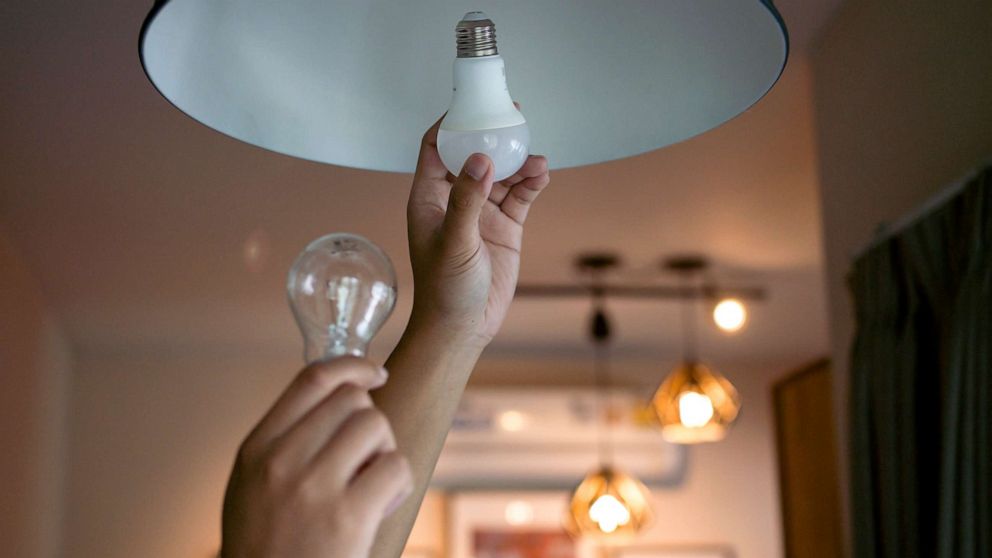 Replacing traditional light bulbs with LED bulbs can also save the average homeowner $225 a year, the department says.
Other examples include sealing gaps around windows and doors and using smart power strips to prevent electronics like printers or video game systems from using electricity when they're turned off.
If you're in the market for appliances like a new dishwasher, refrigerator, or even a water heater or furnace, appliances with the Energy Star label are certified to use less energy and be more efficient in the long run.
There are also resources online, including the EPA Energy Star Program's Home Advisor website, that lay out different options to cut back on energy use.
Tip #3: Look for incentives to upgrade your home
If you're looking to make bigger changes to your home like buying new appliances, replacing windows, or even installing solar panels, the Inflation Reduction Act, which President Joe Biden signed into law last August, includes updated tax credits and rebates this year to help with some of those costs. In some cases, upgrading to newer, more efficient appliances or systems to keep your home warm can cut back on your energy use and ultimately, your bills.
A heat pump, for example, is an electric system that can replace both an air conditioner and heater and is considered three to five times more efficient than a traditional furnace fueled by natural gas, according to the nonprofit Rewiring America. Under the Inflation Reduction Act, consumers who install a heat pump will be eligible to claim a tax credit for up to 30% of the cost, up to $2,000.
In addition to the heat pump tax credit, the legislation also expanded tax credits that cover up to 30% of the cost of installing solar panels, and installing new energy efficient doors, windows, or insulation.
The Inflation Reduction Act's programs will provide up-front rebates worth hundreds of dollars to help low- and middle-income Americans. The programs will be run by each state and are expected to launch later this year.
Rewiring America has a calculator to check which Inflation Reduction Act programs could benefit your home. There are also links to all the available programs at whitehouse.gov/cleanenergy.