How a 'returnship' can boost your career
Deborah Chin had the same thought many moms do when she had her first child, a daughter, three years ago and took time off.
"I think the way I put it was simply, 'I'm going to take a year off and then be back,'" Chin, of Oakland, California, told "Good Morning America." "I wasn't thinking at all about how difficult it may be to get back into the workforce."
As she started to think about returning to work full-time, reality struck for Chin, as it does for so many moms.
"I had a lot of my own anxiety, and besides the challenges of actually looking for the work, I was kind of blindsided by the reality of finding childcare," recalled Chin, a product designer. "It was just a complete unknown of how to handle looking for someone else to do that job while I was going to look for employment."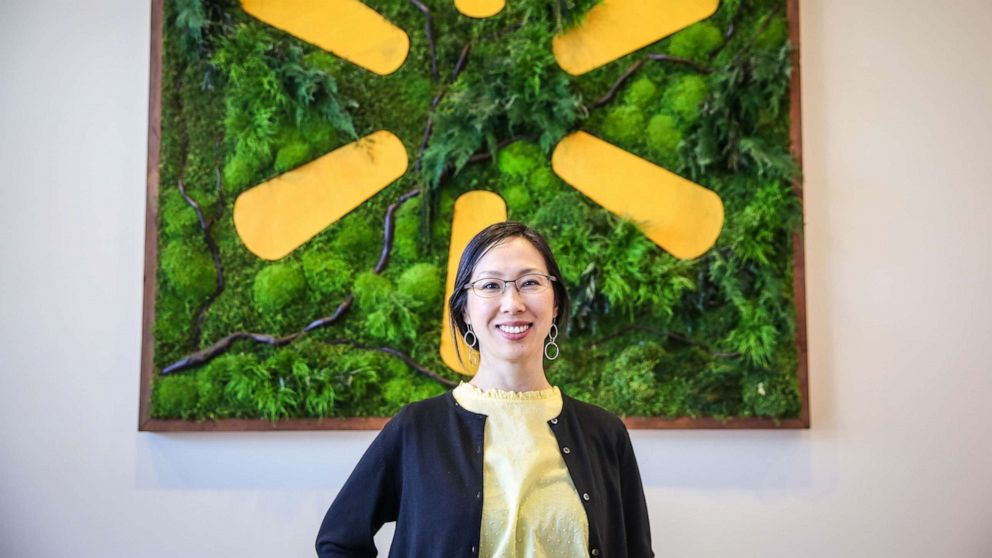 While Chin was struggling for a way to return, she heard from another mom about Path Forward. The New York-based non-profit matches companies with potential employees through returnships, a weeks or months-long paid internship for adults who have taken time away from their careers and want to re-enter the workforce.
Chin was eventually selected for a 16-week returnship at Walmart, in the company's San Bruno office.
A lot of women struggle with the decision to start a family and take time off because of the backlash they know will happen
"Everyone knew that I was a mom and I had taken a break, not that that was going to precede me, but it was nice knowing that that was part of the deal, so to speak," she said. "At the same time, a lot of people had no idea I was in this program or even what the program was."
Chin was hired at the end of her returnship to stay on with Walmart full-time. She said in her experience, not enough people, particularly moms, know about returnships.
"A lot of women struggle with the decision to start a family and take time off because of the backlash they know will happen," she added. "The more these opportunities are made available and the more people are aware, hopefully that will help quell the fear women have."
Returnships keep growing
The term "returnship" was trademarked by Goldman Sachs in 2008 and was first created as a way to get people, especially mothers, back in the workplace.
"Wall Street is a leader in career re-entry programming because the companies are so old," said Carol Fishman Cohen, chair and co-founder of iRelaunch. "They have experienced generation after generation of employees moving through life stages and women leaving at every stage."
A sense of urgency developed.
"A sense of urgency developed," said Cohen, who gave a viral TED Talk about being a "40-year-old intern."
The benefit of a returnship for women is they can get more up-to-date experience on their resume, hone their skills and dip their toes back into working. The benefit for the companies is they can reach back into the talent pool of people that left without committing to them for a full-time position.
At Path Forward, 95% of the workers have a bachelor's degree or higher and, on average, they have 11 years of prior work experience, according to the company's executive director Tami Forman.
"I think company executives are finally getting their brain wrapped around it," said Forman about the talent they leave behind.
Returnships have since expanded beyond finance to more industries and newer companies, like Facebook, which has a "Return to Work" program. Walmart, where Chin landed, recently announced plans to triple the number of slots in its four-month, paid returnship program and expand it to more states.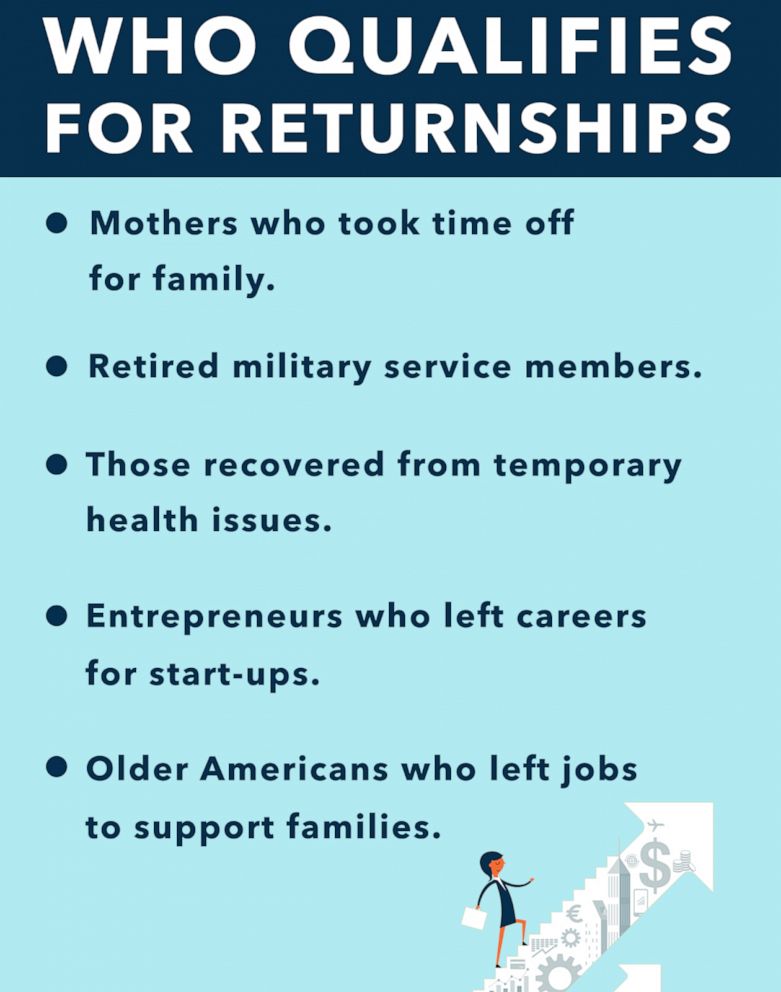 The reality of returnships
Returnships are heralded as positive steps made by companies to reach a pool of mostly women, but on the flip side is the fact that they were created largely because of the biases that working women have long faced.
The moment when career women are placed on the so-called "mommy track," is when they start to earn less — a 4% reduction in pay per child, according to a 2014 study — and face more discrimination when it comes to assignments and promotions, research shows.
"With the 'mommy track,' there is nothing positive," said Sallie Krawcheck, founder of Ellevest, an online investment adviser aimed at women. "It means less professional opportunity, lower compensation and, really, a second-class status at most companies."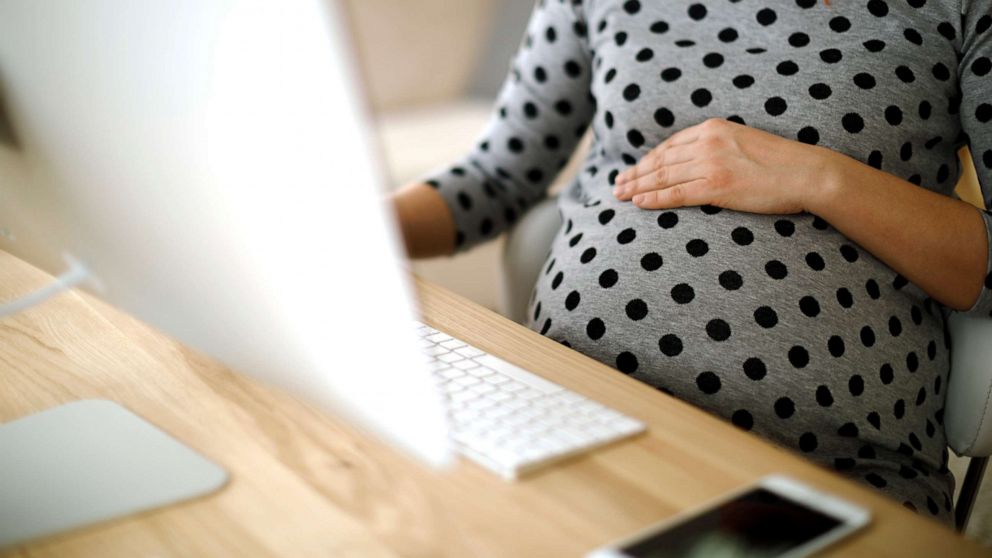 And the onus for caring for children or loved ones typically falls on women. About 40% of women said they had taken some time away from their career to care for a child or other family member compared to 24% of fathers, according to a 2013 Pew Research Center survey.
This hurts women who are currently working as much as those who leave and want to return.
There is unconscious bias that comes into play in hiring.
"There is unconscious bias that comes into play in hiring, that I don't want to hire someone who takes time out for their family," said Forman. "People who have taken time out for their family can be seen as less committed, less driven."
Returnships have in the past been slammed by critics as taking advantage of women and undermining returnees' experience and value.
"They promote the low self-confidence some people feel after being out of the workforce and use it to their advantage," reads a 2012 essay published in Working Mother magazine. "Under the guise of helping people get up to speed and allowing employees to 'see if it is the right fit,' they get a no-risk trial and can fire you."
Others say returnships have become irrelevant. Unemployment levels are low and women have other options to help them return to work, like contracting, networking and online support from sites like FairyGodBoss.
And since a full-time job still might not offer a work-life balance, some working moms have decided to skip returnships and corporate life altogether, choosing the so-called gig economy instead — where they can choose their jobs and hours even if it means less pay.
"There was a place and a time when it was impossible to get back into the workforce. I don't think that's the case anymore," said Allison O'Kelly, CEO and founder of Corps Team, nationwide, boutique search and staffing firm.
In addition to undermining women's experience, O'Kelly points out the difficult logistics of returnships too, namely that women returning after having kids would have to get childcare and household help for a temporary period of time.
"It's not a direct hire position," she said. "I firmly believe the best way to get back in is to get a contract position, which can often be extended in length and converted to a full-time job and doesn't have the negative, or demeaning label of returnship."
It feels like an on-ramp as opposed to now I'm on the highway going 60 miles per hour again.
Forman sees just the opposite at Path Forward, where she said 82% of its participants were hired after their returnships and 90% are currently employed.
"We get a lot of emails from women saying, 'I can't believe this exists,' or 'I've dreamed of this,'" she said. "It feels like an on-ramp as opposed to, 'Now I'm on the highway going 60 miles per hour again.'"
"It's a confidence booster for women," she added.
How to maximize a returnship
Forman also says that a company offering a retunship demonstrates that the company wants women in the workplace and cares about employees.
This support for women in the workplace is one of the top things Krawcheck recommends all women look at when considering job opportunities. It could be called the "look up" method of a job search.
"Your business life will be so much easier if you're in a company that has already reintegrated women into the workplace after they've had children and promoted mothers and have a C-suite with mothers and a board with mothers," she said. "If you look at that and those are people you can see yourself being, that's great."
If you see value in a company offering a returnship and want to take advantage of it, experts say there are ways to maximize the experience, starting with viewing it as just that — an experience.
"People who are focused on the experience and are networking within the company, those are the people who do really well post-returnship, whether they get a job or not," said Forman. "They just say, 'I'm going to soak it all in and show them what I can do.'"
Here are four more returnship tips from Cohen, who reinvented her own career after 11 years out of the full-time workforce.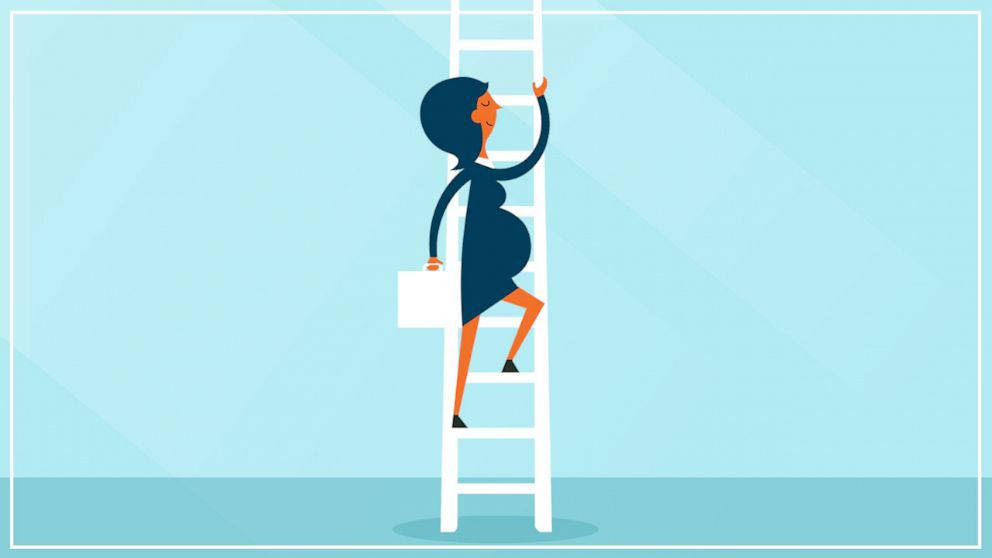 1. Love that you are in a cohort: "One of the best features of returnship programs is that you get to transition back to work with a group of like-minded professionals. This cohort structure, in which everyone starts on the same day and transitions back to work together, builds a cohesiveness that relaunchers swear by in terms of their success."
2. Engage with your peer mentor and tech buddy: "Many programs assign each participant a peer mentor or tech buddy to answer specific questions and give guidance. Make sure to prioritize building a meaningful relationship with these important people in your work life. They are there to help you."
3. Go in as a fearless learner: "Managers tell us they are not so concerned that a returning professional know the latest technologies or thinking in their field. What they are concerned about is that participants have a fearless approach to learning what they don't know."
4. Understand the learning curve: "Accept going in that you will be learning a lot of information in a small amount of time. Not only will you be learning what you need to do your job, but you may be using office technologies like Slack and Zoom and Yammer for the first time, and you are meeting a lot of new people and learning where the cafeteria is located. There is such a thing as a learning curve, and knowing where you are on it can help greatly in terms of maintaining optimism as you progress through your first few weeks back."