DIY Football Field Rug for Super Bowl Sunday
— -- For some the Super Bowl is all about the game. For others it's really about the party.
Americans will spend an average of $75 on food, decorations, apparel and more for the Super Bowl this year, according to the National Retail Federation.
Take your Super Bowl party to the next level with these festive game day décor ideas from lifestyle bloggers.
DIY football mason jars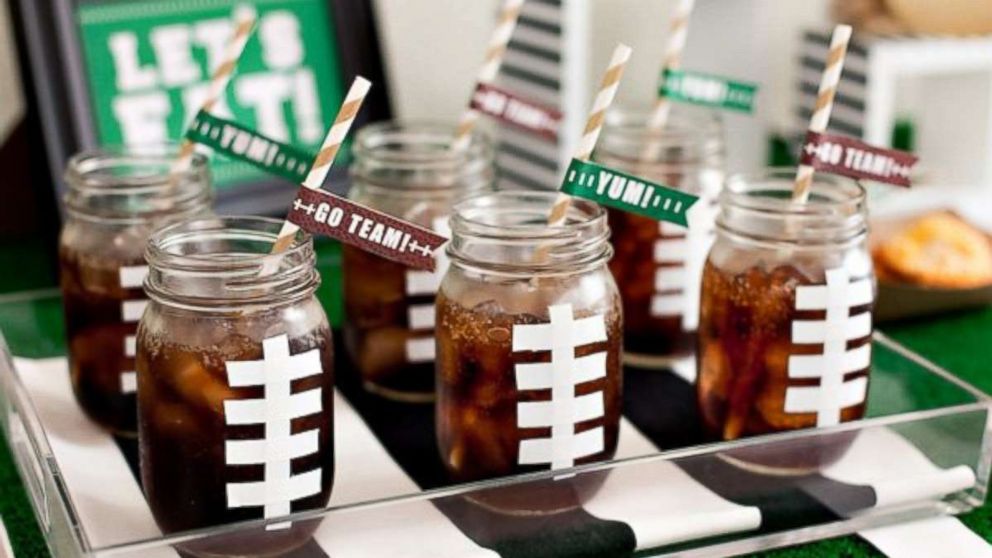 Serve drinks in mason jars made to looks like footballs. Jennifer Sbranti, founder and creative director of Hostess with the Mostess, uses white duct tape to make "football laces." Fill the standard mason jars with dark soda or iced tea to give it the similar coloring as a football and top with a party flag. You can download Hostess with the Mostess' party flag template directly here.
Super Bowl bingo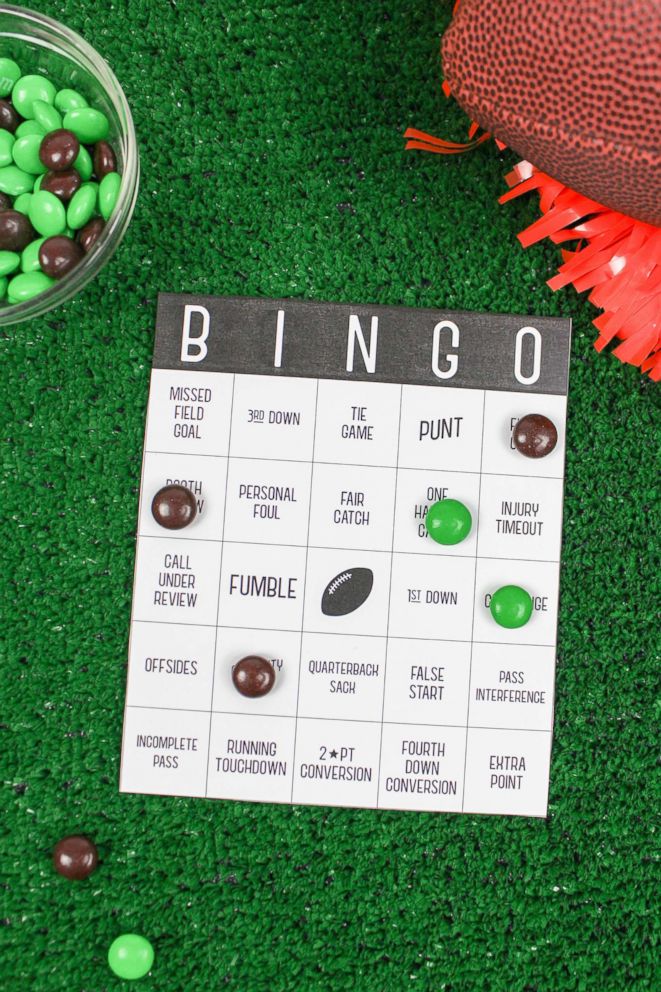 Whether you're a room filled with die-hard or fair-weather football fans, a friendly-game of Bingo gets everyone involved in the game. Print these Super Bowl bingo cards from lifestyle blogger Ashley Lloyd of the Lets Mingle Blog for your party.
Green felt field tablecloth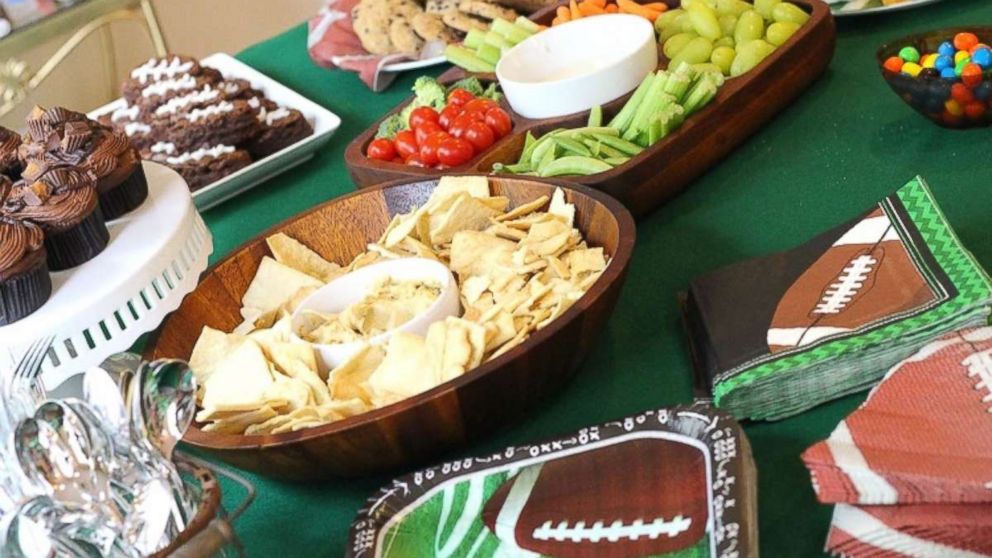 Pick up a few yards of green felt from your local fabric store to set the backdrop as a field, Alison Cawley of the lifestyle blog, PeachfullyChic.com suggests. Add yard lines with white duct tape if you're feeling inspired.
Football playbook table runner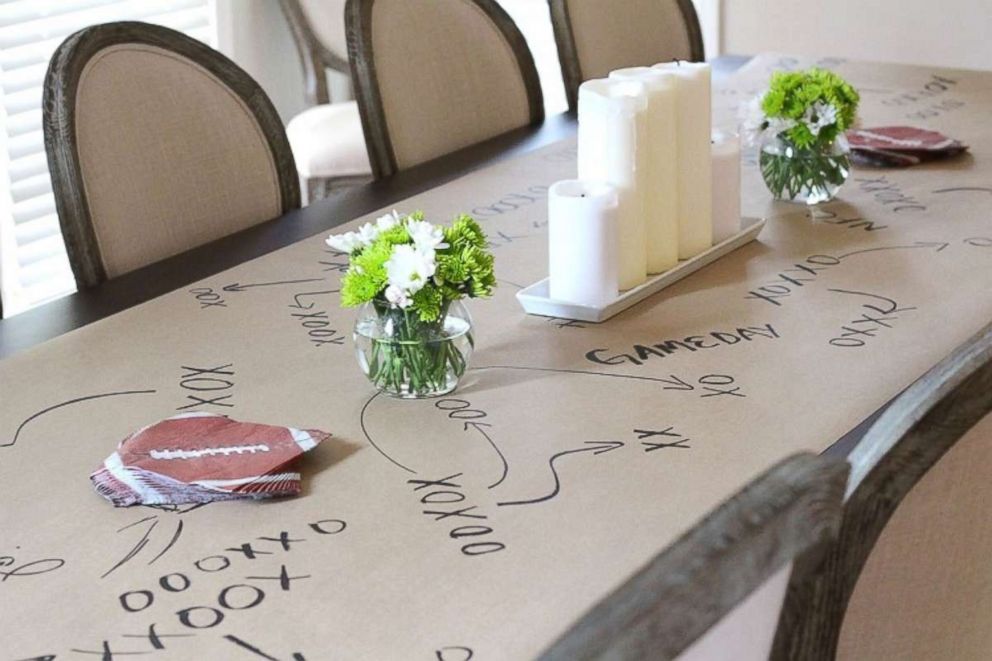 Use craft paper and a permanent marker to create a table runner that looks like a football-themed playbook. Get step-by-step instructions from Peachfully Chic here.
DIY football field rug
Decorate your living room or doormat with a decorative football field rug. With just a few materials, you can transform any ordinary room or doormat so guests are ready to party when they arrive. Get instructions here.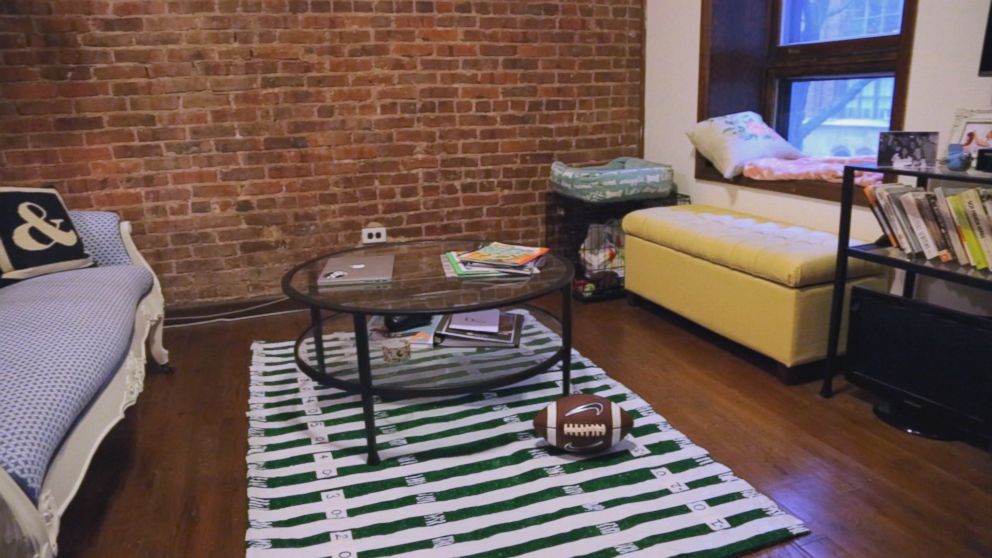 The spread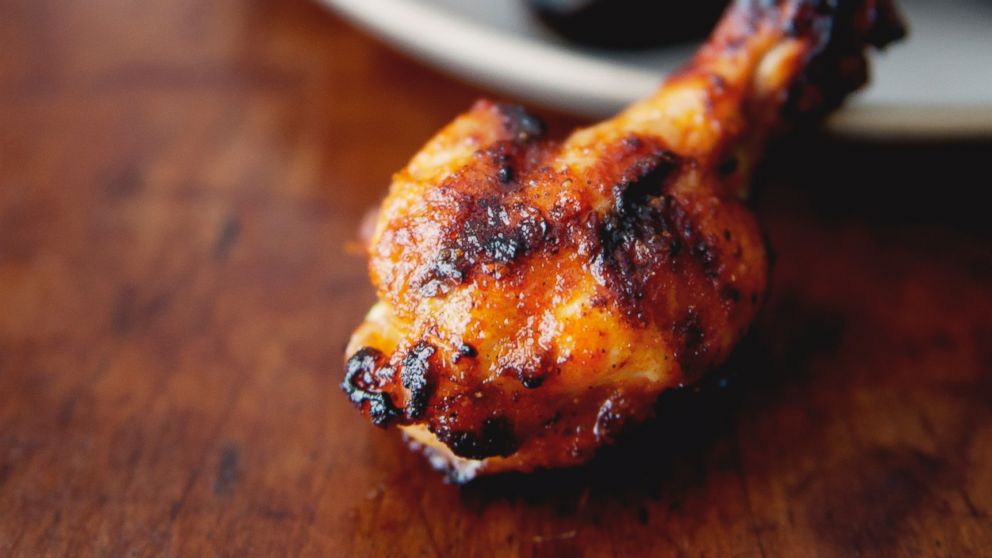 A party isn't a party without a good spread. Get inspiration from this recipe roundup of wings, dips and finger foods from celebrity chefs and bloggers.
DIY stations
Self-serve taco stations and make-your-own nacho bars are popular Super Bowl party staples, according to Pinterest. Choose your favorite recipe and display ingredients for the taking. Guests can keep going back for more between plays.
A popcorn bar is another snacky option for the DIY bar set-up:
Make a edible snackadium
Making an edible snack stadium, aka a snackadium, filled with all your snacks, is an epic way to celebrate game day. Filled with chips, dips, sandwiches and more, the snackadium can be a showstopper, but it does take some time and construction. Follow the step-by-step instruction here or draw some inspiration from these photos on Instagram.
Super Bowl 'sundae' bar
For dessert, have fun with a pun and build your own sundae bar. Celebrations at Home shares its take on setting up a game day bar on Pinterest.