What you should know after the collapse of Silicon Valley Bank
Brittany Hosea-Small/Reuters
The closures of two of the nation's largest banks over the past week have put many consumers on edge.
Silicon Valley Bank, the nation's 16th largest bank, struggled as the sharp rise in interest rates led to a decline in the value of the bank's Treasuries and mortgage bonds. When the bank's value dropped, its customers, who are mostly in the tech industry, pulled their money from the institution in a so-called bank run that forced Silicon Valley Bank to close for good.
Days later, New York-based Signature Bank, the 29th-largest bank in the U.S., was ordered to close, a move that New York Gov. Kathy Hochul said was taken to avert a bigger crisis, after it faced an influx of withdrawals following the Silicon Valley Bank failure, according to The Associated Press.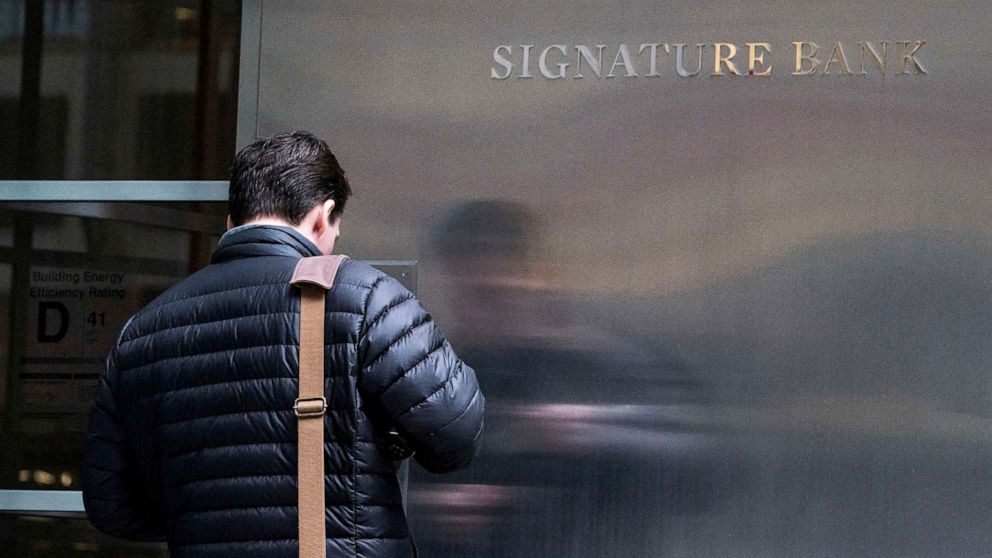 After the banks' closures, even people who didn't have money invested in Silicon Valley Bank or Signature Bank were left wondering what it might mean for them and their money.
"Good Morning America" spoke with financial expert Farnoosh Torabi, host of the "So Money" podcast to break down what consumers need to know.
Are other banks still safe to keep money in?
Yes, according to Torabi.
"Silicon Valley Bank is making the news because it is an anomaly. It is an anomaly event in the financial world," Torabi said. "It's our human nature to see events like these and think this is what happens all of the time, or this is going to happen tomorrow at my bank, but it's really important to put this in the perspective of history. Very few banks actually go completely out of business."
The banks' closings have prompted some people on social media to post about taking their money out of banks and storing it at home, which Torabi said would be one of the worst decisions to make at this moment.
"I can assure you that that is a not safe thing to do," she said. "It is far worse to put your money at home, in a lockbox, under your mattress than at a bank in the United States."
What do I need to ask my bank to make sure it is secure?
The one step Torabi says every person should take is to make sure their bank has a partnership with the Federal Deposit Insurance Corporation, better known as the FDIC.
The FDIC is an independent government agency tasked with keeping the nation's banking system running.
Consumers can go to the FDIC website to see if their bank is insured, or ask their bank directly.
Torabi said it's more important than ever, given the number of tech-driven, digital banks on the market, to know who is behind the bank and whether or not they are FDIC-insured.
"There are more choices as consumers, so we have to do our due diligence," she said. "It's very important that you do your homework, your background check, on that bank."
What does FDIC insurance do?
If a bank is FDIC-insured, its depositors are guaranteed protection of up to $250,000 in funds for each different type of account held.
In other words, if a customer has $200,000 in checking and savings accounts at an FDIC-insured bank and that bank goes under, the FDIC will step in and pay the customer $200,000 so they do not lose the money.
Torabi said the FDIC website is, again, a great resource for people to figure out how their accounts are insured and up to what limit. In some cases, for example, a couple that has both individual and joint accounts at one bank may be insured past the $250,000 limit.
In extreme, larger cases, as with Silicon Valley Bank, the FDIC will also step in to cover beyond the $250,000 limit.
The FDIC, the Treasury Department and the Fed have told depositors in Silicon Valley Bank and Signature Bank that the FDIC would protect all of their funds, including those that exceed the $250,000 limit.
It is important to note that the FDIC does not insure risky investments like stocks, bonds or crypto.
Do I need to spread my money across multiple different banks?
Torabi said this time is a good reminder of the "importance of diversification" when it comes to our money.
"We should always be diversifying not only where we invest, but when it comes to saving, too," Torabi said. "If you have more than $250,000 in a bank, it doesn't necessarily mean that you're not protected, because we know FDIC limits work in different ways, but it's important to check. It's important to know."
She continued, "Maybe what you do is you put some of that money at a different institution, or you take some of it and put it in a joint account."
How do I transfer money to different banks?
The easiest way to open an account with a new bank and to transfer money between accounts at different banks is often online.
Most banks offer the chance to do so on their website and on their app, often for free.
You can also visit the bank in-person or call the customer service number with questions.
Make sure that you're prepared with information like your bank account number and routing number to transfer money, and with personal information like your date of birth, address and social security number to open a new account.
Will the fall of Silicon Valley Bank and Signature Bank impact interest rates?
Over the last several months, Americans have been hit hard by both elevated inflation and aggressive interest rate hikes.
One interesting impact of the collapse of the two banks is that it could lead to slight relief for consumers.
While the Federal Reserve is expected to hike interest rates again next week to keep combating inflation, Wall Street analysts do not expect the hike to be as aggressive now because higher interest rates put even more pressure on banks, according to Rebecca Jarvis, ABC News chief business, technology and economics correspondent.
If my money wasn't in the impacted banks, what should be my biggest concern?
According to Torabi, the economic concern she is most focused on at the moment is layoffs and making sure consumers are prepared for that worst-case scenario.
On Tuesday, for example, Facebook and Instagram parent company Meta announced it was cutting 10,000 jobs and will cancel 5,000 open positions.
Torabi said she encourages people to start thinking now about what they would need financially if they were laid off, so they can prepare.
"Doing this sort of pre-emptive crisis management now can allow you to then see, when times are still good, where the holes are in your financial life and start to fill them," she said, adding that people should keep their resumes and networking up-to-date and ask themselves questions like, "What if I got laid off today? What would I do? Do I know how to collect unemployment? Do I have enough in savings? What would I cut out of my budget?"
Torabi said that same kind of action-oriented thinking can also apply to looking at the fall of Silicon Valley Bank and Signature Bank.
"As a consumer, as a depositor at a bank that didn't have any relationship with SVB [Silicon Valley Bank], I think it's not worth your time obsessing over this," she said. "Just make sure to dot your i's, cross your t's, make sure your money is FDIC-insured and if you have questions, talk to your lender, talk to your bank. They would know better than anybody."
ABC News' Max Zahn contributed to this report.