A series of twisters touched down Sunday in Georgia -- two described by the National Weather Service as "large and extremely dangerous" -- as President Joe Biden approved disaster relief for storm-battered Mississippi, where at least 25 people were left dead in the wake of a powerful tornado outbreak.
The NWS extended a tornado watch eastward across Mississippi until midnight Sunday.
Residents of the Macon, Georgia, suburbs of Milledgeville, Linton, Beulah and Underwood were advised Sunday morning by the weather service to "take cover now."
A second tornado was confirmed to have touched down Sunday morning near LaGrange, Georgia, about 65 miles southeast of Atlanta, and was moving east at 40 mph, according to the weather service.
"You are in a life-threatening situation," the weather service warned residents in the path of both funnel clouds.
Troup County Sheriff's Office in Georgia confirmed that a likely tornado swept through the town of West Point near the Alabama line and damaged 80 to 100 structures, leaving 20 to 30 structures with major damage. The sheriff's office said up to three people were injured in the storm.
The Pine Mountain Safari in Pine Mountain, Georgia, about 40 miles north of Columbus, Georgia, was also hit by a tornado and that two tigers escape from their damaged enclosure but were quickly recaptured and quickly returned to the wildlife park.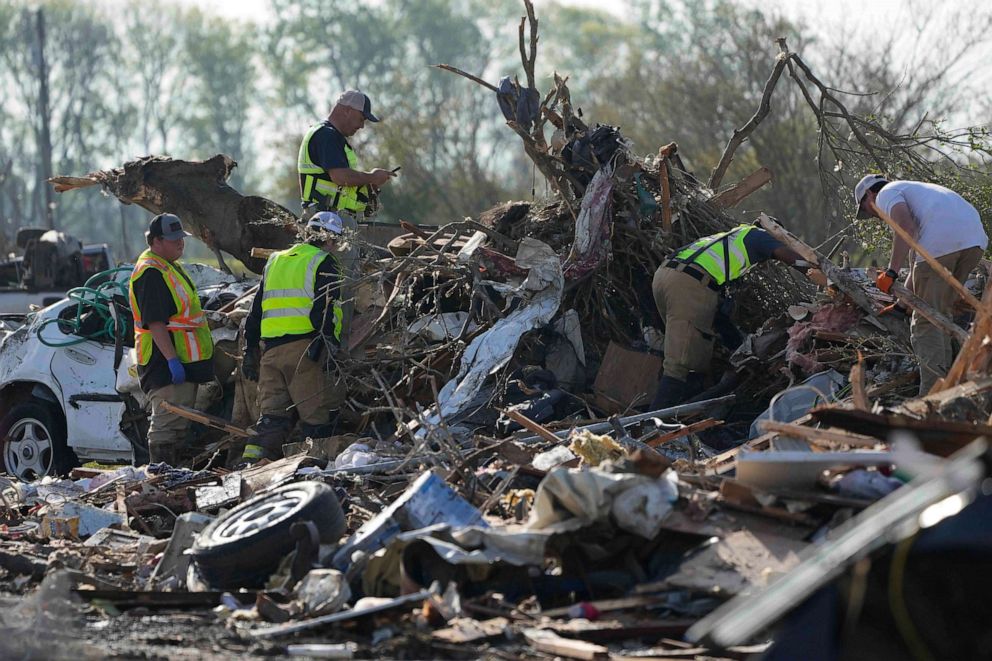 Georgia Gov. Brian Kemp declared a state of emergency for parts of Georgia as the tornado activity was accompanied by heavy rain and flooding.
A tornado watch remained in effect for parts of Alabama and Georgia Sunday afternoon.
At least 4 million people in the South are also under a severe thunderstorm watch forecast to be accompanied by golf ball-sized hail and 60 mph winds.
As the severe weather continued in the South from the early spring storm that began in California, where it spawned twisters near Los Angeles and Santa Barbara, towns in rural Mississippi were starting the clean up from the swarm of tornadoes on Friday.
Biden approved disaster relief for Mississippi on Sunday, making funding available to those impacted by the storm devastation. Federal funds will be available to government, tribal and other agencies in Carroll, Humphreys, Monroe and Sharkey counties, the White House said in a statement.
"The biggest priority for me is, one, making sure that the local jurisdictions, those first responders, have all of the resources that they need. And then, second, that we start to take care of these families," FEMA Administrator Deanne Criswell, told ABC's "This Week" co-anchor Martha Raddatz on Sunday.
Criswell said she will travel on Sunday to the Mississippi towns devastated by the tornadoes "to be able to see firsthand the impacts that some of these communities have had."
The severe tornado that tore through Rolling Fork, Mississippi, late Friday was assigned a rating of EF-4, a classification that marks it as a rare and powerful storm
The National Weather Service office in Jackson, Mississippi, said the preliminary rating comes as staffers are still gathering information about the storm.
The EF, or Enhanced Fujita, scale assigns tornados a number from zero to five based on damage, with five being the most catastrophic. According to the Storm Prediction Center, EF-4 tornadoes make up only 1% of all tornadoes. Historically, the vast majority of twisters have been rated EF-0 or EF-1.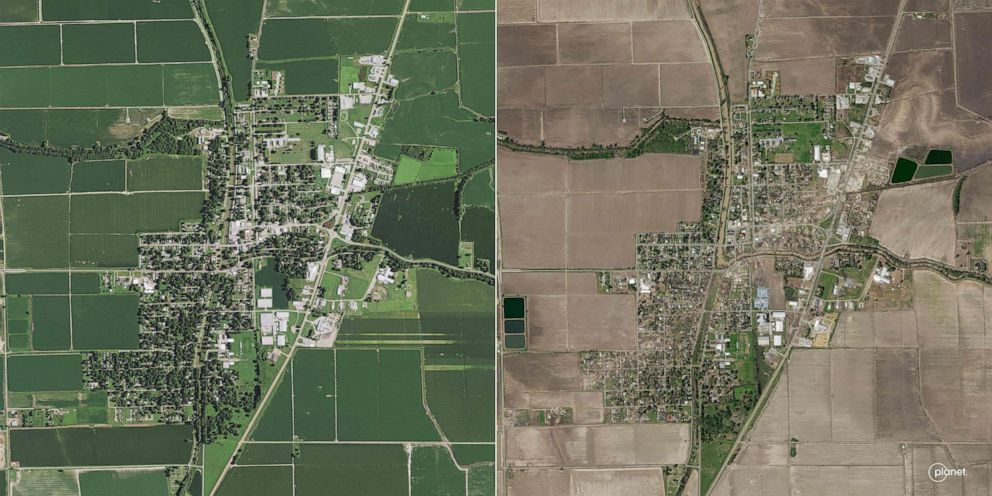 Early data showed that the tornado was on the ground for 59 miles over a period of about 70 minutes. Its maximum width was about three-quarters of a mile, or roughly 4,000 feet.
The tornado's maximum wind gust was measured at 170 mph.
Rolling Fork Mayor Eldridge Walker said search-rescue efforts were "pretty close" to finished and authorities believe everyone has been accounted for. He said his town of roughly 1,800 people was nearly wiped off the map.
"The community has been destroyed. And now we've got to put the pieces back together again," Walker said on ABC's "Good Morning America."
Walker is also the town's funeral director and said some of the 20 people killed in the tornado that struck his town were friends.
Rolling Rock resident Erwin Macon stood outside his completely decimated home with just a suitcase that he said held all the possessions he has left. Macon told ABC News that during the tornado he was shielded from flying debris by a carpet that came out of nowhere and landed on him.
Macon said he is just thankful to be alive.
"This can all be replaced," he said of his home. "I'll be OK."
A separate Mississippi tornado cut a 28.6-mile path of destruction through Carroll and Montgomery counties, killing three people and causing extensive damage in the town of Blackhawk and Winona. The half-mile-wide twister, preliminarily ranked an EF-3 by the National Weather Service, created winds as high as 155 mph and was on the ground for more 25 minutes.
At least four other tornadoes, all measuring EF-1 and packing winds of 90 to 110 mph, also touched down in Mississippi.
In Silver City, where an EF-4 tornado hit Friday night, a 2-year-old girl is one of the three residents there who were killed, her family and the Humphreys County coroner told ABC News on Sunday. Several other residents remain in critical condition, the coroner said.
The tornadoes that hit Mississippi were among 10 twisters that developed on Friday, including a pair of EF-2 funnel clouds in Alabama that killed a person in Hartselle in Morgan County.
Another EF-2 twister hit near Fayetteville, Tennessee, and churned on the ground for four miles in just six minutes, officials said. The tornado damaged the roofs of several homes and businesses, snapped trees and power poles, destroyed a large shed and ripped the reinforced roof off of the horse stalls at the local fairgrounds. The tornado also caused a large horse trailer to roll about 80 yards and picked up several cars and slammed them to the ground, officials said.
Mississippi Gov. Tate Reeves, who submitted the disaster declaration, said on Saturday that the "scale of the damage and loss is evident everywhere affected today."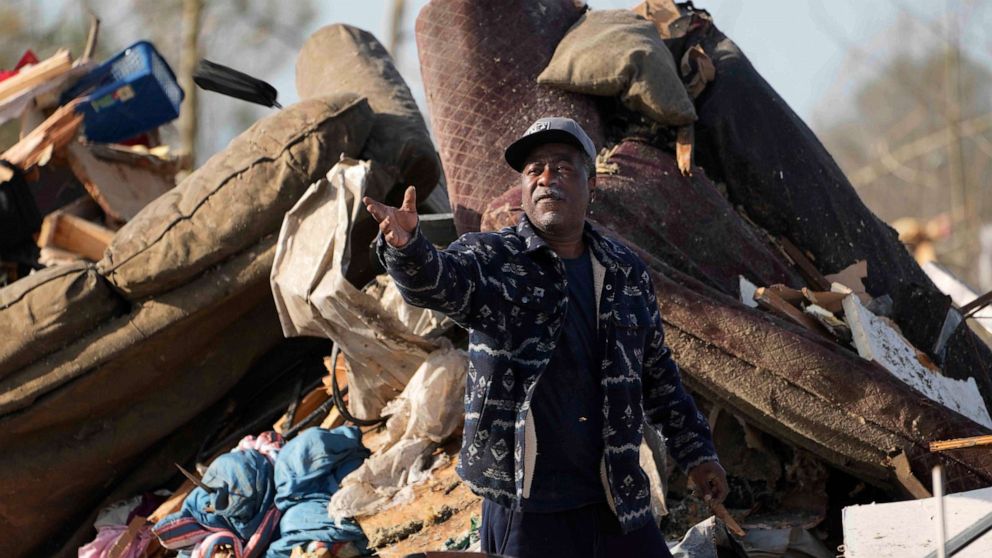 "Homes, businesses … entire communities. Respond, Recover, Rebuild together," he said on Twitter. "That is the mission."
Criswell said that while tornado warnings were activated and sirens in some towns alerted residents of the coming disaster, not everyone received or heeded the alerts.
"In some of these communities, they are certainly some of the poorest communities in the state. And we know that we're going to have to bring the full force of the federal family in there to come help them," Criswell said.
In the interview with Criswell on "This Week," Raddatz noted that up to 35% of Mississippi residents in the area where the massive tornado struck, live below the poverty line and may not have cell phones to receive alerts.
"I think it's something that we have to ... continually look at what we can do to better inform people," Criswell said. "We know that there are sirens. I know that some sirens did go off. I don't have, the exact picture of where they went off. But sirens are one of the best tools that we do have to give a widespread warning to people quickly, especially when you have nocturnal tornadoes like this that happen while people are asleep."
ABC News' Will McDuffie, Daniel Amarante, Kevin Shalvey, Nadine El-Bawab, Rob Marciano, James Scholz and Juan Renteria contributed to this report.