A suspect was arrested Thursday in the fatal attack of a woman who was stabbed multiple times while jogging in a trendy neighborhood in the nation's capital just a few miles from the White House.
Wendy Karina Martinez was stabbed seven times in an attack Washington D.C. Chief of Police Peter Newsham described as "random" and "unprovoked." Newsham told reporters Thursday that police had arrested 23-year-old Anthony Crawford.
Martinez, 35, had just gotten engaged to be married last week.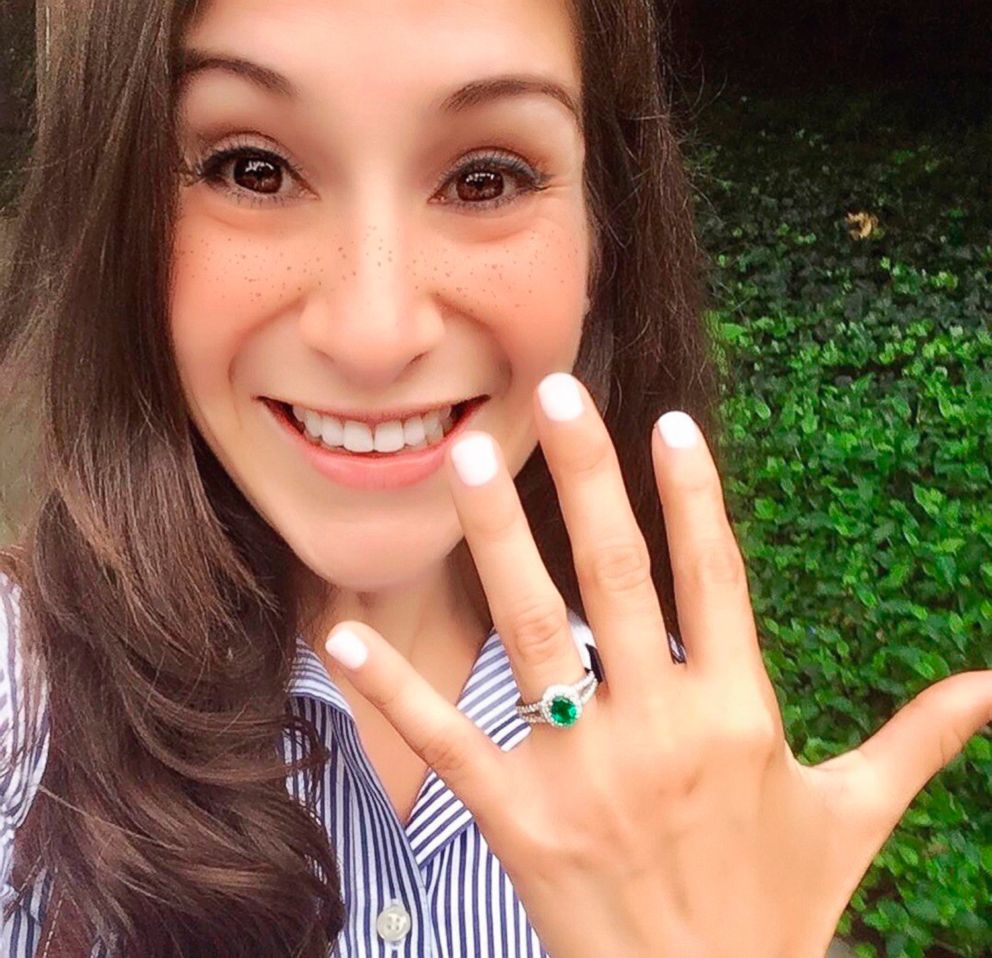 "It's one of those things you don't expect. You're the happiest man in the world, you're engaged with the love of your life, you're getting things prepared. Weddings in multiple countries. Thinking about the logistics and suddenly she's ... gone. It's hard to describe," her distraught fiancé, Danny Hincapie, told reporters on Thursday.
Martinez's mother, Cora Martinez, called her daughter the "most beautiful, special, vibrant young girl."
"Above all, she was a warrior," the mother said. "She fought up to the last second of her life ... She made me proud of the way she reacted."
Acquaintances of Crawford recognized him in surveillance video released by police on Wednesday and one told detectives Crawford is an "avid user of the synthetic narcotic K-2," according to a criminal complaint made public Thursday.
Mayor Murial Bowser said Martinez's death had "outraged" the community.
"This is a woman who should be going to work today," said Bowser, standing in front of the Chinese restaurant where Martinez sought help after being stabbed.
Diners tried to save her
Martinez stumbled into the Chinese restaurant in Washington D.C.'s Logan Circle around 8 p.m. Tuesday, suffering from stab wounds, police said. She tried to alert customers to her attacker but the suspect had already hopped a bus and fled the scene, witnesses said.
Customers in the restaurant, including a nurse, attempted to provide medical aid to Martinez, using a cardigan sweater to apply pressure to her wounds, according to a criminal complaint filed against Crawford.
She was taken to a nearby Medstar Washington Hospital Center, where she was pronounced dead at 8:23 p.m., police said.
An autopsy determined that Martinez suffered stab wounds to both sides of her neck, slicing both her jugular vein and carotid artery, according to the criminal complaint. She was also stabbed in the head, face, and back, the complaint states.
Newsham said there was no obvious motive for the deadly attack.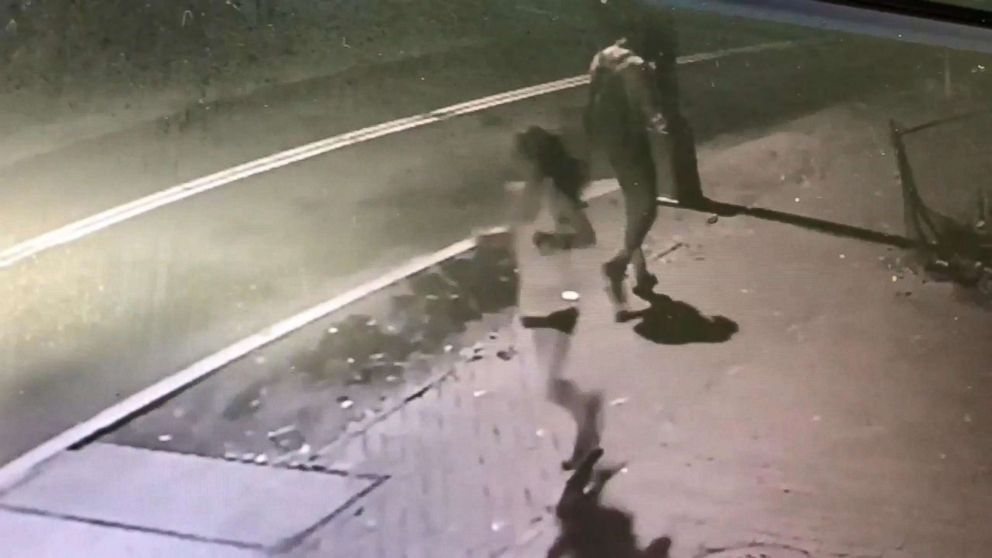 "It is more likely a random act than anything else but we're going to look at all possibilities," he said.
"We were able to talk to multiple witnesses and we don't have anything to suggest that there was any type of confrontation between the two," he said. "It looks like it was an unprovoked attack."
Caught on video
Newsham said a surveillance camera showed the suspect running from the area of the attack at P Street and 11th Street Northwest. The video footage and tips from community residents, which included a relative, led to Crawford's arrest, according to the complaint.
The killer dropped a bloody knife and a mustard-colored sweater at the crime scene, according to the complaint. The assailant also left a trail of blood leading from the scene of the attack, the complaint states.
Newsham said police found Crawford in a park at 14th Street and Girard Street Northwest about 8:24 on Wednesday and he was detained for questioning.
During the interview, Crawford purportedly told investigators that they were accusing him of stabbing a "little girl" before they had even mentioned why he was being interrogated, according to the complaint. Investigators noted in the complaint that Martinez stood about 5-foot-1 and weighed 106 pounds.
Crawford was charged with first-degree murder early Thursday morning, the chief said.
When police found Crawford, he had an injury to his right hand, which he claimed occurred when he fell down a set of stairs, according to the criminal complaint. But crime technicians examined Crawford's hand and determined that the wound was a "significant laceration."
Surveillance footage of the attack on Martinez showed the killer used his right hand to stab her, the criminal complaint states.
Newsham said Crawford is a resident of Washington, D.C.
"It's horrible to see something like this happen in the city," Newsham said, describing the Logan Circle area as a "very safe neighborhood."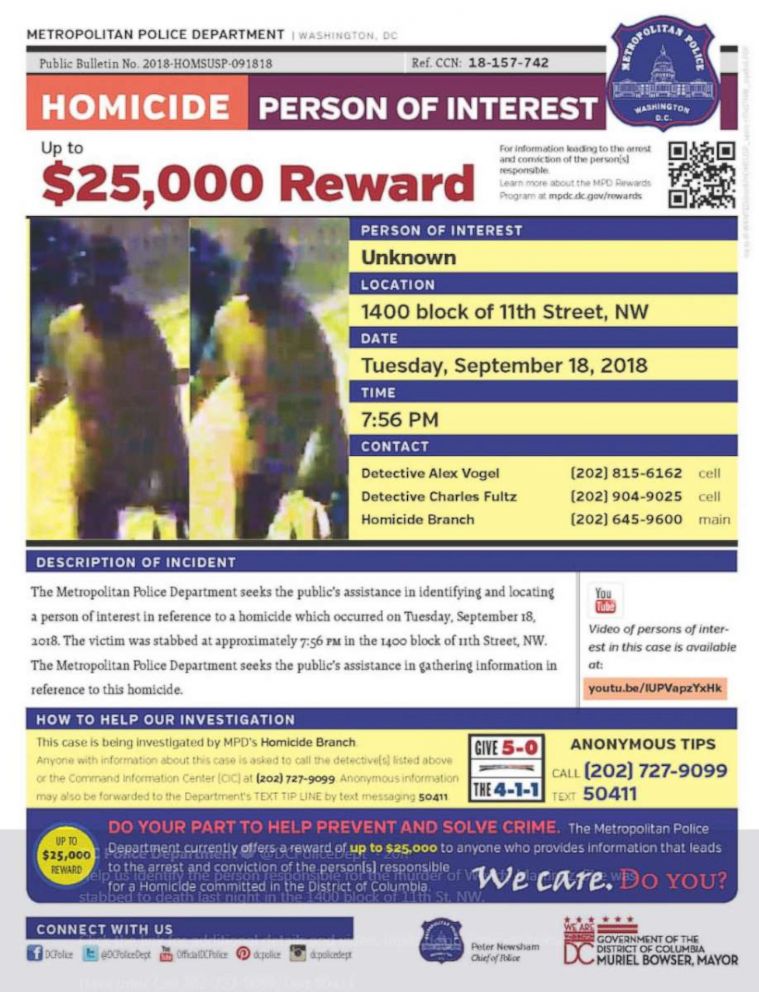 Newsham said security cameras showed Martinez jogging west on P Street just before she was confronted by the suspect. He said the suspect stabbed Martinez without warning or uttering a word to her.
Mayor Bowser said the crime has been "damaging to all our senses of safety."
A mother's anguish
Martinez was an avid runner and worked for a local software company, according to her family.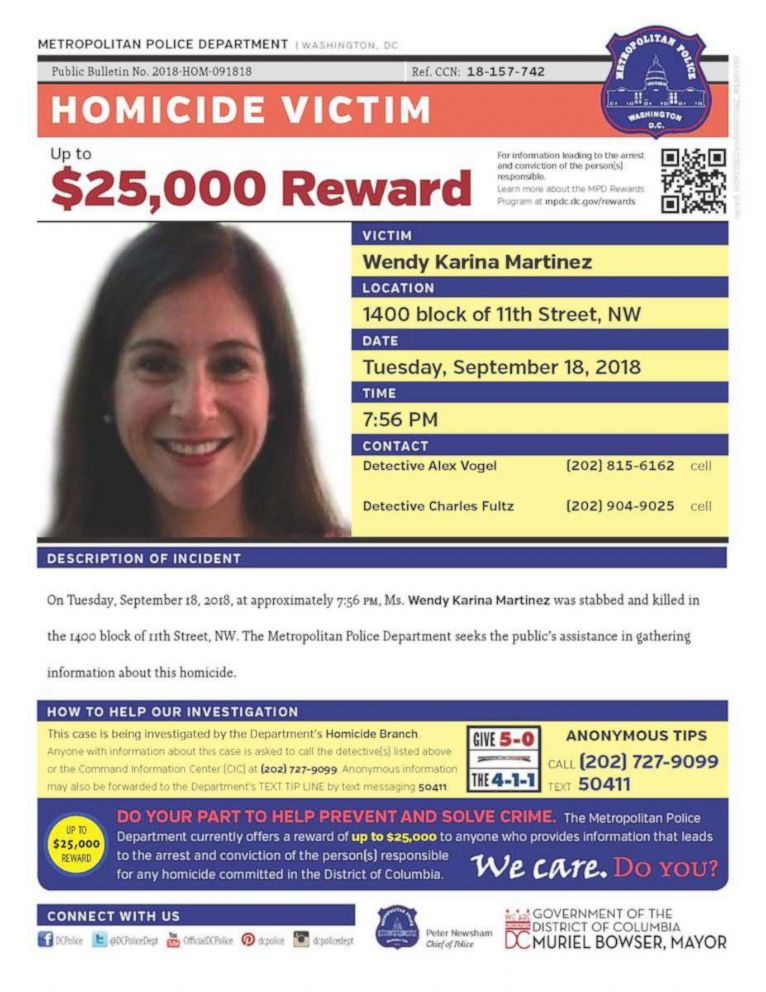 FiscalNote, where Wendy Martinez served as chief of staff, tweeted its condolences to her family on Wednesday.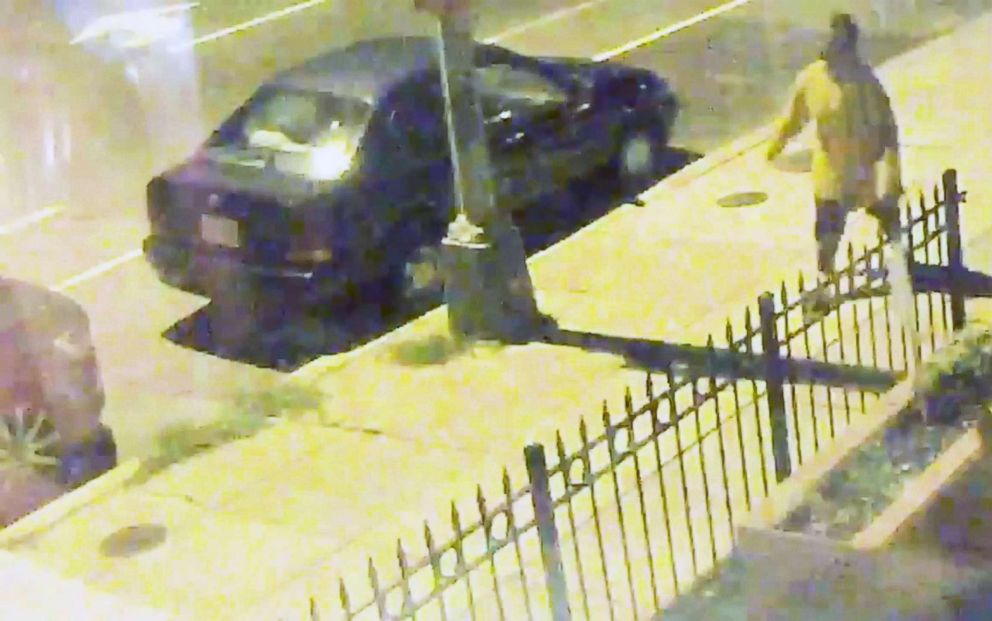 The Metropolitan Police Department released surveillance footage of the suspected killer that showed him wearing a long-sleeved mustard-colored shirt, flip flops, and white socks.
"I feel there is some sense of her in my heart because my daughter is no longer with us, but other girls are safe because he is no longer walking up and down," Cora Martinez said.