'Dynasty' star Catherine Oxenberg's daughter speaks about her life, escape from so-called sex cult
'Dynasty' actress' daughter speaks out on alleged sex cult
NXIVM was initially billed as a self-help group with 16,000 members, and it promised people the tools for personal success and empowerment.
The massively popular group attracted Hollywood stars and millionaires, but it all came crashing down after allegations of a secret sex cult surfaced. The leader and several high-ranking members landed behind bars as a result.
"Dynasty" actress Catherine Oxenberg fought for years to free her daughter India from the group and, for the first time, broke her silence after breaking free from the so-called cult NXIVM in an exclusive interview with ABC News.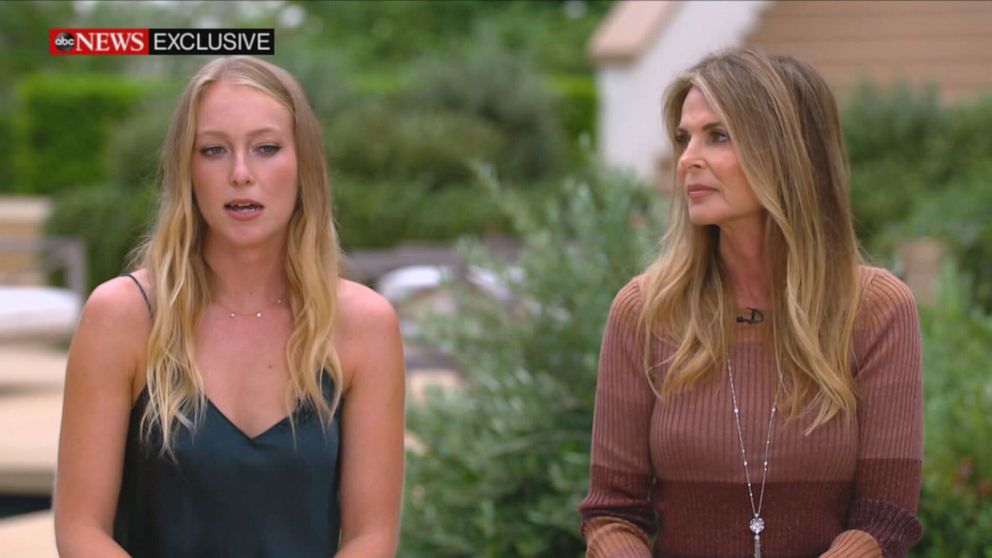 "What I thought I was learning was self-help and personal growth. What I was learning was the opposite. It was inhumane," India Oxenberg said,
At just 19 years old, she joined the group run by Keith Raniere, a self-proclaimed guru who bragged about what he described as superior intellect.
Initially, the mother-daughter duo went to the first meeting together, but the group almost immediately tried to break that connection, Catherine Oxenberg said.
"Yeah. And that was all strategic. And we were unaware of why they were doing that at the time," the mother and actress told ABC News. "But it's actually something that I learned later on called parental alienation."
India Oxenberg spent nearly seven years in the organization and paid them nearly $100,000, now saying that she had been slowly brainwashed but at the time couldn't see it while it was happening.
"That's years of grooming. And when you're unaware, it's so easy to be led astray, especially by people who are masters at manipulation," she said. "And these people were that, especially Keith Raniere. He's a master at manipulation."
India Oxenberg continued, "If there's one thing he's intelligent at, it's that. And he's a predator."
Prosecutors said Raniere was a con man and predator who took advantage of women. They said Raniere, who called himself Vanguard, created a secret sorority inside the group where women were made to be his slaves and have sex with him.
Raniere, according to prosecutors, blackmailed those women with what they called "collateral" like family secrets and nude photos.
India Oxenberg said that "Smallville" actress Allison Mack was the first person to introduce her to the society under the guise of female empowerment.
"It was a trap," she said bluntly. "And it was a ploy for Keith to enslave women for his own sexual desires."
Her own relationship with Raniere, she said, "took a different turn and became sexual when -- I was commanded to do a seduction assignment."
"That was the beginning -- of continual sexual abuse. And I didn't see it as that at the time," India Oxenberg explained.
"I would describe that sexual relationship as rape," she continued.
Because of the nature of the relationship, she explained that she felt like she could not turn down what was being asked of her.
"I had given collateral, which automatically removes my choice," India Oxenberg said. "So I did not have the option to say no. Saying no meant hurting my family or hurting my friends. And I wasn't gonna do that."
In the new STARZ documentary, "Seduced: Inside the NXIVM Cult," that premieres on Sunday, Oct. 18 at 9 p.m. ET, India Oxenberg returns to the house where she said that she and others were held down and branded with Raniere's initials.
"It was horrible," she said when asked about the night she was branded.
Her mother chimed in adding, "And you had no idea that it was Keith's initials. I remember."
"That's the real thing is that we were told that it was a symbol of the elements and that this was gonna be a bonding experience," India Oxenberg explained. "And we were sleep deprived. We were starved. We were coerced."
She continued, "You don't just decide to be branded. You're coerced into being branded."
For years, her mother publicly and privately fought to free India Oxenberg from the group.
After Raniere and Mack were arrested in 2018, India Oxenberg finally came around.
"I lived in fear for probably two years, but my faith is -- has always been stronger than my fear, always," Catherine Oxenberg said. "When I first confronted her at the end of May in 2017, I thought I could wake her up. I told her she was brainwashed and she was in a cult. And I said, 'I know about the blackmail. And I don't care if it's about me -- Don't let that be the reason you stay in.'"
But at the time, India Oxenberg recalled that her mom's support did not sink in.
"I was too deeply in -- I was scared. And I was confused," she said.
India Oxenberg explained the experience of waking up as "stages of revelations."
"I started working with a de-programmer who helped me tremendously," she said. "But you have to be open to it. Like, you can't force somebody to see the truth. They need to want to. And I didn't want to for a long time."
Her mom added that, "Getting somebody out of a cult is very different than a drug intervention, for instance, because their critical thinking has been taken away. And so the process of working with -- a cult defector is to reawaken and reignite their critical thinking."
It was through a "line of questioning to help them start to think for themselves," that Catherine said helped her daughter. "It's very gentle. It's very different."
India Oxenberg said she hopes others can take away one thing from her story, that "you don't have to be in a cult to be coerced."
Her mom added that she doesn't know "anybody on the planet who hasn't been manipulated -- or exploited or fooled in some way, or has been in -- a controlling abusive relationship."
She continued, "There's predation on so many different levels."
India Oxenberg said "we all have metaphorical scars. I have a physical scar -- but you don't have to live with that."
"You don't have to live with Keith Raniere haunting you. You can reclaim your life," she continued. "You can learn from it. And you can move on. And you can heal. And you can have love. And I -- I just feel so lucky that I can have that."
Allison Mack pleaded guilty to racketeering and conspiracy. Keith Raniere was convicted of sex-trafficking, racketeering and conspiracy, and faces up to life in prison when he's sentenced later this month.
India Oxenberg also told ABC News that she plans to attend Raniere's sentencing and deliver a victim impact statement as part of her closure.
As for the brand on her body, India Oxenberg had an evil eye tattoo put over the scar and wrote "ancora imparo," which means "still learning."