— -- "A League of Their Own" came out 25 years ago today, but the Penny Marshall-directed film is far more than just a movie for the women who took the baseball diamond more than 70 years ago during World War II and for years after.
The 1992 blockbuster centers on the All-American Girls Professional Baseball League and the women who took over "America's pastime" when their male counterparts were in the war.
ABC News spoke to one of the players from that era, Jeneane "Jeanie" Lesko, who played in the last two seasons of the all-women's league and was there when Hollywood came calling with actresses like Madonna, Geena Davis and Rosie O'Donnell to tell the story of U.S. women's time in the ball yard.
Lesko joined the league a few years after the Second World War ended but she still got to know many of the athletes that had been there before, hear their stories and experience what it was like to play in the league. She has also helped to keep the memories of those female baseball players alive in the years since.
Lesko, who was a pitcher with the Grand Rapids Chicks still works with the All American Girls Professional Baseball League's players association and travels the country promoting the game she loves and inspiring young women.
Her story
Lesko, originally from Lakeview, Ohio, was a senior in high school in 1952 and a bat girl for the local men's team when she was told women were still playing professional baseball.
"It was scary, I had never been out of the state," she said. "I drove up my sister's old DeSoto coupe, got to the field and saw all these women [just like in the movie], about 100 of them, trying out for the league."
Then a shy 18-year-old, Lesko was caught off-guard by the uniforms and new surroundings.
"I saw all these girls in these little short skirts, I didn't even know what they wore before I got there," she said. "We didn't have TV at home or any way to see pictures of them. I never wore dresses to school, I always wore jeans. I really felt very naked when I went out on that field, but I said if they can do it I can do it," Lesko said.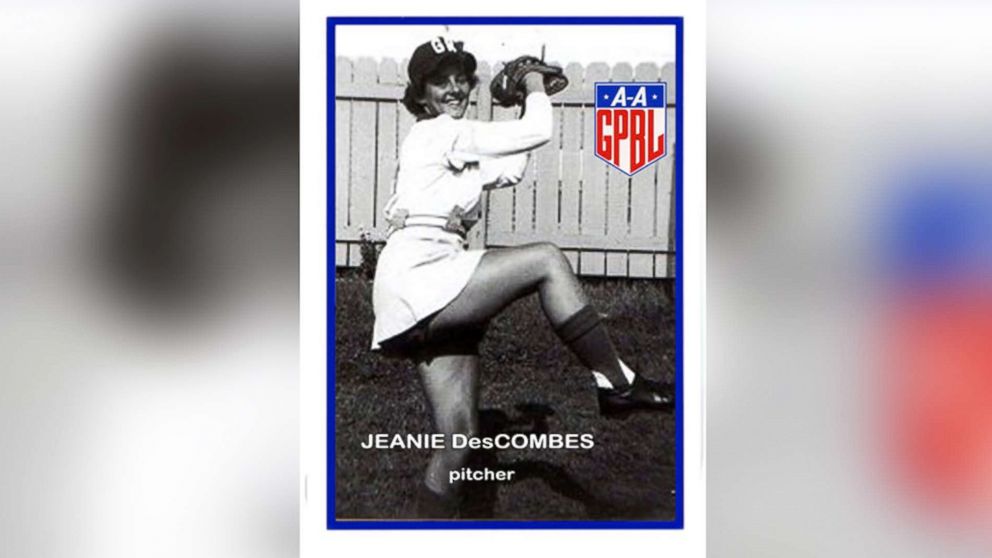 "I went out and didn't talk to anybody," she said. "I just paid attention to myself and like they showed in the film, there was a board with names after we finished the tryouts and I was picked up by the Grand Rapids Chicks."
Lesko played with the Chicks until 1954, when the league stopped operating.
The left-handed pitcher had a coach, Woody English, who she said was very similar to Tom Hanks' gruff Jimmy Dugan in the movie. After Lesko cut her hair too short without knowing the required length (it had to be around the shoulders at least), she made sure to keep her head down during that first season.
"Our manager was from the Chicago Cubs, a shortstop back in the '20s, and he was kind of a rough guy, chewed tobacco," she added. "I never let him see the back of my head … I was a little shy about that."
The other pitchers on the team took Lesko under their wings and showed her the game.
"The first game I got in, I didn't know how to hold the runners on, I was balking time after time, finally the umpire came over and told me to stop," she said.
What the film got right
Baseball at the time was the most popular, unifying sport in the country, and the women who took it up both during and after the war -- often stayed with local families and, for the most part, were welcomed.
"We paid $15 a month [to stay with these families] and there was two of us in each house," Lesko explained. "We were a couple blocks from the field, so we walked to practice in the morning and to games at night."
But it wasn't just the crowds that appreciated these women inspiring them and taking their minds off their daily lives. Lesko said a lot of the players' families relied on the girls for money to get by.
"It was hard times … a lot of the players were making more money than their parents, working in factories," she said. "They were making $100, as much as $150 a week, so they would send money back home. Their parents weren't making half that in the factories."
Despite the inclination of Hollywood to dramatize true events, Lesko said Marshall got a lot of things right in her movie.
"It was very accurate, except for the way [the women in the film] treated the chaperones, which wasn't very nicely," she said, laughing. "Of course, the gals did pull tricks on them, put salt in their beds and other stuff, but it was all in fun. They weren't making fun of them or anything."
Another scene from the movie that Lesko says could never happen was when Hanks' character came into the women's dressing area and went to the bathroom.
"[The coaches] would never have done that, that was Hollywood too," she said.
Marshall worked with about 10 of the past players living in Palm Springs and interviewed them, taking their stories to mold the film's characters.
In fact, many believe someone like Hanks' Dugan was based much off actual baseball legend Jimmie Foxx. Geena Davis' character Dottie Hinson was also loosely inspired by Dottie Kamenshek and so forth.
Before Cooperstown
Lesko said that despite the pay and the fanfare, she, like other women in the league, didn't tell their children or make a big deal about their past. Then the girls got invited to the Baseball Hall of Fame in the 1980s, followed by the release of the film in the early '90s.
"All of our kids, they didn't know we played until they grew up," she said. "I never told my children, never told my husband until they started calling us about the movie."
In fact, the current association president, Richard Chapman, didn't know his mother Dorothy played, and now she has a statue standing out front, swinging a bat in Cooperstown.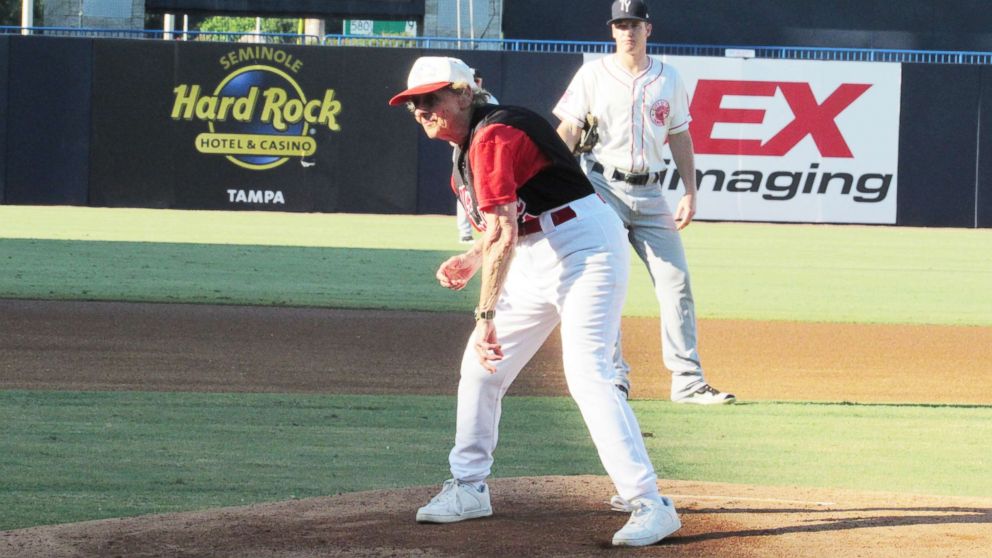 But when the players' families found out, they "went crazy," Lesko said. In fact, Lesko and others were invited to stadiums like the Kingdome in Seattle and Wrigley Field to be celebrated.
The women also have a reunion every year to inspire other young girls to play baseball and show that they still have what it takes. Last year's reunion took place in Florida, with next year it's happening in Cincinnati, Ohio.
"It's been a great life and a great life experience," Lesko said. "I've been in real estate for 50 years for a living, but my love has always been sports ... We go around and do autograph-signings all the time. We're still out there, limping around or being pushed around. We're in the Hall of Fame!"