The House of Representatives has narrowly reelected Nancy Pelosi as speaker with 216 votes, giving the California Democrat a fourth - and likely final - term leading the House.
Pelosi, 80, is the third speaker in the last 25 years to win with less than 218 votes, after former Republican Speakers Newt Gingrich and Paul Ryan. Five Democrats did not support Pelosi on the floor, and instead voted for alternative candidates or "present."
After seizing the gavel, Pelosi said the "most urgent priority" of the 117th Congress will be defeating the COVID-19 pandemic.
"Two weeks ago, we passed an emergency relief package to crush the virus and put money in the pockets of workers and families, which is now the law. But we must do more to recognize our heroes," she said Sunday. "Indeed, the pandemic has pulled back the curtain on even worsened disparities in our economy and our society. We must pursue justice: economic justice, justice in health, racial justice, environmental and climate justice."
Rep. Kevin McCarthy, the Republican leader, won unanimous support from the Republican conference – garnering 209 votes on the floor.
The top House Democrat since 2003 and the only woman to ever serve as speaker, Pelosi did not have an opponent in the race for the speaker's gavel, and did not face down a rebellion in her ranks like she did two years ago, when 15 Democrats voted against her on the House floor after unsuccessfully trying to recruit a challenger.
But she faced a challenge of corralling votes with the slimmest House majority in 20 years, after Democrats lost about a dozen seats in the November elections. While the surprise losses led some members to question Pelosi's leadership, many of her would-be critics pointed to her 2018 commitment to serve only two additional terms as speaker, and the lack of any clear alternative candidate, to justify their support this year.
Rep. Jared Golden, D-Maine, voted for Sen. Tammy Duckworth, D-Illinois, for speaker, while Rep. Conor Lamb, D-Pa., voted for Rep. Hakeem Jeffries, D-N.Y., who is seen as a likely successor to Pelosi. Both pledged to oppose Pelosi after doing so in 2018.
Three other Democrats - Reps. Mikie Sherrill of New Jersey, Abigail Spanberger of Virginia and Elissa Slotkin of Michigan - voted "present," which under House rules did not count against Pelosi. Slotkin voted "present" two years ago, while Sherrill and Spanberger voted for other Democrats for speaker.
"Last Congress, I kept my promise to vote for new leadership upon my swearing-in – and in this Congress, I remain consistent in my commitment to ushering in new leadership. Accordingly, I did not vote for Speaker Pelosi," Spanberger said in a statement.
Pelosi won the support of other former critics who did not support her in 2019 - including Reps. Jason Crow of Colorado, Jim Cooper of Tennessee, Ron Kind of Wisconsin, and Kathleen Rice of New York.
The coronavirus pandemic complicated proceedings. While the House allowed members to remain in their districts and vote by proxy during the pandemic, the rule was in effect for the first day of the new session -- forcing members to travel to Washington for their swearing-in and first day of votes.
They voted on the floor in waves, about 72 members at a time, to avoid crowding the chamber all at once -- a process that added several hours to proceedings.
Party leaders urged members to travel carefully. In a sign of how cautiously Democratic leaders are approaching the session, they requested travel information and flight numbers for members traveling back to Washington, according to two Democrats familiar with the inquiries.
"Emerging coronavirus conditions in the Nation are rapidly changing for the worse," Dr. Brian Monahan, Capitol Hill's top doctor, warned in guidance to lawmakers and staff ahead of the new session of Congress.
In his guidance, which requires all members of Congress to obtain a negative COVID-19 test before arriving in Washington, Monahan also encouraged lawmakers not to bring family members to Capitol Hill -- which, under normal circumstances, would be teeming with the families and friends of lawmakers and new members taking their oaths of office for the first time.
"Travel to Washington, DC at this time should be undertaken only by those individuals with official duties in Washington DC," he wrote. "Accompanying family member travel is highly likely to involve significant hardships and disease exposure risks that are best avoided."
Still, many new members were spotted with friends and family members around the Capitol.
Republicans and Democrats clashed over mask wearing, which is required in the chamber, along with the creation of a plexiglass enclosure in the House gallery. A Capitol official told ABC News the enclosure was set up to allow members quarantining because of COVID-19 exposure to vote until proxy voting resumes. Two Democrats and one Republican used the enclosure, at the direction of the Capitol physician, after receiving a negative test.
Republicans criticized the set up, and accused Democrats of potentially endangering others at the Capitol to help Pelosi secure the gavel.
"To build a structure like that, in the dark of night, to only protect the votes that Speaker Pelosi needs to get reelected speaker, is shameful," Rep. Rodney Davis, R-Illinois, said Sunday afternoon.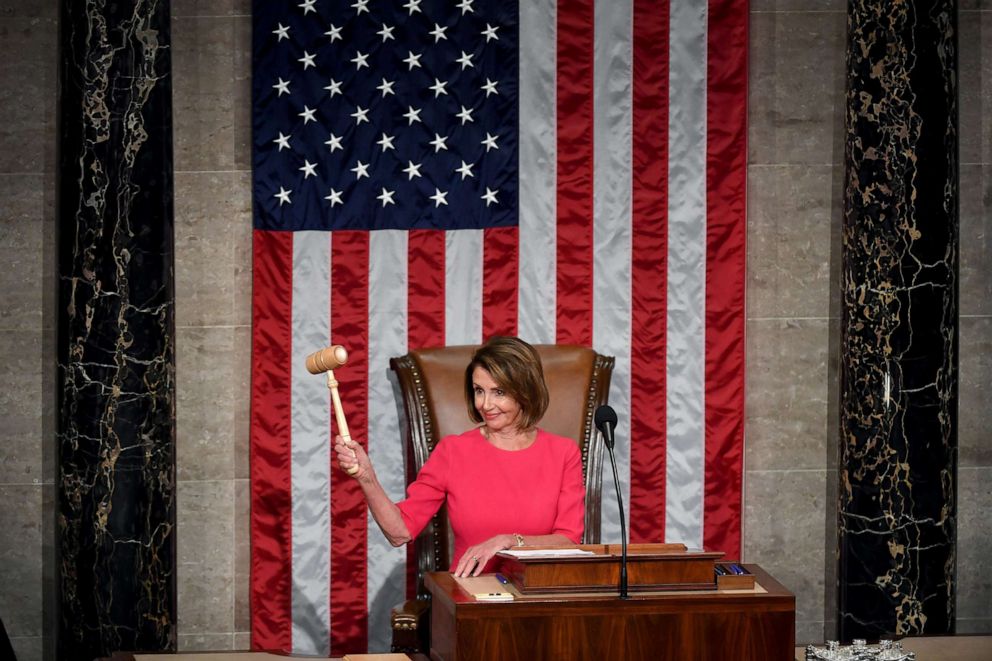 Absences helped lower the threshold for Pelosi, and eased her path to victory. At least two Republicans, Reps.-elect Maria Elvira Salazar of Florida and David Valadao of California, missed the first day of the session after recently testing positive for COVID-19.
Rep. Gwen Moore, D-Wis., who disclosed her own COVID-19 infection less than a week ago, voted on Sunday, and told reporters she had quarantined for two weeks after first learning of her infection.
"Dr. Monahan told me that today I could come in," Moore said.
Rep. Alcee Hastings, D-Fla., who is battling pancreatic cancer, was the only Democrat who missed Sunday's vote.
"Pursuant to guidance from my doctor, I will remain in Florida and be sworn in for the 117th Congress this week by my esteemed colleague and friend, Congresswoman Debbie Wasserman Schultz," he said in a statement.
Any last-minute infections could have scrambled the math for Pelosi -- a possibility she alluded to on a call with Democrats last week when she said her opponent in the race is the virus, according to a Democratic aide on the call.
Shortly after McCarthy handed the gavel to Pelosi, the partisan divisions of the body were already on display.
Pelosi held a moment of silence for Rep.-elect Luke Letlow, R-La., who died last week following a brief battle with COVID-19.
As Congress prepares to certify the results of the electoral college on Wednesday, Texas Republican Rep. Chip Roy objected to Pelosi's effort to swear in members of Congress, disputing the results in Arizona, Georgia, Michigan, Nevada, Pennsylvania and Wisconsin - states where Trump has contested the election results as well.
The move would have left Pelosi with a smaller Congress to preside over, as she would not have been able to swear in members from those state delegations, based on the precedent of the House.
House Majority Leader Steny Hoyer, however, then requested a vote on a privileged resolution to give Pelosi the authority to swear in all members of Congress, which Roy also objected to - forcing a vote and the usual circumstance where members voting had not yet sworn an oath to the Constitution.
Roy released a statement Sunday explaining his objection, which would impact 67 lawmakers.
"It would confound basic human reason if presidential results were to face objection while the congressional results of the same process escaped without public scrutiny," Roy stated.
Roy was shut down 371-2.
ABC's Mariam Khan contributed to this report.