Designer inspires Filipino 'pride' through modern jewelry
ABC News Photo Illustration
One TikToker is putting a spotlight on Filipino culture in a unique way.
Mar Velicaria of San Diego, California, has gone viral for their intricate headpieces that feature the Philippine sun, which is on the Filipino flag.
"I really want to give a new way of expressing our love for our culture in ways that make us feel proud and make us feel excited about it," Velicaria told "Good Morning America."
The 26-year-old said they got the idea of creating the headpieces during their senior year at UC San Diego in 2019. Velicaria said it was around the time that the Met Gala was happening and they remembered the theme from the year before, Heavenly Bodies, and began doodling headpieces that included the Philippine sun. As soon as Velicaria said they had a design, they went to the craft store to bring the headpiece to life.
For Velicaria, the headpiece originally was just something fun. Now it means so much more. As a Filipino American, Velicaria said it's always been a bit complicated defining what their culture means in terms of representation and identity.
"We're really not represented in media. And it can be [a struggle] for someone to not be seen and not feel beautiful or not feel represented," Velicaria said.
The importance of telling Filipino stories
Kevin Nadal, a professor at the City University of New York and author of "Filipino American Psychology," said while Filipinos are characterized as Asian, "it's hard for people to place us racially."
"One of the things that's important for non-Filipino people to recognize is that Filipino Americans have such a rich history and culture that is unique to any other racial or ethnic group in the world," Nadal told "Good Morning America." "[Filipinos] had been colonized by the Spanish for almost 400 years and then by the United States for almost 50 years. And so, when we think about the Philippines, it really is a hybrid of indigenous Filipino culture with influences from places like Spain, places like East Asia, Southeast Asia and even from Africa."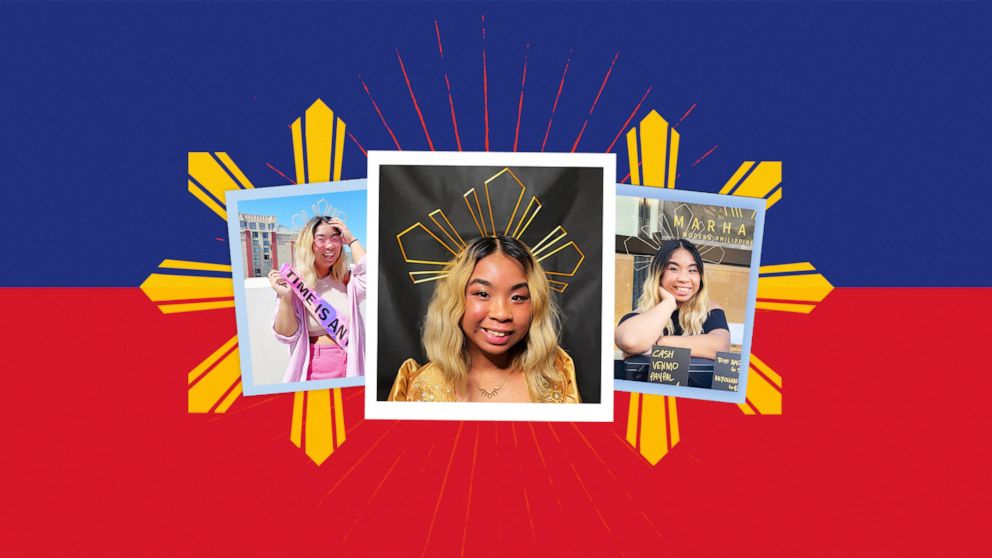 Nadal explained that because of the country's history and the experiences that Filipinos have had, many Filipinos may often be seen by others as other racial groups such as Latino, Black, Middle Eastern, South Asian or even Pacific Islander. As a result, Nadal said that Filipinos may find themselves having to constantly explain who they are.
Velicaria said she had a similar experience growing up. "There's so many people who want to tell me I'm Pacific Islander or I'm Asian," they said. "And it can get really confusing."
Despite the challenges that Filipinos face, Nadal said it's important for Filipino Americans to share their culture and tell their stories.
"We have to tell our own stories because if we don't, then we're either going to be forgotten, our stories are going to be told incorrectly or they're not going to be told at all," he said.
'One Down'
In pop culture today, there are some Filipino American celebs shining a light on their culture and putting Filipino stories at the forefront including comedian Jo Koy, whose upcoming comedy "Easter Sunday" is based on his own experiences growing up as a Filipino American. Rapper Saweetie, who is of Filipino, Chinese and African American descent, also paid homage to her roots when she wore a dress designed by Christian Cowan to the 2021 Met Gala. Additionally, Olivia Rodrigo, who is of Filipino and Irish descent, has put a spotlight on the importance of representation in past interviews.
"Philippine representation, especially in American media, is so important," Velicaria said. "Whenever there's anyone in media such as Olivia Rodrigo, we always celebrate. We just always want to support them because we feel so proud."
Velicaria added, "There's this saying [in Tagalog] called 'Isang Bagsak,' which means 'One Down.' It basically represents this idea in Philippine culture that if one of us falls, we all fall. And if one of us rises, we all rise. We're very much going to be there for each other. It doesn't matter if we never met before, we're going to be supporting each other all the way. And so whenever we someone who is striving and breaking boundaries and doing all of these amazing things, we always want to celebrate them and support them no matter what."
With their Filipino headpieces and other accessories that also include the Philippine sun, Velicaria said they hope it inspires other Filipinos to learn about their culture and embrace it.
"I hope my products inspire you to learn more about your family, your culture, your people and yourself," Velicaria said.