Most of us get off a long flight complaining about dry skin, and feeling gross or drained.
That's not so much the case for these beauty and travel mavens who have taken their daily beauty routines to the skies to help them stay hydrated and preserve their skin's glow while flying.
Allure magazine editor-in-chief Michelle Lee swears by her in-flight skin care routine, posting a video on Instagram of the beauty routine on a seven-hour international flight -- eye masks and all.
"Raise your hand high if you proudly mask on planes!" she posted.
Her key product was the Shiseido Benefiance WrinkleResist24 Pure Retinol Express Smoothing Eye Mask.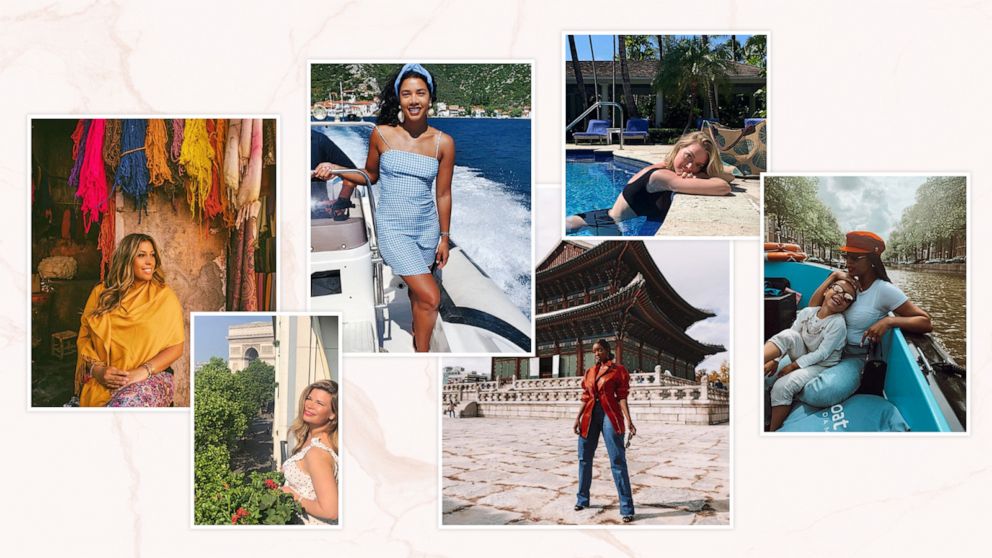 "Good Morning America" tapped six women who pack Transportation Security Administration-friendly essentials to share their in-flight regimens.
Hannah Bronfman
DJ, founder of HBFIT, Global Adidas Ambassador
Hannah's top picks:
Joanna Czech Facial Massager, Charlotte Tilbury instant magic dry sheet mask, Vintners Daughter face oil, KNC collagen lip mask, KNC collagen lip mask, Summer Fridays jet lag mask
Her routine:
"I love this dry sheet mask because it has loops that go over your ears so it stays in place very well. Then, I use the Joanna Czech face roller and roll it over my face, which actually activates the face mask. Once I finish face rolling for about five minutes, I leave the mask on for another 15 minutes. Next, I remove the mask and use a couple of drops of vintners daughter oil and pat it into my face. I end with the KNC lip mask, and use a good amount of jet lag mask as an under-eye cream, but I use about a pea-sized amount under each eye and I don't really rub it in, I let it sink in."
Tanyka Renee
Travel, beauty and lifestyle digital creator
Tanyka's top picks:
Natural exfoliants made from flaxseeds, rosewater mist, sheet and eye masks, NuScience Cellfood drops, Cellfood Essential Silica Formula, Evolution_18 Beauty Bubbles: Hydration
Her routine:
"Morning of the flight, I make sure to exfoliate my skin to ensure that the moisturizer penetrates deeply into my pores and doesn't sit on top of dead skin cells. I make a natural exfoliator from ground flaxseeds and coconut oil. Then, I apply moisturizer and lip balm. I top all this off with a refreshing, moisturizing Rosewater mist.
Stephanie Flor
CEO of Around The World Beauty, global beauty expert, and beauty director at Unearth Women
Stephanie's top picks:
Plant Alchemy Jet Lag Tincture by Plant Alchemy, Kao Lavender Warm eye mask, Nyakio Maracujá and Yangu Soothing Oil, Skyn Iceland Hydro Cool firming eye gels, My Skineez medical grade compression socks
Stephanie's routine:
"My favorite is the Jet Lag Tincture by Plant Alchemy. This whole plant-based formulation is designed to relax the body, restore circadian balance, and refresh the body clock. The tincture is produced with fine organic herbal ingredients that supports healthy sleep so you don't miss out on being tired from flying. About two to four drops helps get you relaxed, and I like to drink 12-ounce water to get hydrated instantly before taking flight."
Julie Kandalec
Celebrity manicurist, global traveler, and CEO of Masterclass Nail Academy
Julie's picks:
Bioderma Sensibio H2o Micellar Water makeup remover, Weleda Skin Food moisturizer, Chanel Hydra Beauty Essence Mist, Elizabeth Arden Ceramide Capsules Youth Restoring Serum
Julie's routine:
"Bioderma Sensibio H2o Micellar water makeup remover comes in the perfect travel size, never leaks in my travel bag, and it removes all my makeup without ever pulling skin or any irritation at all."
"I love having Chanel Hydra Beauty Essence Mist because sometimes I am hesitant to use my hands to apply products to my face while traveling (hello foreign bacteria). This mist smells lightly floral and gives a little boost mid-flight and over makeup."
Lindsay Ellingson
Model, beauty expert, co-founder and creative director of Wander Beauty
Lindsay's picks:
Wander Beauty Baggage Claim Eye Masks, Wander Beauty Glow Getter Mist, Wander Beauty Extra Mileage Hair Refresher, Slip Silk Eye Mask, gua sha
Lindsay's routine:
"I apply the Baggage Claim Eye Masks 30 minutes before I land to de-puff and brighten my under eyes, especially if I'm headed straight to a shoot or a meeting. Plus, they won't slide off your face and look chicer than your typical eye mask -- perfect for an in-flight selfie."
Nyja Richardson
Content creator
Nyja's picks:
Honest wipes, Lavender mist, shea butter, Jason coconut toothpaste, Thayers Witch Hazel, bonnet or headscarf
Nyja's routine:
"Honest wipes are a must-have for me, especially when traveling with a toddler. Planes aren't always the cleanest so I like to wipe down our section prior to take off."
"I also use Thayers Witch Hatzel when I want to clean my face."