93-year-old grandma and grandson visit all 63 National Parks
After seven years, a grandmother and her grandson on a mission to visit all 63 national parks have reached their final stop.
Joy Ryan and Brad Ryan arrived at the National Park of American Samoa in the South Pacific on Monday after starting their trip in their hometown of Duncan Falls, Ohio.
"We departed from our hometown of Duncan Falls, Ohio at 3:00 am on Saturday," Brad Ryan told "Good Morning America" via email. "We took a two day break in Oahu before boarding our final flight to Pago Pago, American Samoa, on Monday. Three flights and nearly seventeen flying hours were required before we touched down in American Samoa on Monday evening."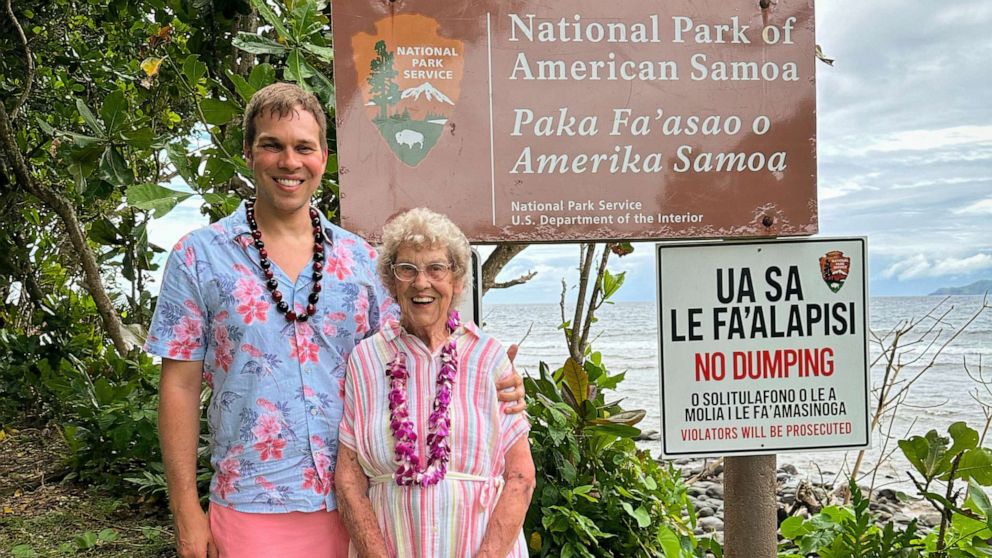 The grandmother-grandson duo has been documenting their epic adventures on their @grandmajoysroadtrip Instagram account since 2019 but have been traveling to national parks since October 2015 when they visited their first park, Great Smoky Mountains National Park in Tennessee.
Brad Ryan, a veterinarian, told "GMA" it has been the "greatest privilege" of his life to accompany his grandmother, and described their latest feat as a "bittersweet" one, having come just over a week since Brad Ryan's father and Joy Ryan's eldest son's death earlier this month.
"Reaching our 63rd and final U.S. National Park is bittersweet, with an emphasis on the 'sweet.' Standing at the finish line in American Samoa affirms that seemingly impossible goals are in fact possible if you pursue them with passion and pure intention," Brad Ryan wrote. "Grandma Joy has taught the world that you are never too old to show up and live the adventurous life of your dreams. It has been the greatest privilege of my life to be in the driver's seat as Grandma Joy made history to become the oldest person to achieve this historic feat."
Joy Ryan told "GMA" last year that their national park journey has been "a grand adventure."
"It's really been a beautiful, beautiful time. And I wouldn't trade it for anything," she said at the time.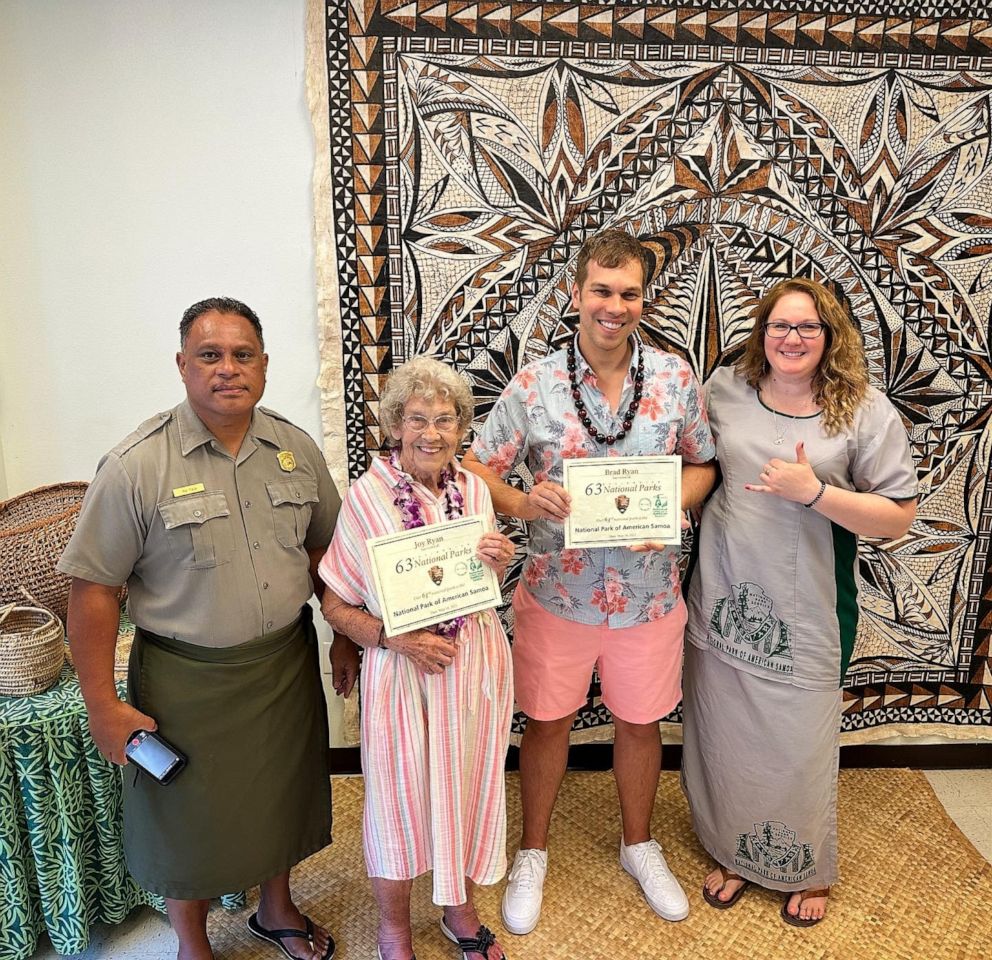 In American Samoa, Joy and Brad Ryan have already taken in multiple sights in the park, which spans seven villages.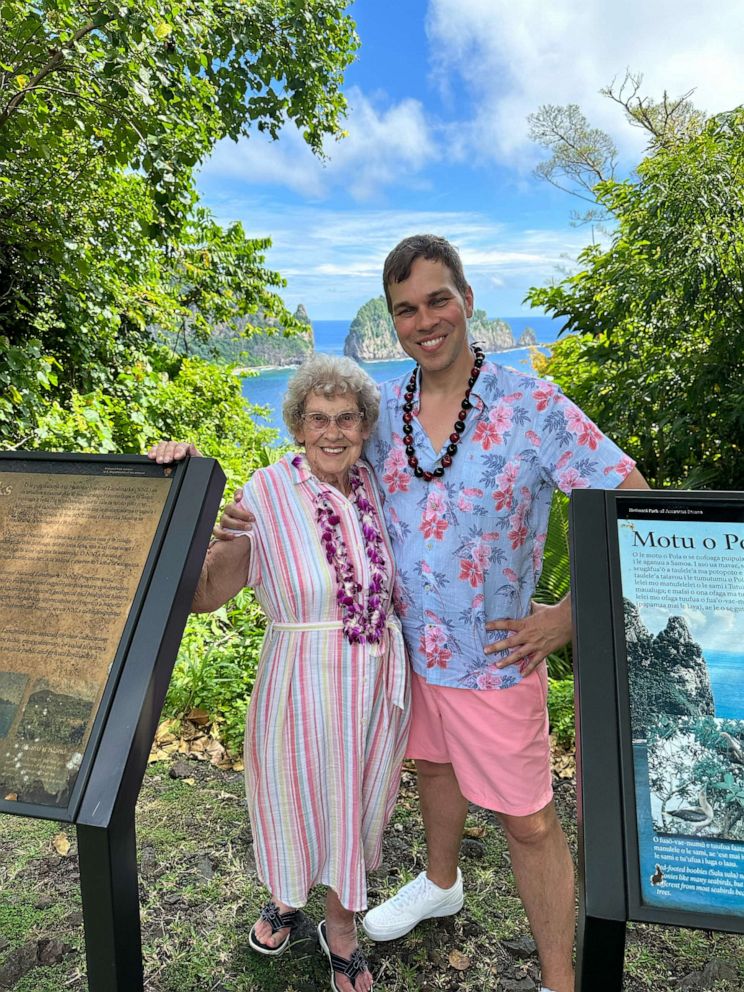 "During our first day of exploration, we admired a colony of flying foxes (fruit bats) dangling in the tree canopy above us. A couple of them took off flying, and we were awestruck by their three foot wingspan," Brad Ryan wrote. "We drove down a rugged road and then hiked to a secluded beach with a breathtaking view of Pola Island, which rises 400 feet out of the bright blue waters of the South Pacific. The sound of crashing waves was almost deafening."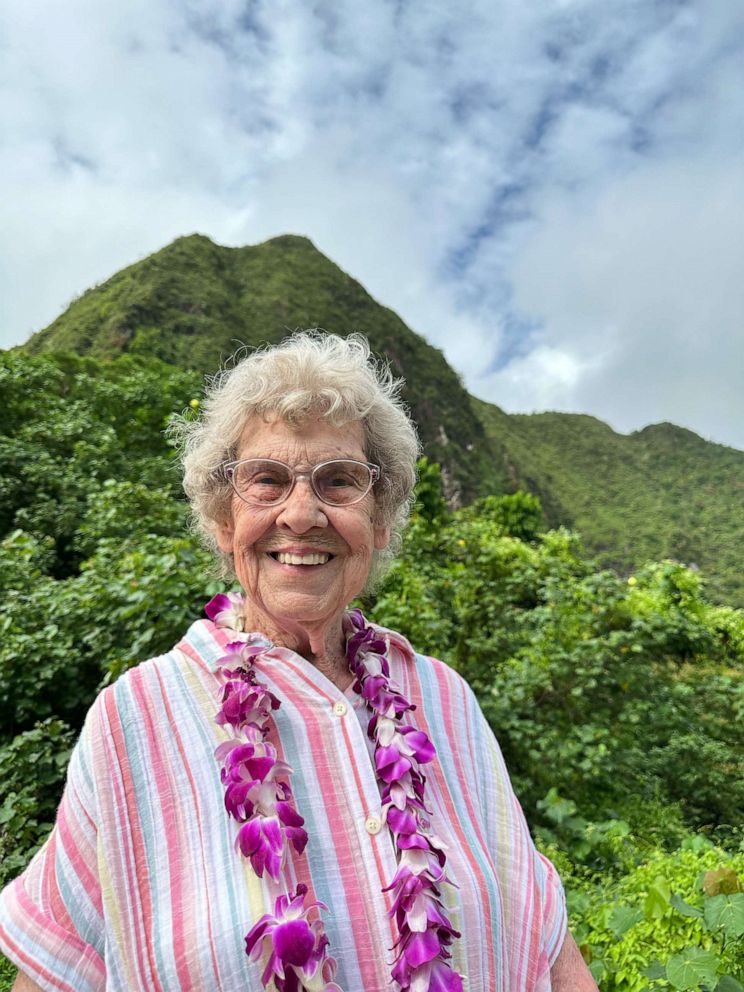 The Ryans plan on staying in American Samoa for 10 days, but as their national park adventure comes to a close, their expeditions won't end.
"Now that we have visited every U.S. National Park, we have our eyes set on the world, hopefully reaching all seven continents," Brad Ryan wrote. "We are headed to Kenya for a National Geographic expedition in July. I wouldn't be surprised to see Grandma Joy flying through space or walking on the moon. This is what 93 should look like if we're lucky enough to live as long as she has."
Editor's note: This was originally published on May 17, 2023.