Mom says infant got 'margarita burn' from eating celery outside: What to know as summer approaches
Here's what you should know about 'margarita burn'
A mom in Canada is sharing a warning about eating and drinking outdoors as summer approaches.
Reanna Bendzak said she, her husband and their two children were at an outdoor barbecue in March when she gave her then-7-month-old daughter a piece of celery to chew on.
"Our daughter was cutting her second tooth, so we gave her a piece of celery to chew on, just to help soothe those gums," Bendzak, who asked that her daughter's name not be used, told "Good Morning America." "It wasn't warm by any means, but it was sunny so she was covered neck-to-toe in a onesie and we had a sun hat on her, so we thought she was fairly well-protected."
Bendzak said she and her husband wiped their daughter's face multiple times throughout the afternoon with a cloth, but didn't at the time wash her face with soap and water.
The next morning, Bendzak said her daughter woke up with a rash around her mouth, which later in the day worsened into blisters.
Bendzak said her daughter was ultimately diagnosed with a condition she had never heard of, phytophotodermatitis, a skin reaction that can happen after touching certain plants while out in the sun, according to research published in the journal Canadian Family Physician and available in the National Library of Medicine.
Celery is among the plants that can cause phytophotodermatitis, Bendzak said she and her husband learned. The condition is also commonly called "margarita burn" because limes and other citrus fruits are also culprits.
"As any parents out there would know, your first reaction is just like, 'Oh my gosh, what did I do? And how could I have prevented that,'" Bendzak said. "But you're only as good of a parent as the knowledge you have, and we did what we thought was best at the time."
She continued, "Now in retrospect, of course, we would have done things differently and made an intentional effort to go inside and wash with soap and water."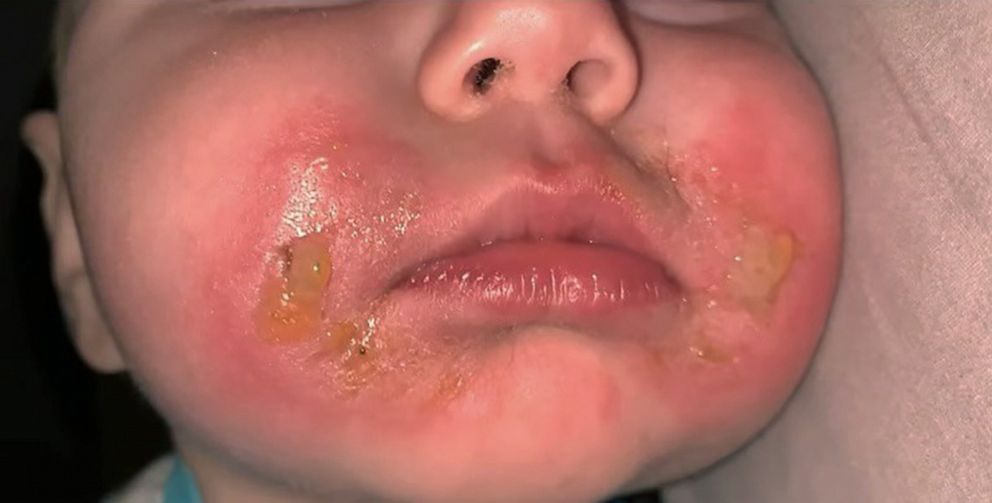 Bendzak said her daughter, who is now 9-months-old, experienced blisters on her mouth area for about 10 days, and some scarring and hyperpigmentation for about six weeks, but now is "doing great."
She said she and her husband estimate their daughter was only exposed to direct sunlight for about 20 minutes total that afternoon, but that was enough time to cause damage.
Once her daughter had recovered, Bendzak shared her family's story on Facebook in hopes of spreading awareness of phytophotodermatitis.
"I had no idea that it was even a possibility until this experience," Bendzak said. "Hopefully this story can help others learn from our experience and they can make better decisions for their own personal lives moving forward as well."
How to treat and prevent phytophotodermatitis
Dr. Jennifer Ashton, ABC News chief medical correspondent and a board-certified OB-GYN, said the summer season is a time to be acutely aware of phytophotodermatitis as people are often outside cooking, eating and making drinks.
"Citrus is definitely the most common, and lime is the most common amongst the citrus," Ashton said. "So, that's why it's gotten this name, 'margarita burn.' People are making or drinking margaritas, touching limes outside in the summer months, and that can be an exposure."
In addition to celery and citrus, other plants and fruits that can cause phytophotodermatitis include carrots, peppers, dill, fennel, mustard, parsley and parsnip.
Ashton said the best prevention method is to wash your skin with soap and water if you are handling food and drinks while outside in the sun.
Another important prevention method, according to Ashton, is to wear sunscreen daily.
"If you are going to be outside in the summer months, make sure you're reapplying that SPF every two hours," she said, adding, "But to be crystal clear, [SPF] should be used 365 days a year, on your face, hands and neck, people of all skin colors, all skin types. So make it part of your day-to-day routine."
If a person notices changes on their skin, Ashton said they should contact a healthcare provider.
She noted that phytophotodermatitis can present from mild to severe symptoms.
"It really is a spectrum of severity in terms of mild, moderate to severe," Ashton said. "In mild cases, where someone has touched a lime or the citrus, you could just see some itching, some inflammation. You could see some some redness or pinkish discoloration depending on skin color, and then you could see a full spectrum of severity, ranging in more moderate cases to discoloration that may persist longer, and in severe cases, even some small blistering."