As many as 18 states issued air quality alerts across the country this week, stretching from Michigan to South Carolina and ranging from unhealthy to hazardous levels of concern due to smoke spreading from wildfires in Canada.
Kids are one group at highest risk for serious health effects, especially those with underlying health conditions like asthma and allergies, according to the Centers for Disease Control and Prevention.
According to the Environmental Protection Agency, smoke pollution from wildfires carries a specific type of health hazard called fine particulate matter, or PM2.5.
These microscopic particles are more dangerous to human health compared to other types of air pollution because they are small enough to enter through the eyes, nose and throat and travel down to the smallest airways in the lungs, and can even enter the bloodstream. When this happens, both heart and lung health can be at risk.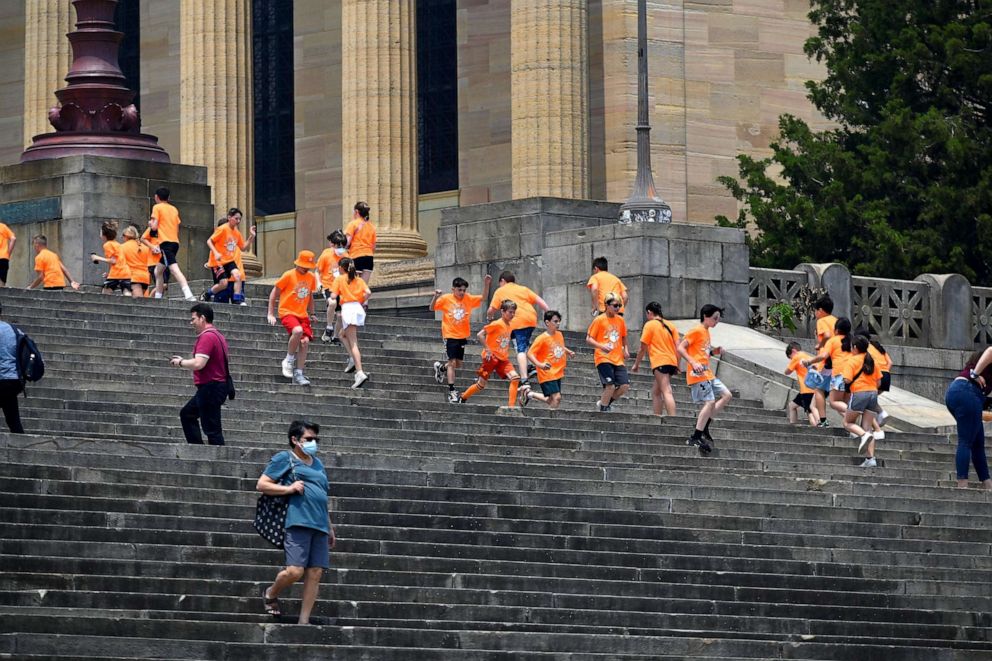 Kids are more vulnerable to wildfire smoke because they are still developing, breathe more air per pound in body weight and tend to spend more time outdoors according to the CDC.
Children who were born prematurely or have underlying health conditions like asthma, allergies, heart problems or other lung problems may need to take extra precautions when under these air quality alerts.
Kids exposed to wildfire smoke may experience symptoms that include eye or throat irritation, coughing, sneezing, shortness of breath, headaches, asthma attacks and fatigue.
Dr. Edith Bracho-Sanchez, a board-certified pediatrician, said kids are also at risk of long-term health problems if they are exposed over and over.
"If we keep being exposed to this type of smoke -- a potential weakening of the immune system -- we are talking about kids developing infections more frequently," Bracho-Sanchez said Thursday on "Good Morning America."
Here's what the CDC says parents can do to keep their kids safe:
1. Pay attention to Air Quality Alerts and minimize the time kids spend outdoors when levels of concern are "unhealthy for sensitive groups" or higher.
2. When inside a home or a car, all windows and doors should be closed to the outside. If possible, the air conditioner should be turned on but closed to fresh air. Families should use an air purifier indoors if possible.
3. Activities that can worsen air pollution inside should be avoided, such as frying food, using a gas stove, lighting candles, vacuuming or smoking.
While KN95 mask use has not been rigorously tested in kids and are not recommended for pediatric use by the CDC to protect against wildfire smoke, Bracho-Sanchez says that they may help filter out these dangerous particles, but are only safe for kids who are over the age of 2.
There are some research studies that suggest masks can help add protection for kids exposed to wildfire smoke.
"It's these KN95s that are really going to filter out some of those smoke particles," said Bracho-Sanchez. "You want to make sure, again, as we are used to now because of the pandemic, that they fit properly and that kids that are above the age of 2 are the ones who are wearing them -- below that it's a little dangerous for children."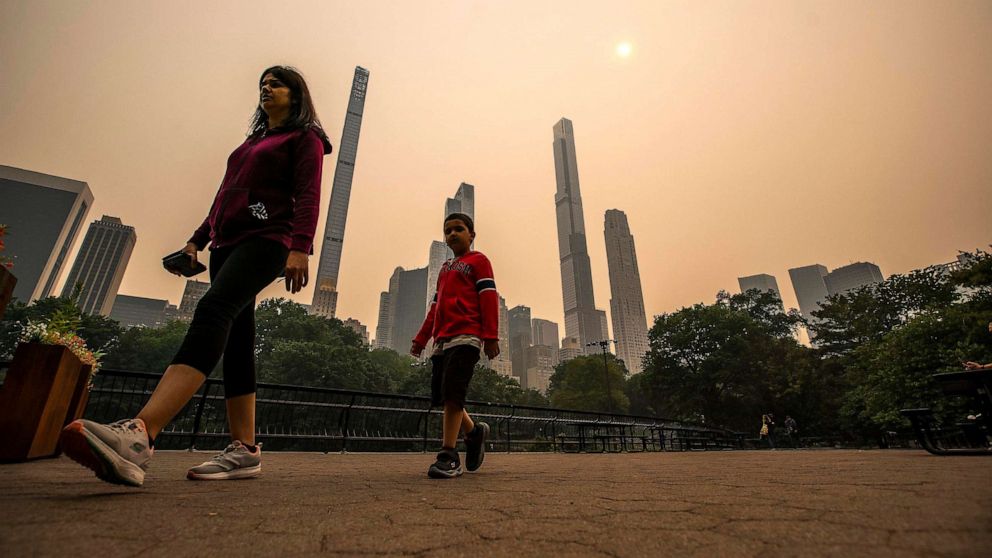 Bracho-Sanchez also said she feels that her kids are safe going to school and daycare, but this is an individualized decision for parents to make based on what they feel is best for their child and what options they have.
Parents should monitor kids for any new or worsening symptoms and seek medical attention if any child has trouble breathing, shortness of breath, a persistent cough, or other symptoms that are worsening, and should call 911 for any health emergency, according to the CDC.
Dr. Jade A Cobern, M.D., MPH, pediatrician and resident in General Preventive Medicine at Johns Hopkins, is a member of the ABC News Medical Unit.