What better to combat the chill in the air than cozying up with a great book? This October brings a slew of fantastic new titles, all of which will be surely be the "treat" you're looking for. Peppermint Patties not included.
Oct. 5
'Punching Bag' by Rex Ogle
Rex Ogle's book "Free Lunch" told Rex's story of being in sixth grade and navigating being poor — and hungry — in a wealthy community. Now we follow Rex into high school in "Punching Bag," a drama in which he shares the abuse he withstood and how he made it through a childhood marked by poverty. Poignant, gripping, and beautifully written, Rex's latest book will stay with you.
'Sankofa' by Chibundu Onuzo
A stark, beautifully and concisely written narrative about a woman who has lost her mother, split up from her husband and dealt with the growing up of her only daughter who decides to unpack her past in more ways than one.
'Smile: The Story of a Face' by Sarah Ruhl
Leading playwright Sarah Ruhl, a two-time Pulitzer Prize finalist and MacArthur grant recipient, was doing great with a play on Broadway and oodles of professional success when an episode of Bell's palsy rendered the left side of her face paralyzed. Her book chronicles the decade-long medical and personal journey she went on to reclaim her face. Writing about parenting her three small children, juggling her theater job and navigating marriage and medical malfunction, Sarah makes the reader root for her from page one.
'How to Be Sad: Everything I've Learned About Getting Happier By Being Sad' by Helen Russell
Journalist Helen Russell dispels the myth that we all need to be happy. Or that we should try to be happy. In fact, sadness is just as important, she argues. Culling the research like the pro she is, Helen mixes in facts and figures with her own personal story of losing her sister to SIDS when she was just three years old and the impact that had on their family. Thought-provoking and comforting, this book comes at the perfect time and in just the right form.
'The Lincoln Highway' by Amor Towles
"The Rules of Civility," one of Amor Towles' other novels, is one of my all-time favorite portraits of New York society. Now, "The Lincoln Highway" shows a different side of New York as depicted in varying viewpoints by an 18-year-old and his confidants as they embark on an unexpected 10-day journey after their release from a work-camp.
Oct. 12
'No Words' by Meg Cabot
A middle grade graphic novelist (think: Raina Telgemeier) clashes with a romantic novelist (think: Nicholas Sparks) at a Florida literary conference in Meg Cabot's latest entertaining, smart romp of a book. Written with the cleverness of her first book which inspired the hit movie "The Princess Diaries," "No Words" will have anyone in the writing industry chuckling at the insider references while delighting anyone who enjoys reading — and wants to find redemption for snide comments said in the past.
'State of Terror' by Hillary Rodham Clinton and Louise Penny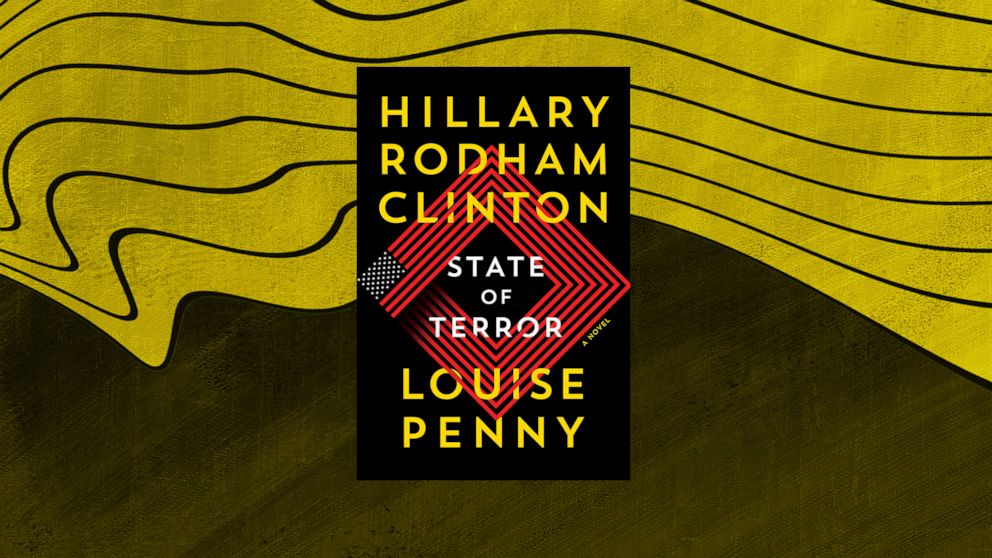 Hmm. In this book, the new U.S. president chooses a female political enemy as his Secretary of State -- I mean, that would never happen, right?! Then terrorists strike — and the plot thickens. But perhaps the real "bad guys" are even closer? An utterly thrilling, mesmerizing, whiplash-inducing plot-driven story, "State of Terror" will make you pull up the bedsheets as you stay up late trying to keep up with Secretary Adams and the team she assembles to crack the case, even her own daughter.
'Hooked' by Sutton Foster
Tony Award-winning actress, singer and author Sutton Foster reveals the threads of her family life in this insightful, engaging memoir that follows a young girl on tour, onto the Broadway stage and beyond. If only her parents would come watch. While crafting is in her go-to mental health tool kit, Sutton's strength really lies in her bold, strong voice — the singing one and the one on the page.
'Concepcion: An Immigrant Family's Fortunes' by Albert Samaha
Combining personal and global history is always a good idea for a riveting immigration story. Albert Samaha doesn't disappoint as he teaches us his family's lore and how we all got where we are today in this factual, immersive narrative.
'On Animals' by Susan Orlean
Pigeon racing. Chicken chores. Cattle russle. You might not think these things could be insanely literary, but Susan Orlean can transform even the most mundane moments into word works of art as she does in her latest collection of essays.
Oct. 17
'The Last Season' by Jenny Judson & Danielle Mahfood
Downtown Abbey meets Jane Austen in this historical romance about a woman in a wealthy family who takes up with the stable boy, only to have their fates intersect time and time again. Written by two Ivy Leaguers with a passion for romance, "The Last Season" will leave you breathless and enchanted.
Oct. 26
'Going There' by Katie Couric
Everyone feels like they know Katie Couric. We've all watched her on the screen for decades where she exudes personality even during hard-hitting interviews. But her memoir will make even the most loyal Katie fan even more invested in her life as we get the real story. Honest. Open. Funny. Heartbreaking. A mix of her career highlights and challenges with her own personal losses, even a window into midlife dating.
'As the Wicked Watch' by Tamron Hall
Tamron Hall is a great writer. Yes, she's a talk show host, but make no mistake: she is a writer. Her novel, "As the Wicked Watch," follows Jordan Manning, a Black TV reporter with a masters in forensic science, as she covers the case of a 15-year-old girl. From racism in the newsroom to the toll her job takes on her social life, Jordan navigates all in her hunt for the killer. You won't want it to end but you'll be glad this is just the first in a series of Jordan Manning books.
'100 Things We've Lost to the Internet' by Pamela Paul
A musing on screen-free days gone by, this collection of reflections by New York Times Book Review Editor Pamela Paul will make you sigh with nostalgia and longing. Penmanship and remembering birthdays, anyone?