Britney Spears says she was allegedly 'back handed' in the face, urges others to 'treat people with respect'
Britney Spears says she was slapped by Victor Wembanyama's security
Valerie Macon/AFP via Getty Images
Britney Spears says she was allegedly "back handed" in the face while at a Las Vegas restaurant.
Spears recalled on her Instagram Thursday what she alleged happened the night before while at dinner when she spotted an athlete she admired.
"I recognized an athlete in my in my hotel lobby as I was heading to dinner," Spears began. "I later went to a restaurant at a different hotel and saw him again. I decided to approach him and congratulate him on his success. It was really loud, so I tapped him on the shoulder to get his attention."
"His security then back handed me in the face without looking back, in front of a crowd," she said. "Nearly knocking me down and causing my glasses off my face."
"I get swarmed by people all the time. In fact, that night," she added, "I was swarmed by a group of at least 20 fans. My security team didn't hit any of them."
Spears went on to say that it was important for her to share her story as an example and urged people in the public eye to "treat people with respect."
"Physical violence is happening too much in this world. Often behind closed doors," she continued. "I stand with all the victims and my heart goes out to all of you!!!"
"I have yet to get a public apology from the player, his security or their organization," she added. "I hope they will..."
Sam Asghari, Spears' husband, also took to his Instagram story to say that he is "opposed to violence in any form" and that he hopes the man in question "learns a lesson and changes his disregard for women."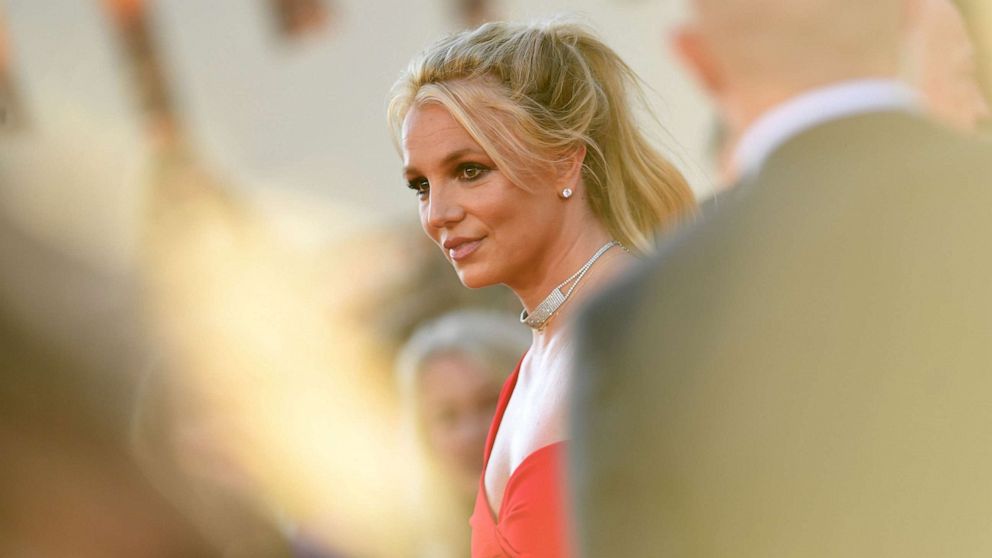 Spears nor Asghari shared who the athlete involved was, but reports say that it was Spurs player Victor Wembanyama and that it was his security detail who "back handed" Spears.
While speaking to a gaggle of reporters after Spurs practice on Thursday, Wembanyama addressed what had happened and shared his side of the story.
"We were in a hall so there was a lot of people, so people calling me obviously," he began. "And there was one person who was calling me but we talked before with the security [who] said don't stop [walking] because it's gonna make a crowd."
"So I couldn't stop and that person was calling me, 'Sir, sir,'" Wembanyama continued. "That person grabbed me from behind -- I didn't see what happened because I was walking straight and [was told] don't stop, but that person grabbed me from behind, not on my shoulder, she grabbed me from behind so I just know that the security pushed her away. I don't know with how much force though, but security pushed her away and I didn't stop to look so I kept walking and enjoyed the nice dinner. It was a fun night with the guys."
When Wembanyama was asked if the person who "grabbed him from behind" was Spears, Wembanyama said he "didn't know for a couple hours." When he went back to his hotel, he learned that the person involved was Spears.
"I was like, 'you're joking,'" Wembanyama said. "But it turns out it was Britney Spears. But I never saw her face, I just kept walking straight."
In her statement, Spears said she is "aware of the players statement where he mentions 'I grabbed him from behind.'"
She clarified and said she "simply tapped him on the shoulder."
On Friday, the Las Vegas Police said it has finished its investigation into the incident and no charges will be filed against anyone involved.
ABC News has reached out to Wenmanyama and his security detail involved for comment.