Ella Chadwick is only 11 years old but she is already inspiring young men and women around the globe with her courage in battling a rare kidney disease that she was born with.
Despite countless hospitalizations, numerous rounds of dialysis and being diagnosed with diabetes, Ella still managed to raise thousands of dollars for others who are dealing with their own health problems.
Ella recently received the visit of a lifetime from one of her favorite celebrities while handing out cards to patients at the Great Ormond Street Hospital in London, England.
Former professional soccer player David Beckham surprised Ella to help deliver the cards, and revealed that she would be receiving the Child of Courage Award at The Daily Mirror's Pride of Britain Awards.
Ella, who lives just outside of Manchester with her mother and father, thought she was going to the hospital for an appointment and to deliver the sweet messages to patients.
She said she likes working on the "hundreds" of cards and that the patients love them, but she had no idea what was in store for her on this trip.
"She didn't have a clue he was going to be there," her mother, Karen Hughes, told "Good Morning America."
"He just surprised me and I thought, 'Woah, this is a dream!'" Ella told "GMA."
When Ella found out she was the winner of the award, she was even more surprised.
"I couldn't believe it. I was so happy. I was about to scream!" she said. "I felt really proud of myself. I want to say a big thank you for David Beckham. I love you so much!"
She also said that the former England captain gave her a hug — one that he described as "the best hug ever."
"He was just talking about his little girl with Ella because Ella was making cards full of glitter, and he said it was like being at home with his daughter," Hughes told "GMA."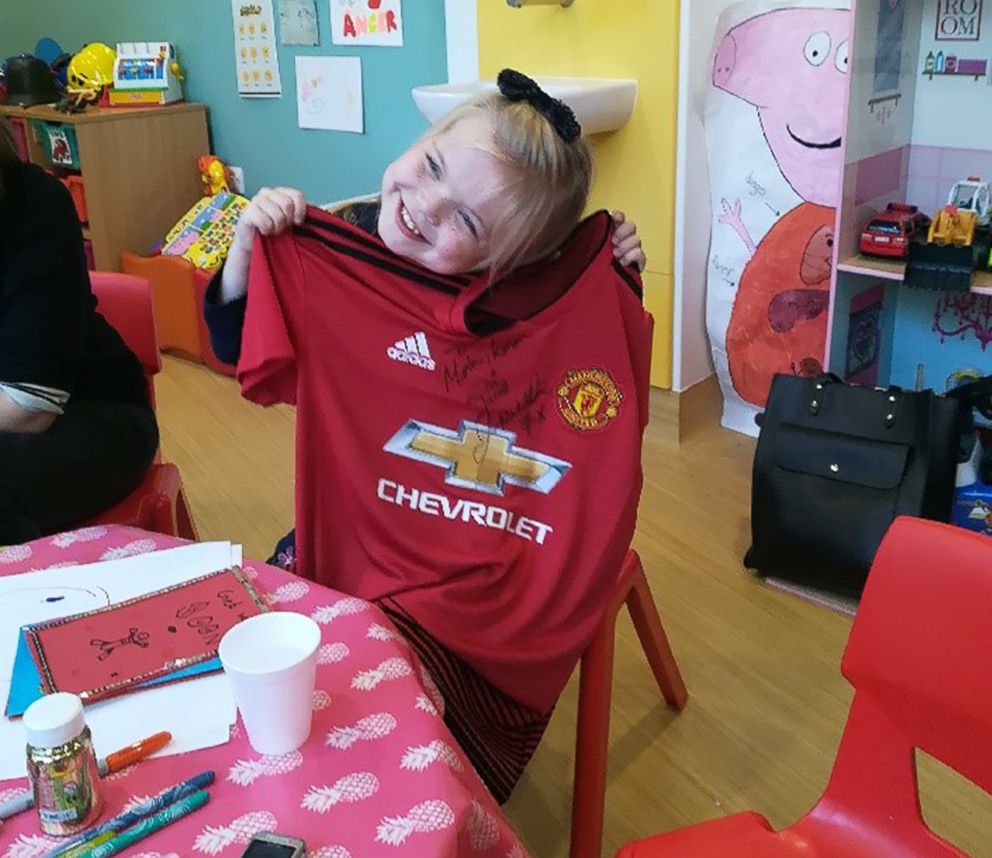 Ella's ongoing battle with her health
Ella has been in and out of the hospital for much of her life due to infections from congenital nephrotic syndrome.
"When I was a little baby, I used to have kidney problems," Ella said. She had to go through six years of dialysis.
"Her dad donated a kidney when she was 3 years old, but she suffered a blood clot just hours later, so it had to be removed," Hughes told "GMA." "After the first transplant failed, tests were started a year later to attempt the transplant again, but tests showed a transplant couldn't be done because her arteries were all too small to plumb a kidney to."
"We were hoping over time they would grow bigger, but due to problems trying to do dialysis, we were told nothing else could be done, and she just had days left," Hughes said.
"Luckily another surgeon got Ella [the] transplant, and thankfully, Ella got her kidney from her Nana," Hughes added. Ella had her second transplant in May 2014.
Her mother says that compared to life before the transplant, Ella is now doing "amazing."
I've got through all those dark times because of her and that amazing smile. I'm the proudest mum of the most amazing girl ever.
"She's full of energy," she said. "It's what amazes me about her — with everything she's been through that she's still so full of life. But I think it's because she knows what it's like to feel awful. She just wants to help and make people smile because she knows what it's like to be in a hospital."
A star in the making
At the Pride of Britain Awards, the "X Factor" judges Simon Cowell, Robbie Williams and Ayda Field presented Chadwick with her award. She was over the moon when asked to sing for the audience at the show.
"I couldn't believe that I got to sing for Simon Cowell. In front of everybody. And they said you're gonna get a ticket. He let me in!" she said.
Chadwick's friends at Great Ormond Street Hospital were incredibly excited about Ella's Pride of Britain Award and also loved seeing her receive a visit from Beckham.
"It was lovely to see Ella looking so well following her kidney transplant here. She is still the happy, cheeky character we remember from just a few years ago," Lynsey Steele, a play specialist from the hospital who worked with Chadwick, shared. "We're so proud of her for all the support she gave to the other renal patients on the day with her generous get well cards. What a lovely treat for them all!"
Hughes posted a photo of Ella on her Instagram account with a touching caption.
"She makes me proud every single day," Hughes wrote. "I've got through all those dark times because of her and that amazing smile. I'm the proudest mum of the most amazing girl ever."