Elizabeth Hurley Shares An Inspiring Survival Story
Dave Benett/Getty Images, FILE
Actress Elizabeth Hurley recently recreated one of her most iconic red carpet looks of all time.
For the April issue of Harper's Bazaar, Hurley modeled a version of the black Versace safety pin dress that she first wore on the red carpet in 1994 at the London premiere of "Four Weddings and a Funeral."
At the time, the dress was a bold red carpet choice that generated a lot of buzz and helped catapult her to stardom.
25 years later, she's back in the sleek number once again -- albeit a less revealing version.
Donatella Versace, sister of the late Gianni Versace, the designer of the gown, spoke on the inspiration of the number to the magazine.
"Gianni made that dress for a woman who is sure of herself and who isn't afraid to break the rules," she said. "Liz embodied all of this in an extraordinary way."
Hurley said she never expected the dress to cause the stir that it did at the time. "I was so unprepared for what happened that night," she told Harper's Bazaar. "I urgently needed to find a dress to wear for Hugh's premiere, and in those days I had no idea about fashion."
"I remember going to an office where they literally fished a dress out of a white plastic bag," she continued. "I took it home and did my own hair and makeup, fighting Hugh for the mirror, which wasn't even full-length, in our tiny one-bedroom flat. It was all very unglamorous compared to how things get done these days."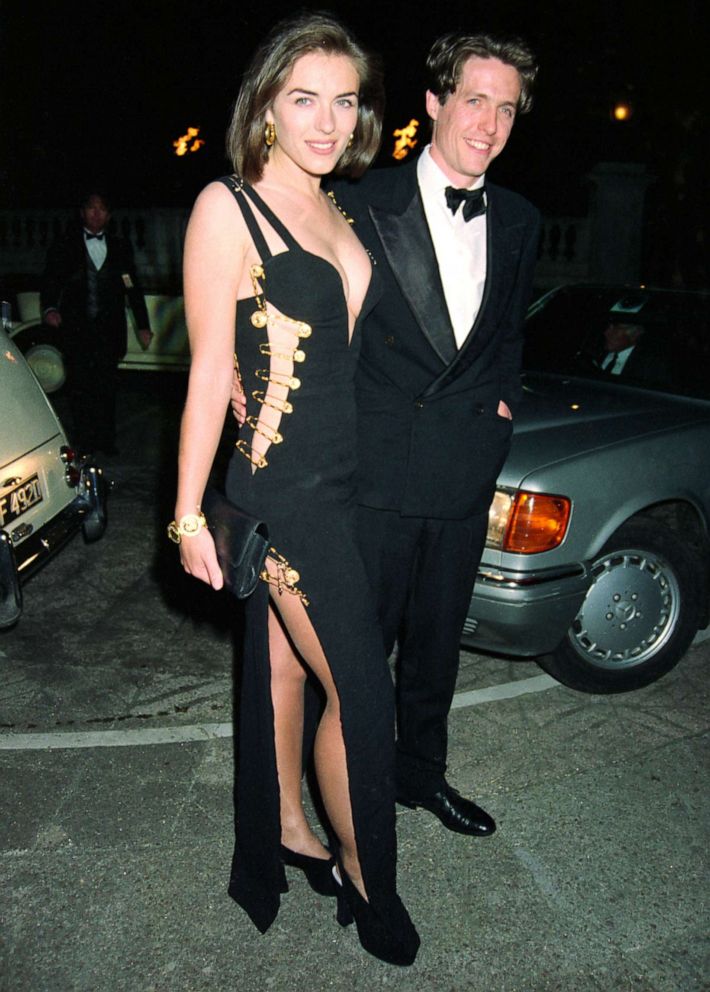 The dress appeared in a Gianni Versace tribute exhibit at the Victoria and Albert Museum in London in 2002. Only a few versions of the specific gown have been worn since Hurley's appearance at the premiere.
Lady Gaga stepped out in a safety pin Versace number in 2012, while another version appeared during the label's pre-fall 2019 show.
Pop star Dua Lipa wore a similar black and white style to the original safety pin dress at the 2019 Grammy awards.