Elizabeth Olsen talks new Disney+ series, 'WandaVision'
While Elizabeth Olsen can't say much about upcoming projects in the Marvel Universe, she did tease how her new show, "WandaVision," fits into the grand scheme of things.
Olsen, who returns as Wanda Maximoff (aka Scarlet Witch) alongside Paul Bettany's Vision, told "Good Morning America" the Disney+ series is a "natural progression" into the upcoming "Doctor Strange" sequel, which is titled "Doctor Strange in the Multiverse of Madness."
"There's never much we can talk about in Marvel," Olsen said on "GMA" Monday, "but I do think that 'WandaVision' is a natural progression into what happens in 'Doctor Strange 2.'"
While we didn't get any additional information about the next "Doctor Strange" movies, Olsen did tease that her Marvel series and others like it will add a new layer to what Marvel Studios is doing on the big screen.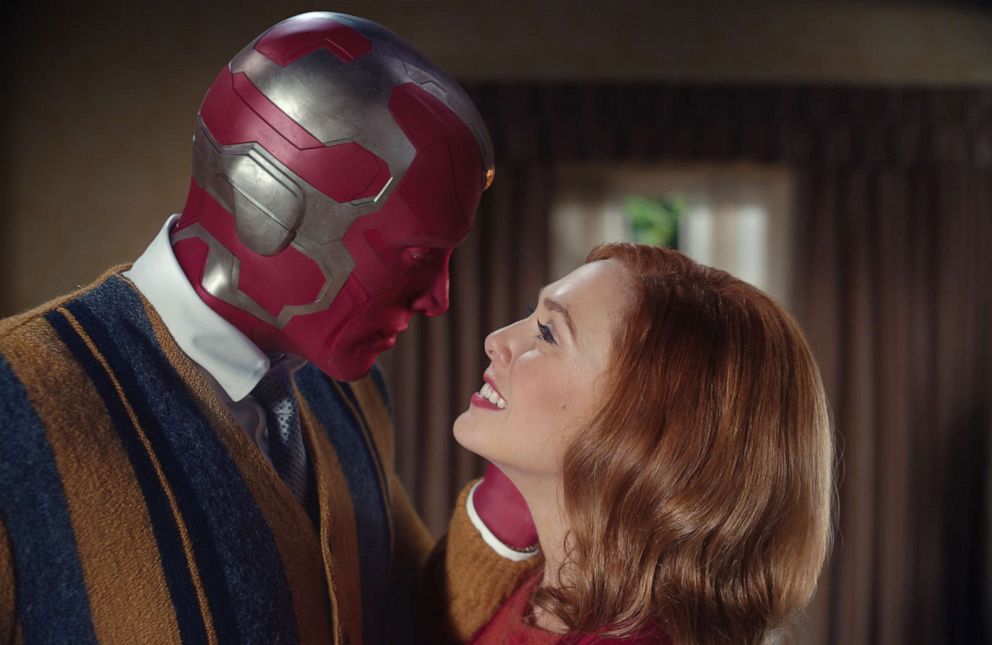 "I think Kevin Feige's doing a really amazing job intertwining the television format with the films so that we can tell more interesting stories moving forward," she added.
It was revealed at Disney's Investor Day presentation last month that the Sam Raimi-directed "Doctor Strange and the Multiverse of Madness," which is currently shooting and will also tie into the next "Spider-Man" movie, would hit theaters on March 25, 2022.
Joining Benedict Cumberbatch as Doctor Strange in the film will be Chiwetel Ejiofor, Rachel McAdams and Benedict Wong as well as Olsen and Xochitl Gomez, who will play America Chavez (aka Miss America).
For now, though, fans have to settle with having their minds blown by "WandaVision," which features Wanda and Vision living a blissful life in the picture-perfect town of Westview.
"Wanda and Vision are living their lives in the suburbs and they are just trying to fit in and not get found out for being superheroes, but yet not everything is exactly as it seems -- of course," Olsen teased.
The Avengers couple will be experiencing life in the form of old sitcoms, with Olsen saying her favorite to embody was "The Brady Bunch."
"I think that's when we were trying to create the most ideal version of the American family," she said. "It's kind of ridiculous and fun to get to play something that's seemingly so far from this reality as we know it."
"WandaVision" premieres Friday, Jan. 15, on Disney+.
Disney is the parent company of Marvel as well as ABC News and "Good Morning America."