"The Fortunes of Jaded Women," the debut novel from author Carolyn Huynh, is our "Good Morning America" Book Club pick for September.
Huynh's debut novel "follows a family of estranged Vietnamese women -- cursed to never know love or happiness -- as they reunite, for better or for worse, after a psychic makes a startling prediction," according to the book's publisher, Atria Books.
The Duong sisters' misfortune began with their ancestor, Oanh, who left her marriage for true love, resulting in a witch cursing Oanh and her descendants. The curse ensured that Oanh's descendants "would never find love or happiness, and the Duong women would give birth to daughters, never sons."
Generations later and the curse still permeates throughout the lives of Oanh's current descendants. Mai Nguyen is divorced and estranged from her younger sisters, Minh Pham and Khuyen Lam. Although Mai's three adult daughters are successful in their careers, they are far less lucky in love.
Desperate for guidance, Mai turns to a trusted psychic who delivers an unexpected prediction: The family will witness a marriage, a funeral, and the birth of a son.
This prophecy will supposedly reunite estranged family members -- but will it mark the end to a curse that's haunted Mai's family for generations?
"If you love stories about messy women who never learn from their mistakes, this book has a cast of over 14+ Vietnamese women who are all trying to find themselves, while trying to navigate complicated family dynamics," Huynh told "GMA." "Speaking of mess, their love lives are even messier."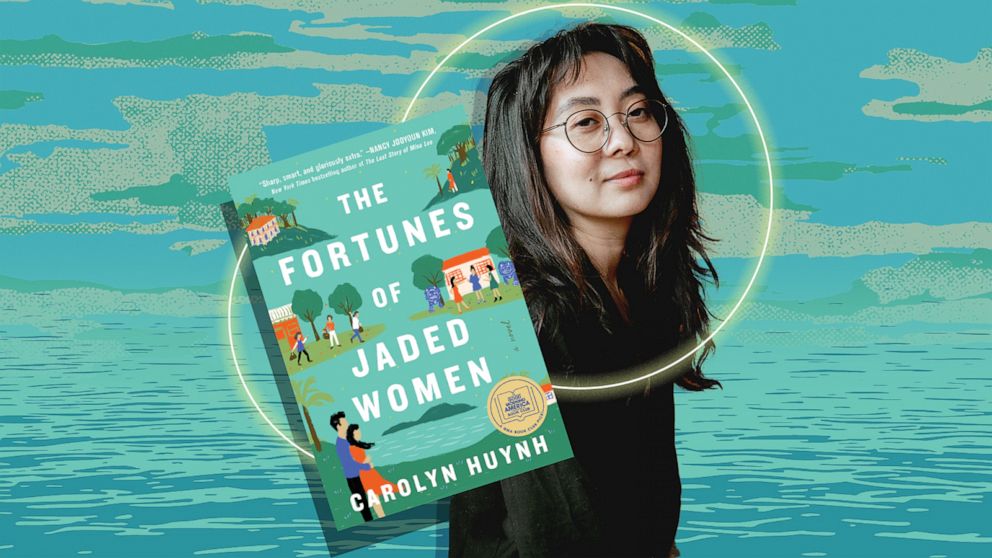 Read and listen to an excerpt from "The Fortunes of Jaded Women" below and get a copy of the book here.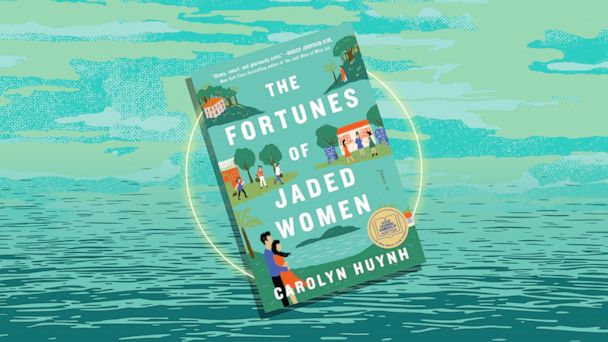 'The Fortunes of Jaded Women' by Carolyn Huynh
Huynh's debut novel follows a family of estranged Vietnamese women -- cursed to never know love or happiness -- as they reunite, for better or for worse, after a psychic makes a startling prediction.
By clicking on this shopping link, visitors will leave Goodmorningamerica.com. These e-commerce sites are operated under different terms and privacy policies than Goodmorningamerica.com. ABC will receive a commission for purchases made through these links. Prices may change from the date of publication.
Audio excerpt courtesy of Simon & Schuster Audio from THE FORTUNES OF JADED WOMEN by Carolyn Huynh, read by Vyvy Nguyen. Copyright © 2022 by Carolyn Kim Huynh. Used with permission of Simon & Schuster, Inc.
This month, we are also teaming up with Little Free Library. Since 2009, more than 250 million books have been shared in Little Free Libraries across the world. Click here to find a copy of "The Fortunes of Jaded Women" at a Little Free Library location near you.
Read along with us and join the conversation all month long on our Instagram account -- @gmabookclub and #GMABookClub.
*****
Mrs. Mai Nguyễn
Thirty years ago, Mai Nguyễn first heard about the strange, petite Vietnamese woman who lived in the blindingly white, marbled mansion off the Kuhio Highway in Kauai. She heard about her through a friend, and this friend, Mrs. Đào, heard about the woman from Vivi Phạm, the gossip queen of Little Saigon, at one of her infamous karaoke parties. Of course, Vivi had heard from Annie Lau, who heard from her mother's best friend's auntie.
Kauai had a secret that only the matriarchs of these families knew about. The word-of-mouth tall tales of this woman had spread faster on the mainland than the whiff of a good discount sale or boasts about whose child got early admission into the college of their choice. Within the small village of the West Coast Asian diasporic scene, from Seattle down to Orange County, gossip was the only true currency that had weight—aside from gold bars, jade with 14-karat gold trimming, and other bits of jewelry that could be easily sewn into linings in times of war.
This woman was known as Auntie Hứa. For over fifty years, the locals would whisper about Auntie Hứa behind her back, too afraid of what she could possibly say to their faces. Could she predict death? Misfortune? Financial ruin? Ever since Auntie Hứa immigrated to Kauai in the seventies, the woman had been going around scaring the crap out of everyone, making off-the-cuff remarks that would send them all into a tailspin. Like that one time she walked into Biên's Bistro in Chinatown and told the owner, Biên, that he would have heart surgery soon. And he did. Though to this day, he's not sure if it was her prediction that kickstarted the heart murmurs. He didn't think to question her. Better safe than sorry when it came to dealing with psychics.
However, to the businessmen who paced in the tallest skyscrapers of Hong Kong, waiting to speak to her before making a final decision, or the aging real estate broker who flew in yearly from South Africa, or the young Instagram-famous backpacker on her spiritual journey, Auntie Hứa was known as Linh Hứa.
The famed Vietnamese psychic of Kauai.
Mrs. Nguyễn sat impatient, twirling her dark jade bracelet on her left wrist, calmed by its coolness. Her mother had taught her that you can tell if jade is real by how cool the stone feels against your skin.
The all-white waiting room that matched the exterior of the mansion had an eeriness to it, making it seem like she was in a psych ward. Mrs. Nguyễn distracted herself by observing the young receptionist, who was also wearing all white, filing her acrylics into a coffin shape. She felt a pang of jealousy at how youthful and pretty the receptionist was, and how her own hair used to be jet black and thick as rope, once upon a time. Mrs. Nguyễn reached up to flatten her thinning gray hair that had wisps of silver peeking out. She shifted her weight and crossed her legs, dangling off her worn penny loafers to allow her sticky feet to breathe a little—a brief respite from the hot Hawaiian sun.
As soon as the clock struck 10:00 a.m., everyone in the waiting room looked up, hopeful that the receptionist would call their name. But the receptionist called out for Mai Nguyễn. Mrs. Nguyễn got up rather smugly, putting her shoes back on. She clutched her fake Louis Vuitton bag, along with the two color-coded folders that had been sitting on her lap, and made her way toward the windowless back room.
A chorus of disappointed voices, with accents from all over the world, erupted. Their weary, traveler faces were heavy with jet lag and greasy from the Zippy's breakfast platter they got earlier.
"Blimey, how long are we supposed to wait for this godforsaken woman?""How is this woman harder to see than the pope?""Kondo wa itsu Auntie San ni aemasuka?""I just need five minutes with her! I only have one question! I'll pay extra!""Llevo aquí desde las cinco de la mañana!"
Mrs. Nguyễn openly smirked as she walked past them all. Amateurs. Anyone who is anybody knew that the psychic opened her appointment books only once a year, the day after Lunar New Year. Mrs. Nguyễn had kept the same fixed appointment slot ever since her first visit, those ten some-odd years ago. She had decided to visit the psychic after her sisters and her mother all stopped talking to each other. The silence was bearable at first, but then her three daughters began to leave her, too, scattering to all corners of the world, despite her attempts to keep them close. The more she clawed, the more they pulled away.
Mrs. Nguyễn couldn't help but feel envy, watching her daughters forge their own paths in this world. She had never known what hers was, except what was expected of her: to be a dutiful daughter and mother. But when the ghosts of cackling, gossiping Vietnamese women began haunting her every time she walked past her kitchen, a gnawing pain grew, and she was overcome with a feverish desire to speak with another Vietnamese woman, just to chat about anything. That was when she flew in to see Auntie Hứa, a decision fueled by a dangerous mix of loneliness and curiosity to see if the rumors were true about the psychic. Ever since her first visit, she'd never once failed to attend her yearly pilgrimages.
"Chào Cô," Mrs. Nguyễn greeted Auntie Hứa as she entered the white room and quickly closed the door behind her, her smugness evaporating immediately within the woman's presence. Though they'd seen each other once a year for over ten years, they weren't exactly friends. Mrs. Nguyễn could never tell if the woman even remembered her. The woman saw so many faces, every day for decades, that it must all seem like a blur to her. Just a sea of heartbroken faces, seeking remedies and answers for things that had no earthly cure.
Auntie Hứa nodded silently in response behind her big, marbled desk, her heavy makeup cracking under the fluorescent bulb. Her face was caked with white powder, as if she were a vintage Hong Kong ad selling face cream. The makeup was done up so badly it seemed intentional, to trick observers, to disguise her real age.
In a show of faith that the woman recognized Mrs. Nguyễn as a repeat client, she took out a box of tissues. She gestured for Mrs. Nguyễn to sit across from her before pulling out a standard fifty-two-card deck of playing cards. Within the spades, hearts, clubs, and diamonds, Auntie Hứa was able to translate the language of the universe out of something so comically ordinary. Her delicate hands swiftly fanned out the cards in a half-moon shape, facing up. Putting on a show to put guests at ease. As if they expected the woman to have some sort of physical object in front of her, a crystal ball, tarot cards, or I Ching sticks. Without looking down, the woman began speaking in Vietnamese.
*****
From THE FORTUNES OF JADED WOMEN by Carolyn, Huynh, published by Atria Books. Copyright © 2022 by Carolyn Huynh. Reprinted courtesy of Atria Books.