'Good Morning America' 2019 Summer Concert Series: Watch Kane Brown and Marshmello live in VR
Watch Kane Brown, Marshmello live on 'GMA' in VR
Kane Brown and Marshmello will close out the "GMA" Summer Concert Series with a live performance from New York City's Central Park on Friday, August 30.
You're invited to experience the "GMA" concert live in immersive VR!
The "GMA" performance will be available live in virtual reality and also accessible on any smartphone in full 360-degree video through the MelodyVR app. Learn more here and download the free MelodyVR app here.
Fans will be able to control their own experience, choosing between multiple points of view, including up-close-and-personal on stage with Marshmello and Kane Brown, from the front row or from the heart of the crowd.
"Stoked that fans all over the world can experience our GMA performance live in virtual reality," Marshmello said. "I can't wait for crowds in the park, on TV and at home in VR to come together for this -- it's gonna be sick!"
See the full schedule and get details on how to attend one of our concerts in the park.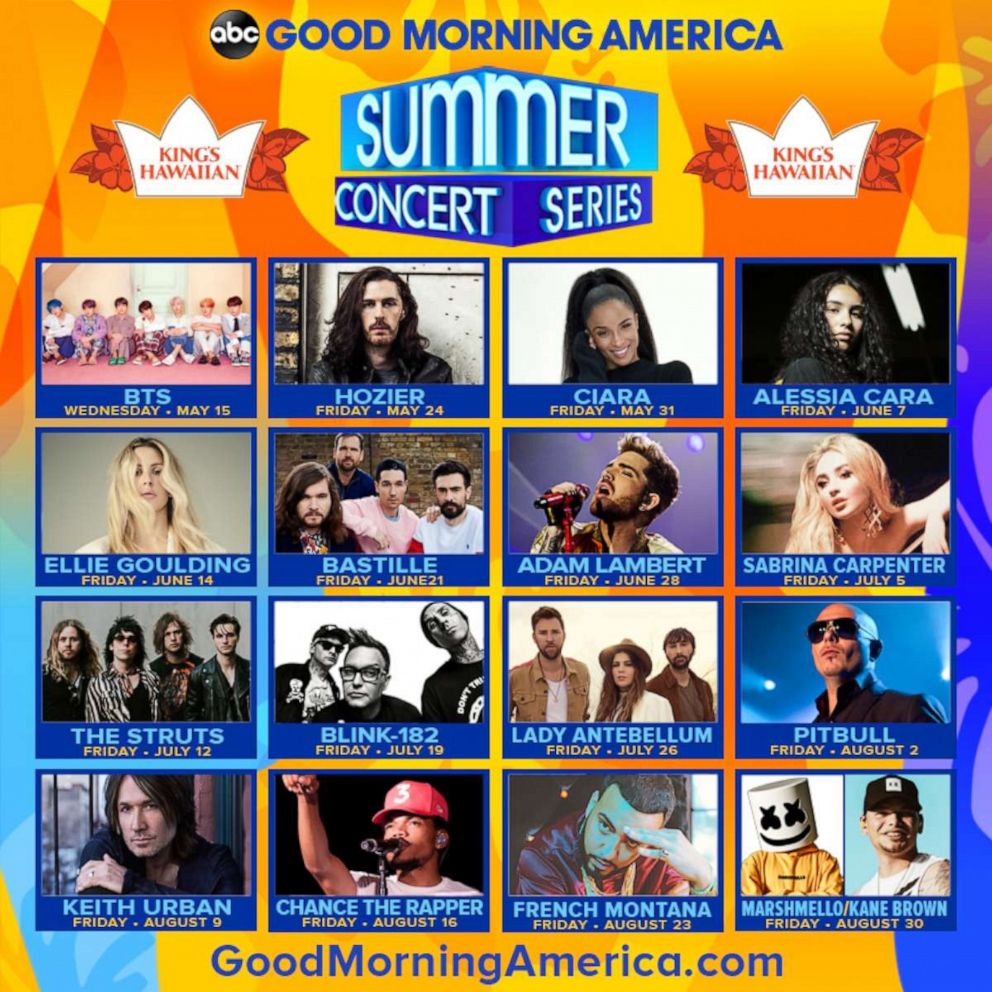 Concert Schedule
May 15 – BTS*
#BTSonGMA
May 24 – Hozier- #HozierOnGMA
#HozierOnGMA
May 31 – Ciara
#CiaraOnGMA
June 7 – Alessia Cara*
#AlessiaOnGMA
*The June 7 concert will take place in our Times Square Studio.
June 14 – Ellie Goulding
#EllieGouldingOnGMA
June 21 – Bastille
#BastilleOnGMA
June 28 – Adam Lambert
#AdamLambertOnGMA
July 5 – Sabrina Carpenter
#SabrinaCarpenterOnGMA
July 12 – The Struts
#TheStrutsOnGMA
July 19 – Blink 182
#Blink182onGMA
July 26 – Lady Antebellum
#LadyAonGMA
August 2 – Pitbull
#PitbullOnGMA
August 9 – Keith Urban
#KeithUrbanOnGMA
August 16 – Chance the Rapper
#ChanceOnGMA
August 23 – French Montana
#FrenchMontanaOnGMA
August 30 – Kane Brown & Marshmello
#KaneBrownOnGMA, #MarshmelloOnGMA
How to Attend a Summer Concert
All upcoming concerts are free and open to the public and will take place on Fridays from 7 a.m. to 9 a.m. ET.
Viewers interested in joining "GMA" in Central Park are encouraged to arrive at Rumsey Playfield via the 72nd Street entrance on Fifth Avenue at 6 a.m. when the park opens to the public.
The Summer Concert Series returns for the eleventh year to Rumsey Playfield in Central Park, home of City Parks Foundation's SummerStage Festival.