Terry Sanderson, the man accusing Gwyneth Paltrow of crashing into him while skiing more than seven years ago and leaving him seriously injured, took to the stand Monday to testify in the civil trial over the 2016 accident.
This is the first time Sanderson, a retired optometrist, has testified in the trial. He first filed a complaint against Paltrow in January 2019, filing an updated complaint a month later.
Sanderson began by addressing his absence from the courtroom for most of last week, saying he didn't want to be present while his daughters testified, saying he wanted them to be able to "speak totally freely."
He then recounted his recollection of the incident, which allegedly took place Feb. 26, 2016, insisting on the stand that he was downhill while Paltrow was uphill, saying, "There was nothing in front of me."
Sanderson said he recalled hearing a "blood-curdling scream" before he said he "got hit in my back so hard." The next thing he remembered, he said, was that "everything is black."
"I tried to move, and I could not move a limb. I couldn't move my head. I couldn't move my body," he said. "Nothing was responding."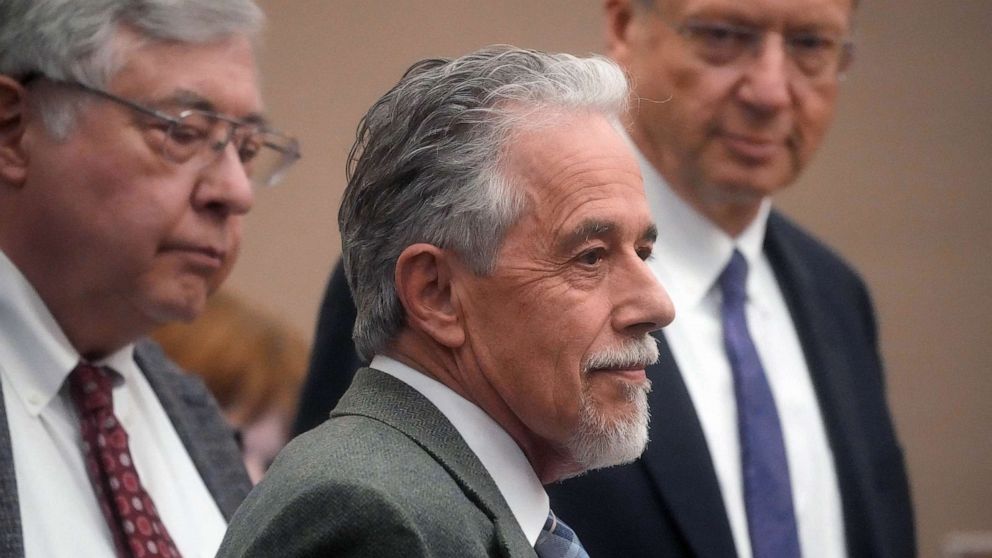 Sanderson said he does own a GoPro camera but that he didn't have it the day of the accident.
Addressing the email to his daughters in which he wrote "I'm famous" after the ski crash, he said, "I really was trying to add a little levity to a serious situation, and it backfired."
Sanderson also spoke of his strained relationship with his daughter Jenny, the only daughter to not testify in court, saying they "don't communicate as well" as he does with his other two daughters.
He said he now speaks "upside-down and backward" as a result of the accident.
Sanderson said he doesn't feel "as engaged" in activities and that he doesn't "have that same spark" as he did prior to the accident, calling himself a "self-imposed recluse."
Cross-examination of Sanderson began Monday and will continue "at a different time," Paltrow's attorney said.
Deer Valley employees Eric Christiansen and Whitney Smith also testified on Monday, as well as Deer Valley Director of Operations Steve Graff.
What has happened in the civil trial so far
So far in the civil trial, the jury has heard opening remarks from both Paltrow's and Sanderson's attorneys as well as testimony from a slew of doctors -- including Dr. Wendell Gibby, Dr. Sam Goldstein, Dr. Alina Fong and Dr. Richard Boehme -- as well as a witness Sanderson's defense claims is the sole witness of the crash.
Sanderson's ex-girlfriend and two of his daughters have also taken to the stand, as did the brother of Sanderson's son-in-law.
On Friday, Paltrow took to the stand for the first time and recounted her memory of the accident, saying she was skiing with her two children and her husband Brad Falchuk, her then-boyfriend, when "Mr. Sanderson skied directly into my back."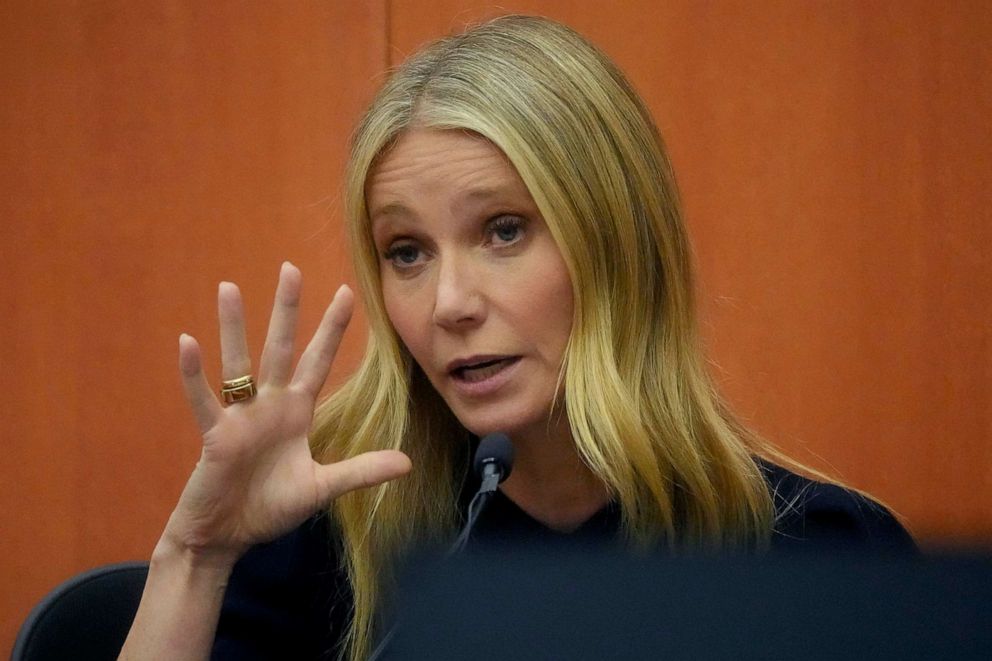 Paltrow, who filed a counterclaim against Sanderson in February 2019, said she was "extremely upset" in the aftermath of the crash.
When asked by Sanderson's attorney if Paltrow feels "some sympathy for Mr. Sanderson's declining brain," she said, "I really do. I feel very sorry for him. It seems like he's had a very difficult life."
"But I did not cause the accident," she said. "So I cannot be at fault for anything that subsequently happened to him."
Paltrow's attorney, Stephen Owens, has said that Falchuk, as well Paltrow's two children, daughter Apple and son Moses, will take the stand in the civil trial.
Sanderson's allegations
Sanderson's original complaint filed against Paltrow claims that Paltrow allegedly "skied out of control and hit the back of Terry Sanderson, another skier, who was downhill, knocking him down hard, knocking him out, and causing a brain injury, four broken ribs and other serious injuries."
The original complaint also named a Deer Valley ski instructor, the Deer Valley Resort Company LLC, and 2 other unnamed employees of the resort, listed as Jane and John Doe.
The complaint stated that "Paltrow got up, turned and skied away, leaving Sanderson stunned, lying in the snow, seriously injured." According to the complaint, the Deer Valley Resort ski instructor who was training Paltrow allegedly "saw the injured Sanderson and skied off, falsely accusing Sanderson of having caused the crash."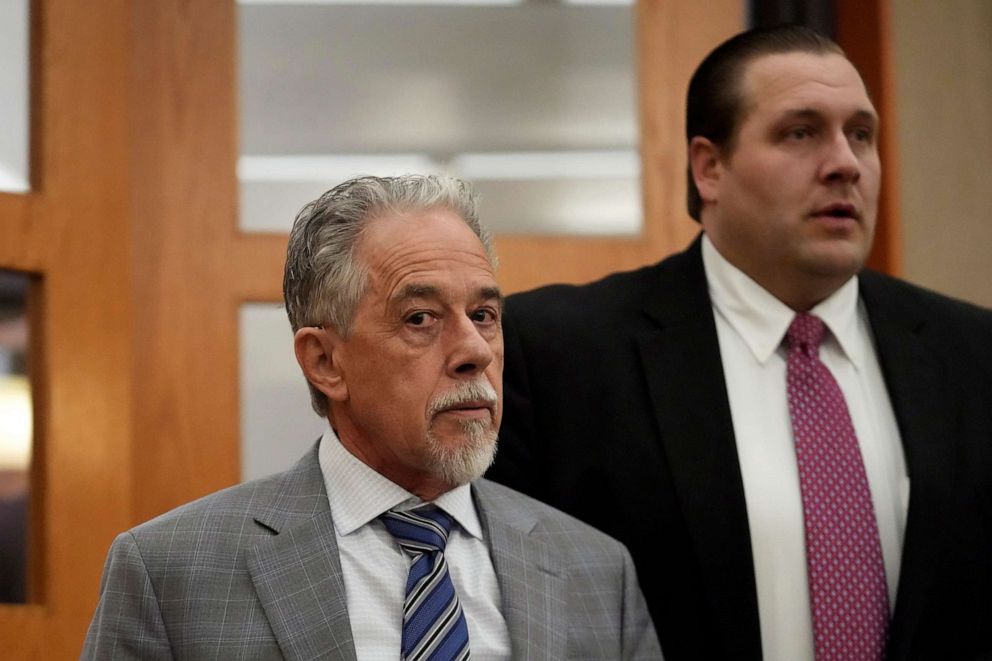 "He also failed to send help, as he was obligated to do, and later filed a false report to protect his client, Ms. Paltrow," the complaint stated.
Sanderson also alleged in the original complaint that "neither Ms. Paltrow nor Deer Valley lodge personnel notified emergency responders" about his injuries and "left him at the scene with serious brain injuries." The complaint claimed that at least two Deer Valley-employed instructors who were with the actress did not phone ski patrol for help for him.
The complaint alleged that the ski instructor later "filled out and signed an incident report falsely stating that Gwyneth Paltrow did not cause the crash" even though the ski instructor allegedly "did not see the crash" happen.
In an amended complaint filed in February 2019, Sanderson changed the value of damages he is seeking in the lawsuit from $3.1 million to $300,000.
The other parties listed in his complaints, including a Deer Valley ski instructor, the Deer Valley Resort Company LLC, and 2 other unnamed employees of the resort, were dismissed from Sanderson's suit in January 2023. The resort was dismissed from the suit after its lawyer argued it is shielded from liability for skiing injuries given the inherent risks to the sport.
Paltrow's countersuit
A month after Sanderson filed his original lawsuit, Paltrow filed a countersuit against him.
In it, she denied causing the collision and claimed that Sanderson was the one who "plowed into her back."
"Ms. Paltrow remembers what happened very clearly," the suit claimed. "She was enjoying skiing with her family on vacation in Utah, when Plaintiff -- who was uphill from Ms. Paltrow -- plowed into her back. She sustained a full 'body blow.'"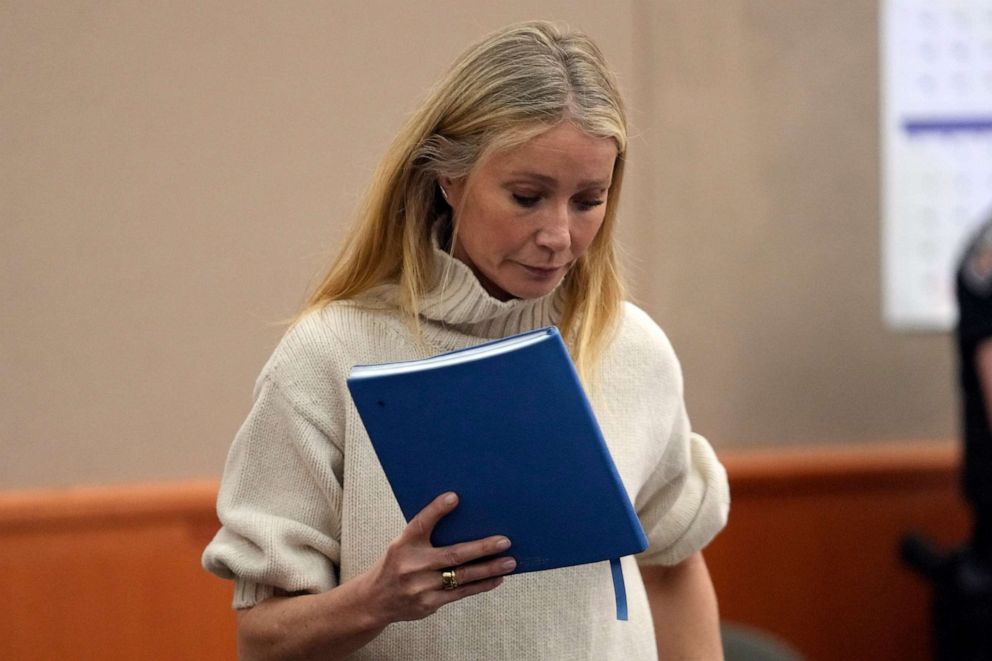 "Ms. Paltrow was angry with Plaintiff, and said so," the suit continued. "Plaintiff apologized. She was shaken and upset, and quit skiing for the day even though it was still morning."
In Paltrow's counterclaim, she claimed that a Deer Valley employee was present at the scene of the accident. Her counterclaim states that the worker asked Sanderson if he was OK to which he allegedly said he was. Her counterclaim states that the employee created a report saying Sanderson was the uphill skier who was responsible for their collision and that he had "taken [Paltrow] out from behind."
The Goop CEO and award-winning actress called the lawsuit against her an "attempt to exploit her celebrity and wealth," according to her countersuit.
The counterclaim stated that Paltrow said her injuries were "relatively minor" and that she is only seeking "symbolic damages" of $1 "plus her costs and attorneys' fees" for defending herself against "this meritless claim."