Gwyneth Paltrow set to testify in trial over 2016 ski accident
Gwyneth Paltrow has taken the stand in the civil trial for a ski accident that occurred more than seven years ago.
Paltrow testified Friday about the details of the accident, which occurred on Feb. 26, 2016.
The Academy Award-winner and Goop CEO said that the accident allegedly happened at the top of a run called Bandana at Deer Valley Ski Resort in Utah.
Paltrow said that she was skiing with her two children and her husband Brad Falchuk, her then-boyfriend at the time, when "Mr. Sanderson skied directly into my back."
Paltrow said that when Sanderson allegedly skied into her, she remembered feeling a "rush of air," "two skis came between my skis, forcing my legs apart and there was a body pressing against me. And there was very strange grunting noise. So my brain was trying to make sense of what was happening."
"I thought, 'Is this a practical joke? Is someone like doing something perverted?'" Paltrow continued. "My mind was going very, very quickly and I was trying to ascertain what was happening."
"I was extremely upset," said Paltrow, who "didn't know if it was an intentional assault of a sexual nature" at the time.
After the collision happened, Paltrow said she remembers her and Sanderson allegedly falling to the ground and "pushing away because I was very upset."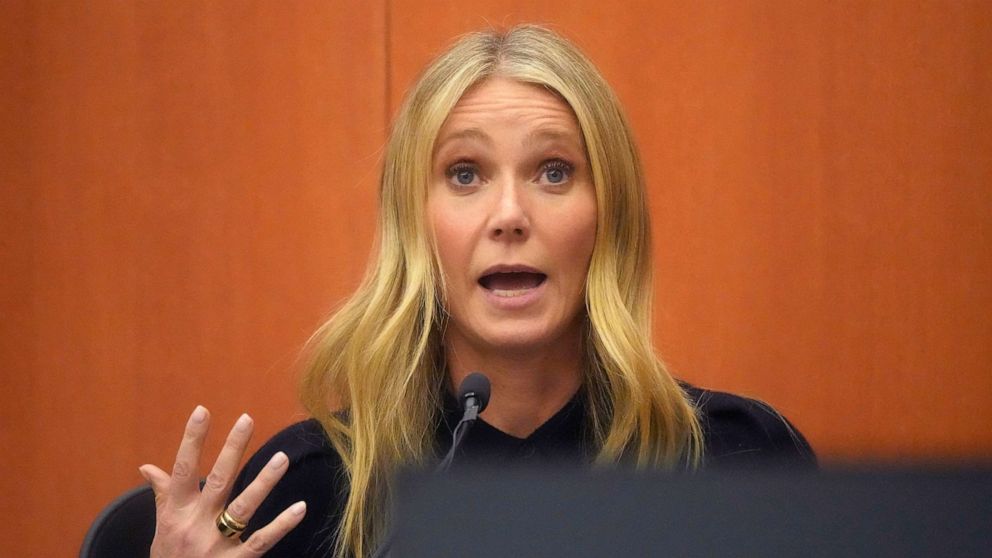 Paltrow said she "pushed down the hill and I turned around, and I yelled at him." Paltrow said she remembers allegedly telling Sanderson that he skied into her back and he said, "Oh sorry, sorry. I'm sorry."
During her questioning toward Paltrow, Sanderson's lawyer demonstrated for the actress how the accident unfolded, according to his client's version of the facts.
When asked whether Paltrow feels "some empathy for Mr. Sanderson's declining brain," Paltrow said, "I really do. I feel very sorry for him. It seems like he's had a very difficult life."
"But I did not cause the accident," she said. "So I cannot be at fault for anything that subsequently happened to him."
Sanderson, a retired optometrist, filed a lawsuit in January 2019 accusing Paltrow of crashing into him on the slopes at Deer Valley Ski Resort, claiming he was left "seriously injured" as a result.
In an amended complaint filed in February 2019, Sanderson changed the value of damages he is seeking in the lawsuit from $3.1 million to $300,000.
Sanderson's original complaint claims that Paltrow allegedly "skied out of control and hit the back of Terry Sanderson, another skier, who was downhill, knocking him down hard, knocking him out, and causing a brain injury, four broken ribs and other serious injuries."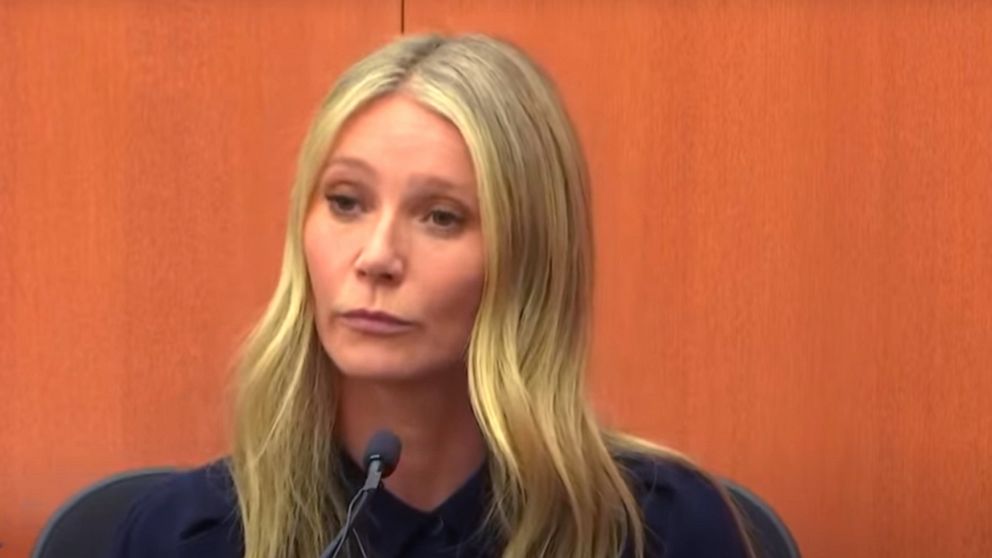 Paltrow filed a countersuit in which she claimed it was Sanderson who crashed into her, delivering a "full 'body blow'" when he "plowed into her back."
The award-winning actress called Sanderson's lawsuit an "attempt to exploit her celebrity and wealth." Paltrow said her injuries were "relatively minor" and that she is only seeking "symbolic damages" of $1 plus costs for her lawyers fees from Sanderson for defending herself against "this meritless claim."
So far in the trial, the jury has heard opening remarks from both Paltrow's and Sanderson's attorneys as well as testimony from a slew of doctors -- including Dr. Wendell Gibby, Dr. Sam Goldstein, Dr. Alina Fong and Dr. Richard Boehme -- as well as a witness Sanderson's defense claims is the sole witness of the crash. Sanderson's ex-girlfriend and two of his daughters have also taken to the stand, as did Sanderson's son-in-law's brother.
Paltrow's attorney said the Goop CEO's now-husband, Brad Falchuk, and her two children, daughter Apple and son Moses, will take the stand on Monday in the trial.