The Best of Jamie Lee Curtis
Jamie Lee Curtis is sharing the aftermath of all the excitement she and her "Everything Everywhere All at Once" castmates experienced at the 95th Academy Awards on March 12.
Curtis, who won the award for best supporting actress this year, took to Instagram on Friday, posting a picture of an injury she seemed to have sustained from jumping up and down onstage after "Everything Everywhere All at Once" won best picture.
In the post, Curtis, 64, included a snapshot of her foot in a medical boot resting next to her Oscar statuette alongside a picture of herself jumping from joy onstage during the award ceremony.
"The THRILL of VICTORY and the AGONY of DA FEET! @everythingeverywheremovie," she joked in the caption.
"GMA" has reached out to Curtis' representative to obtain confirmation of the injury.
Curtis' celebrity friends and followers offered support in the comments section of her post on Friday, many of them wishing her a speedy recovery.
"Feel better!!!" Demi Lovato wrote.
Rosario Dawson commented, "Awww! Heals for heels!"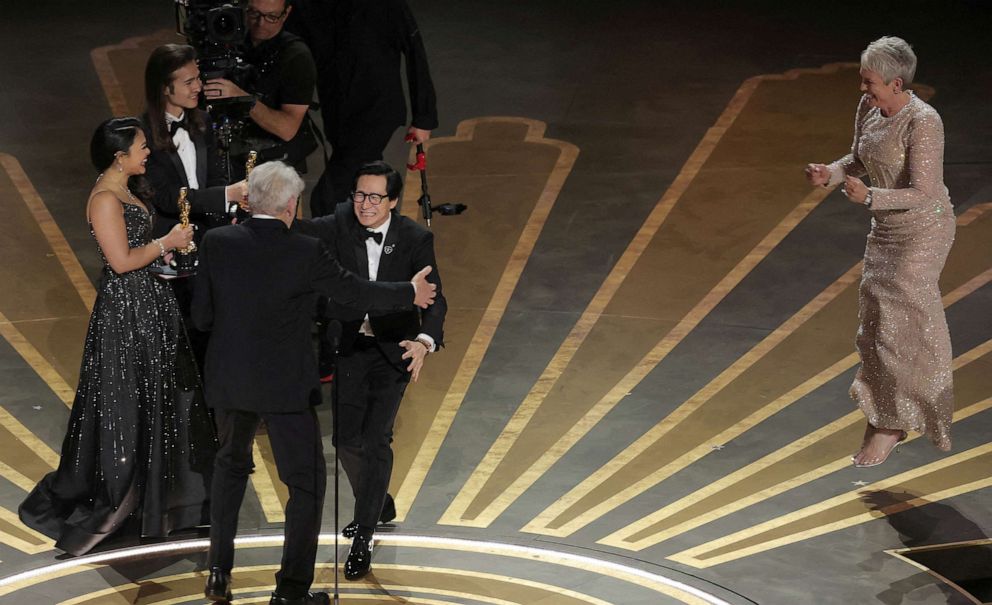 The "Halloween Ends" actress spoke to "GMA" co-anchor Lara Spencer earlier this month, immediately following the Oscars ceremony, and reflected on the best part of receiving the award.
Curtis said that it wasn't the statuette or the glamorous ceremony and parties afterward, but the "goodwill" "Everything Everywhere All at Once" had inspired, as well as the support she's received from her fellow actors and Hollywood peers.
"The goodwill, that is the takeaway," Curtis said. "Not the gold statue, not the shiny things that I've been talking a lot about. It's the goodwill, the goodwill that the movie engendered with the message of kindness and love and reunification at a time when it feels like we're all really struggling with reunifying. This is a movie that said 'You are seen and loved.'"