Jamie Lee Curtis is dishing on the best part of winning an Oscar.
The 64-year-old won her first Academy Award Sunday for best supporting actress in "Everything Everywhere All at Once." Curtis played Deirdre Beaubeirdre, a tax inspector, as well as her alter-ego in other dimensions.
Curtis told "GMA" co-anchor Lara Spencer that it's not the golden statue or the glamorous ceremony and parties afterward but the "goodwill" "Everything Everywhere All at Once" has inspired and the support she's received from her fellow actors and Hollywood peers, including Halle Berry.
"The goodwill, that is the takeaway," Curtis said. "Not the gold statue, not the shiny things that I've been talking a lot about. It's the goodwill, the goodwill that the movie engendered with the message of kindness and love and reunification at a time when it feels like we're all really struggling with reunifying. This is a movie that said you are seen and loved."
"Halle reached out a day ago and just said, 'I'm sure you're kind of having a moment. I just want to let you know that I'm gonna be there' and that's been so lovely … the goodwill of people," Curtis added, while Berry stopped by during the interview and agreed.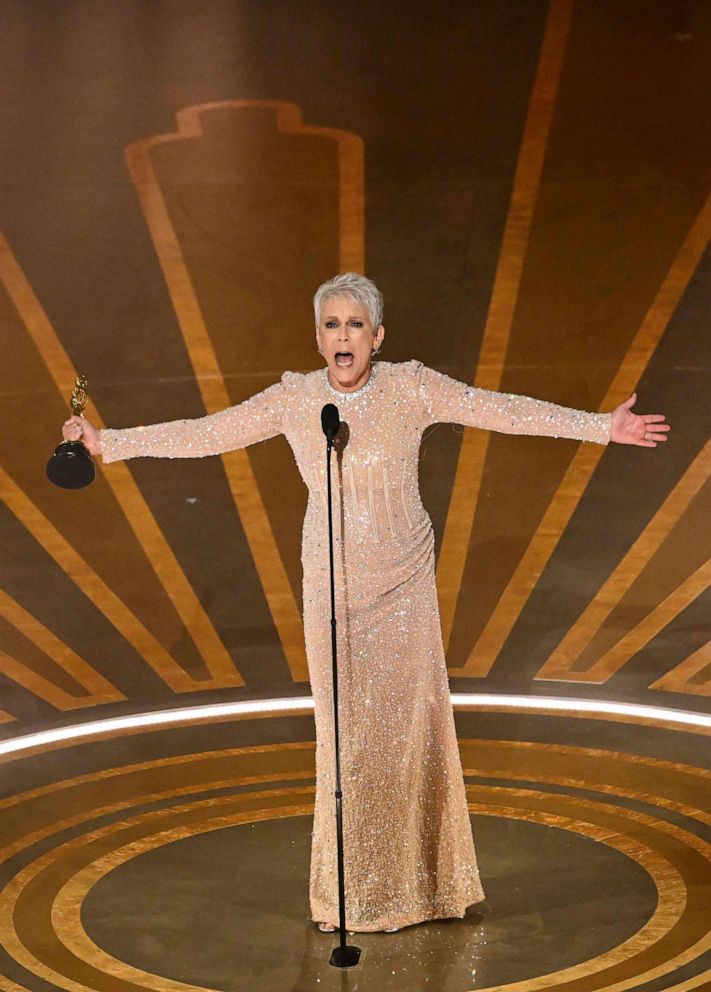 During her acceptance speech, Curtis also mentioned her parents, the actors Janet Leigh and Tony Curtis, who were both Oscar nominees. Leigh was nominated for her 1960 portrayal of Marion Crane in "Psycho" while Curtis was nominated for his performance of John "Joker" Jackson in 1958's "The Defiant Ones."
She told "GMA" she's carried their legacy in the years since she followed their footsteps into acting.
"I know I look up and I don't believe in the looking up part, meaning I don't think they're up there like, watching. It's the aura of them that I am them. And that they are me."
Curtis and her "Everything Everywhere All at Once" castmates, directors and crew swept the Oscars. Both Ke Huy Quan and Michelle Yeoh won Oscars for their "Everything Everywhere All at Once" performances, with Yeoh making history as the first Asian woman to win best actress and the sci-fi adventure film took home the coveted best picture award.