Jennifer Lopez spoke about her incredible year and what she's looking forward to in a new interview with People magazine.
The award-winning singer and actress was announced as one of the outlet's "2019 People of the Year" cover stars on Wednesday, along with actress Jennifer Aniston, former first lady Michelle Obama and music superstar Taylor Swift.
In a new interview to celebrate the honor, Lopez, 50, spoke about her future with fiancé Alex Rodriguez, 44, and how she is open to having more children. Lopez has 11-year-old twins, Emme and Max, and is stepmother to Rodriguez's two daughters: Natasha, 15, and Ella, 11.
"I want to," the artist said on having children with Rodriguez. "I don't know that it's in God's plan, but I would like to try. I'm so open to it."
After a momentous year, starring in the box office hit "Hustlers" and performing on her 2019 "It's My Party" tour, Lopez reflected on the journey to where she is now.
"All the hard work and all of the heartbreak and all of the things that I've been through, personally, all of the hard work I've done professionally, and all of the beautiful things that have happened too -- all of it together has kind of come to this moment where people are kind of seeing me," she shared.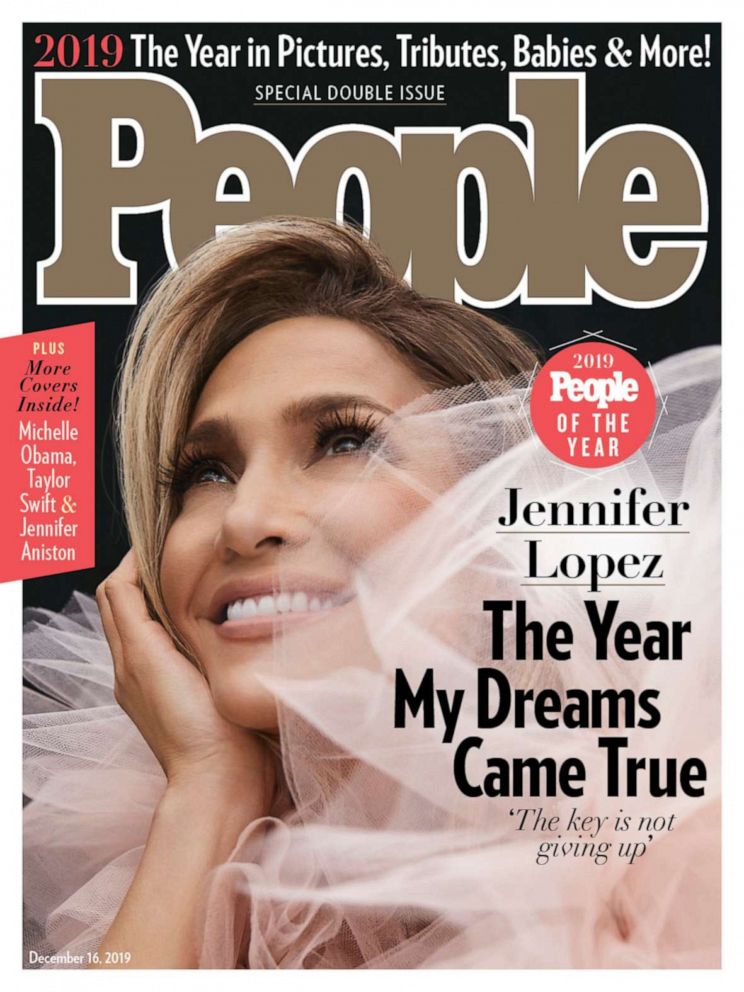 "I feel like they're recognizing me," she added. "It's nice where you get to that point where you're seen in a way that you haven't been seen before."
Lopez also spoke about turning 50 in July.
"I don't feel like I'm 50, but I know that I am and I'm proud of that. ... I feel very youthful, as good as I've ever been physically, emotionally, mentally, where I'm at with my work," she said. "I feel confident in what I do, I feel very comfortable in what I do and what I have to offer."
In Aniston's cover interview, she also spoke about the subject, as she also turned 50 this year. "I don't feel 50. I don't know what that's supposed to feel or look like," she told People.
"I know what society has painted it as and what narrative we put around it, but none of that applies to myself in terms of how I feel about it," she continued.
For the "2019 People of the Year" covers, Obama speaks about her journey creating and sharing her bestselling memoir, "Becoming," and Swift opens up on her upcoming appearance in the film adaptation of "Cats" and more.
Check out the covers below, which hit newsstands Dec. 6.