Jonathan Bennett gets emotional about new Hallmark holiday movie about LGBTQ family
Allister Foster/The Hallmark Channel
The Hallmark Channel's new film, "The Christmas House," is both a feel-good holiday story and an important step toward more inclusive storytelling on the network.
Premiering Sunday, Nov. 22 at 8 p.m. ET on the Hallmark Channel, "The Christmas House" is the network's first film featuring a same-sex couple as the lead characters.
Actor Jonathan Bennett plays Brandon, a man who travels home with his husband, Jake (played by Brad Harder), to decorate his childhood home for the holidays. The couple is hoping to start a family and is waiting to hear if their adoption will go through.
Bennett described it as "an honor" to star in the film and showcase the LGBTQ love story. "This is the first gay storyline in a Hallmark Channel movie," he said. "It's the first time you see two men in love starting their own family, and that's such a groundbreaking thing because representation is important."
"Of all the movies I've done in 20 years in Hollywood, this movie is the most important to me because this character matters," he added. "And this character is making a difference."
The actor, who is openly gay and was just recognized on Out Magazine's Out100 list, said he feels a film like this could've helped him when he was younger.
"I just think about what younger me would have thought watching a movie like this at the holidays," he said. "Because growing up, I didn't have representation like this -- we didn't have Christmas movies that had story lines of two men in love, starting a family."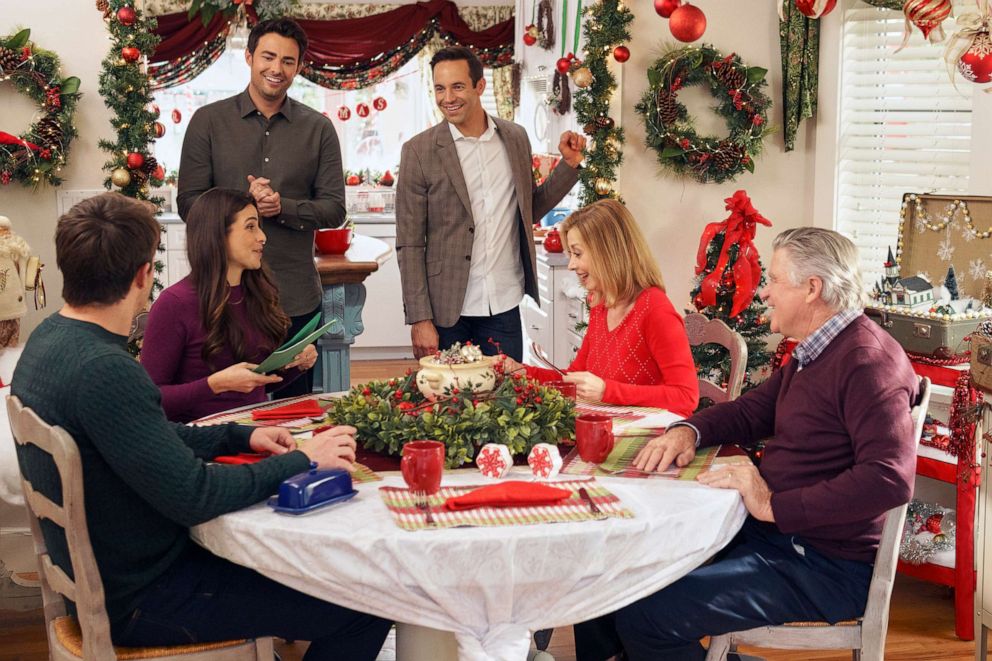 He said if he had been able to see a film like this one as a child, he imagines he would've felt "less scared" and "more seen."
The importance of the inclusive storyline was not lost on the cast and crew. Bennett said one scene in particular was very special.
During the scene, Bennett and Harder's characters are involved in an argument outside of the house due to the stress of the adoption. "We have a little bit of a tiff because we're going through the highs and the lows that a couple goes through when they're adopting a baby," Bennett explained. "And you see my husband comfort me and come together and we kiss."
"Because that's what two men who are adopting a baby and are in a loving relationship do -- they kiss, that's what couples do," he added.
Most of the cast and crew were in tears when the scene was finished, Bennett said. He explained that there was "so much anxiety and excitement" on set because everyone knew they were "making history."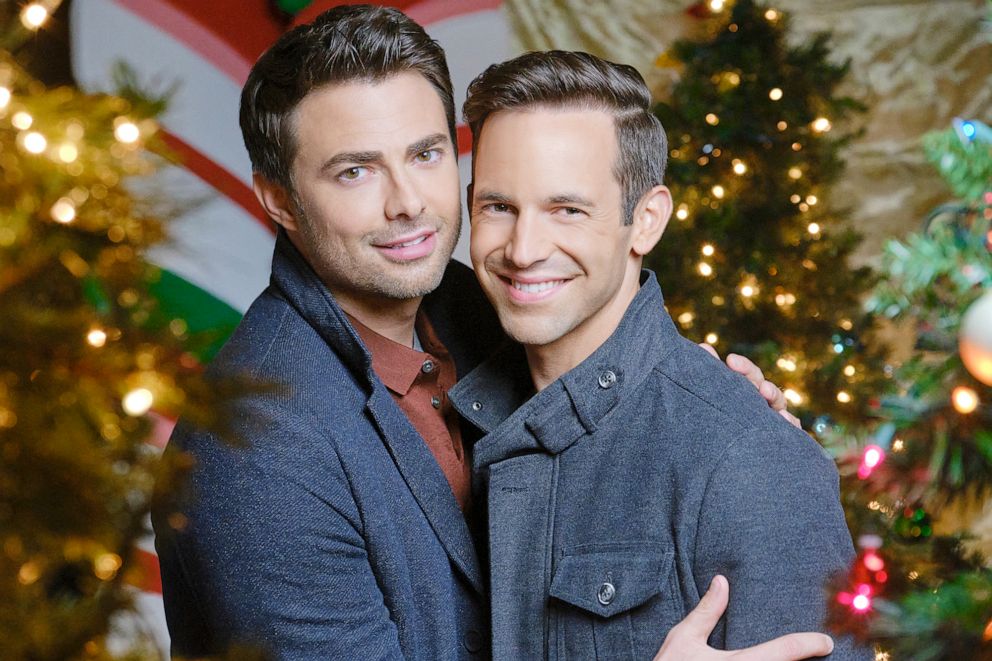 LGBTQ crew members even approached Bennett and Harder when the scene was finished, to comment on it.
"We had a few few gay men come up to us and say, 'Hey, we work on a lot of these movies, we work on a lot of Hallmark films, and we do the set decoration and we put our blood sweat and tears into it, and for the first time, we feel like we're part of the family too.'"
He said at that point, they knew they had made something "really special."
The actor hopes that the film will show young children, "that you are never too much and you are always enough."
He also hopes "The Christmas House" will influence other networks to strive toward featuring more inclusive love stories. "I think what this movie is going to do that's so important is it's going to show every network in the world that inclusion is not only OK, but it's necessary and it's important," Bennett said.
"If Hallmark Channel is putting out one of their biggest movies and it has a gay storyline as one of the main storylines, then every network can put out a movie like this and have inclusion in it," he added.
In July, Hallmark issued a statement promising more inclusion after receiving criticism that none of its upcoming holiday films announced at the time featured an LGBTQ lead.
"Diversity and inclusion is a top priority for us," read the company's statement. "We are committed to creating a Hallmark experience where everyone feels welcome."
Bennett said he is already in talks for more projects with the network for 2021.
"We already have projects greenlit in development that will make the holiday table grow even next year," he said. "This isn't the end, this is only the beginning for this on Hallmark Channel."
Check out an exclusive clip from the film below: