Meghan Markle and Prince Harry play with koalas on 1st day of Australia tour after pregnancy announcement
Harry, Meghan celebrate baby news in Australia
Dominic Lipinski/Pool via Reuters
Prince Harry and Meghan Markle made some adorable, four-legged friends in Australia during the first day of their royal tour Down Under.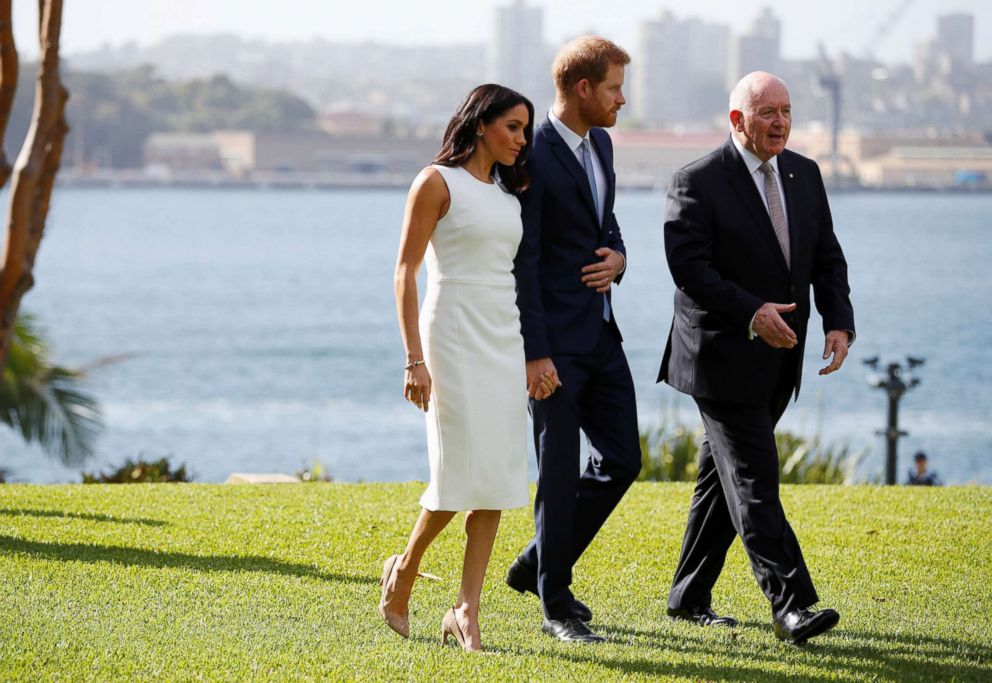 The Duke and Duchess of Sussex stopped by the Taronga Zoo on Tuesday, where they met with koalas Ruby and Wattle. Ruby and Wattle's joeys, who were born as part of the zoo's breeding program, were named Harry and Meghan as a wedding gift to them from the people of the region.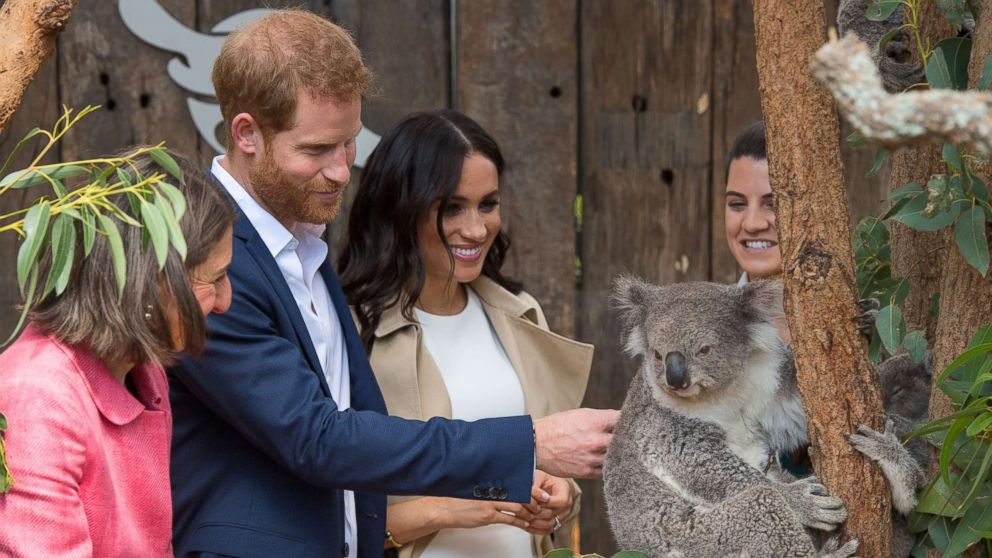 Meghan called the koalas "so, so, sweet."
The couple were also shown wallabies and quokkas (in their enclosures), where they were spotted leaning onto the zoo's low fences to admire them and watched as they were being fed.
The couple were also introduced to Lynx, a short-legged echidna, a cute but spiky mammal from the region. Dr Phoebe Meagher, research and pathology coordinator, told Meghan and Harry that the animal is the "star" of their recent project, which helps tackle the illegal wildlife trade.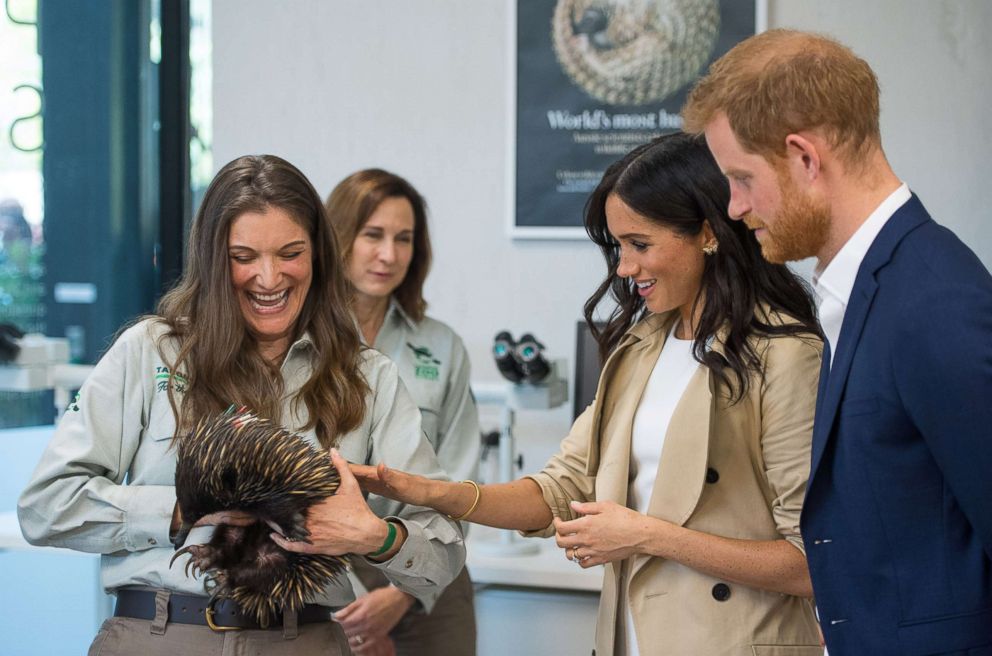 Meghan tentatively touched Lynx's spines after being invited to pet the echidna.
Harry and Meghan, who announced they are expecting their first child Monday morning, received one of their first baby gifts.
The couple received a stuffed kangaroo and a tiny pair of baby UGG boots from the the Governor-General of Australia, Sir Peter Cosgrove and Lady Cosgrove at the Admiralty House in Sydney, Australia, where they are staying for the first leg of their trip.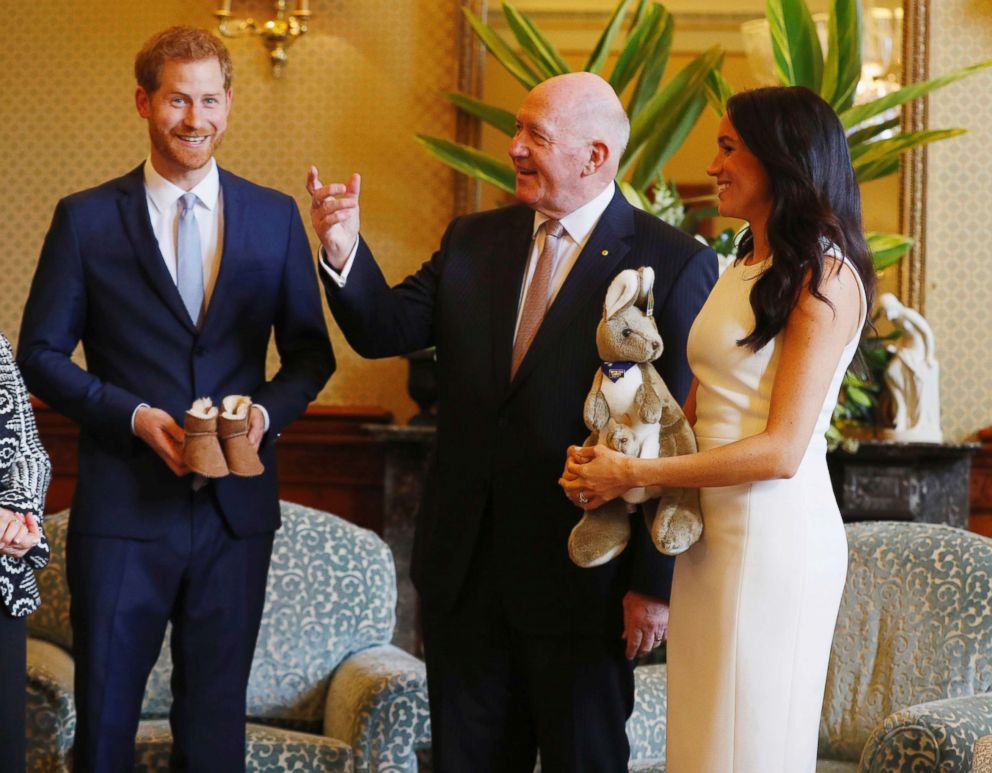 Meghan and Harry were also given a children's book by a local fan, Abbey van Vuuren, 37, who was there with her two young children. Meghan told the family, "This is the first book we've been given for the baby," according to Australian TV station Channel 7.
The duchess showed a hint of a baby bump when she stepped out for her first public event Down Under, donning a cream-colored dress by Australian designer Karen Gee as a nod to her host country.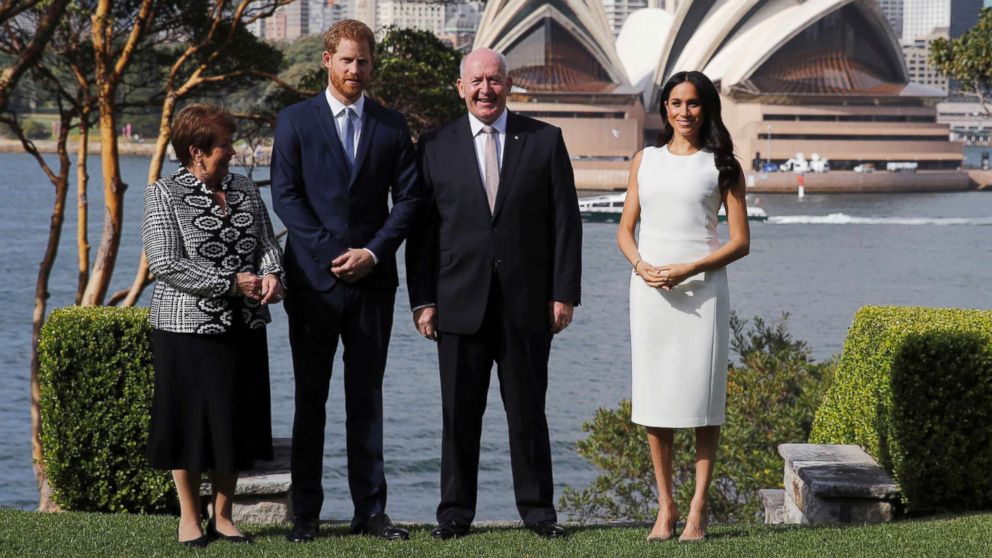 Meghan is about 12 weeks pregnant with the couple's first child, and the baby is due in the spring of 2019, according to Kensington Palace.
The couple had a poignant meeting with a local woman, Daphne Dunne, 98, whom Harry has met on two previous visits to Australia.
When Meghan met Dunne for the first time, she told her, "Hopefully next time we see you we'll have our little with one with us," according to local reports.
One moment from the first day of the royal trip that caught attention online was when Meghan showed that despite being royalty, she is just like us: As she walked down the ramp out of the zoo to catch a ferry to the Sydney Opera House, the duchess had slipped out of her high heels and into a pair of flat shoes.