Mindy Kaling: 'Don't let where you're from keep you from where you're going'
Comedy queen Mindy Kaling has come a long way from "The Office" writers room. Today, the 40-year-old superstar is known for her acting, directing and producing chops.
"I always loved comedy, I always wanted to do it," Kaling told "Good Morning America." "But growing up as a kid in the '80s, in Boston and having no connection to the industry, it felt really impenetrable."
Kaling's family had no ties to New York or Los Angeles, making it tough for her to break into the business.
Of course, Kaling got her big break as Kelly in "The Office," a show that helped launch her career.
"Everything I learned about my sense of humor, about my work ethic came from working at 'The Office,'" said Kaling. "I was completely trained in comedy working on that show."
1. Know when to laugh.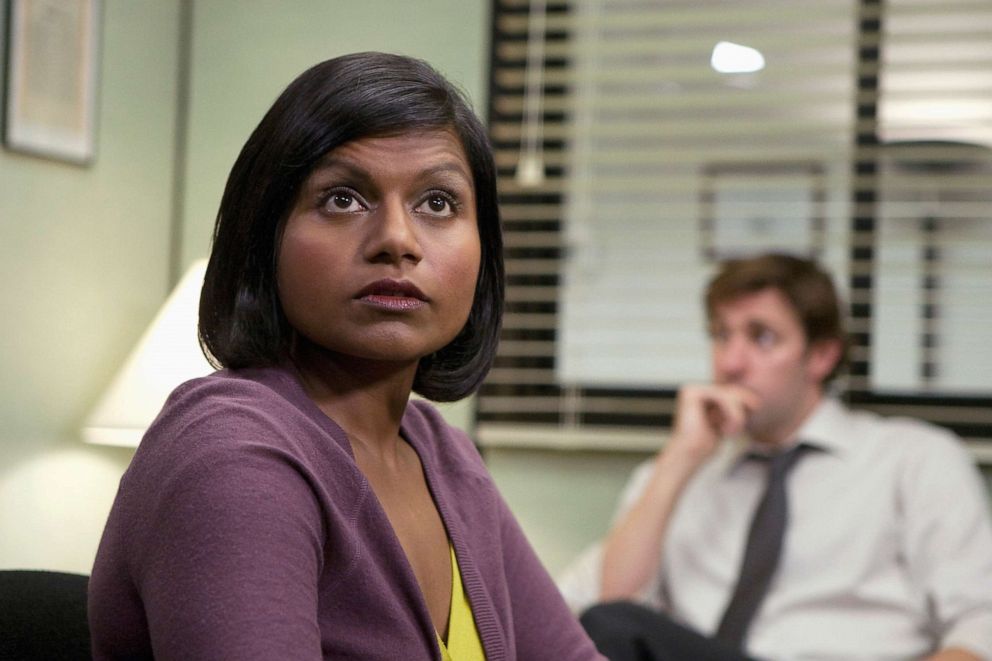 Kaling couldn't help but giggle when looking back at this photo from her days playing Kelly.
"This is a scene when I'm reacting to something offensive Steve Carell's character, Michael Scott, has said," Kaling said with a laugh.
With too many Michael moments to choose from, Kaling reflected on how lucky she felt to be a part of the mocumentary-style TV show.
"Being cast in 'The Office' felt like a small miracle, actually, it still feels like a small miracle," Kaling said. "The show still seems to resonate with a lot of people and I feel so lucky that I got to do that when I was 24."
2. Don't let where you're from keep you from where you're going.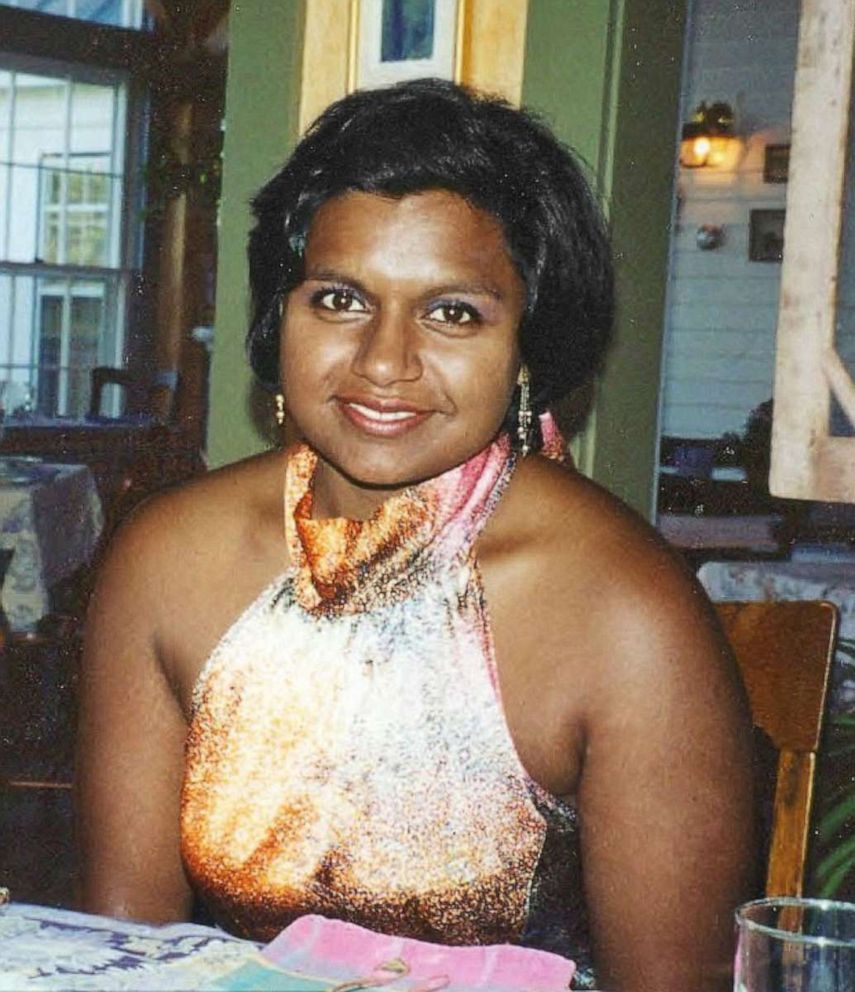 Everyone has that one embarrassing teen photo and we're pretty sure we found Kaling's.
"Oh, no, this is awful," Kaling said. "That's the time when I could still wear satin halter tops."
This college photo of Kaling brought her back to her college days attending Dartmouth before she began to pursue a career in comedy.
"I don't even think I was really funny until I was probably, like, 19 years old, because I was too focused on doing schoolwork," said Kaling.
3. Be willing to explore different paths.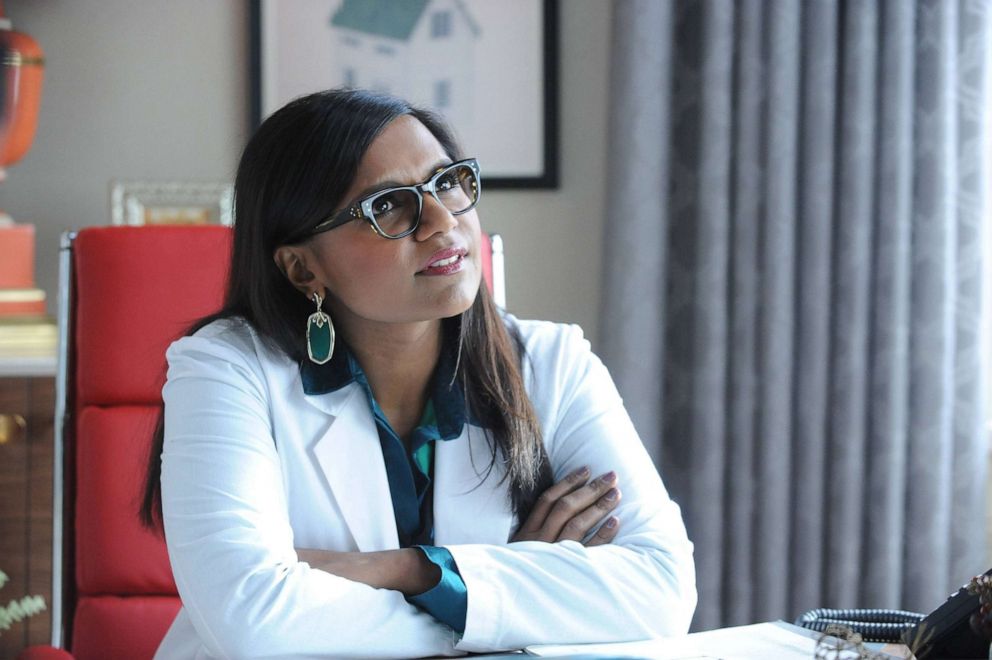 Kaling's favorite thing about "The Mindy Project," the 2012 show she created and starred in as OBGYN Mindy Lahiri? The lab coats.
"I always loved wearing those doctors coats," she said. "I think it always made my parents really happy that at least I played a fake doctor since I wasn't actually a doctor."
After being on "The Office" for eight years, Kaling wanted a project that was a bit more glamorous and romantic but still funny.
"I wanted to do a show about fashion and romance in New York City with people who had disposable income and cared about how they dressed and, so, that was 'The Mindy Project,'" she said.
4. Appreciate motherhood.
Who wore it best? Kaling or her mini me?
"This photo, I had made my daughter wear matching pajamas with me and she's unwillingly being held with me," explained Kaling. "She just wants to run around and I've just made her take a photo with me."
When it comes to motherhood, it wasn't something Kaling had put much thought into when she was younger.
"I didn't really think about being a mom when I was a teenager and when I was in my 20s," she said.
It was actually Kaling's relationship with her own mother that made her want to share a similar bond, only this time as a parent.
"I always loved my relationship with my mother so much. She was the love of my life," Kaling said. "When she passed away when I was 30, I thought, I really want to have that relationship again even I have to be the mom and someone else is the daughter."
5. Think about those who may not have as much.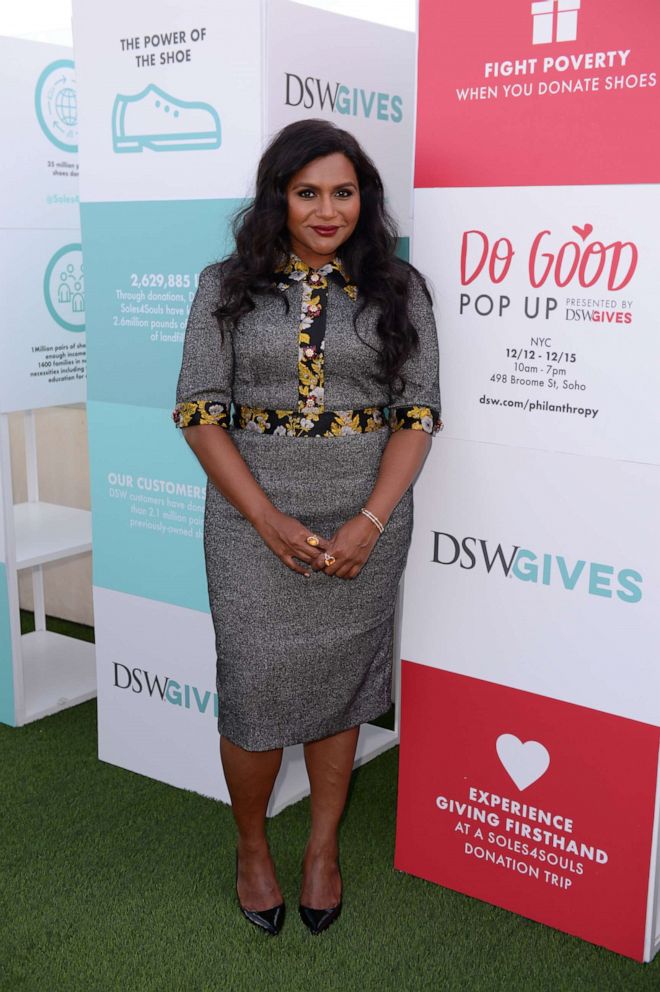 As a mom who is setting a good example for her daughter, Kaling said she's proud to give back.
That's why Kaling is teaming up with DSWGives, a platform that works with organizations, like, Soles4Souls and Be Strong to fight against poverty and bullying.
"I love fashion, I love clothes and I'm in a position where I feel like if I want something I can get it and not everyone is that way," Kaling said. "We are really privileged, my daughter and I ... It's really important for her to see her mother partnering with organizations like DSWGives."
The DSWGives' Do Good Pop Up shop, which will be in New York City Dec. 12, is unique because you can't buy anything there -- you can only give and donate.
"The holidays [are] a really good time to think about the people who don't have as much," Kaling said.
Editor's note: This was originally published on Nov. 22, 2019.