Adorable boy bear-hugs Meghan Markle, tugs at Prince Harry's beard on couple's royal Australia tour
Meghan Markle and Prince Harry play with children during day 2 of Australia tour
Stephen Lock/i-Images/Polaris
Prince Harry and Meghan Markle, who are currently expecting their first child, gave fans a first look at their parenting skills.
The couple, who wed in May, played with local school children during the second day of their royal tour Down Under.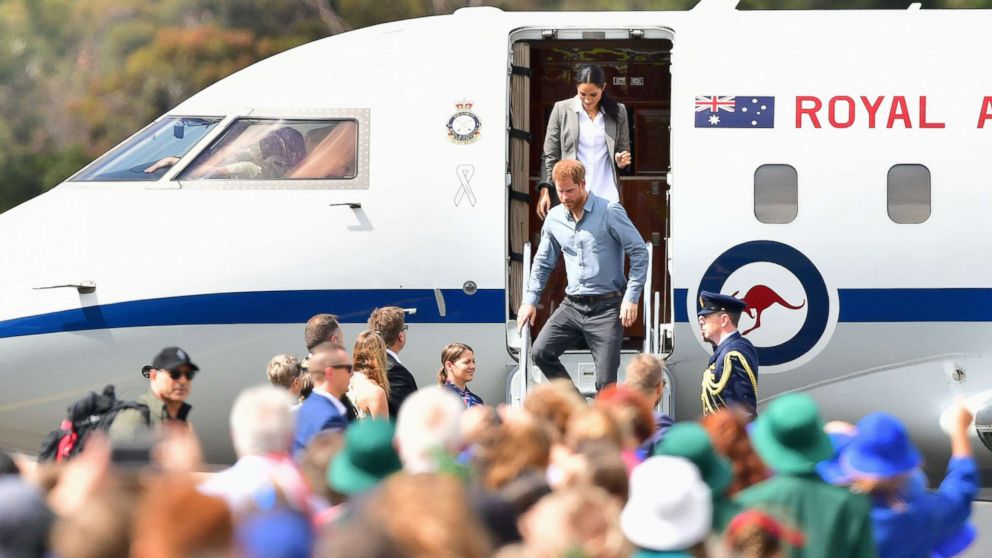 Adorable boy tugs at Harry's beard
Upon arriving in Dubbo, Australia, the Duke and Duchess were greeted by a flock of pint-sized well-wishers, including one little boy, Luke Vincent, who was enamored with Harry's beard.
As the child greeted Meghan with a big hug, he later turned to Harry and gave his beard a little tug. The adorable moment was captured on video.
His mother later shared his favorite person in the world is Santa Claus.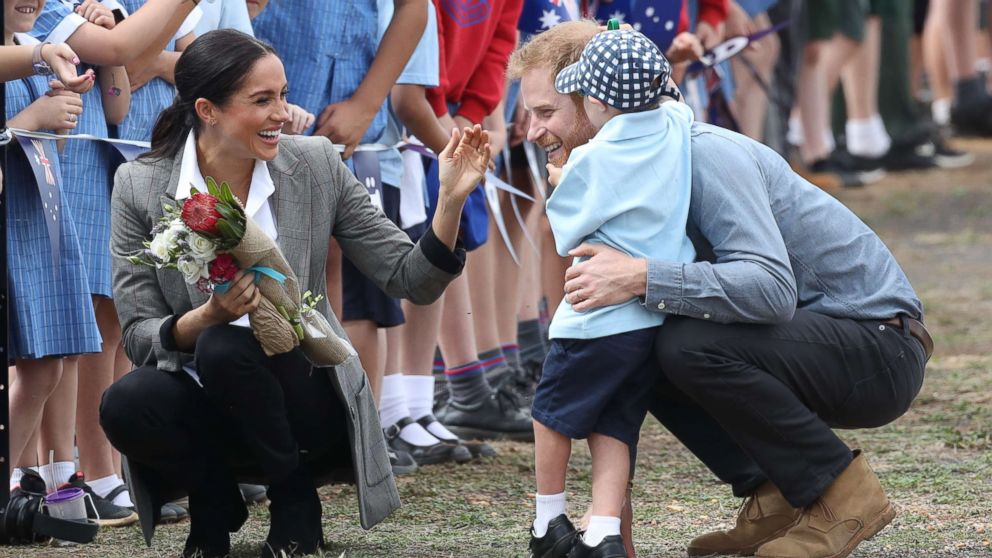 Another boy, 11-year-old James Fogg, told Harry he wanted to be a helicopter pilot, the job the prince held in his time with the British Army.
"Good choice, good man," the Duke replied, according to the pool report.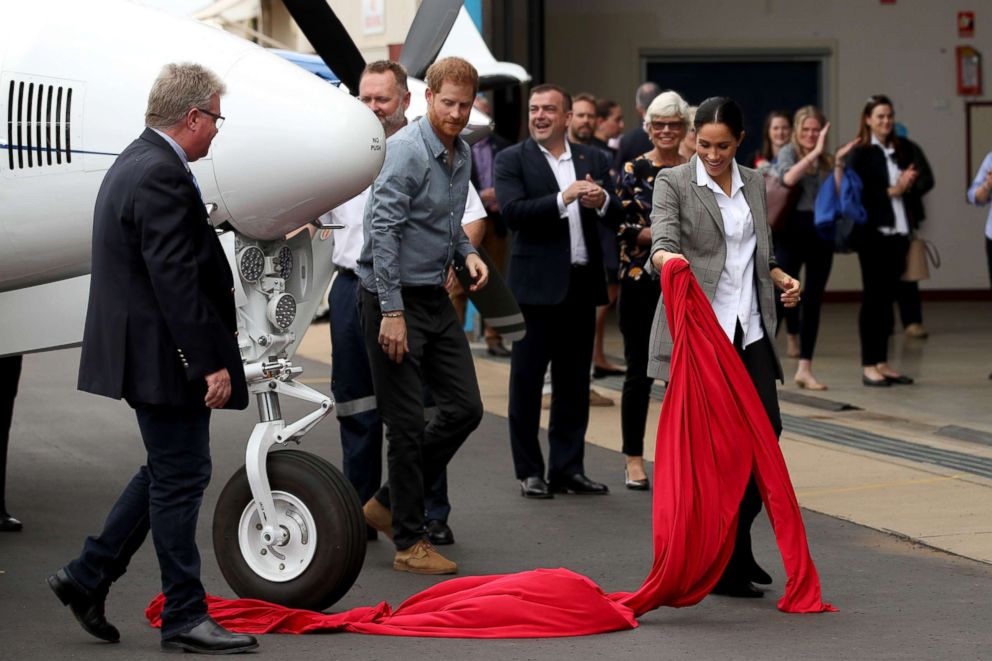 "This is so exciting for Dubbo," Fogg said, according to the pool report. "It's a once-in-a-lifetime opportunity to meet them."
Meghan looks chic in blazer, jeans
Meghan donned a jacket from her friend Serena Williams' fashion label, paired with J. Crew boots.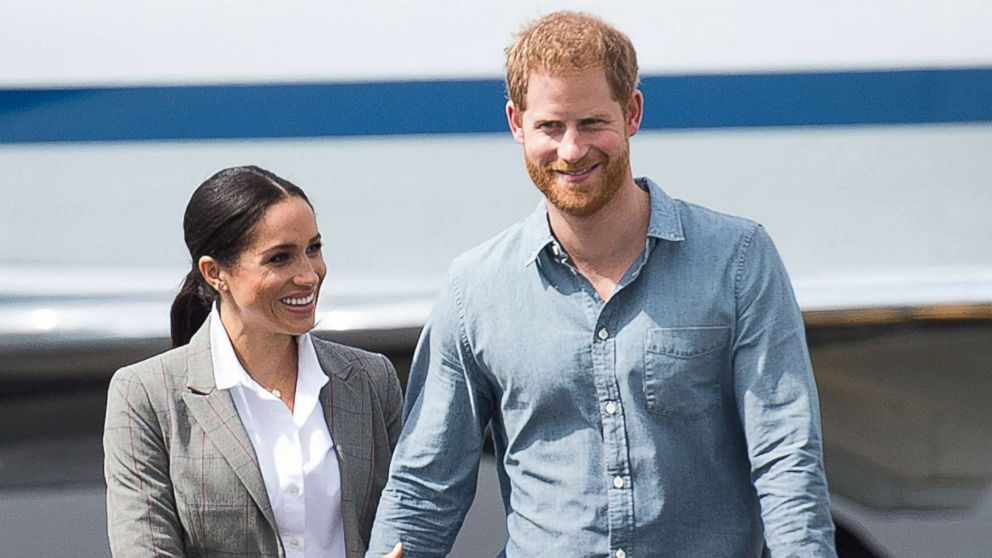 Her jeans, ethically sourced and designed by the company Outland, and necklace were from Australian designers in an apparent nod to her host country.
A portion of the sales from the Outland jeans she wore go toward stopping human trafficking in Cambodia. Her necklace was made by Australian designer Natalie Martin.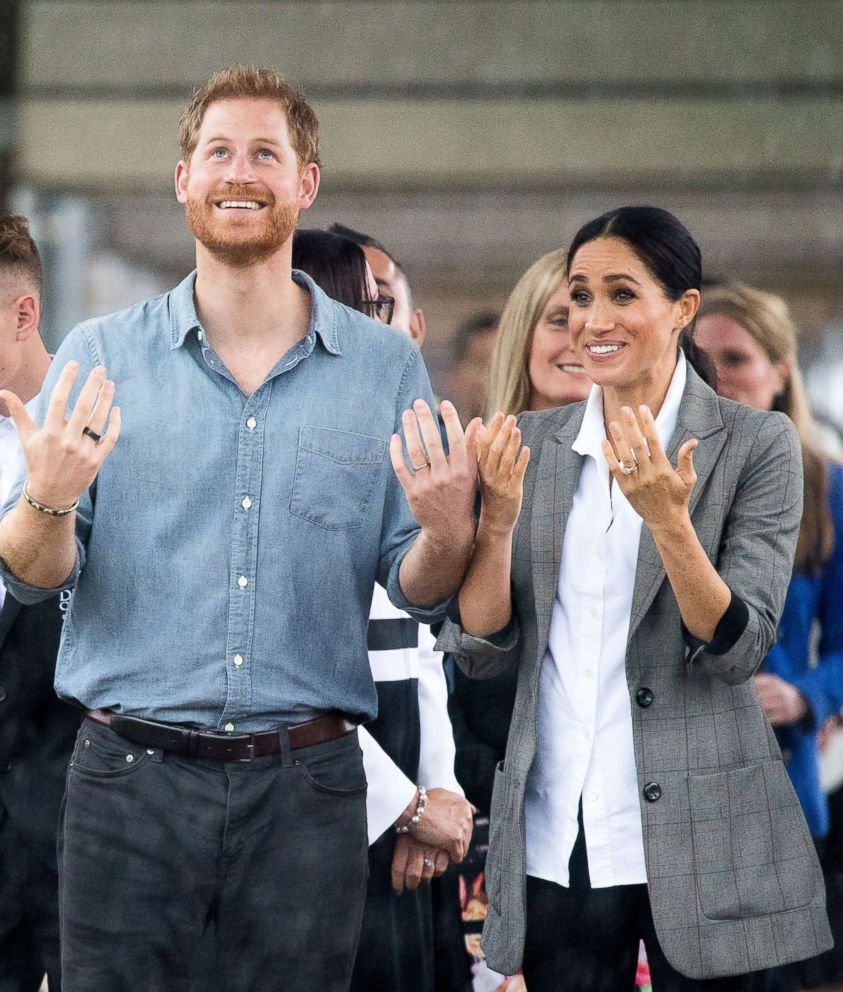 Harry, Meghan feed cattle on a farm
The couple's second stop was a visit with the Royal Flying Doctor Service to learn more about the life-saving role the aviation service provides for people living in rural and regional areas, including a demonstration on maternity rescue.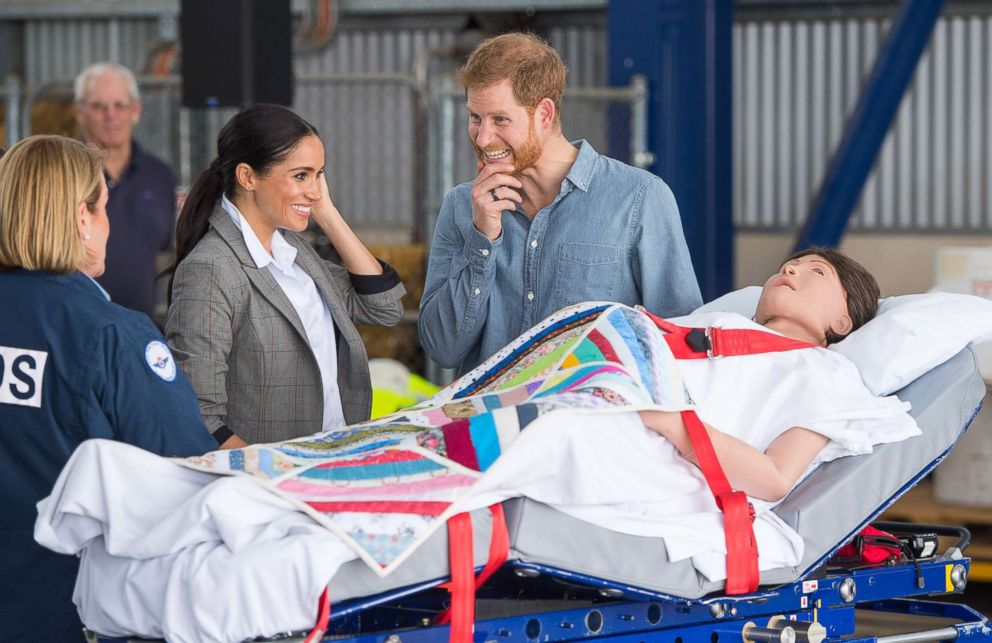 There they met Marcus Wilson, 47, an ex-soldier who will be taking part in the Invictus Games, the Olympics-style sports competition involving wounded soldiers founded by Harry.
The royal couple also met with local farmers in Dubbo, which is approximately 185 miles northwest of Sydney. Many of the farmers are being impacted by a drought in New South Wales.
The royal couple were even spotted getting their hands dirty: The pair fed cattle at the Mountain View Farm as they met with local community members.
Meghan brings homemade banana bread
The two also enjoyed tea with some of the local farmers, where Meghan brought and shared some homemade banana bread.
Meghan met with farmer Emily Carroll, with whom she chatted about her grueling schedule of 76 engagements in 16 days after announcing her pregnancy on Monday.
"She's feeling pretty good so far, which is great, and [said] that she's running on adrenaline," Carroll said, according to the pool report.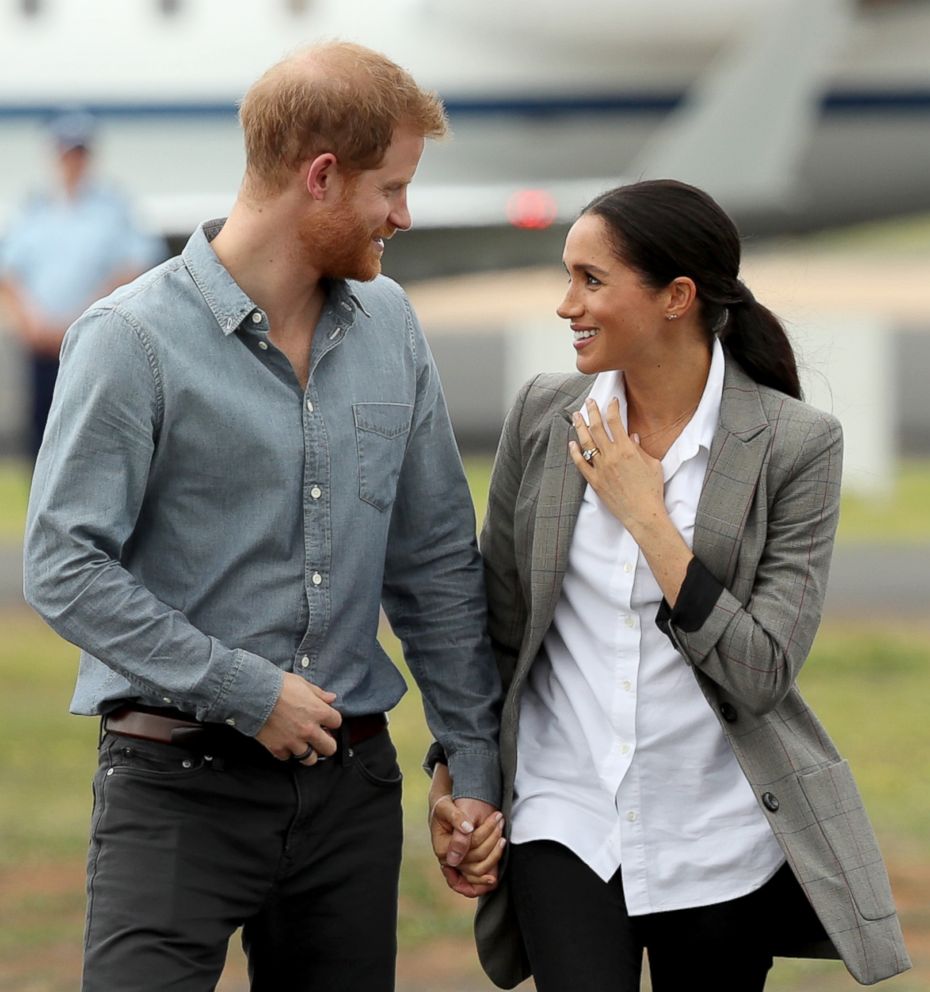 Later the pair headed to Victoria Park, where crowds of local community members flocked to meet them for a picnic that members of the public are invited to attend.
Harry gave an address to the crowd, and as it started pouring rain, Meghan held an umbrella over him so he could finish his speech.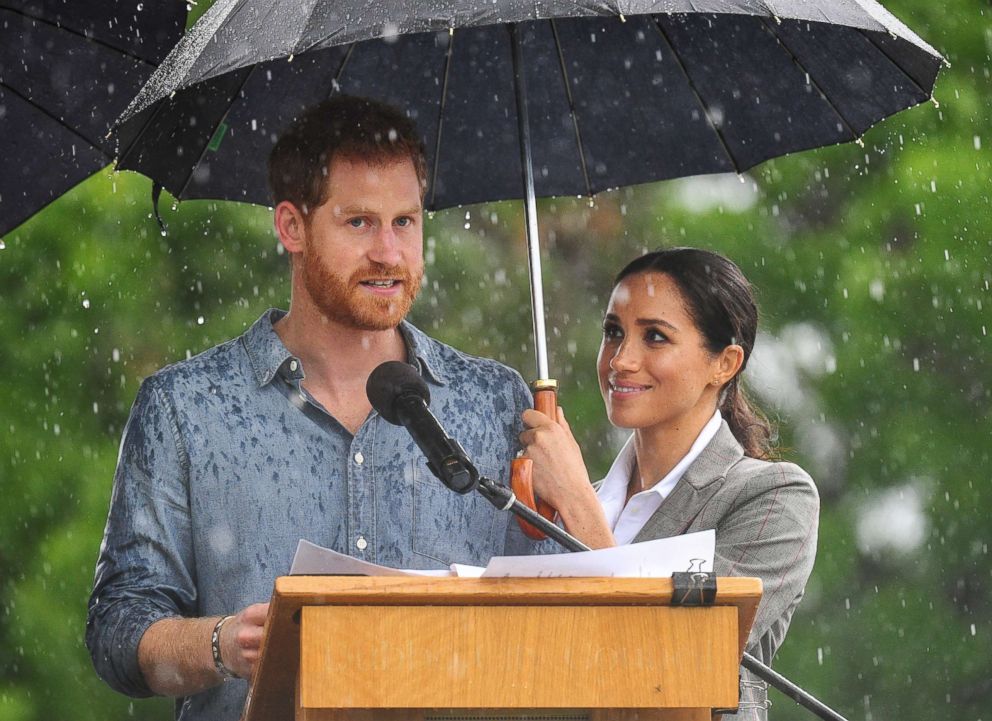 The prince called the crowd "the toughest people out there, the most persistent, the ones who can weather the storm or the drought."