Why Harry and Meghan's baby boy is 7th in line to the British throne
Fadel Senna/AFP/Getty Images, FILE
Prince Harry was spotted at the London Marathon Sunday, another sign that the wait continues for the birth of his first child with Meghan, the Duchess of Sussex.
Meghan is due to give birth any day now. Buckingham Palace has said it will release a statement when she goes into labor.
Little is known about Harry and Meghan's plans for the birth -- including whether she will give birth at home or in a hospital -- but a new report gives a glimpse into what could happen in the first few months of the baby's life.
The U.K.'s The Sunday Times reports there are plans for Harry and Meghan to tour Africa in the fall, and they may take their baby with them.
"As it stands the plan is that Harry and Meghan and their newborn baby, in probably about six months, will take a trip to Africa and tour several countries in Africa," Royah Nikkhah, royal correspondent for The Sunday Times, told "Good Morning America." "And around October time probably visit two or three different Commonwealth nations which are of course the nations in Africa that have a close relationship with the U.K."
"The countries that they will be going to haven't been decided yet. That's a discussion that is ongoing between the government and some of the host nations who want to have Harry and Meghan," Nikkhah added. "The tour will be on behalf of the government but very likely to be some countries that Harry and Meghan have a close connection with."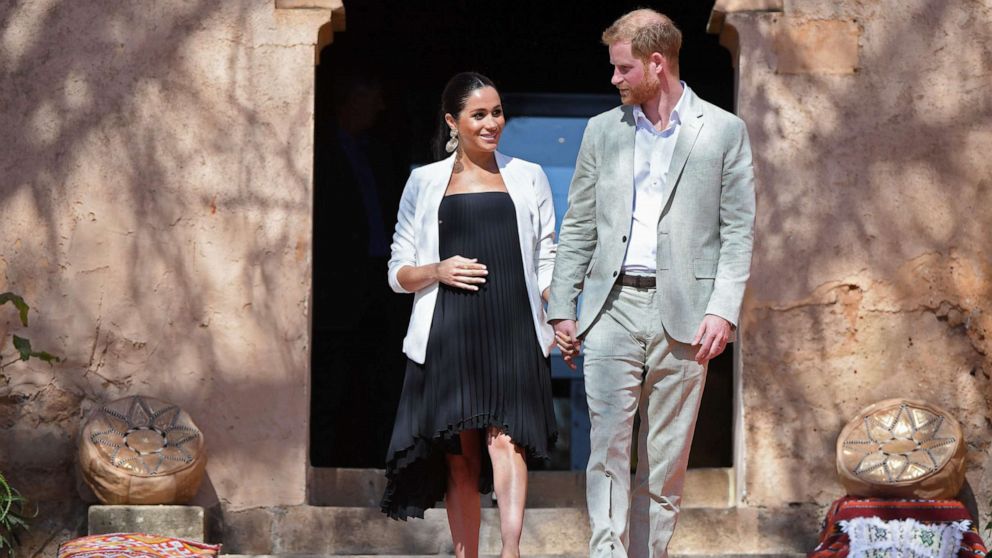 Buckingham Palace said it would not comment on an official visit so far in advance.
If the trip to Africa does happen and baby Sussex comes with Harry and Meghan, he or she will be one of the youngest royals to travel on an official trip overseas.
Prince William and Kate, the Duchess of Cambridge, took their oldest son, Prince George, on a tour of Australia and New Zealand in 2014, when George was just 8 months old.
Prince Harry himself traveled abroad at just 6 months old, on a trip to Italy with his parents, Prince Charles and the late Princess Diana of Wales.
"There is also a contingency plan that Meghan will do some but not all of the trip with the baby," Nikkhah said.
Nikkhah broke a story earlier this month in The Sunday Times that Harry and Meghan are reportedly considering heading on a "sabbatical" for six months, with Africa as their likely destination.
Buckingham Palace issued a statement after the news broke in The Sunday Times, calling reports of future plans for Harry and Meghan "speculative."
"Any future plans for The Duke and Duchess are speculative at his stage. No decisions have been taken about future roles," the statement said. "The Duke will continue to fulfill his role as Commonwealth Youth Ambassador."
Africa is a place close to both Harry and Meghan's hearts.
It is where Harry, 34, whisked Meghan, 37, away a few weeks after the couple's first date in 2017.
"I managed to persuade her to come and join me in Botswana and we camped out with each other under the stars," Harry said in his post-engagement interview with Markle last year. "She came and joined me for five days out there, which was absolutely fantastic, so then we were really by ourselves, which I think was crucial to me to make sure we had a chance to get to know each other."
Harry, who established his charity, Sentebale, in the African country of Lesotho in 2006, also included a piece of Botswana in Meghan's engagement ring. The main stone in Meghan's ring is sourced from Botswana, while the diamonds surrounding it are from the jewelry collection of Harry's mother, the late Princess Diana.
He has also said in previous interviews that Botswana will always have sentimental value to him because Africa is where he and Prince Charles and Prince William went to "get away from it all" after Diana's death in 1997.
"I think they're looking to go abroad for extended periods of time, most likely to Africa, to take roles overseas working and living a bit to give them a little freedom," Nikkhah told "Good Morning America" last week after she broke the news of a possible "sabbatical." "I think the feeling is Harry and Meghan do have global appeal ... why not send them somewhere they can make a real impact?"
"They are the rock stars. Why not send them abroad?" she added.