With Elvis Presley back in the spotlight thanks to the new biopic "Elvis," the rock 'n' roll legend isn't far from ex-wife Priscilla Presley's mind.
"I adored him. I don't know anyone who didn't adore Elvis," Priscilla, 77, told ABC News' Chris Connelly on the front lawn of Graceland, her and Elvis' former home during their marriage, which lasted from 1967 until 1973.
"He was fun to be with," she continued, recalling her ex-husband's "contagious" laughter. "We had fun everywhere we went."
Priscilla had nothing but kind words for Austin Butler, calling the 30-year-old actor's portrayal of Elvis in director Baz Luhrmann's latest film "unbelievable."
"So I'm sitting there watching this movie and going, 'God, I wish he could see this.' It was perfection," she said. "This is a movie that he would have really loved -- showing who he was, what he was striving for, what his dreams were."
As much as "Elvis" is about its namesake icon, Luhrmann honed in on the relationship between the late singer and his promoter, Colonel Tom Parker, played by Tom Hanks. Throughout the film, viewers see the control Parker had over Elvis' career.
"It wasn't good at all," Priscilla said of when Elvis was held back from doing what he wanted to do. "He'd let us all know when he was upset and he'd go on a rampage and, you know, cursing."
"Then he started realizing Colonel was messing with his life as far as music choices. Austin did a great job on his temperament when he's upset with Colonel," she continued. "I got to see his temperament in every way and I knew not to upset him, that's for sure."
Priscilla herself is portrayed in the movie by Olivia DeJonge. She said seeing her life and relationship depicted on the big screen was "so strange," but applauded DeJonge's work.
"I'm so happy that she was sensitive and that she was caring," she said, noting that DeJonge also played her being "a little strong" with Elvis, too. "I was pleasantly surprised."
DeJonge called it a "huge relief" to get her seal of approval and said "it was so evident the amount of love and care" she had for Elvis.
"I had to handle him a little delicately because he was going through a lot of different things at that time," Priscilla said. "One good thing is we carried out our loving relationship throughout our divorce and everything."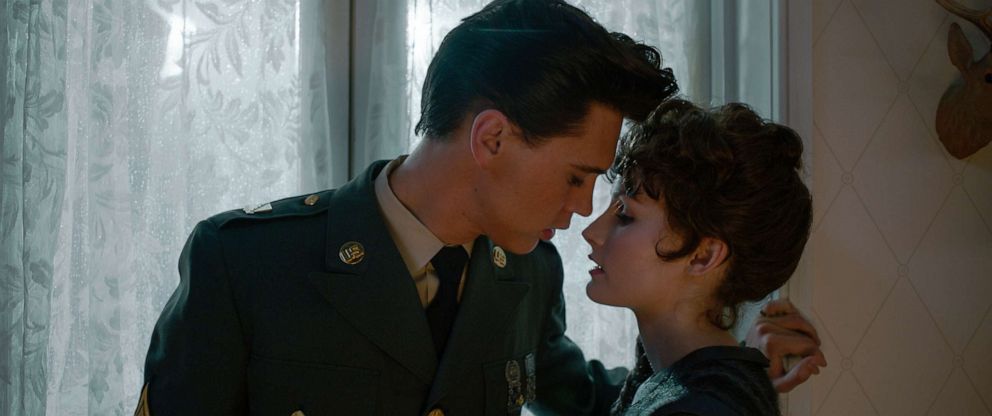 Toward the end of the film, a scene shows Priscilla attempt to intervene and get Elvis treatment for his drug dependency -- but he turns her down. Priscilla said watching this brought back memories of calls from Elvis' father, Vernon, saying they needed to do something.
Priscilla said things got "more and more frightening as time went by" for Elvis in those later years, calling it "heartbreaking" that he was unable to admit he had a problem.
Despite the tragedy that unfolds by the end of the film, with Elvis dying at the young age of 42, DeJonge said "at the heart of this story" is the chemistry between this "iconic couple."
"Celebrity, fame, fortune. One of the most important things was to just strip that away and just sort of play a girl and a boy that were in love," she said. "That is 100 percent what I wanted to convey."
"Exclusively Elvis: A Special Edition of 20/20" airs Tuesday at 10 p.m. ET on ABC. It will be available to stream on Hulu as of Wednesday.