1-on-1 with top potential NBA draft pick Victor Wembanyama
The San Antonio Spurs are set to make a historic selection with the No. 1 overall pick at the 2023 NBA draft on Thursday by adding 7-foot-3 French prospect Victor Wembanyama to their roster.
The 19-year-old Le Chesnay native and basketball phenom is one of the most highly anticipated draft prospects in decades and all-but-certain to go as the draft's top pick. Many sports insiders -- including four-time NBA champion LeBron James -- have hailed Wembanyama as "a generational talent" -- the best since James himself in 2003.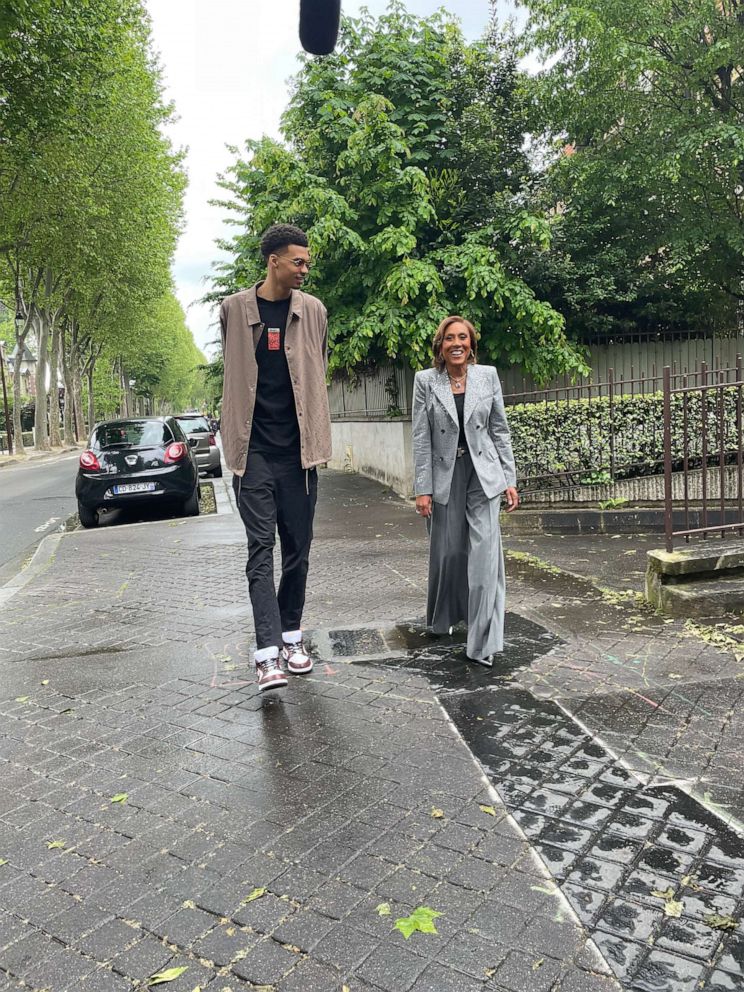 Robin Roberts met with Wembanyama for "Good Morning America" ahead of the draft at one of his favorite cafes, the famed Café De La Jatte, situated on the Île-de-la-Jatte in a posh suburb of Paris, as the world awaits his league debut.
"It's an event that I've been waiting for and I've been thinking about for the last years," Wembanyama said, adding how special it is for his whole family. "Our life is gonna change from one day to another -- for sure one of the most important nights in my life."
Wembanyama told "GMA" over plates of truffle pizza, calamari and truffle pasta that he has eagerly trained his entire life for this moment.
"I gotta eat whenever I can. Before practice, after practice, before I go to bed, after waking up, before the nap, after the nap," Wembanyama, who is looking to add weight to his lanky frame, told Roberts.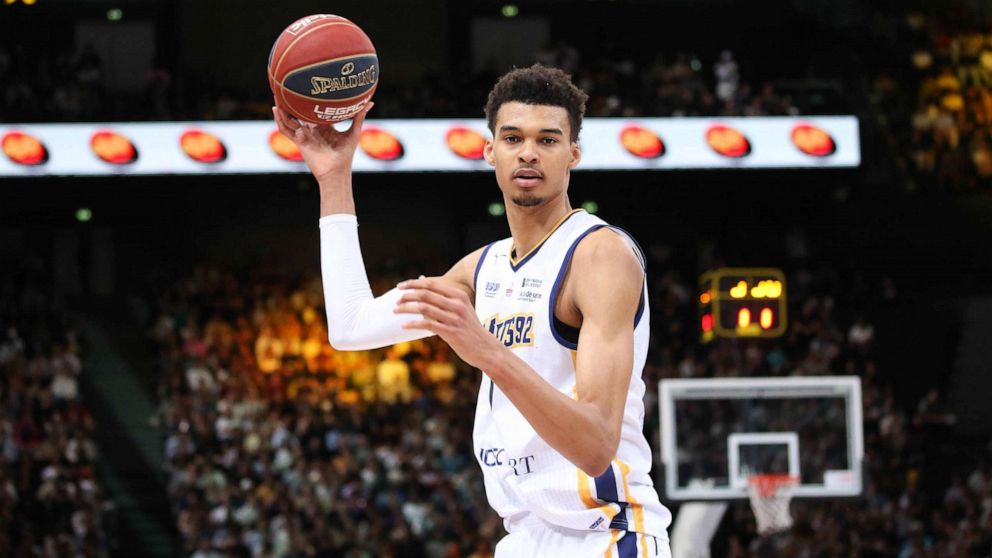 Wembanyama, who played for Metropolitans 92 in the top French basketball league, is instantly recognized for his height and wingspan, but plays more like a guard.
"Ever since I touched a basketball, you know? I've never stopped," he said. "I've always practiced to play the way I play today -- that play style, that agility, that dexterity."
Wemby, as he has been nicknamed by announcers, commentators and fans alike, has gained international attention from other NBA greats who have related to his journey to the league, including Milwaukee Bucks forward Giannis Antetokounmpo, Phoenix Suns forward Kevin Durant, and James, the league's all-time leading scorer.
When asked by Roberts how he deals with the pressure of it all, Wemby said, "The most important thing for this is to have your goal in sight."
"I have such high expectations for myself. And I'm so determined that the expectations of others are nothing compared to -- what I expect of myself," he said.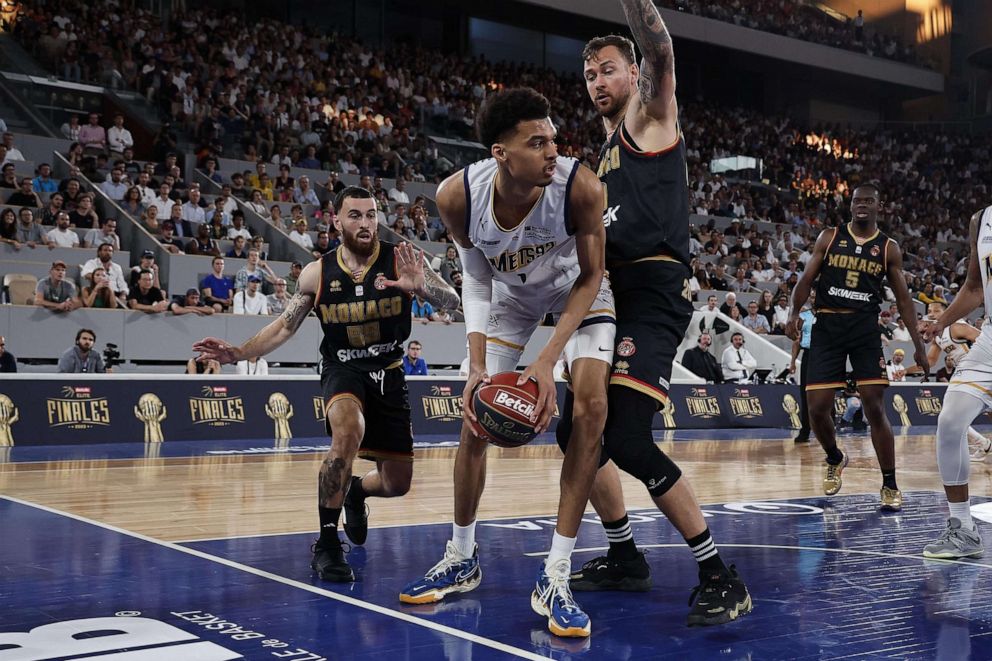 ESPN reported that his athletic trainer, Guillaume Alquier, manually records Wemby's sleep schedule, aiming for the athlete to ideally log 10 hours a day.
Wembanyama has a strict training and recovery regimen on and off the court, which includes his pregame warm-ups of mobility and strengthening drills for injury prevention, like one that focuses solely on his feet.
"Having your feet actually connected to the ground is really important as a basketball player," he said, explaining that "it gets the feet stronger." "If your feet are strong. You can then get better on every other aspect of your body."
When it comes to any critics who have raised concerns about Wembanyama's readiness for the grueling NBA schedule, he countered, "They don't know my work ethic."
"I know how I work, how we work -- with my surroundings, with my environment, you know -- I could never have any doubt," he said confidently.
As for how some have assessed his build, suggesting Wemby needs to "bulk up," he retorted "Why?" with a laugh.
"What for? You should tell others to skinny up," he joked.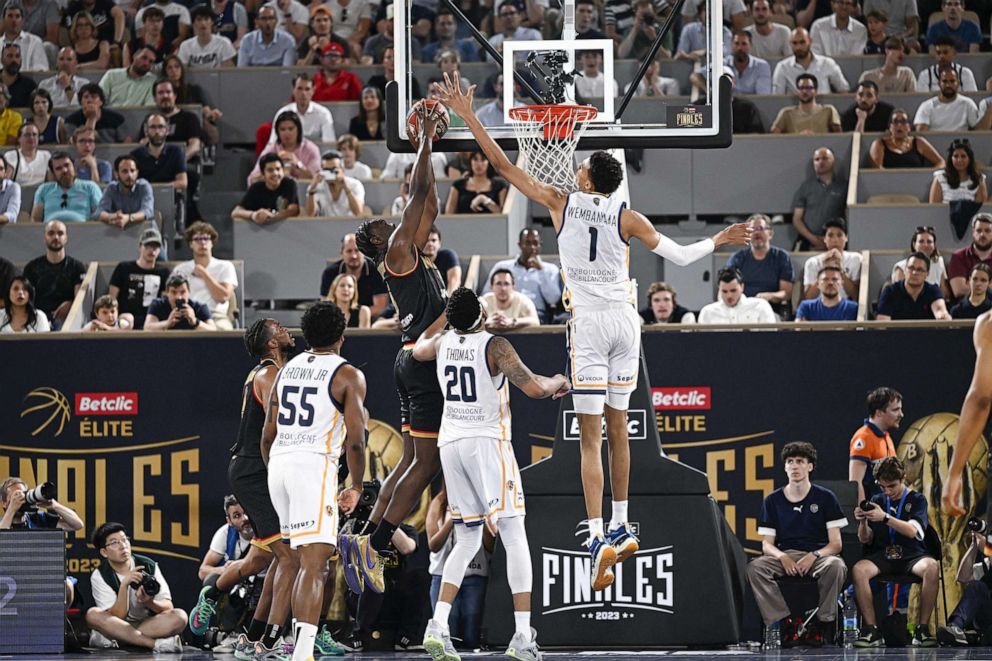 Wembanyama was born to very athletic parents; his mom is a former basketball player and little league coach and his dad is a former competitive long jumper.
"The first thing people think about -- when they think about my family -- is that they were also sports players. But the thing is, they didn't really interfere with my sport. They let me be how I wanted to be."
"They made a lot of sacrifices," but "on the other hand -- they're gonna be able to retire early," he said with a laugh alluding to his future NBA success.
As for NBA draft night, Wembanyama said he expects to feel "so high on emotions."
"It's really special for me and my family. Our life is gonna change from one day to another," he said. "I also want to enjoy my country, my family and my friends as much as I can before I leave."
Before he enters the next arena of his career, Wembanyama is soaking up the everyday culture around his home country.
Last summer, when Wembanyama visited the U.S., he said, "I only spoke English all day -- and night I call my family on the phone and I can finally speak French, and it's like, it's really relieving. I gotta think about every sentence before I speak them out."
His English is a product of his deep-seated vision to be standing in this position.
"I've wanted to be an NBA player for many years. So you know, I have no choice," he said of how he learned English. "At some point if you wanna learn a new language, you gotta act like you already know the language."
As for other nuanced differences from his hometown to the states, Wembanyama said he plans to "find a way to bring some European, French food back over there."
The French athlete who is soon to be catapulted to American basketball fame said he has already visualized what it must be like to play against the world's greats.
"The most important is to not step on the court being too humble," he said of his mentality for the next professional chapter. "You gotta be humble enough -- to be able to respect the game -- but if you step on a court too humble and scared, you can't do anything."
Finally, when asked if he can picture himself on that court, he answered with a confident grin, "Of course."
The NBA draft is tomorrow at 8 P.M. Eastern on ABC and ESPN.