Zachary Levi and Lucy Liu talk about new movie, 'Shazam! Fury of the Gods'
Courtesy of Warner Bros. Picture
Long ago in a galaxy far, far away -- think pre-pandemic Earth in 2019 -- DC Studios unveiled "Shazam!" as a movie that was frankly no big deal. And that was its charm.
In theaters packed with dark knights and budget-busting epics, here was proudly cheesy escapism that went down easy.
As it too often happens, the virus of too-muchness has infected the sequel, "Shazam! Fury of the Gods," which strains way too hard for the magic that once came naturally. Still, it's far from a total loss. The movie's invitation to shake your sillies out will be hard to resist for underserved family audiences.
The DC Extended Universe (DCEU) once blighted us with such angsty epics as "Suicide Squad" and "Justice League." This "Shazam" follow-up is more like the party time fun of "Aquaman" and "Wonder Woman" -- you know, movies that don't make us feel bad about feeling good.
And what a blast that Zachary Levi is back to play superhero Shazam like an overgrown kid in a comic-book store -- which, of course, he is.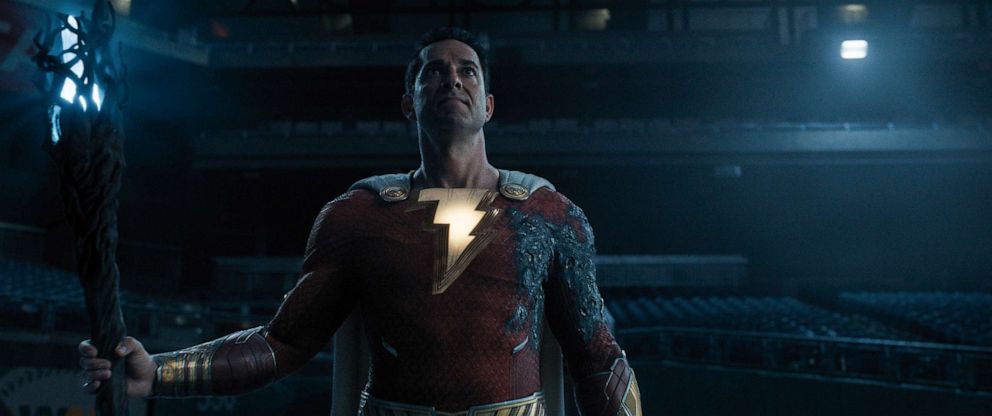 Before being reborn by saying the magic word "Shazam," an acronym of the immortals Solomon, Hercules, Atlas, Zeus, Achilles and Mercury, this muscled do-gooder in spandex was just a kid named Billy Batson, played by Asher Angel.
You remember Billy, a constant runaway from the Philadelphia foster homes he's been forced to endure since his teen mom deserted him. Billy's foster bestie is Freddy (the scene-stealing Jack Dylan Grazer), a kid on crutches with a smart mouth on him.
Things have changed for Billy and his orphaned buds -- Mary (Grace Caroline Currey), Eugene (Ian Chen), Pedro (Jovan Armand) and Darla (a fab Faithe Herman) -- ever since the Wizard (Djimon Hounsou) picked him as his successor.
"Put your hands on my staff," demanded the Wiz. "Gross!" said Billy, in a response that typified the script's "Deadpool"-lite irreverence.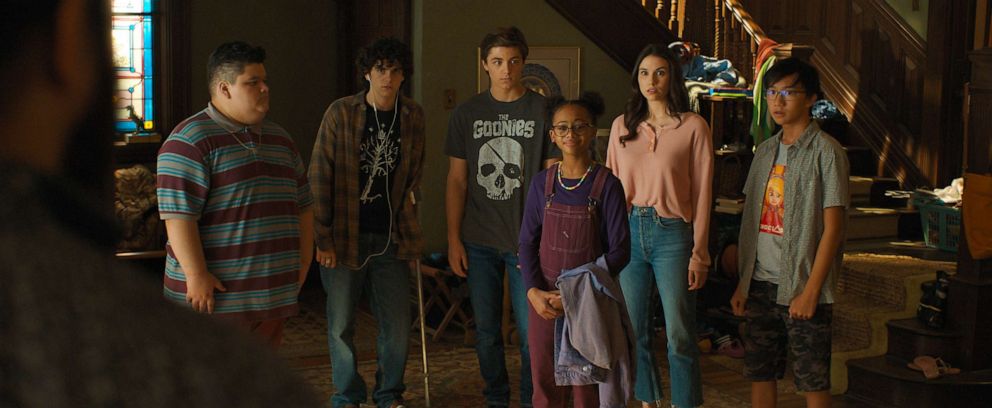 I'm pleased to report that cheeky attitude still pops through in "Shazam! Fury of the Gods" as Billy/Shazam and his kid besties, now in adult superhero bodies -- Adam Brody for Freddy, Meagan Good for Darla, Ross Butler for Eugene, D.J. Cotrona for Pedro and Currey playing both versions of Mary -- take on their greatest challenge yet.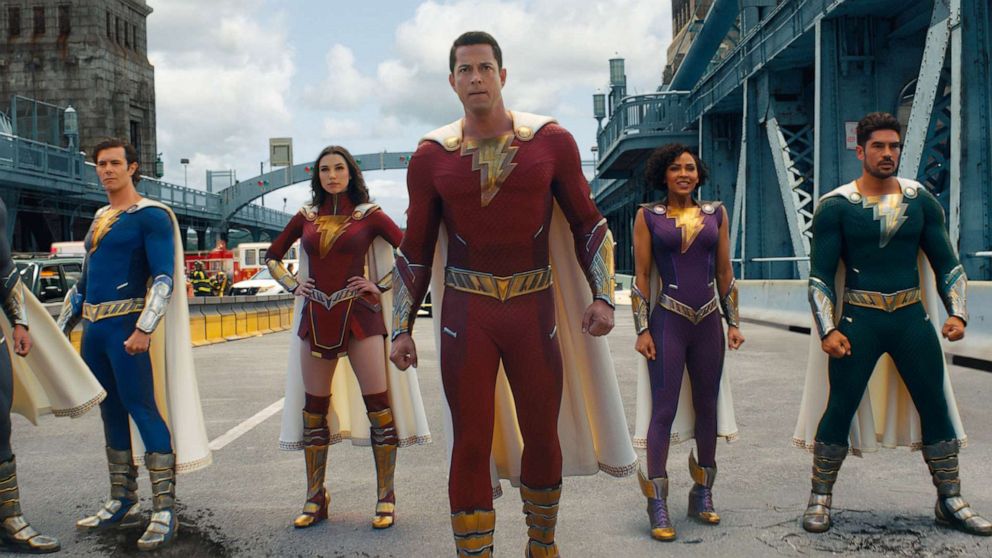 The threat comes from the Daughters of Atlas, a vengeful goddess trio -- Hespera (Dame Helen Mirren no less), the dragon-riding Kalypso (Lucy Liu) and Anthea ("West Side Story" breakout Rachel Zegler) -- with the usual plan for world domination. As Hespera sees it, these children have stolen their powers and it's #runforcover.
No spoilers except to say that returning director David F. Sandberg keeps the plot zipping along with no sacrifice to the crazy family vibe among the actors. And Zegler, as a 6,000-year-old goddess, brings a disarming innocence to her crush on our boy Freddy.
When the script falters, the spirited actors are always there to pick up the slack.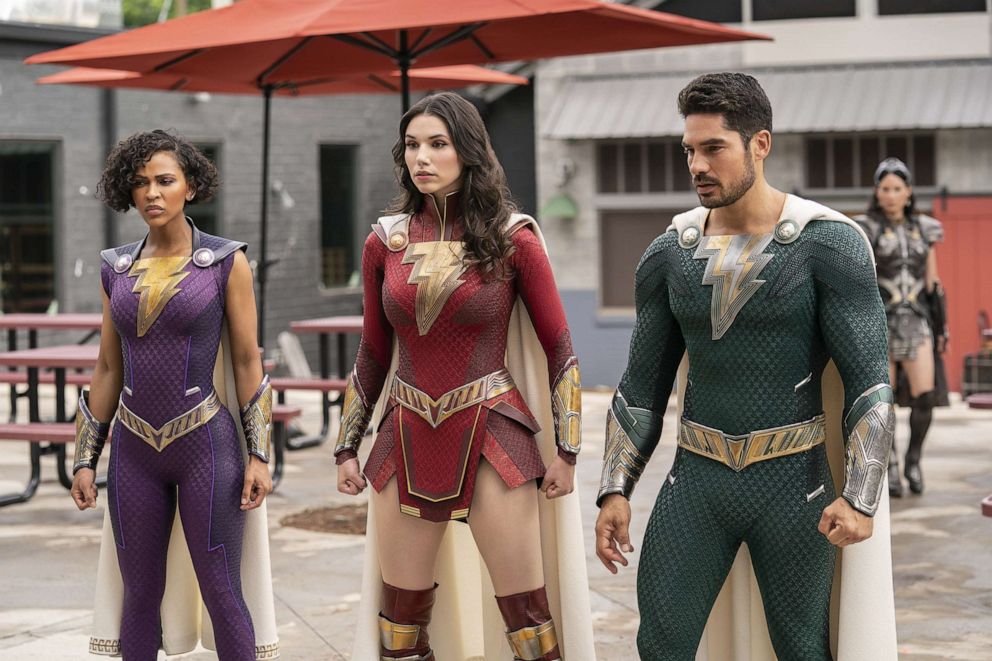 Levi, 42, best known as the star of TV's "Chuck" and the neurotic, nonconformist Jewish doctor on "The Marvelous Mrs. Maisel," takes a tip from Tom Hanks in "Big" and never loses sight of the hormonal boy inside his brawny superhero.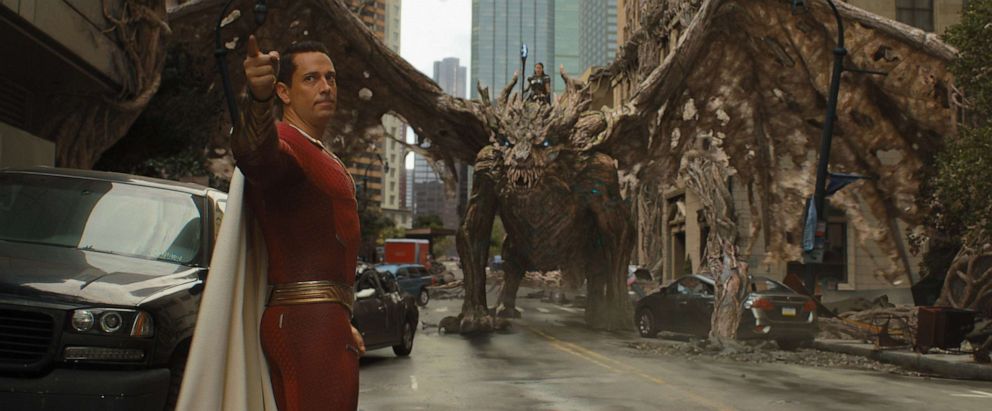 The goddess contingent has less to do, forced to play things straight while the infantile wild bunch runs amok.
Still, it's a hoot and a half watching Mirren drop-kick goofball Levi into a brick wall. Or it is to me.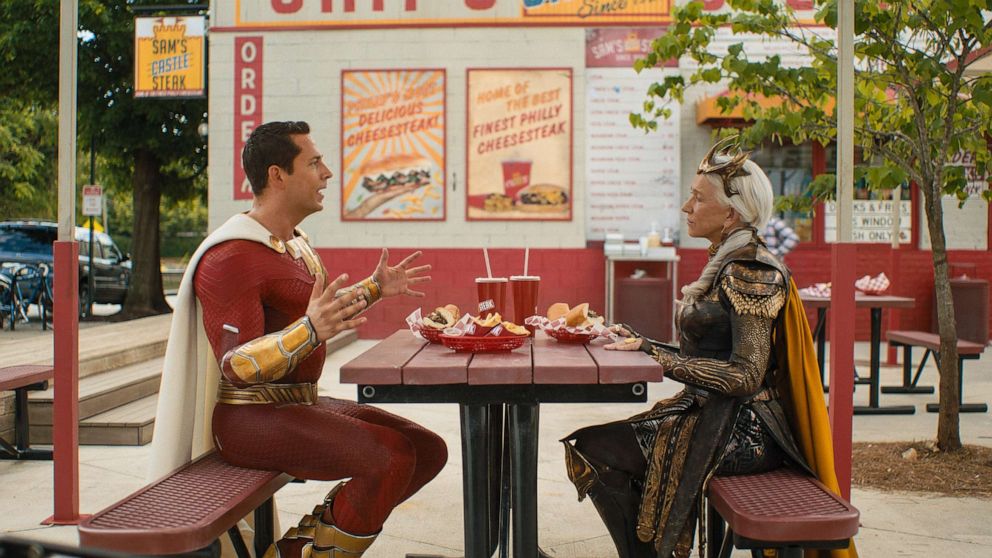 That kind of juvenile nonsense will lead some to cringe and label "Shazam! Fury of the Gods" as stupid kid stuff. Fair enough, frequently that's just what it is.
But more often this up-for-anything sequel is aimed at the kid inside that hopefully none of us ever loses.