Rihanna gives empowering speech at 51st NAACP Image Awards: 'We can only fix this world together.'
Aaron J. Thornton/Getty Images
Upon accepting the President's Award at the 51st NAACP Image Awards, Rihanna gave a powerful honoree speech that spoke volumes to the masses.
In the speech she delivered on Saturday, the 32-year-old singer and businesswoman, said "My part is a very small part of the work that's being done in this world, and the work that has yet to be done."
She continued, "If there's anything that I've learned, it's that we can only fix this world together. We can't do it divided."
"We can't let the de-sensitivity seep in," Rihanna added. "The, 'If it's your problem, then it's not mine; it's a woman's problem; it's a black people problem; it's a poor people problem.'"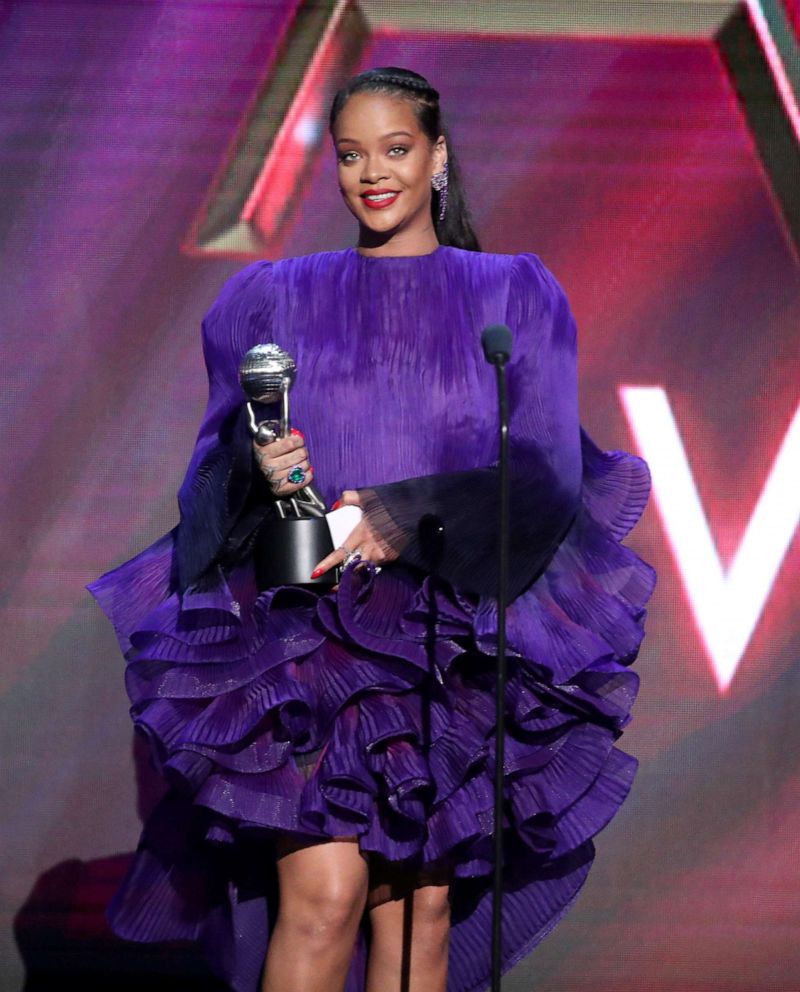 Rihanna later empowered everyone to tell their friends and colleagues who support them to "pull up" during marches, protests, and postings for justice.
"Imagine what we can do ... together," she said.
According to the NAACP, a nonpartisan civil rights organization, the President's Award recognizes special achievement and distinguished public service.
"Rihanna has not only enjoyed a groundbreaking career as an artist and musician but has also distinguished herself as a stellar public servant," said Derrick Johnson, president and CEO of the NAACP, in a statement.
For the star-studded award ceremony, Rihanna wore a vibrant purple Givenchy Haute Couture ensemble, sparkling jewels from Chopard and Kallati as well as a bright red lipstick and matching nails.
Many people also couldn't get enough of her "structural, sleek ponytail" that also included cornrows. The look was created by her go-to hairstylist Yusef Williams who used a mix of Suave styling products, a ghd hairdryer, and The Y by Yusef hair tools.
"When I saw her dress, the first thing I noticed was how voluminous it was. I wanted to create something that would perfectly complement the dress, so we decided to do something sleek, a structural ponytail," said Yusef in a statement.
He continued, "To give the look dimension and make it more graphic, I created a few cornrows that fed into the ponytail. This is a look every girl will want to, and can, recreate tomorrow!"
Other notable award recipients at this year's affair included "Black-ish" star Tracee Ellis Ross for "outstanding actress in a comedy series.," "Us" star Lupita Nyong'o for "outstanding actress in a motion picture," and pop star Lizzo for "entertainer of the year."
Past recipients of the President's Award include Kerry Washington, Spike Lee and Muhammad Ali.