Taylor Swift changes lyrics to 'Karma' and Travis Kelce has amazing reaction
Marcelo Endelli/TAS23/Getty Images
It's a great day to be a "Chiefs" guy.
Taylor Swift added a surprise to her performance during the second night of her Eras Tour in Buenos Aires, Argentina, on Saturday by changing the lyrics to her tune "Karma," adding a nod to Travis Kelce.
While on stage, the "Midnights" singer referenced the Kansas City tight end when belting out the versus "Karma is the guy on the Chiefs, coming straight home to me," instead of the original line, "Karma is the guy on the screen, coming straight home to me."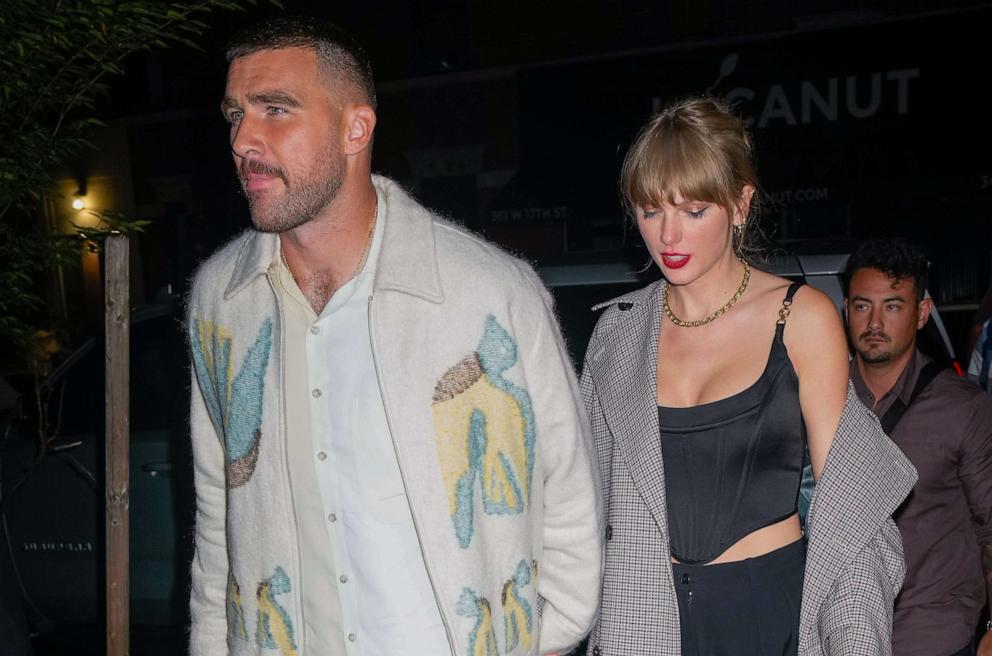 Kelce, 34, who was watching the performance in the audience, is seen in a video obtained by ABC News dancing along to the tune, while fans are heard screaming out of excitement to the lyrics tweaked by Swift, 33.
In another sweet clip from the evening, Swift is also seen running toward Kelce after concluding her show before embracing and sharing a kiss with the athlete.
While the pair has not confirmed their relationship status to the public, they have recently been spotted spending time together, including a few appearances the singer made at Kelce's games where she was photographed hanging out with the athlete's parents, Donna and Ed Kelce.
The two were also seen driving away in a convertible that Kelce called a "getaway car," alluding to Swift's 2017 song of the same name after Swift made a surprise appearance at Kansas City's Arrowhead Stadium in September.
Kelce later reflected on recent life events on his "New Heights" podcast that he hosts with his brother, Jason, a center for the Philadelphia Eagles, saying, "I'm enjoying life and I sure as hell enjoyed this weekend."
The singer's performance on Saturday also marked her first time taking on the stage after achieving another huge milestone in her career, becoming the most-nominated Song of the Year nominee in Grammy history after receiving a nod for "Anti-Hero" on Friday.