It's time for Clayton Echard to start his "Bachelor" journey.
Echard will meet the 31 women who hope to win his heart when season 26 of "The Bachelor" kicks off Monday.
The 28-year-old medical sales rep from Missouri is no stranger to Bachelor Nation.
Viewers first met Echard on Michelle Young's season of "The Bachelorette." Young's elimination of him was one of the most emotional moments of the season. Now, he sets out to find his own happily ever after.
Echard told "GMA" ahead of his season's premiere that being a former contestant "absolutely" helped him and gave him "a little more confidence" as the Bachelor.
New 'Bachelor' Clayton Echard on his new season
Scroll down for more info on Clayton Echard.
He's a family man
Echard, who has two younger brothers, said he looks to his parents as the pinnacle of lasting love, as they have been married for nearly three decades.
His mom, Kelly, and dad, Brian, have shown him it's possible to find "a partner, a great love and a best friend" in his future wife, according to his online bio.
Echard, who is now pursuing his MBA and says he hopes to start his own business, said in the trailer for his season that he "can't wait to get married and have kids."
He also said in his bio that he likes tubing, fishing and playing cornhole at his family's home on Lake St. Louis with his friends, brothers and parents.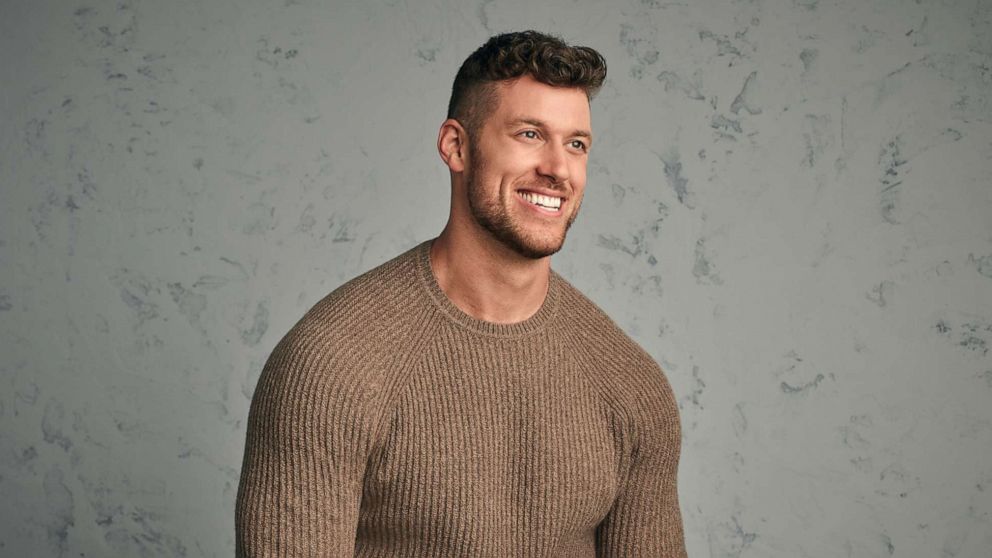 He's a football guy
Echard, graduated from the University of Missouri with a bachelor's degree in health science and minors in both business and Spanish. After playing college football, Echard even had a brief stint on the Seattle Seahawks in 2016.
This means he'll have a lot in common with former "Bachelor" star Jesse Palmer, who is serving as host for his season. Palmer, who was the lead for season 5, is a Canadian former NFL player who is a sports commentator for ESPN.
Palmer said in a statement prior to Echard's casting that he's "humbled by the opportunity to return to the show as host this season to offer the newest Bachelor advice gained from firsthand experience and I am grateful to play a small part in his journey."
He falls in love on his season -- more than once
While we don't know how Echard's "Bachelor" season will end yet, he told "GMA" when he was named the new Bachelor that he "did find love" on the show. The trailer for his season shows that to be true -- and that perhaps he finds too much love in the process.
At one point he yells out: "I am falling in love, and it feels so good!" He also says, "I can see myself marrying a lot of the women here, so there's gonna be broken hearts at the end of this."
Echard told "GMA" in January" it was "a little scary" when he realized he was in love with multiple women, because he never set out to do that, and he "just had to navigate it to the best of [his] ability" when it happened.
As for the type of woman he ended up with versus the one he had in mind heading into his season, Echard said he "realized that what [he] was looking for could come in many different shapes and forms."
He knows how to take a joke
Echard joined the live "After the Final Rose" special for Young's season and poked fun at himself by reading mean tweets about his casting.
"They found 30 women desperate enough to date this guy? Where?! #quarantinegoggles," one tweet read. Another read, "​​Roses are red, violets are blue, Clayton is the Bachelor and I just puked in my mouth #ICanStillTasteIt."
Despite being the target, Echard said, "that was pretty PG compared to some of the things I've read."
He and Michelle are still rooting for each other
In an Instagram post from December, Echard wrote a sweet message to the "Bachelorette" star after they'd attended the same event.
"Michelle, it was so great seeing you last night! It's always nice catching up with you and I'm excited to continue watching your journey towards finding love!" he wrote. "You deserve the world and I know you'll find exactly what it is you're after in one of the 3 incredible men you have left!"
Young also left an encouraging comment on one of Echard's Instagram posts, writing, "Let's go Clayton!"
"The Bachelor" season 26 premieres Jan. 3 on ABC.