National headlines from ABC News
Michael Tullberg/Getty Images, FILE
Tim Tebow is celebrating people's differences with love in his newly published children's book.
The former NFL star-turned-professional baseball player joined "Good Morning America" Tuesday to discuss "Bronco and Friends: A Party to Remember," which he said was inspired by real characters in his life.
"Bronco was such an amazing dog and I wanted to honor him," Tebow said of his Rhodesian Ridgeback that died in 2019. "I remember when I was a young boy and my mom and dad would read to me and I remember how impactful those stories were and I wanted to write a children's book for all the young boys and girls out there to encourage them and their worth and that they're unique, they are special, they are wonderful."
Tebow added, "I believe that God created all of us fearfully and wonderfully made and we are special and I think we need to embrace those differences because He made us perfect. So I wanted to encourage young kids because those young children's books really have huge impacts on our life and I was hoping this could have a big impact."
His former dog of nine years wasn't the only influential thing in his life that made its way into the pages of this book.
"The other main characters in this book, their names were also Wish kids that I fell in love with and that lost their battle most against cancer that are looking down from heaven now," Tebow said of the children and families he's worked with through the Make a Wish Foundation. "This book was really written to honor bronco and these Wish children that fought so courageously and all of them have incredible, amazing stories that I wanted to honor."
He went on, "We can look at our differences and we can see unique, we can see special, we can see wonderful, we can see purpose in all of it because I don't believe that our God made any mistakes. No matter your ability, your disability, your background, your color, any of it. He didn't make a mistake. That means none of us are mistakes, we are all fearfully and wonderfully made."
While the country continues to deal with the COVID-19 pandemic, Tebow said this past year has given some people time to identify and embrace their unique qualities and gifts.
"All of the different animals are searching for meaning and for purpose and they find it by actually helping one another and they find out that they all have something to add to the bigger picture," he said.
The 33-year-old also said this year has been unique as a newlywed.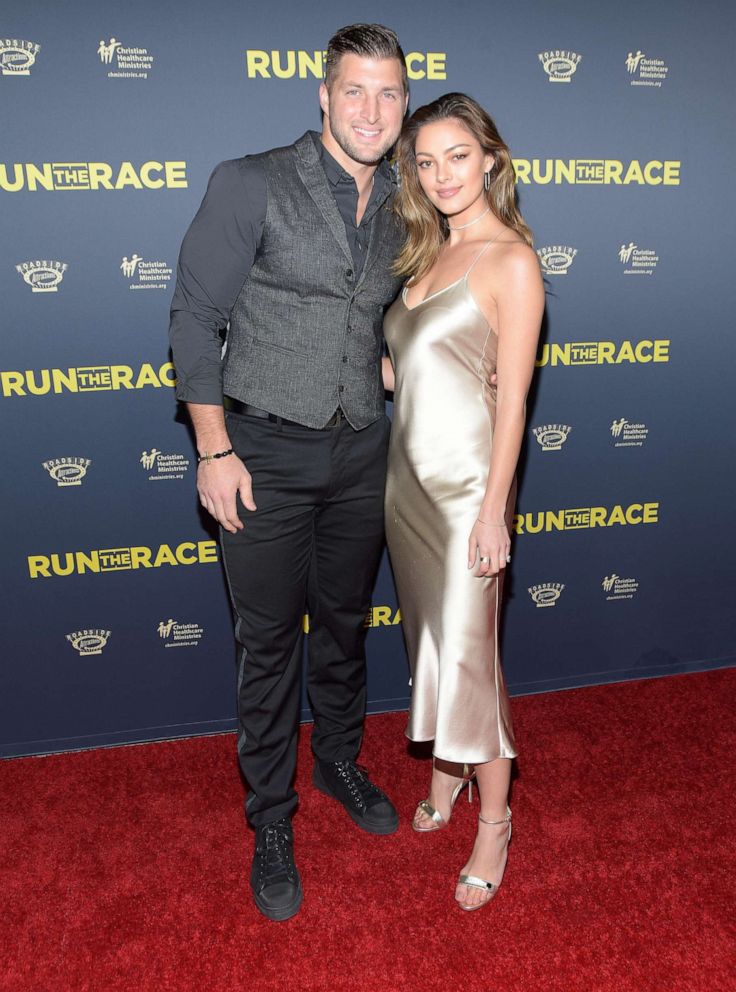 "I got to be honest, I don't really know what it's like to be married not in a pandemic, so we got that going for us," he said with a laugh. "There are so many disappointments this year, but I feel like one of the blessings is we got a lot more time together obvious being in quarantine. We got an extended honeymoon."
Tebow and his wife, Demi-Leigh, will celebrate their one-year anniversary on Jan. 20 and he hinted that he will have a surprise for her. "She's been amazing and truly such a blessing and I can't thank God enough," he said.
The pair also started growing their furry family with three newly adopted dogs.
"Paris, Chunk and Kobe, they're incredible and a handful but I guess it's sort of teaching us, you know, early steps of parenting, maybe we're learning and can add more to the family some time," he said.
Tebow first met his now-wife through Night to Shine, a foundation that hosts a prom for special needs people. This year's prom will "look different because we would never want to put anybody at risk," he said.
"We can't wait and it's going to be all around the world. That's actually how me and Demi met so it means so much to us and so we're just so grateful -- we can't wait to make a difference in so many people's lives," he said.